While you might find a couple of durable cases out there, not all iPad mini 6 cases are fit for hard times. If you tend to carry your tablet on rough trips like me or have bumpy routines, you need a rugged case to protect your iPad mini 6 on all corners.
Confused which one's right? Here's a list of the best rugged iPad mini 6 cases. Read on to find the one for you.
1. SUPCASE Unicorn Beetle Pro Series -Editor's choice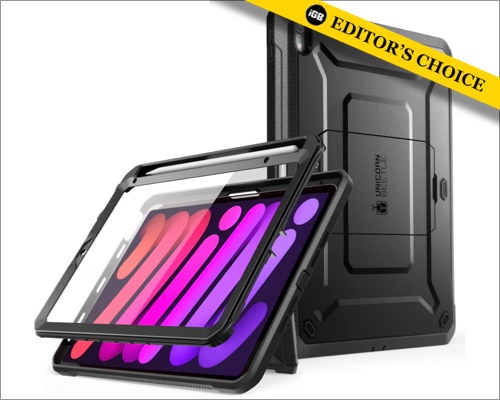 The SUPCASE Unicorn Beetle series is a full-body armor for your iPad mini 6. It features a multilayered thermoplastic polyurethane (TPU), a built-in screen protector, a pen groove, and an adjustable kickstand on the back cover.
This Unicorn Beetle Pro Series case also has military-grade shockproof corners, back, and raised edges. This prevents direct impact on your tablet from falls or smacks. The multilayered TPU cover not only confers strength but makes it sturdy, flexible, and resistant to greasy stains and abrasions.
Of course, the screen protector, being strong itself, is sensitive to touch. There are covers on the ports to prevent dust or dirt from penetrating. This one has passed many drop tests. So you can trust it.
Pros
Sturdy, multilayered with raised edges
1-year warranty

Stain-resistant

Adjustable kickstand offers many viewing angles
Passed several drop tests
Cons
Available only in black color
Check out on: Amazon | Supcase
2. Spigen Rugged Armor case – Most lightweight and slimmest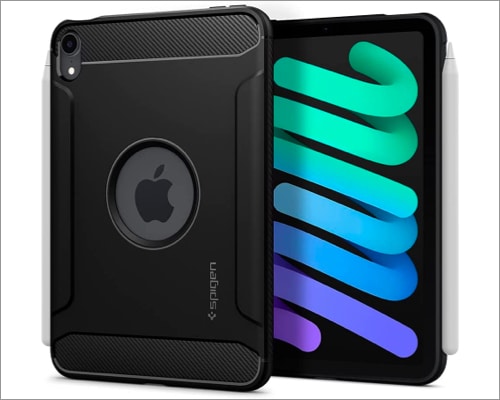 If you want something simple but sturdy, the Spigen Rugged Amor case is the right choice. It comes with a screen protector and an Apple Pencil holder. And the entire cover wields a thermoplastic polyurethane material with Air Cushion technology.
There are carbon fiber linings on either side and at the top-most part of the back case for extra protection. The built-in screen protector is sensitive and adequately raised on the corners to prevent damage from impacts.
The air cushion technology also absorbs shocks before it gets to your iPad. This not only makes it strong but also lightweight. Unfortunately, you might not stand your tablet conveniently with this as it doesn't have a back stand.
Pros
Slim, sturdy, and lightweight
Built-in screen protector
Raised corners and carbon fiber
Supports magnetic charging of Apple Pencil
Proprietary Air Cushion technology
3. Herize iPad mini 6 case – Most sophisticated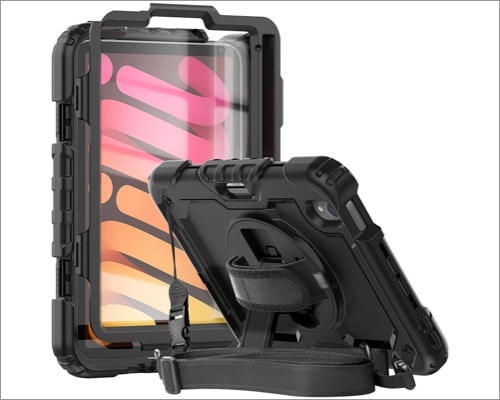 The Herize iPad mini 6 case has a sophisticated look and features many protective parts. In addition to a sensitive screen protector, the skin features a strong silicon material covering a hard polycarbonate plastic inner shell. And it features a segment at the tip for holding your Apple Pencil conveniently.
The case also has an adjustable hand and shoulder strap and stand, all on the back case. The hand strap might come in handy for fixing your tablet to your palm if you fall asleep. Moreover, the hand strap and back stand sit on a rotating nob, allowing you to turn your iPad at an angle of 360 degrees while holding or standing it.
There are also hard coverings on every corner to absorb impacts during falls. However, the edges on this one are raised farther from your iPad to protect it when it falls or hits a surface.
Pros
Multilayered covering with raised edges and hard corners
Many viewing angles with hand strap and back stand
Supports wireless charging of the Apple Pencil
Available in different colors
Cons
Rotating nob might be stiff sometimes
Heavier than others on the list
4. Zugu case for iPad mini 6 – Comes with a 2-year warranty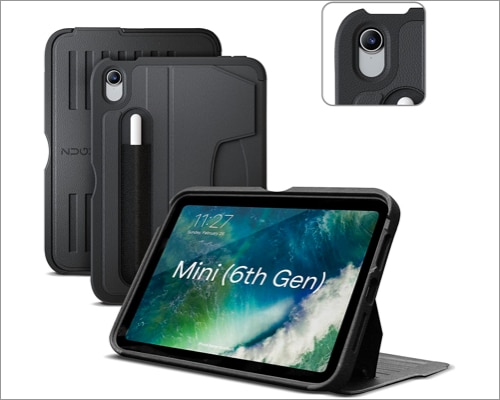 If you prefer a case with a face cover instead, the Zugu case is what you want. It features thermoplastic polyurethane material and a front cover. Thus, it's sturdy and offers adequate protection to your iPad.
There are raised edges around this to further protect critical parts of your iPad in case of hard impacts. The case also comes with a back stand. This is adjustable to seven different delineated angles on the magnetic component of the front cover. With magnetic sensors, the front cover also controls the locking and opening of your iPad.
It has a pencil holder attached to the back of the case like a pocket. And it supports wireless pen charging.
Pros
7 Magnetic angles
Front cover protects the screen
Raised edges for extra protection
Up to 5 ft. drop protection
2-year warranty
30-day return policy
Cons
Doesn't offer much protection on the corners
Most expensive on the list
5. ZtotopCases iPad mini 6 case – Most padded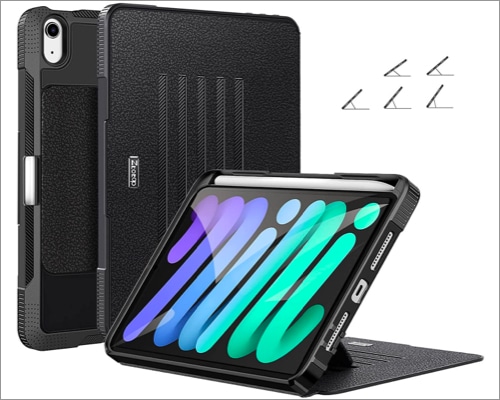 Here's another solid protection for your iPad mini 6. The entire body of the ZtotopCase is a thermoplastic polyurethane woven together with polyurethane into one rugged piece.
Besides raised edges, it also has an auto wake and sleep front cover to protect your tablet screen effectively. There's an adjustable stand on the back cover with efficient inner magnets. So you can attach it vertically to magnetic surfaces like a refrigerator.
The Pencil holder is at the tip of the closure, and it supports magnetic charging as well. It also features shockproof thermoplastic spines for extra protection on the corners.
Pros
Sturdy, compact, and simple

Sleep/wake functionality
Magnetic kickstand doubles as refrigerator mount
Built-in 2nd gen Apple Pencil holder
Cons
Might restrict access to volume and power buttons
6. Grifobes case – Best iPad mini 6 case for kids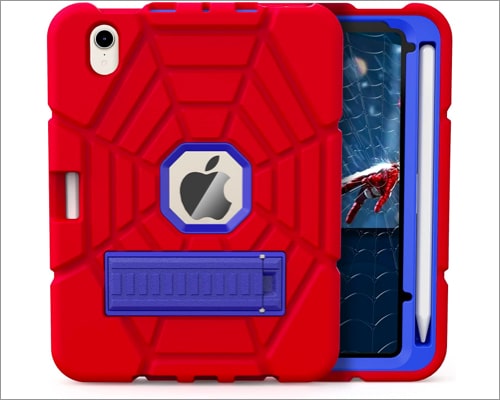 The Grifobes iPad mini 6 case is attractive, rugged, and comes in different colors to fit your likes. The beautiful carvings and the round groove that exposes the Apple logo on the rear side of your iPad give it an elegant look.
However, the Grifobes case gets its strength, sturdiness, and smoothness from a silicon material. This also gives it additional padding all around to protect your iPad from impacts due to falls. Unfortunately, it neither has a front cover nor a screen protector. But you can buy a screen protector to beef up your iPad's guard.
Nonetheless, there are 0.21-inch and 0.17-inch raised edges around the screen and camera, respectively, to prevent direct impact on these delicate areas. It also has a Pen groove at one end of the tip to keep your Apple Pencil in place and accessible. And the ports also have a clean and precise cut.
Pros
Well-raised edges protect delicate parts
Strong silicon material
Beautiful superhero design
Accessible ports and side buttons
Precise cutouts
Cons
No screen protector or cover
7. DTTO Shockproof Case – Lifetime warranty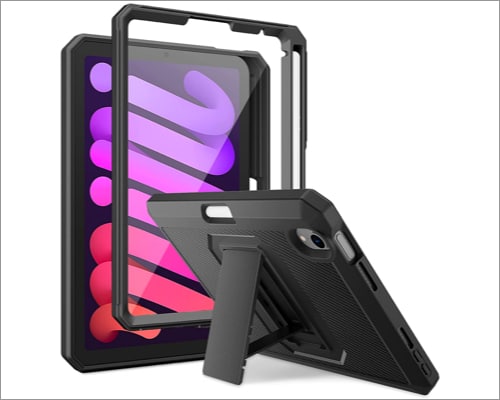 The DTTO shockproof case is slim and perfect for minimalists. However, it features a strong polycarbonate backplate and a tough built-in screen guard. There's also an adjustable stand at the back for convenient viewing.
In addition to raised edges, the screen cover is touch-sensitive. So you can use your iPad while protecting it simultaneously. The polycarbonate back cover is also rigid and impact-resistant, preventing any potential damages from falls or hits.
However, like many iPad mini 6 cases, this one also features an Apple Pencil holder at the tip. The adjustment on the back stand is limited, as it only supports two viewing angles.
Pros
Multiplayer defense protection

Built-in 2nd gen Apple Pencil holder and charger
Post plug protection
Drop and fall protection
Lifetime free replacement warranty
Cons
Limited back stand adjustment
8. ZenRich iPad mini 6 case – Most aesthetic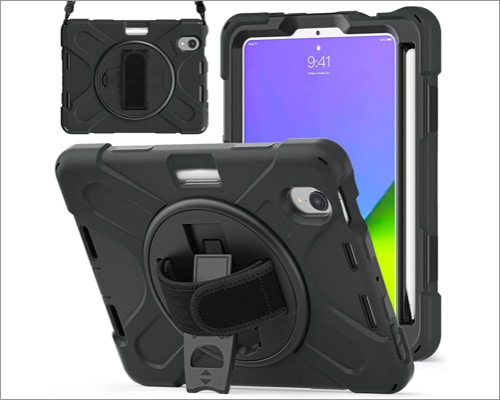 The Zenrich iPad mini 6 case is multilayered, elegant, and comes in different colors. It has a rotating back stand, a hand strap, and a longer shoulder strap. There's also a Pencil holder at the tip of one side.
The outermost part of the case is silicone rubber, covering two other inner reinforcements. All these ensure that your iPad remains in good shape even if it falls or hits a hard surface. The back of the case is also heavily carved, adding the desired ruggedness to your iPad mini 6.
Additionally, this one doesn't come with a screen cover or guard but has well-raised edges around the screen and camera regions.
The palm strap also allows you to fix this to your palm without falling off. The shoulder strap is adjustable, so you can keep it as close to yourself as you like. There's also a nob at the back for rotating the stand and strap clockwise or anticlockwise to enjoy various viewing angles.
Pros
Multilayered covering and carved back
Available in multiple colors
Supports wireless Apple Pencil charging
360-degree rotating stand
Built-in hand and shoulder strap
9. Soke iPad mini 6 case – Translucent frosted back case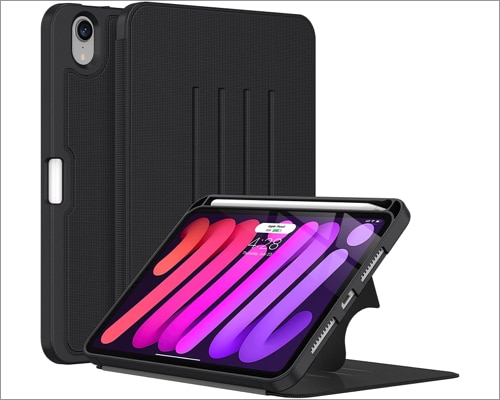 The Soke iPad mini 6 case has a visually-compelling effect with functionalities more than meets the eye. While the frame features thermoplastic polyurethane, the back cover is a hybrid hard frosted polycarbonate material.
The polycarbonate material itself is rugged and shock-absorbing. So when coupled with thermoplastic polyurethane, you can be sure your iPad gets all the protection it needs. There's also a groove for holding the Apple Pencil. And this supports wireless Pen charging.
The stand is also three-fold. So you can adjust it flatly into three different viewing angles. It has precise cutouts, fostering accessibility to ports and speakers on your tablet.
Pros
Sturdy frame
Supports magnetic 2nd gen Apple Pencil charging
Raised edges and hard corners
Lightweight and easy to install
Anti-fingerprint
Shock- and dirt-resistant
Cons
No built-in screen protector
Signing off!
Getting a rugged case for your iPad mini 6 is essential! These recommended cases are unique as they offer detailed protection that many ignore. So, which one of these cases did you find helpful to run the daily cruise with you? Tell me in the comment section.
Read next:
Readers like you help support iGeeksBlog. When you make a purchase using links on our site, we may earn an affiliate commission. Read Disclaimer.