iPad mini 6 is the best iPad to invest in for its perfect blend of features and affordability compared to other iPads. If you have recently bought it but wish to use it naked without a case, sleeves are a great option! They offer optimum protection as they enclose and pad the tablet on either side while also allowing you to use the device in its full glory.
If you are surfing for the best iPad mini 6 sleeves, here are the best options!
1. Lacdo iPad mini 6 sleeve: Editor's choice
The Lacdo iPad mini 6 sleeve keeps your tablet inside a crisp, handy enclosure. The inside of this one has a shock-proof lining coated with water-repelling neoprene. Plus, the sleeve has an extra side pocket for accommodating your charger and iPods, among other things.
Essentially, the shock-proof lining is fluffy and elastic to protect your iPad from cracks even if it falls. However, the neoprene coat, in addition to protecting your iPad from water splash, makes the sleeve resistant to abrasions and cuts. This one also has a zipper at the top to keep your tablet from sliding off.
Pros
Top zipper keeps iPad from sliding off
Tough and shock-proof
Water-resistant build
Extra side pocket for holding other devices
Cons
Not available in different sizes
2. MoKo protective felt sleeve: Best foldable iPad sleeve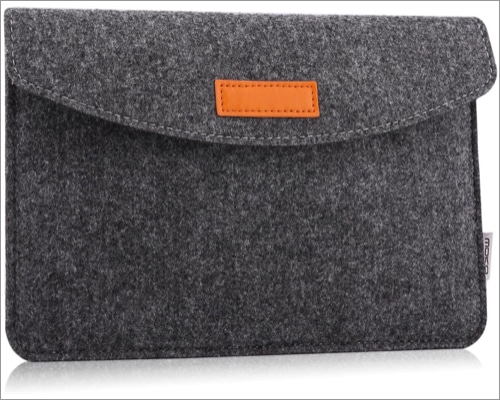 Ladened with pure felt material, the Moko sleeve commands class with its appealing appearance and compact design. It holds your iPad in a finely lined pocket and has a foldable loop and hooks closure. Plus, it comes with an extra side pocket for holding phones and other smaller devices.
However, a striking feature of the Moko sleeve is that its side pocket is enclosed together with the main one. Hence, it prevents other devices from sliding off while also holding the iPad firmly. That said, the inside is lined with a smooth, subtle, and water-resistant material to prevent your iPad from scratches, breakage, and moisture damage.
Moreover, the Moko sleeve comes in various sizes, ranging between 7 and 11 inches wide, and is available in dark and light grey colors. So you have a couple of purchase options at your disposal.
Pros
Loop and hooks closure covers the main and side pockets
Water-repellant fine lining prevents moisture damage and scratches
Flexible sizes
Cons
Only available in two colors
3. TiMOVO tablet sleeve: Handiest iPad sleeve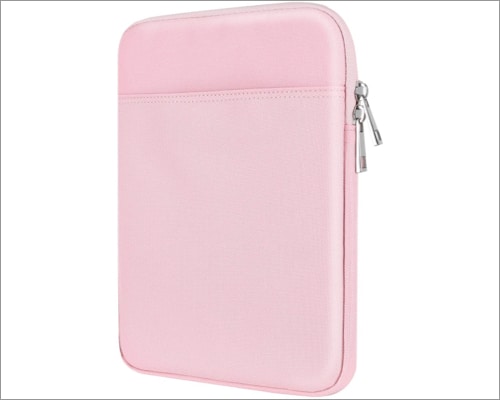 Want a slim sleeve made out of polyester material instead? The TiMOVO tablet sleeve comes in various colors and offers consistent durability. However, it's suitable for holding tablets ranging between 9 to 11 inches.
The sleeve is slim and perfectly fits the hand. It has a soft, shock-absorbing inner lining that perfectly grips your iPad and protects it from damages due to falls or sudden hits. A zipper runs through the top to enclose your tablet adequately.
Like most iPad sleeves, this one also has a side pocket for holding extra smaller devices.
Pros
Available in various colors and sizes
Slim and handy design
Water-repellant polyester exterior
Shock-absorbing inner sponge
Cons
The inner lining might absorb moisture if exposed to water
4. Baggu puffy iPad mini sleeve: Fluffiest iPad sleeve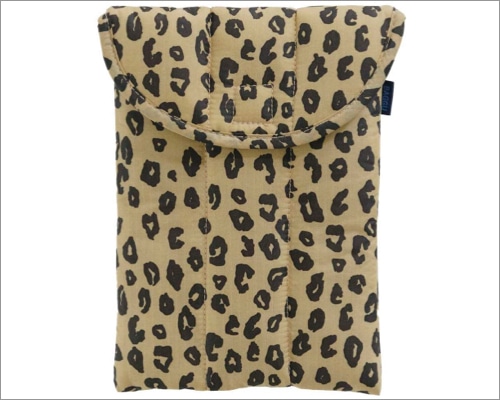 Baggu makes all sorts of puffy bags, and this is no exception from its unique collections. So for a gallantly unique design, I bet you won't regret shedding your bucks on the Baggu puffy iPad sleeve.
With a leopard skin ripstop nylon, the sleeve is fluffy from the inside out. This paddy nature protects your iPad from abrasions and damages.
The material is also sturdy and even washable. So you can keep it clean for as long as you use it. The Baggu sleeve doesn't have a side pocket. But it has a top loop and hooks cover to enclose your tablet.
Pros
Sturdy and machine-washable
Adequate protection and grips your device firmly
Upper enclosure prevents iPad from sliding off
5. Tomtoc 8.3-inch tablet sleeve: Best printed iPad sleeve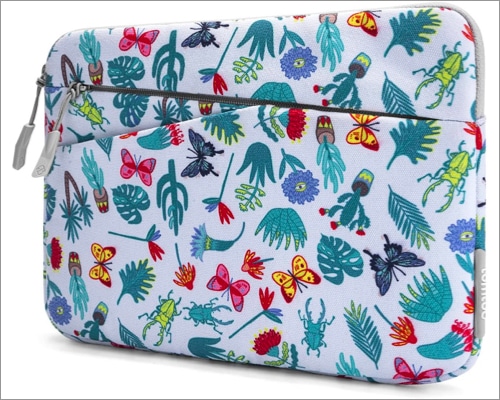 Besides the lovely patterns on the Tomtoc sleeve, you'll like it for being spacious. The sleeve has a main compartment designed to fit an 8-inch tablet and two other side pockets. The bigger side pocket also has a zipper, while the smaller one uses a magnetic hook.
So, you have enough space for holding extra items, too. And you can be sure that your iPad mini 6 and other accessories are safe from sliding off.
The exterior is also a synthetic polyester canvas material. This confers toughness coupled with water-repelling ability. A shock-proof sponge and smooth fleece lining lie on the inside of the pouch to protect your tablet from scratches or abrasions.
Pros
Extra side pockets to hold more items
Side pocket has a zipper
Appealing design
Synthetic polyester canvas confers durability
Cons
Might fit the iPad mini 6 with difficulty
6. TiMOVO 8-9 inch sleeve: Carry it all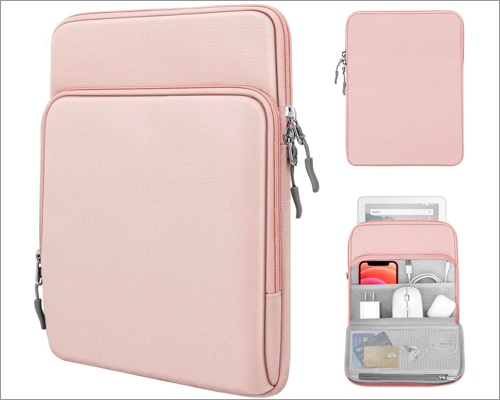 I haven't seen an iPad sleeve as roomy as the TiMOVO tablet sleeve. Perhaps you have. But this one has six pockets in all, one main pouch with a zipper, a front and side compartment, two open meshes, and one zippable mesh pocket.
The TiMOVO sleeve is available in different colors. And you have two size options, 8 to 9 inches, and 9 to 11 inches. The interior is foam-padded and lined with soft fleece to keep your tablet intact without a scratch. The sleeve also features a felt-type material on the outside. So, I can assure you that this is durable.
Pros
Many pockets to hold more items
Elegantly designed
Many color options
Tough exterior material
Cons
Using it to hold many extra accessories might tighten the main pocket
7. Bellroy magnetic closure sleeve: Slimmest iPad mini 6 sleeve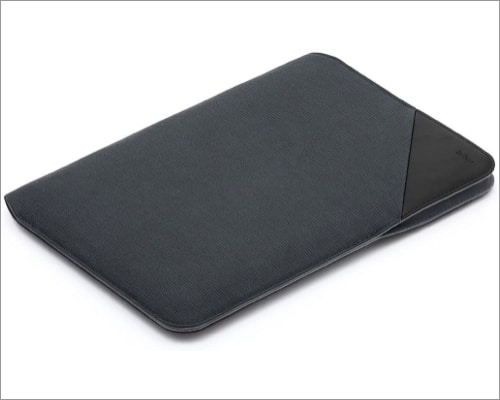 Here's a pretty handy sleeve for minimalists. The Bellroy iPad sleeve is a 10-inch pouch featuring a magnetic closure running across the upper tips. The sleeve is slim and has a simple design with a microfiber inner lining. The exterior is a woven fabric, so it's tough and comfortable.
Considering that it's slim, the magnetic closure offers additional safety to prevent possible scratches that may result from zip movement, should a zipper be used. There are no extra side pockets on this one. So it's primarily for holding tablets with no room for extras.
Pros
Handy and comfortable
Simple but classy design
Magnetic closure prevents scratches while removing or inserting iPad
3-year warranty
Cons
Limited size and color options
A little loose for iPad mini 6
8. MoKo tablet sleeve: Most portable iPad mini 6 sleeve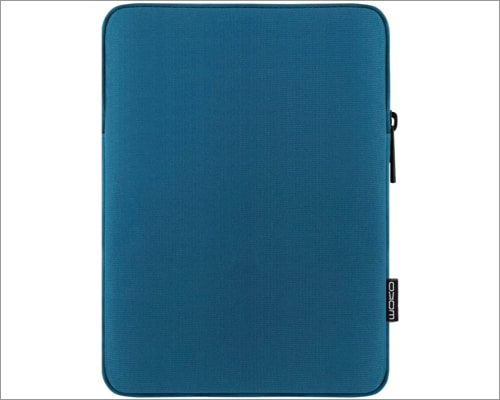 The Moko tablet sleeve features a polyester exterior and will perfectly fit your iPad mini 6. The inner padding is a thick sponge lined with a soft fleece to prevent damage to your iPad mini 6.
Although the Moko tablet sleeve doesn't have side pockets for holding extra items, it has a top zipper that prevents your tablet from falling off. The exterior polyester material is also sturdy and water-repellant. Thus, it's durable and adequately protects your iPad.
Pros
Sturdy and durable
Slim and handy design
Comfortable and protective interior
It has a top zipper to hold your tablet in place
9. HAPPYLIVE universal tablet sleeve: Easy to carry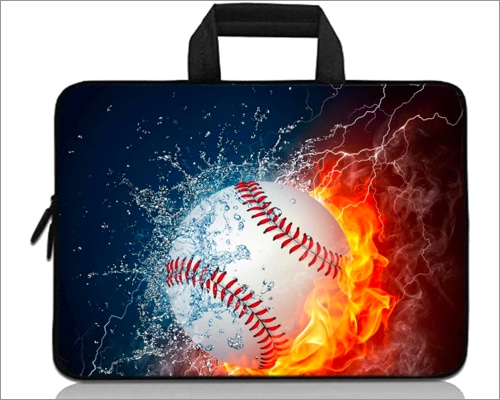 The HAPPYLIVE universal tablet sleeve carries a cool printed design on a water-repelling neoprene material. And it's washable. The sleeve is also available in different prints, so you have a couple of options.
There's also a handle hanging at the top for easy carriage. Plus, it has a double zipper to enclose your iPad. Like many sleeves, the inside has adequate padding for extra protection and fits iPads ranging between 7 and 9 inches. However, there are no extra pockets on this sleeve.
Pros
Many design options
Handle lets you carry it easily
Washable
Double zipper enclosure
iPad sleeves come in different designs and sizes, depending on the brand. However, most of these iPad sleeves come with extra pockets. So you might want to consider one of these if you feel you need additional spaces for your iPad 6 mini accessories. Otherwise, the minimal designs also come highly recommended.
Which one of these iPad sleeves are you planning to buy? Share in the comments below.
Read more:
Readers like you help support iGeeksBlog. When you make a purchase using links on our site, we may earn an affiliate commission. Read Disclaimer.