As you get all set to order the new iPad mini 6 with exceptional performance, wouldn't you like to protect it in style? Because when it comes to gadgets, the right accessories matter.
After all, accidental drops, knocks, and shocks happen all the time. With that in mind, we've compiled a list of the best iPad mini 6 cases to ensure maximum protection while staying on the top of your game wherever, whenever.
1. MoKo case: Stylish and minimal design
MoKo Case Fit is incredibly lightweight, slim, and stunning. What makes it exceptional is its scratch-resistant surface with the anti-fingerprint feature.
Moreover, with a durable PU exterior leather, MoKo Case Fit's built-in magnetic strip supports auto turn on/off, thereby extending battery life.
Its high-quality TPU back shell protects your precious device from drops, shocks, and scratches. It comes with two convenient angles and stand positions for better viewing and watching experiences.
Pros
Built-in magnetic strip to wake or put iPad to sleep

Scratch-resistant and shockproof
Durable PU leather
2. ESR hybrid clear case: Great fit and lightweight
With a hardback and soft frame, ESR Hybrid Clear Case is slim, lightweight, and crystal clear. It has a unique yellowing-resistant feature that retains and shows off the original color of your iPad mini 6.
In addition to its secure fit and excellent grip, ESR Hybrid Clear Case has shock-absorbing properties with raised edges.
ESR Hybrid Clear Case also supports the Pencil 2's magnetic pairing and charging with a side panel design that's ergonomic and thin. Being a classic series, this one stands out for originality and impact.
Pros
Incredibly lightweight
Raised edges for protection
Yellowing-resistant quality
Slim and snug fit
Cons
No color options
Not scratch-resistant
3. IVSOTEK case: Best affordable clear case
IVSOTEK offers a durable, protective, easy-to-install, and -remove the case. Being entirely transparent and clear in design, this is waterproof and ultra-thin.
Besides, the case comes with raised edges for extra protection of the tablet screen glass, camera, back, and the sides of the iPad mini 6.
Moreover, it can also take the shock of bumping, knocking, and scratching at any given time. Thereby ensuring your precious device is fully protected at all times.
Pros
Premium lightweight TPU case
Precise cutouts for control buttons
Affordable
4. ESR magnetic case: Best grippy magnetic design
Simple, slick, and slim, ESR magnetic case, as the name suggests, magnetically attaches itself to your device. Thus, keeping it safe and protected.
Besides adding convenience to your daily life, it has an automatic wake and sleep button so that your iPad sleeps when the lid is closed and vice versa.
Moreover, there's a 2-position stand for better viewing, writing, and watching modes.
If all that wasn't enough, ESR magnetic case also supports Pencil 2's magnetic pairing and charging with a foldover clasp. Hence, providing maximum protection to your device.
Pros
Smooth and grippy
Raised edges for better protection
Dual stand positions
Supports pencil's magnetic pairing
5. ESR hybrid back shell case: Most convenient case
As the name suggests, ESR Hybrid has a hybrid backshell and is known for its easily detachable magnetic cover. Available in frosted color variants and as a part of the Rebound series, ESR Hybrid's magnetically secured cover also folds up into a stand that allows a better watching and writing experience.
Besides, it has shock-absorbing corners providing the best protection to your iPhone mini 6 design.
Further, the case also extends the iPad's battery life through its automatic sleep-and-wake feature that operates when the lid is open or closed. Moreover, it supports Pencil 2's magnetic pairing and charging with a thin side panel design, ensuring it's for those who want to make an impact.
Pros
Detachable magnetic case
Raised edges
Folds up into a stand
6. Speck balance folio case – Simplest design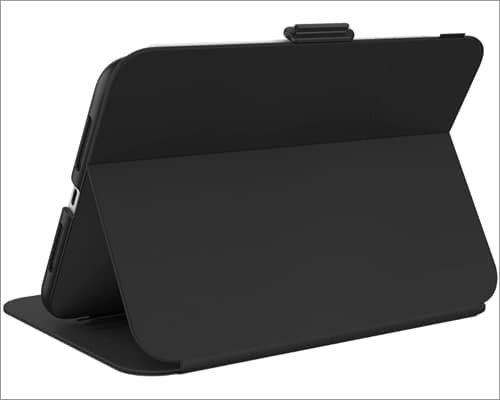 The Speck balance folio case is stylish and responsive. It safeguards your entire tablet and has a secure latch at one end. And it features a thick convertible cover, which you can also use as a stand for convenient viewing and writing. In addition to this are a lens slit and an Apple Pencil groove.
The inner part of the cover is a microfiber lining that protects your iPad against falls, scratches, or abrasions. Its entire back cover is also durable, treated with a Microban antimicrobial additive to prevent bacterial growth.
The magnetic cover sensitively controls the sleep and wake mechanism of your tablet. Some users have reported that this functionality sometimes fails, though. Its lens slit also covers the rear camera, protecting your iPad's camera from dust or dirt. However, like the screen cover, the slit is also responsive, as it only retracts when you need to take a picture.
Pros
Sturdy back cover
Protects the rare camera
A secure latch offers additional protection
Microban coating makes it easy to clean and confers antimicrobial activity
Short latch exposes the Touch ID and lets you charge Apple pencil easily
Cons
Front cover might be insensitive
Only available in black
Check out on: Amazon | Best Buy
7. TORRO Magnetic Case – Best leather case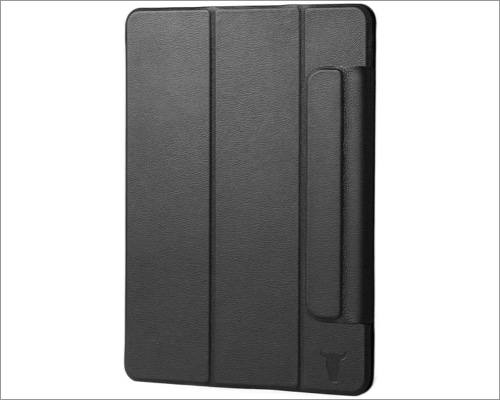 The entire TORRO magnetic case features handcrafted cowhide leather. Its front cover is also three-fold, which means you can bend it into several different orientations to make an iPad stand.
A groove at the edge holds your Apple Pencil perfectly in place. The flap, however, almost runs through the entire length of the iPad to protect the edges of your tablet.
The front cover also features a thin magnetic sensor that wakes and locks your iPad. This works efficiently and can even increase the battery life of your tablet. The case also has openings at the lower and upper edges to ensure ports are accessible.
Pros
Easily charge your Apple pencil
Unrestricted access to Touch ID
Foldable cover makes it easy to use
Wake and sleep cover increases iPad's battery life
8. Spigen ultra hybrid pro case – Transparent back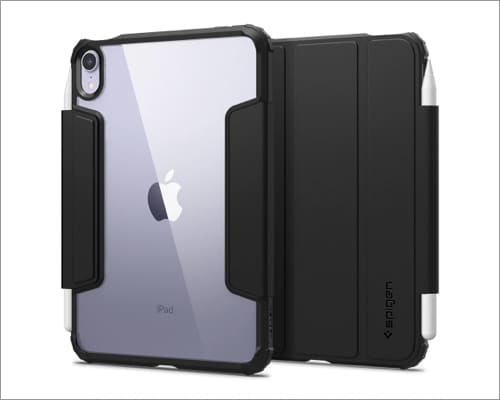 If you want more than anything to display the glory of your iPad mini while protecting it simultaneously, the Spigen iPad case is just what you need. It has a transparent back cover, so it doesn't obscure the Apple logo at the back.
It also features polyurethane and polycarbonate material. And it has raised edges to adequately prevent the direct impact of falls or hits on your tablet. The spine is well-cut to allow access to Touch ID, speaker outlets, and essential ports on your tablet.
The front cover has a soft inner lining to protect the screen. This is foldable into a stand, and you can orient it into various angles. A flap also encloses your tablet and helps you hold your Apple Pen firmly inside a groove. The case, however, supports the wireless charging of your Apple Pen.
Pros
Transparent back cover shows your iPad's beauty
Raised edges for protection
Clearly cutout spines allow access to essential functionalities
Cool color options
Air-cushion technology
9. DTH-PANDA case – Most spacious case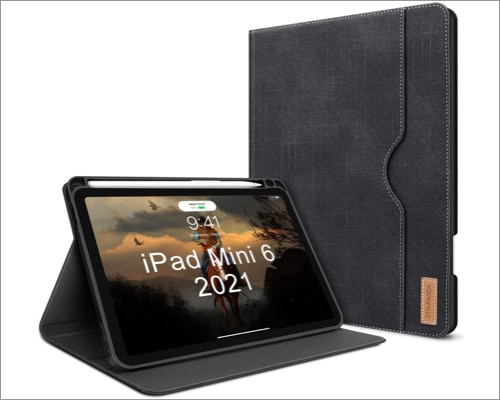 The DTH-Panda case encloses your iPad mini 6 in precise cutout polyurethane leather. It features an extra side pocket for holding cards and other flat items.
However, the DTH-Panda case supports the magnetic attachment of your Apple pencil at the groove for wireless charging. The case doesn't have a flap enclosure. But the spine extends a bit beyond the width of your tablet for additional protection.
The screen cover is foldable into an ergonomic stand and features a built-in sensor. This efficiently controls the waking and sleeping of your tablet when you open or close it.
Pros
Supports wireless charging of Apple pencil
Well cutout ports allow easy accessibility
Extra side pocket
Available in different colors
10. ProCase keyboard case – Most functional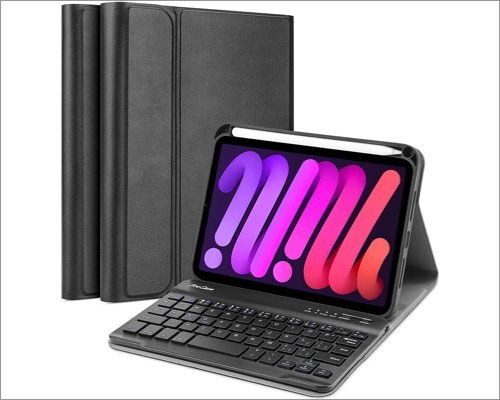 Besides protecting your tablet, the ProCase has an ergonomic design and is fully functional. It features a built-in keyboard, an adjustable back stand, a pen holder, and a magnetic front cover.
The back is rubberized and adequately padded on the inside to protect your iPad. However, while the front case controls the keyboard sensitively, it doesn't lock the iPad when you close it. The ProCase also supports wireless charging of your Apple Pencil.
A unique feature of the ProCase is it lets you convert your iPad into a typing tool with your tablet resting on the back stand and the front case gripping the keyboard.
The keyboard is operatable and functional, featuring a power switch, connection button, and indicators for power, charge, Bluetooth, and capslock. The keyboard is also platform-agnostic, featuring keys for switching between Android, iOS, and Windows OSes.
Pros
Built-in keyboard
Slim and sturdy
Supports Apple Pencil wireless charging
Cons
Front cover doesn't control the lock and wake functions of your iPad
Check out on: Amazon | ProCase
11. Cantis clear case – Most elegant design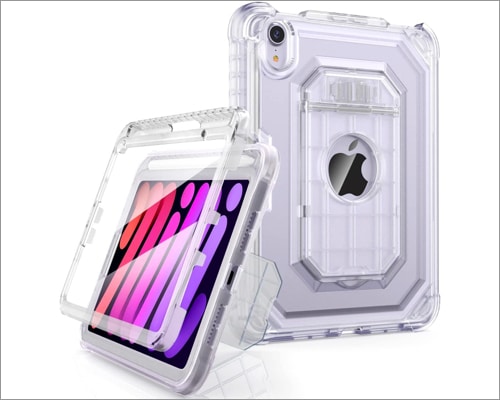 Want to delve away from the norms? Cantis clear case is something you want to try out. It's elegantly designed and completely transparent. So it's perfect for displaying the beauty of your tablet.
There's a movable kickstand at the back for placing your tablet on a horizontal or vertical viewing angle. And the ports and button outlets are well cut out for easy access.
Its entire body is a shockproof polycarbonate and thermoplastic polyurethane. However, it has a double layer to protect your iPad further. There's also a groove at the edge to hold your Apple pen in place. Instead of a screen cover, this one comes with a hard screen protector. So you need not open it to tap the screen.
Pros
Beautiful design
Double-layered protective materials
Available in different colors
Shockproof design
Sensitive screen protector
Easily access your Apple Pencil
Cons
The front and back cases are separated
That's it!
As an iPad user, you deserve to treat yourself with exclusive accessories that add a sense of convenience and functionality to your daily life. I hope this list of the best iPad mini 6 cases helped you pick the best option!
Watch out this space for more recommendations, and let us know which one you love the best in the comments below!
You may want to take a peek at:
Readers like you help support iGeeksBlog. When you make a purchase using links on our site, we may earn an affiliate commission. Read more.
Idowu is an avid tech writer and a software surfer who loves covering knowledge gaps in consumer software, including anything related to iPhones. Well, when he's not reading and learning new things, you'll find Idowu losing gallantly on a solid chessboard or virtually on Lichess.