There was a time when we anticipated if iPad could replace a Mac. Today, the iPad resembles a laptop more than ever, and all the credit goes to Apple's stunning Magic Keyboard with a trackpad. However, users must pay a heavy price for the Magic to happen! So, to cater to a wider section, Apple launched Smart Keyboard Folio, an iPad keyboard cover with an affordable price tag.
The Smart Keyboard is compatible with the base model iPad and earlier iPad Air and iPad Pro versions. Therefore, iPad Pro users have two authorized choices for Apple-branded keyboard covers. Now the question is, what's the difference between Magic Keyboard and Smart Keyboard, and which is the right one to buy? Here's a detailed take on the same.
What do you get with a Magic Keyboard?
By launching the Magic Keyboard for 12.9-inch iPad Pro, Apple took the game to the next level. It includes a complete keyboard with a scissor-switch mechanism and a trackpad. Besides, thanks to the responsive fabric keys, you will get a nice typing experience.
Also, I was surprised to see the arrow keys with an inverted "T" design like the 16-inch MacBook Pro. The best part is the backlit feature that adjusts automatically depending on the ambiance. Though it comes with a Smart Connector, Apple has embedded a USB C port for better charging.
What does Smart Keyboard Folio bring to the table?
Apple's Smart Keyboard is quite common and has been available for a while. It's a lightweight keyboard cover that is nearly water and dust-resistant. Apple has used a woven cloth reinforced around the keycaps. Besides, you can adjust the folio into vertical and horizontal viewing angles. Same as Magic Keyboard, it has Smart Connector.
Battle time – Magic Keyboard vs Smart Keyboard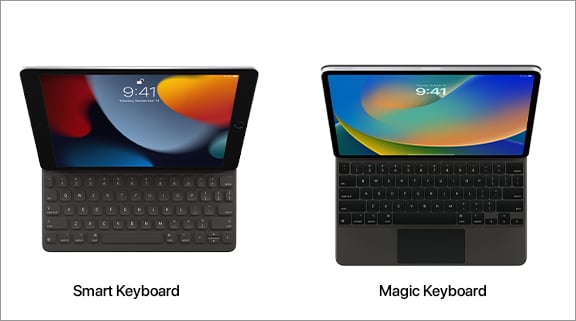 You may think the presence of a trackpad is the only difference. But no! I have rounded up a detailed comparison of the Magic Keyboard vs Smart Keyboard, including a wide range of functional, design, and price variations. Therefore, without further ado, let's get started!
1. The keyboard
If you are familiar with the keyboard of MacBook Pro and MacBook Air, this new Magic Keyboard will feel like home to you. The keys are incredibly precise and tactile without being loud, and they feel comfortable even after extended typing sessions. Also, Apple has added scissor switches with 1mm of key travel and space between the keys to ensure the best typing experience.
However, the 11-inch model is slightly more condensed. So, the side (Tab) and edge-oriented (Return) keys are affected. But for the first time, you will see a backlit keyboard on an iPad that works well in low light. Talking about the downside, the Magic Keyboard for iPad Pro doesn't include Esc, function, or media control keys.
You can choose to ignore this and opt for system-wide iPad keyboard shortcuts. I hope Apple will cover this gap soon by making the necessary additions to Magic Keyboard. My other complaint is that the lights take too long to switch out automatically, which drains the battery, and adjusting the key illumination is tricky.
Like Magic Keyboard, the Smart Keyboard Folio doesn't have a media-key row. Additionally, the typing is average because the fabric covering makes the keys stiff. So, you need to press the key harder than normal. Also, I feel like it should have more hinges so that tilting the iPad further is possible while typing.
Therefore, after getting the feel of the Magic Keyboard, I consider that my primary keyboard for typing rather than Smart Keyboard.
Score: Magic Keyboard – 1 | Smart Keyboard – 0
2. The trackpad
A major difference between Smart and Magic Keyboard is the trackpad which gives an advantage to Magic Keyboard. But you may achieve the same result with a Smart Keyboard by connecting an external mouse or trackpad. Mostly basic trackpad gestures for iPad are the same as for Mac, but there are unique ones only for iPad.
Before proceeding, here are a few things to consider. The Magic Keyboard's trackpad is significantly small in size, doesn't have a glass top, and physically reacts to clicks rather than haptics. So, I face issues while doing pinch-to-zoom or scrolling fluently. Also, the loud trackpad click sound is annoying. Therefore, Apple needs to work on these fixes. But overall, it's a pretty good deal!
Score: Magic Keyboard – 2 | Smart Keyboard – 0
3. Ports
There are rumors that Apple will completely switch to USB-C, and this little addition might be some proof. You get a pass-through USB-C charging connector on the left side of the Magic Keyboard's hinge. The iPad's USB-C connector is on the right. So, you may charge at a desk from either side.
Additionally, you may connect wired mice, flash drives, or other USB-C accessories to the iPad's USB-C connector while charging. On the other hand, you are not required to charge the Smart Keyboard. So, excluding the Smart Connector, it doesn't have any ports. Therefore, if you use any external accessories with your iPad, you should go for the Magic Keyboard.
Score: Magic Keyboard – 3 | Smart Keyboard – 0
4. Adjustability
The Magic Keyboard uses a strong magnet to secure the iPad Pro. Besides, it has a cantilevered hinge. So, you can tilt the iPad up to 130 degrees until you reach the ideal viewing position. Also, the Magic Keyboard has really got some "magic" as it lets your iPad levitate above the keyboard.
Therefore, you won't need to look down repeatedly like Smart Keyboard Folio. Additionally, while testing, I felt the Magic Keyboard is a little more comfortable on the lap. With Smart Keyboard Folio, you will get two viewing angles that are nearly non-adjustable. Another thing is that it's designed to be used on flat surfaces like desks.
Score: Magic Keyboard – 4 | Smart Keyboard – 0
5. Weight and portability
Okay, so till now, I have made the Magic Keyboard winner in all the above criteria since it truly deserves it. But the Smart Keyboard Folio does have certain advantages. When comparing Magic Keyboard vs. Smart Keyboard, the latter is much lighter. The Smart Keyboard Folio weight is 0.89 pounds, whereas Magic Keyboard is 1.6 pounds.
It's because Magic Keyboard has metal plates within the keyboard. So, it's durable and sustains a longer period. On the other hand, the Smart Keyboard Folio bends and warps when you lift it up by the keyboard. Magic Keyboard is rigid and can't be folded. Therefore, Smart Keyboard will be a better choice on the go.
Score: Magic Keyboard – 4 | Smart Keyboard – 1
6. The cost
So far, Magic Keyboard is the runaway leader, but this final criterion is all that matters. Using a keyboard is becoming essential with an iPad as it may replace your Mac. But for a base model of iPad, getting a Magic Keyboard for $299 (or $349 for the 12.9-inch version) is really hefty. On the other hand, The Smart Keyboard Folio is priced at $199 for the 12.9-inch variant and $179 for the 11-inch model.
So, set your budget first and choose which one you can afford. But all things said and done, Magic Keyboard is the cleaner winner for me!
Which one should you get?
I have been using Smart Keyboard and Magic Keyboard for an extended period. Choosing between the keyboards depends on how you plan to use your iPad and how much you want to spend.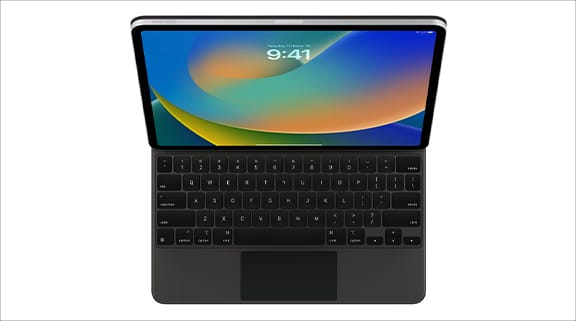 Nowadays, I do all my research and writing on my iPad Pro thanks to Magic Keyboard's trackpad. But it's not suitable for sketching.
So, I may choose the Smart Keyboard Folio because it offers lightweight, comfortable, or mobility. I don't need to take the folio off to use my Apple Pencil and take notes.
But I don't regret my choice of buying the Magic Keyboard. And I advise others debating between the two to assess their needs and how they use their iPad Pro.
So, that concludes my thoughts. What's your opinion on this? Let me know in the comments below.
Explore more…
Readers like you help support iGeeksBlog. When you make a purchase using links on our site, we may earn an affiliate commission. Read Disclaimer.