iPhone is arguably one of the most sought-after smartphones. However, if you are tight on budget, you can buy a used device at a significantly lower price. After all, a brand new iPhone could be expensive, and Apple rarely discounts new models.
However, a used iPhone comes along with certain risks. Don't worry! We can reduce these risks with due diligence. Wondering what are those? Read on to explore 10 things you need to check before buying a used iPhone.
1. Is it safe to buy used iPhones?
Buying a used iPhone is not entirely free of risks. However, with specific checks, you can reduce the risk considerably. It is also important to buy a used iPhone from a reputed source. Before searching online, consider reaching out to family and friends. Ask if they are selling their iPhones.
When buying an iPhone from a stranger, meet at a public place with Wi-Fi. Don't hesitate to ask questions. Follow the suggestions in this article for a stress-free buying experience. Relatives and friends are the best places to buy a used iPhone. You can also check for independent Apple resellers in your vicinity.
2. Which used iPhone should I buy?
Confused over which used iPhone to buy? Newer used iPhones carry a lower risk. If you are looking for trouble-free ownership, relatively new iPhones make a lot of sense. A used iPhone with a warranty is icing on the cake. iPhones can last for as long as 6-7 years, considering it is taken care of.
You can decide on a used iPhone model based on price and features. The latest iPhones command a higher price tag. I would personally steer away from buying a device used for four years or more.
3. Check warranty details using the serial number
Apple lets you check warranty details, service, and support coverage. Head over to this site and enter the used iPhone serial number. Repairs and Service Coverage will be active if the used iPhone is within warranty. You can also see the estimated expiration date and set up a repair whenever needed.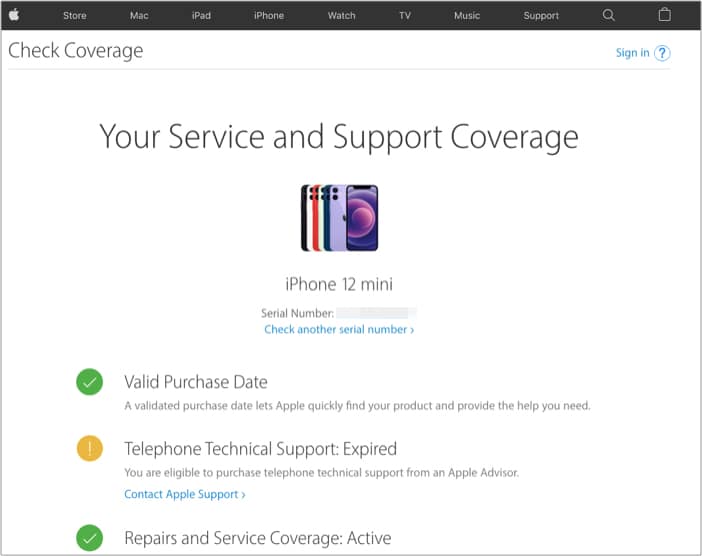 The valid purchase date confirms that iPhone is activated through the website. Furthermore, Apple records the purchase date or activation date in the database.
4. Establish previous ownership
Ensure iPhone is not stolen by establishing previous ownership. Ask the seller for the original purchase receipt. Ensure the receipt is not forged. You can also ask the seller for their ID and save it for future reference.
Suppose the seller refuses to hand over any of the documents. It should set alarm bells ringing. Lastly, pay for the used iPhone with PayPal or a credit card. That way, there is a record of the transaction. If anything goes wrong, you can ask the bank to refund the payment.
5. How to make sure the used iPhone is not stolen?
Buying a stolen iPhone can land you in big trouble. It is worth spending time and effort to ensure the device is not stolen. I suggest using a stolen phone checker tool. Enter your IMEI and check if the iPhone is flagged as stolen. Thankfully the tool lets you run five free queries per day.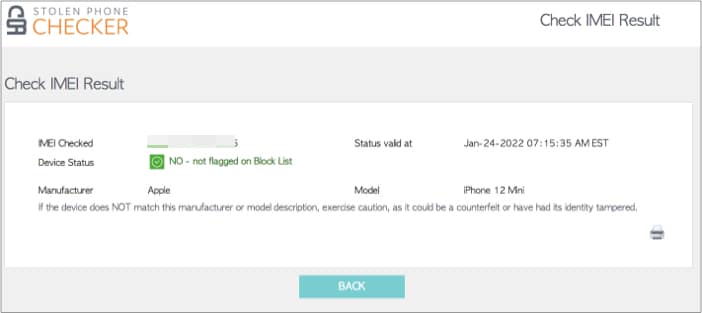 Next up, ensure that Find My iPhone and iCloud lock is turned off. Ask the seller to turn it off. Steer away if the seller refuses to disable the Find My or iCloud activation lock.
6. Ensure the iCloud activation lock is disabled
iCloud activation lock helps people protect their iPhones. Once the lock is activated, you will not be able to use the device. It is very important to check the activation lock before buying a used iPhone.
Here is how you can check:
Go to iPhone Settings.
Tap About.
Swipe up and note down the IMEI number.
Alternatively, dial *#06#.


Open iCloud on your Mac or Windows PC.
Type IMEI number.
Enter the verification code.
Select Continue.
If the IMEI is locked, don't buy the iPhone.
Note: Ask the previous owner to deactivate the iCloud lock before buying. Check the status only after the seller disables the activation lock.
7. Perform a hardware test
Hardware issues are often expensive to fix. It is also very difficult to detect hardware issues with a visual inspection. I would suggest contacting Apple support and asking them to remotely run a diagnostics. You can decide whether to buy the used iPhone after performing a hardware test.
Alternatively, you can use a third-party app like TestM and run a diagnostic.
8. Check iPhone for water damage
The majority of iPhones sold after 2006 come equipped with Liquid Contact Indicators. Typically, the LCI would activate only when it comes with water or other liquids. It is not sensitive to humidity and temperature changes. With the help of an indicator, you can check whether the used iPhone has water damage.
Apple suggests using a magnifying glass to check for water damage. Open the SIM tray and hold your device at an angle. The incident light makes the LCI strip visible. A red strip indicates liquid damage. Stay away from liquid damaged iPhones.
9. Check iPhone parts and service history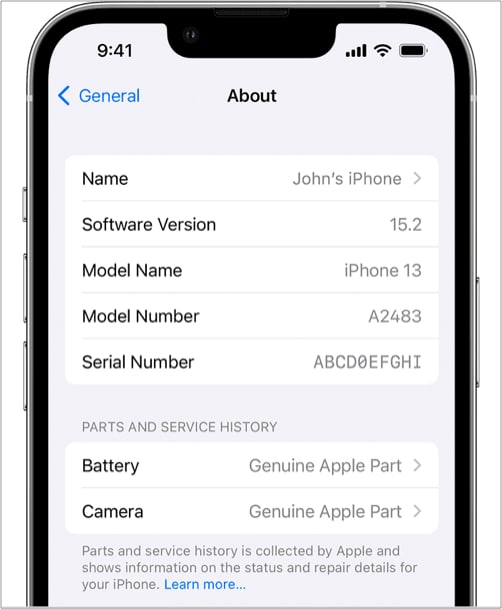 Genuine Apple parts are relatively expensive and difficult to get hold of. Some iPhone owners might unknowingly get their devices repaired with fake or non-OEM spares. Such parts give up easily and could cause trouble.
Apple has added a new Parts and Service History feature with iOS 15. With this, you can check your iPhone service history. It also shows whether repair centers have used genuine parts.
10. Is it better to buy a used or refurbished iPhone?
Buying a used iPhone is not for everyone's cup of tea. For some, the hassles of buying a used iPhone could outweigh the benefits. In such cases, you can consider purchasing a refurbished iPhone from trusted sellers. The warranty and service support will give you peace of mind.
That's all for now!
I hope this guide helped bring more clarity to your purchase decision. Ensure to perform all these checks and pre-inspection before finally buying a used iPhone. Furthermore, don't hesitate to pay a shade more to known sellers.
Would you like to add anything more to this checklist? And which used iPhone are you planning to buy? Let us know in the comments below.
Read more:
Readers like you help support iGeeksBlog. When you make a purchase using links on our site, we may earn an affiliate commission. Read more.
Mahit is an engineer by Education with a corporate stint to his name. He ditched the corporate boardroom wars in favor of the technology battleground. For the better part of a decade, he has worked for popular publishing outlets, including Dennis Publishing, BGR India, AppStorm, MakeUseOf, and iPhonehacks.