Apple has added the "Parts and Service History" feature to iPhone. Now, iPhone users will get to see whether repair centers have used genuine parts to service their devices. The new feature will deal a blow to counterfeit parts suppliers while safeguarding iPhone users.
Let us look at how this feature works across different iPhone models.
What is iPhone parts and service history?
With iOS 15.2, Apple has enabled users to see the parts and service history of their iPhone. This comes as a big step to back up its Right to Repair program, preventing users from fraud.
It allows you to see whether the technician repaired with genuine Apple Parts. Apple says the status of parts will not affect the usability. Moreover, it won't take action against iPhones serviced with fake parts.
The feature ensures Independent Repair Providers use Apple genuine parts. As previously, people criticized Apple for disabling iPhones repaired by a third party.
So which iPhones does it support? Let's find out.
iPhones that support the Parts and Service History feature
Apple has limited Parts and Service History to newer iPhone models running iOS 15.2. The detailed service history is available on iPhones 12 and 13. Let us look at different iPhone models and the service history support.
iPhone XR, XS, XS Max, and iPhone SE 2020 – You can check if the battery has been replaced.
iPhone 11 – You can see if the battery or display has been replaced.
On iPhone 12 and iPhone 13 – You can see if the battery, display, and camera have been replaced.
How to check if iPhone was serviced using genuine Apple parts
Head over to Settings → General → About. Here you will see the iPhone repair history option. On devices running iOS 15.1 or earlier, you can only see whether the part is genuine or not.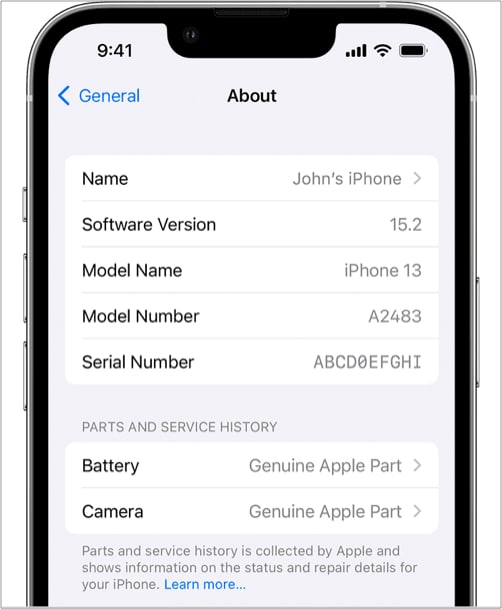 If the technician used genuine parts, you would see "Genuine Apple Part." You can tap the part to see more information like the date of the service.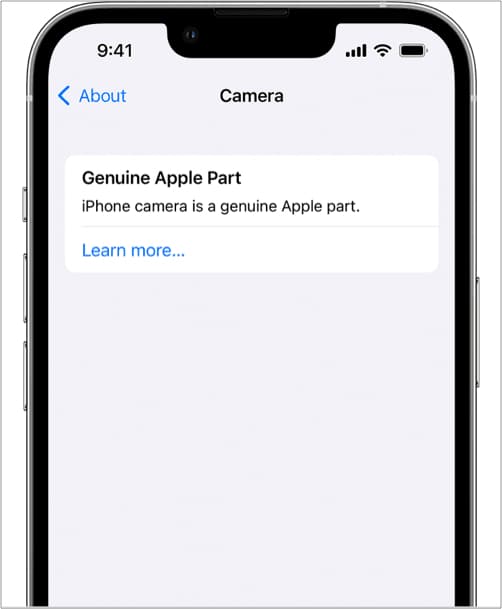 Alternatively, iOS also displays a message that says Unknown Part. But what exactly is it? Let's find out.
What does Unknown Part mean?
iPhone Parts and Service History shows Unknown Part if the part is not genuine. The message also appears if the technician used parts from another iPhone. In some cases, Unknown Part may also signify incomplete installation of the part.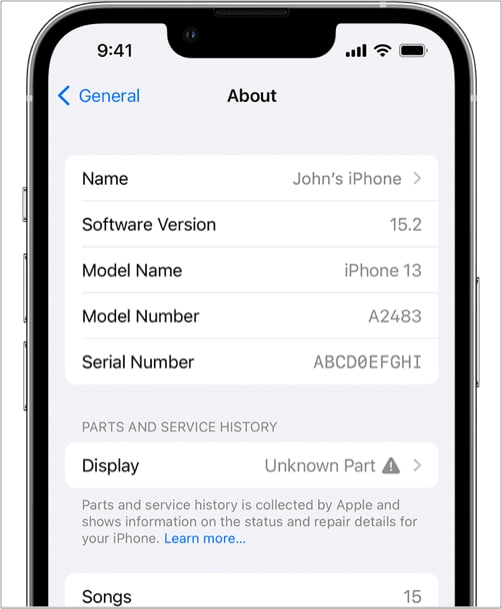 Check messages for display and battery
The Parts and Service History shows repair history for display and battery. After a screen replacement, you could get a message that says, "Apple has updated the device information for this iPhone." This message means Apple is unable to verify the replaced display. You can reach out to certified technicians and ask them to update it in such cases.
Apple warns that such displays could function improperly and even cause safety issues. For example, features like True Tone could stop working. You might also face touch problems and a noticeable decrease in color accuracy and brightness.
Previously, Apple used to show a notification on the iPhone lock screen for four days. I am not sure if it will continue to do so.
Why does Apple store iPhone repair data?
Apple mapped information about parts and service history with iPhone serial number. The company says it is used for "service needs, safety analysis, and to improve future products." Furthermore, the feature won't be accessible if the battery, camera, or display are not replaced.
The repair data could help Apple accept/reject warranty claims. It will be easier to identify defects on iPhone and, if needed, issue an early recall.
Why you should use genuine Apple parts
Newer iPhones are sleek and pack more hardware than before. Improper fitting could cause malfunction and other safety hazards. In some cases, the device could overheat or explode. Hence, it is highly recommended to use genuine parts.
Devices with genuine parts will fetch a better resale value. You will get a warranty on repairs.
You can either take your iPhone to Authorized Service Providers or Independent Repair Providers. Apple trains the latter to access genuine parts and tools. The best part is that Independent Repair providers offer repair warranties.
Wrapping it up
Apple has designed iPhone Parts and Service History to dissuade people from installing third-party parts. This move is beneficial for Apple, as the company will get to sell more parts. It is worth noting that Apple parts are significantly expensive in comparison to others.
iPhone users will also reap certain benefits. While buying used iPhones, you can verify if it has been repaired with original components.
Do you prefer repairing iPhones yourself or visiting Apple authorized service center? Share your thoughts in the comments below.
Read next:
Mahit is an engineer by Education with a corporate stint to his name. He ditched the corporate boardroom wars in favor of the technology battleground. For the better part of a decade, he has worked for popular publishing outlets, including Dennis Publishing, BGR India, AppStorm, MakeUseOf, and iPhonehacks.