Apple Watch has always managed to catch my fancy. Apple Watch Series 7 with slimmer bezels and a larger display takes it up a notch. But a new smartwatch could dent your wallet, and Apple is known to offer little to no discounts on new devices.
Now, what if I tell you there is a way to get a huge discount on the latest Apple Watch. No, we are not talking about a shady deal on Craiglist. Refurbished is one of the best ways to get your hands on the Apple Watch. You can save between 15-30% without giving up on the standard one-year warranty. Read on to know-how.
What is a refurbished Apple Watch?
Refurbished Apple Watch refers to those that are used or opened devices. Refurbishers source Apple Watch from multiple channels. The supply includes unused devices with physical damages, returned pieces, or even used conditions. The watch is then graded according to the condition.
After grading, the device is subjected to hardware and software tests. The refurbisher will replace Apple Watch parts with new genuine Apple Parts if required. However, it may have certain defects like minor scratches or discoloration in some cases. But how is it different from the used Apple Watch? Read to find out!
Difference between refurbished and used Apple Watch
Used Apple Watch is sourced from the seller and sold directly. On the other hand, refurbished Apple Watch passes through multiple hardware and software checks. Consumables like batteries are changed if necessary. Best of all, you get a one-year warranty with a refurbished Apple Watch.

You don't run into the risk of buying a stolen or misused a product in case of refurbishment. In short, it is worth paying more for refurbished products than taking a risk with a used one.
We have curated the best (and trustworthy) places to buy Apple Watch in the U.S. Furthermore, you can get heavier discounts on the previous generation refurbished Apple Watch.
Where to buy a refurbished Apple Watch?
I have listed the 7 best places from where you can buy the original Apple Watch. Let's check them one by one.
1. Apple-certified refurbish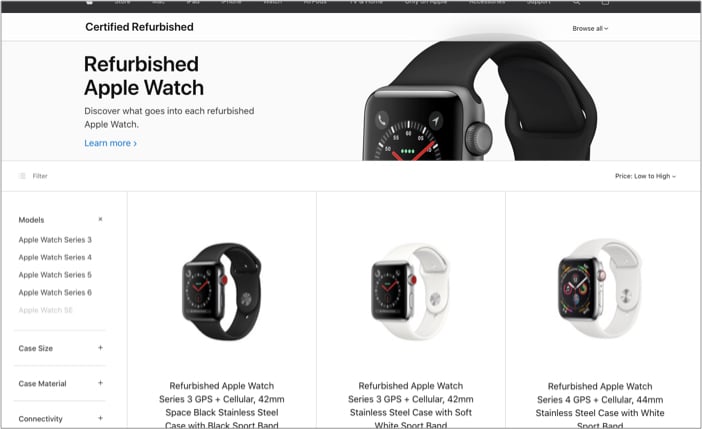 Certified refurbished is by far the best bet quality-wise. Apple has checked and certified the refurbished devices, so you don't have to worry about anything. Most importantly, the one-year brand warranty is identical to the one for new devices.
Certified Refurbished Apple Watch will be shipped in a new white box. You will also get a one-day delivery option. Discounts start at 10% and go all the way up to 35% for the older Apple Watch.
Certified Apple Watch Deals on Apple
2. Walmart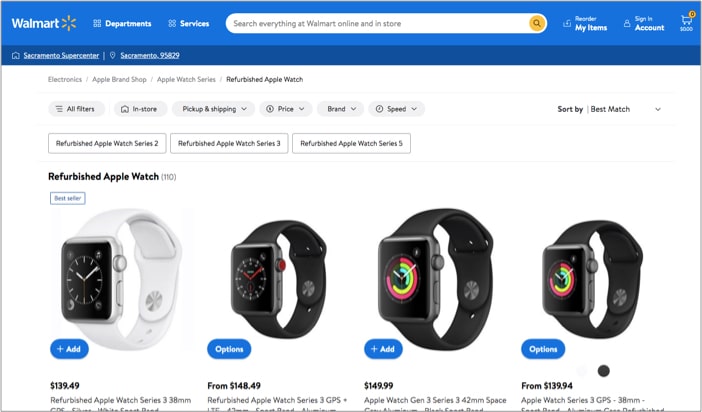 Walmart boasts an impressive refurbished Apple Watch inventory. With free shipping, you can snag a Series 3 for as low as $134.98. You get features like fall detection and ECG at a bargain price. In my opinion, the Apple Watch Series 5 at $249 is the best deal.
Walmart sellers typically offer a 30-days refund window. So, ensure to check for discoloration and other abnormalities. If something is wrong, you can always return. Check for the "Certified Refurbished" tag on the products. You will be better off buying certified refurbished.
3. Mac of All Trades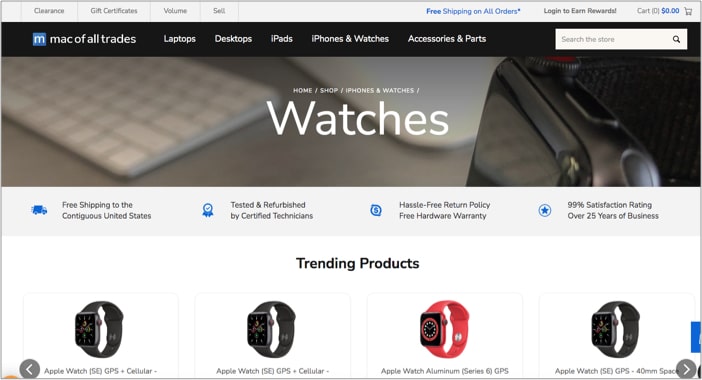 Mac of All Trades is an aggregator for refurbished Apple products. In other words, they list refurbished Apple Watch from multiple sellers. You can choose between "Factory Sealed, excellent, very good and good." I liked how you can filter products depending on conditions.
Mac of All Trades has awesome deals for the latest Apple Watch Series 7. You can get one for as low as $399. It is a factory-sealed piece and comes with a one-year standard warranty. The payment plans make it easier to afford a refurbished product.
Mac of all Trades puts Apple Watch through its paces via 40-step inspection. Next up, the smartwatch is subjected to a hardware test. The refurbished Apple Watch is shipped after it passes all the tests.
All refurbished Apple Watches are shipped free of cost. Lastly, the optional two-year platinum warranty on some products is the icing on the cake.
4. RefurbMe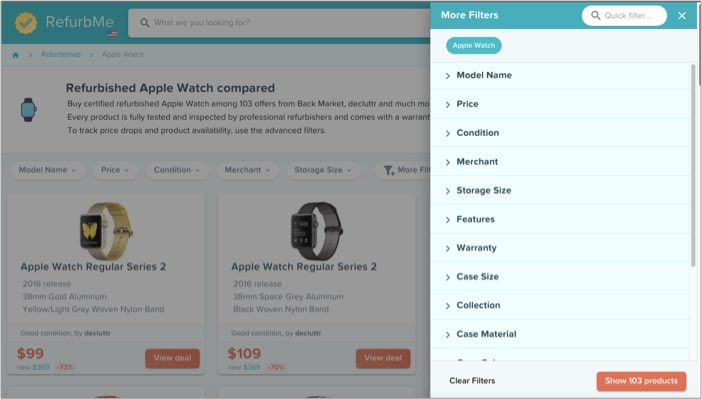 RefurbMe is an aggregator platform with a ton of useful features. They have set up filters and standards for various parameters, including wear and tear, warranty policy, battery health, etc. I loved the consumer-centric design and the comparison process.
RefurbMe claims that it cherrypicks retailers with a good track record. Plus one for that! However, you must remember that the warranty starts with 30 days. So, double-check the warranty policy before purchasing a refurbished Apple Watch. The site has listed Apple Watch Series 3 as low as $118.
But I was dejected to find Apple Watch Series 7 missing from the inventory.
5. Decluttr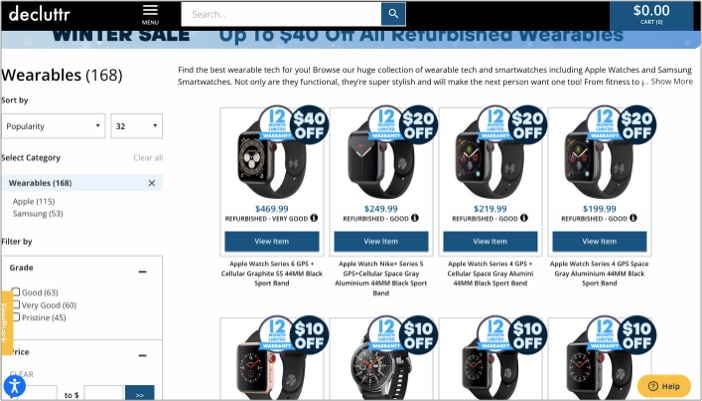 Established in 2015, Decluttr has comprehensive in-house refurbishment with up to 90 quality checks on some items. Hence, the higher is understandable. Decluttr also offers a 12-month limited warranty and a 14-day no-questions-asked money-back guarantee on all refurbished Apple Watches.
Further, Decluttr accepts multiple payment options and also provides a student discount. I am happy to share that it has products in good condition. So you wouldn't have to think twice before buying. Moreover, Decluttr is currently offering additional discounts as part of the winter sale.

The site offers an impressive Apple Watch Series 5 inventory at $239.
6. Geek Squad on Best Buy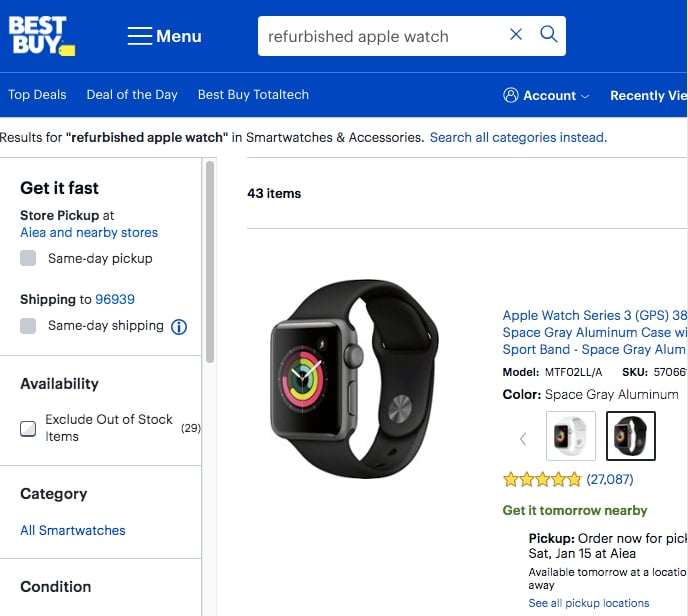 Best Buy needs no introduction. In 2002 the retailer partnered with Geek Squad for refurbished devices. We suggest you drop by the nearest Best Buy store to physically check Apple Watch and choose the best one.
Besides, there are some advantages of buying a refurbished product from Best Buy. You can get up to 24 months of product support or go for the AppleCare+ plan for up to 2 years. Best Buy also offers a 15-day no-questions-asked return.
7. Back Market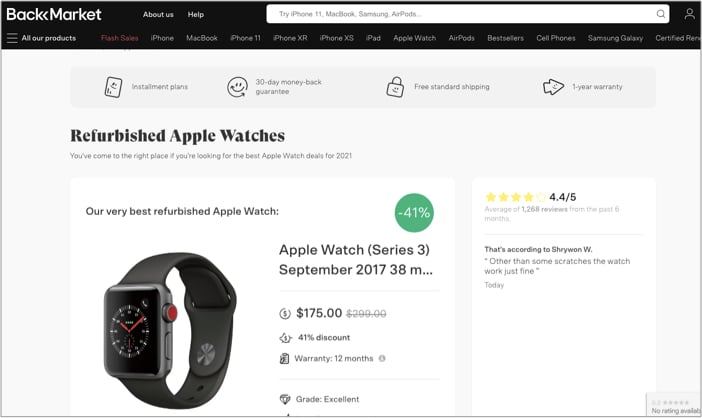 Back Market is an aggregator platform for refurbished Apple products. The platform grades each product based on how it'll look and technical conditions. However, it doesn't have as massive listings as RefurbMe or others. Further, Back Market boasts of stringent quality checks and trustworthy sellers.
That apart, you also get a standard 12-month warranty and a 30-day return window. The site offers free shipping and multiple payment methods to enhance the customer experience.
Things to know before buying refurbished Apple Watch
Firstly, there is nothing wrong with buying refurbished products. I am saying this because many of us presume "refurbished" is a faulty device. Even if the product is faulty, you can always return it or get it repaired under warranty.
Double-check warranty details and policy.
Apple-certified, Walmart, and Best Buy refurbished products are eligible for AppleCare+.
Check how much the new Apple Watch costs compared to the refurbished one. If the difference is less than 10%, go for a new one.
Check for discoloration, scratches, or any other defects. I am more comfortable buying refurbished products as opposed to used ones.
Buy from certified sellers with good feedback.
I hope the article cleared all your doubts about the refurbished Apple Watch. If you have doubts, feel free to drop a comment.
Read More:
Readers like you help support iGeeksBlog. When you make a purchase using links on our site, we may earn an affiliate commission. Read Disclaimer.