With Apple Watch Series 4, Apple has given serious considerations to your health and fitness. Among the many health features, I particularly like ECG report and Fall Detection, from which, the latter is a blessing for all. Enabling Fall Detection feature in Apple Watch Series 4 or 5 could prove to be a life-saver. Before jumping onto how to get started with this well-thought-out feature, let's first understand what exactly the "Fall detection" is and how it works?
It's a health and security feature that's designed to help you out in an unfortunate situation where you suddenly fall and become too unconscious to move. It first alerts you and even taps on your wrist to confirm whether you are OK. And when the Apple Watch detects that you are unable to move, it automatically calls emergency services.
How to Turn ON Fall Detection on Apple Watch Series 4 or 5

One important thing worth noting upfront is that if you are above 65 and has mentioned your age while setting up your Watch or in the Health app on your iPhone, this feature will already be enabled
To allow the Watch to call emergency services automatically, you must enable Wrist Detection. To do so, open Settings app on your Apple Watch → General → Wrist Detection and ensure that it's turned on
In countries where there a multiple emergency service numbers, the watchOS 6 will call the ambulance services number
One more thing, the watch uses your Medical ID to access your emergency contacts. So, ensure that you have enabled your Medical ID and also added trusted contacts
Step #1. Launch Watch app on your paired iPhone.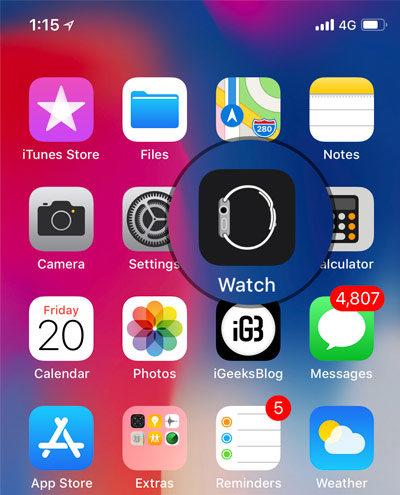 Step #2. Now, make sure My Watch tab is selected, if it's not already.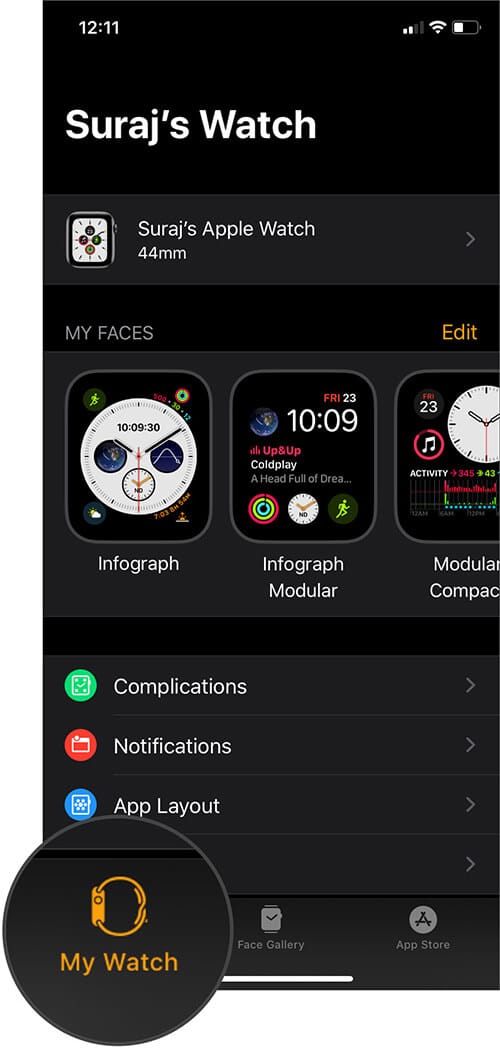 Step #3. Next, tap on Emergency SOS.
Step #4. Next up, turn on the switch next to Fall Detection.
Step #5. Up next, a popup will appear on the screen reading, "The more physically active you are, the more likely you are to trigger fall detection due to high impact activity that can appear to be a fall." Tap on Confirm in the popup to enable the feature.
Going forward, whenever the Watch detects that you've fallen, it will first send an alert with multiple options like "I didn't fall," "I fell but I'm OK," and "Emergency SOS." Now, if you are OK, you can confirm by tapping the alert. However, if you aren't fine; you have the option to call emergency services.
Do note that if you don't move, the watch will then tap on your wrist. If you stayed unmoved for about a minute even after the tap, the wearable device would automatically call emergency services after a countdown of 15 seconds ends. Besides, it will also send alerts along with your location to your trusted contacts.
Do note that as mentioned on Apple Support, you may accidentally trigger this security feature if the watch finds you a bit more active. In this case; you may want to disable it.
How to Disable Fall Detection on Apple Watch Series 4 or 5

To do so, you need to follow the steps mentioned above and turn off the switch next to Fall Detection in the end.
How to Check Your Fall History
When the Watch finds that you are immobile, it not just dials emergency SOS but also records the fall in the Health app. At any time, you want to keep a tab on the history, you will check them out with ease.
Step #1. Open Health app on your iPhone.
Step #2. Now, tap on Health data tab.
Step #3. Next, tap on Results.
Now, check out how many times and when you had a nosedive.
Not Perfect As Yet…But Remarkably Useful
As revealed by various tests, this feature may not be flawless as yet. However, if you want to have extra gear for your safety, you should keep it on.
Thanks to the superior gyroscope and accelerometer, Series 4 and 5 is smart enough to distinguish between light and hard falls. And with time, it's going to get even smarter in identifying the true tumblings.
You might want to refer these posts as well:
What's your take on this yet another life saver feature that's arrived for the Watch? Do shoot your valuable thoughts in the comment box.
The founder of iGeeksBlog, Dhvanesh, is an Apple aficionado, who cannot stand even a slight innuendo about Apple products. He dons the cap of editor-in-chief to make sure that articles match the quality standard before they are published.