A clipboard lets you copy any item and paste it into a supported app within a few clicks. However, the built-in Mac clipboard can be limiting, especially because macOS stores nothing besides your most recently copied item. Fortunately, many third-party clipboards available for Mac can solve this issue and cater to a variety of requirements.
I started looking for the same and compiled a list of some of the best clipboard managers for Mac. Surf through the entries, weigh the pros and cons, and take your pick!
1. Copy 'Em – Editor's Choice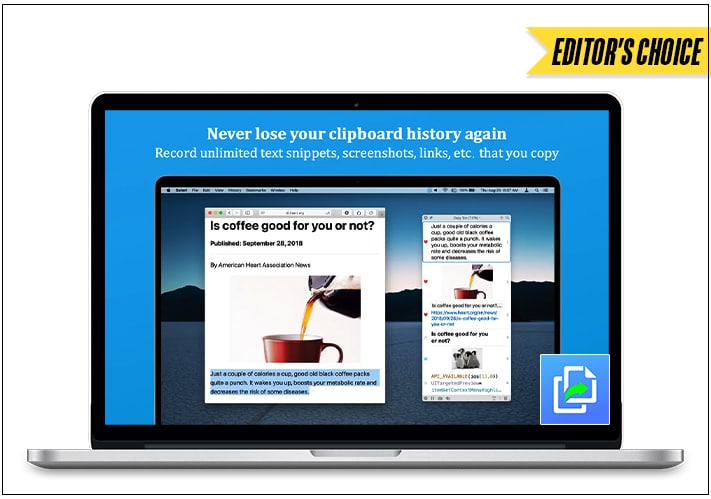 Copy 'Em is the ultimate clipboard manager you can get if you don't want to compromise. It can keep unlimited records of everything you throw at it, irrespective of whether it is text, images, PDFs, color codes, or even files. Since Copy 'Em is available on iPhone and iPad, you can easily sync your Mac's clipboard on both of them.
Like other clipboard managers, you can access the complete list of copied items through the menu bar icon. Moreover, you can organize those items into lists or drag them to rearrange their order for quicker access. Lastly, Copy 'Em allows you to pause using it if you ever want to use Mac's built-in clipboard manager.
Pros
Simple interface
Categorization to access things quickly
Snippets
Sync with iPad and iPhone
Price: $14.99
2. CopyClip 2 – Successor to CopyClip with more features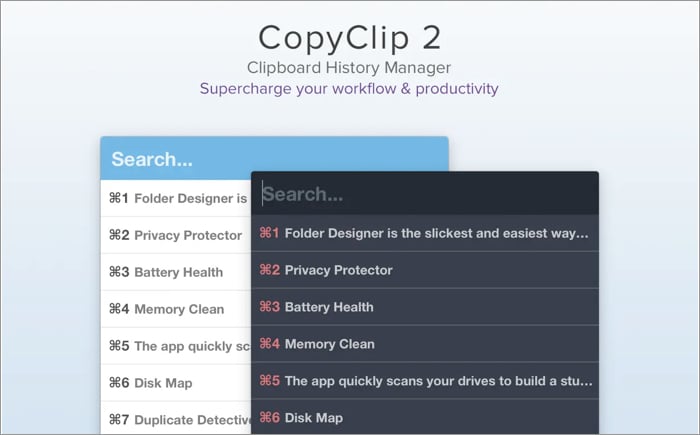 CopyClip 2 is the successor to one of the most successful clipboard managers of all time, CopyClip. It comes with more advanced features than its previous version. While it can copy various things to its clipboard, you can save formatted text and exclude certain apps from saving copied items to CopyClip 2.
CopyClip 2 resides on the menu bar of your Mac, and you can access it with a click or use the Control+Shift+Space shortcut on your keyboard. Even though it's improved, it still can't hold images or tables properly like its previous versions. So if you were a fan of its predecessor, you'd love this update.
Pros
Pin copied items
Access copied text or links quickly
Support for MacBook with Touch Bar
Cons
Issues with images and tables
Slightly expensive for the features it offers
Price: $7.99
3. Pasty – Clipboard manager with a user-friendly interface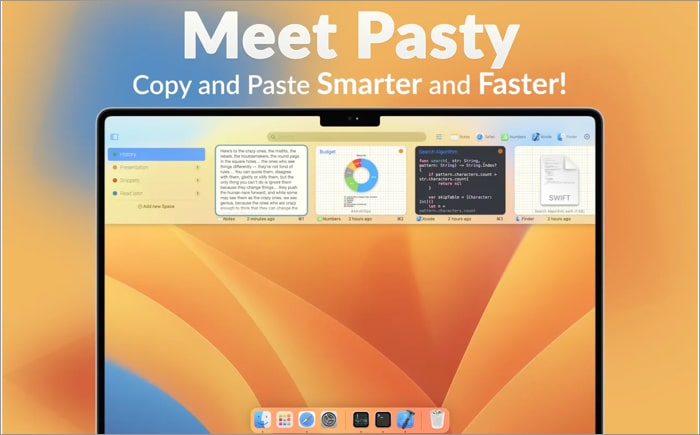 If you don't like the typical old looks of a clipboard manager, you can check out Pasty. It has an entirely modern interface. It functions as well as it seems, allowing you to copy images, large amounts of text, and different data between apps.
When you access all the copied data using a keyboard shortcut, you'll notice that you can create different spaces and organize copied data accordingly. Furthermore, it has a Smart search feature that lets you search for text from different files, images, and texts using the text recognition feature.
Pros
Minimal user-interface
Spaces feature to organize items
Smart Search
Price: Free (In-app purchases start at $0.99)
4. Maccy – Lightweight clipboard manager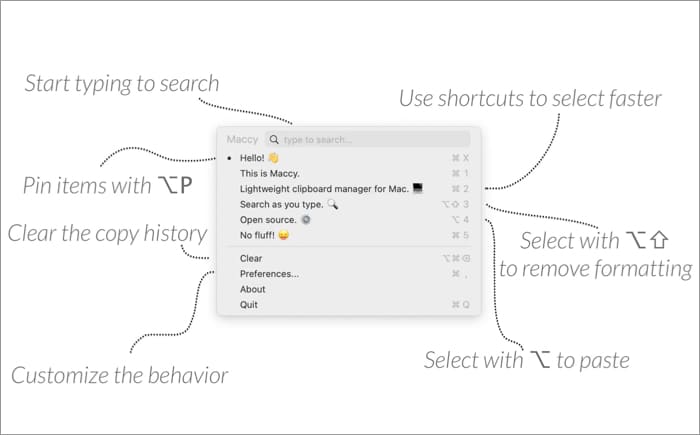 Maccy is an open-source and lightweight clipboard manager that can hold and let you access your data instantly. It works fast since it's light and works mainly with keyboard shortcuts. Additionally, this app easily lets you paste anything with or without formatting.
Moreover, the developer built the app using the native macOS UI. So, you'll quite often find it as a part of macOS instead of a third-party app. Since it's open-source, you can take the code from GitHub and customize it to your liking by changing the code.
Pros
Works with keyboard shortcuts
Copy images
Support for Hex Colors
Price: $9.99
5. PastePal – Clipboard sync with modern UI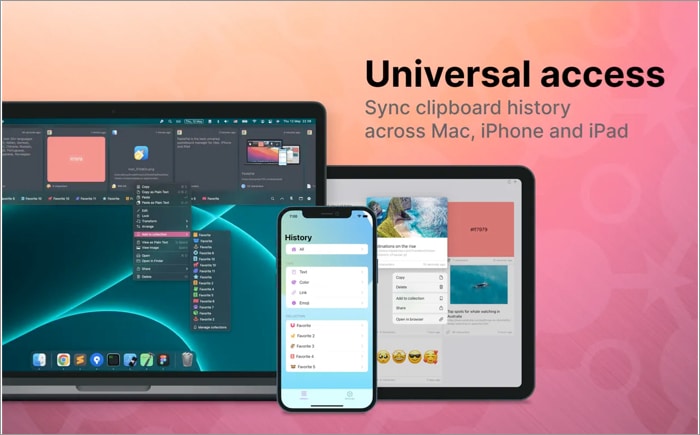 If you're looking for clipboard sync across your Apple devices and don't want to compromise the user interface, PastePal is your solution. Once you install the app on your iPad or iPhone, you can access all your Mac's clippings in the app. Also, PastePal goes hand-in-hand with Apple's user interface and looks beautiful while not making it hard to navigate.
On the Mac, it comes with a quick sidebar that you can access with a keyboard shortcut. The sidebar houses all the recently copied items, and if you think it's limited, you can always go to the app, where you can find all your clippings categorized by app, type, and selection.
Pros
Beautiful user-interface
Sync across devices
Better Organization
Cons
Performance issues then and now
Price: Free (In-app purchases start at $0.99)
6. Paste – Sync clipboard with iPhone and iPad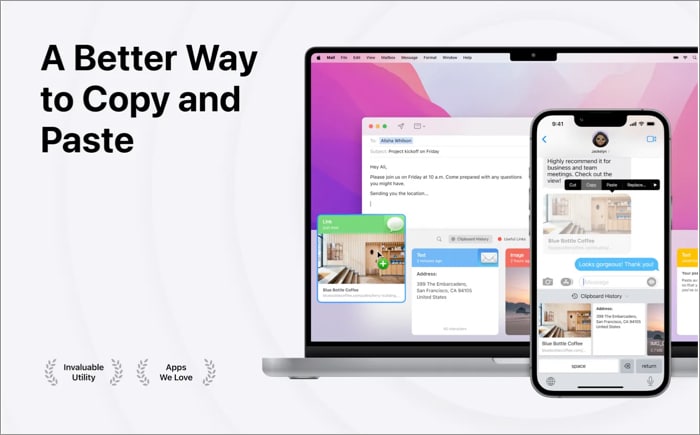 If you want a clipboard manager for your Mac but don't want to miss out on the Handoff feature that Apple provides, Paste is the perfect solution. Since it's also available on the iPad and iPhone, it'll sync your items on all devices like Handoff. However, you'll need to get its subscription to utilize this feature.
It comes with a different interface compared to other clipboard managers on the Mac. Instead of opening in the menu bar when you click on it, Paste opens up from the bottom, revealing all the copied items. Furthermore, you'll find all the items categorized in their respective ones, which helps you find what you want quicker.
Pros
Clean interface
Categorization to access things quickly
Pinboards (snippets)
Price: Free (In-app purchases start at $1.99)
7. Flycut – Clipboard manager for developers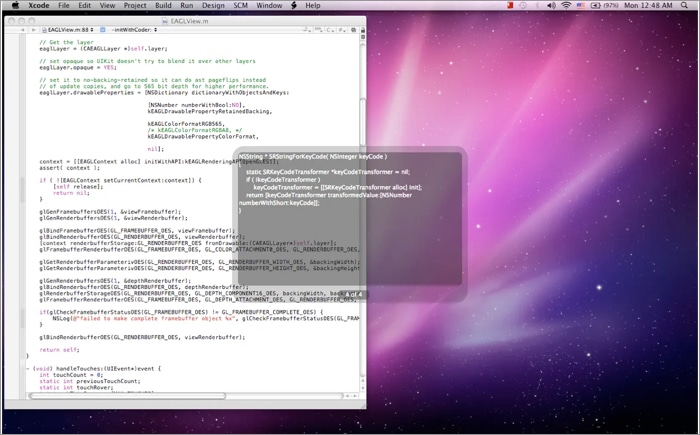 If you're a developer and copy a lot of stuff while coding, then the Flycut app is right for you. The developer built it upon an open-source program called Jumpcut. When you copy a code, Flycut will keep it in the menu bar. You can access it later by pressing the Shift+Command+V shortcut and then clicking on the code while pressing the keyboard's Control button.
The app doesn't provide many tools for everyday users since it doesn't let you copy images or links. So it's best to look for other apps on this list if you're not a developer. The best part is that it doesn't cost a dime, so you shouldn't expect much from it.
Pros
Detects and copies code
Easy to access keyboard shortcut
Free
Cons
Doesn't support images or links
Price: Free
8. Pastebox – Intuitive clipboard manager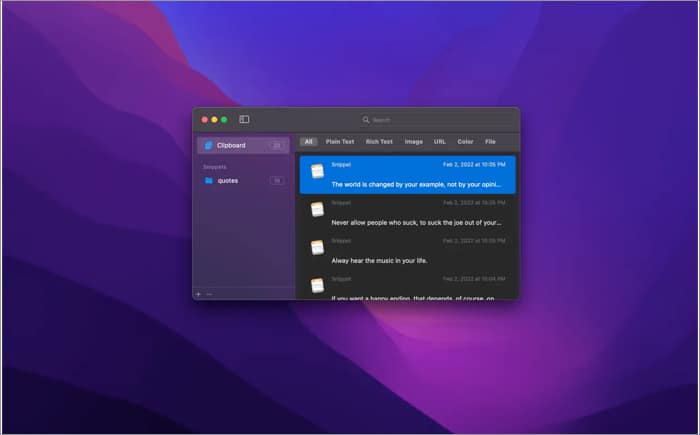 If you're looking for a simple clipboard manager supporting most file types, give Pastebox a shot. From plain text to images, Pastebox can handle everything efficiently while providing many options to manage the copied data. Since it has persistent history, you don't have to worry about losing your clipboard items.
Like other clipboard managers, you can use a simple keyboard shortcut to invoke it from the menu bar. Moreover, if you want to paste a previously copied item and not the current one, there's a shortcut in this app. Lastly, it has a powerful snippet manager that lets you save text snippets so you can use them later.
Pros
Intuitive user interface
Easy to access keyboard shortcut
Supports images, links, and hex colors
Price: $5.99
9. CopyLess 2 – Paste the last ten clippings instantly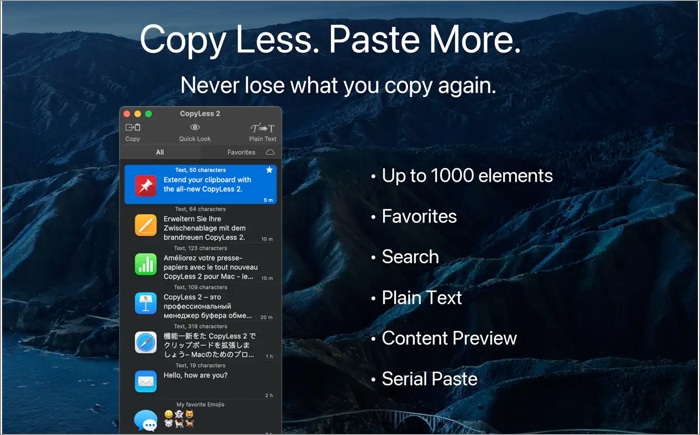 CopyLess 2, as the name suggests, is a successor to the CopyLess clipboard manager. It boasts all the same features as CopyLess but adds more on top of it. You can store up to 1000 clippings to the clipboard, including images, text, files, color codes, and more. Moreover, you can access it using a keyboard shortcut.
Also, you can copy the most recent clipboard items by pressing the Cmd and followed by any number between 0-9, depending on the position of the item. Besides, it lets you search through all the clipboard clippings to find any text in images, texts, or links. Although the app is free, post a seven-day free trial, you will have to pay a $7.99 one-time fee.
Pros
Shortcuts for the last ten individual clippings
Store up to 1000 clippings
Smart Search
Cons
No clipboard items organization
Price: Free (In-app purchases start at $7.99)
10. PasteNow – Minimal clipboard manager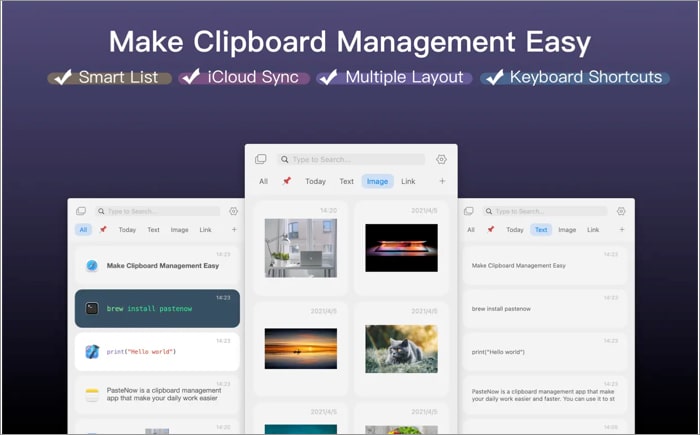 PasteNow is another app with cross-platform clipboard sync that uses iCloud. However, it's faster when syncing between devices while maintaining a minimal user interface. It supports copying texts, images, links, code, colors, and more and displays them accordingly so you can determine which one is what.
Moreover, you can preview the content before you can copy it, so you don't copy the wrong items accidentally. Furthermore, it has Smart Lists, where you set specific rules, and it'll automatically move anything to the Smart List if it fulfills the rule. PasteNow comes with a seven-day free trial before you can purchase it for a one-time fee of $7.99.
Pros
Beautiful user-interface
Sync across devices
Smart Lists
Preview items before copying
Price: Free (In-app purchases start at $7.99)
Final thoughts…
As mentioned, most clipboard managers do their job as provided, but some can provide extra features like cross-platform sync, better design language, organizing items, and more.
However, before you choose a clipboard manager, go through all the details and see if it works best for your use case. Also, check out these apps' value proportions since most charge a fee. Let us know which clipboard manager did you choose for your Mac.
Read more:
Readers like you help support iGeeksBlog. When you make a purchase using links on our site, we may earn an affiliate commission. Read more.
Sajid is an Electronics and Communications Engineering graduate who loves writing about tech. He's primarily interested in writing about Android, iOS, Mac, and Windows. You'll find him watching Anime or Marvel when he's not writing.