Elephas AI writing assistant offers almost everyone one can wish for a writing assistant. While there are some cons, the features and pros easily outweigh them, making it a great choice for writers.
Pros
Works with almost every app
Copy to clipboard function
Shortcuts integration
Minimal UI
Cons
Installation process could be improved
Rating: 🌝 🌝 🌝 🌝 🌜
Price: Monthly subscription starts at $4.99
AI has finally taken over the field of writing. Yes, that happened! Enter Elephas, a personal AI writing assistant for Mac. In this detailed review, I have tried to discern whether this app can be your assistant the next time you want to write creatively.
What is Elephas?
AI tools can inspire writers to improve their copywriting and content writing. Elephas is an AI writing assistant tool that helps you with all your content needs. It assists in writing emails, blogs, articles, or even for marketing copies.
Features offered by the Elephas app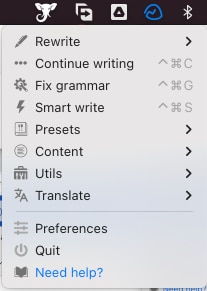 To save hours on tedious writing tasks, the Elephas smart AI assistant offers a lot of features:
Rewrite: Modify the writing style of the sentence as per your need. You can choose from professional, friendly, Zinsser, Viral, or persuasive modes.
Continue writing: Having writer's block? Then the Continue Writer is what you need. It will help to take the content ahead, depending on what you have written so far.
Fix grammar: Check if the sentence is grammatically correct and rewrite accordingly.
Smart Write: Elephas' Smart Write feature can be utilized to compose emails. If you are confused about what to write, this option can help you with that.
Preset: Don't know what format should be followed for an email or any other form of writing? Here's the Preset option for you. You can use this along with Smart Write to get your desired content.
Content: It is mainly helpful for those who want to create a blog, email, summarise, reply to an email, or even make a counterargument.
Utils: This option contains all the important utility tools you need for writing.
Translate: This option exactly does what you imagine it to do. Translate the selected text to the language of your choice.
How to install Elephas writing assistant on your Mac?
How hard can installing an app on Mac be, right? I had the same thoughts until I tried installing the Elephas app on my Mac. The process was difficult, and I can claim it's as tough as capturing an elephant from the forest (Just to be clear, I don't promote this activity).
Once you get the app from Gumroad, you will get an email with a license key. All you have to do is enter that in the app, right? Wrong!
You are also required to get an OpenAI key. The tech expert in me didn't know how! It's because I didn't read the instructions email or the dedicated help page linked with the installation of the app.
There is a dedicated support page from Elephas on how you can generate OpenAI keys to activate the personal writing assistant. However, I must say that despite the instructions, you are bound to be confused.
Thankfully, the bitterness is only limited to the installation process. Once the app is set up, you'll be welcomed to a wonderful experience.
Use Elephas to improve your writing on Mac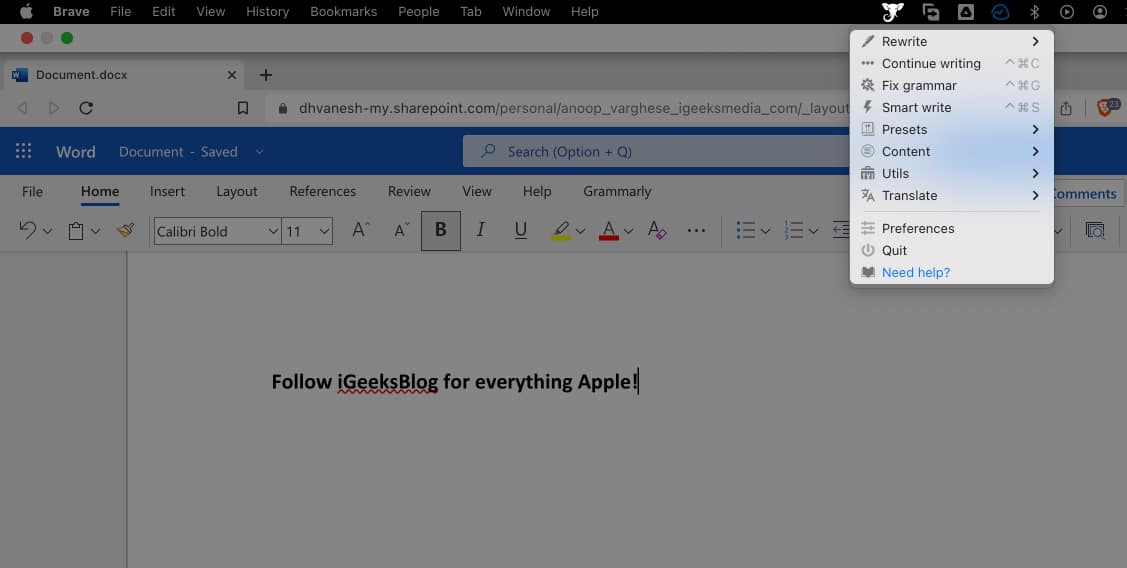 Elephas brings many features to the table to improve the quality of your writing. Truth be told, Elephas surprised me when I started experiencing the app. Since explaining all of the features will take an eternity, I'll tell you the simplest way of using the app.
While testing all of the app's features, I tried it once on Twitter.
I typed a sentence, selected it, and chose the writing options available in the tool. Surprisingly, the result was great, and no one doubted that AI wrote it.
Besides creating viral content, you can create business emails, follow-up emails, or even counter emails. For those who want to write blogs, Elephas offers an option. I was surprised by how well it created a title outline and entire content from just the key information I provided.
Sure it is not supposed to replace the writers, as Elephas is a writing assistant where it can give you writing ideas on various topics.
My experience with the app
The implementation of AI reminds me of the time when computers were first introduced. Many were scared because they feared computers and machinery would take over their job. While that was true, it was done for the greater good.
As I write this review, I can sympathize with the feeling of those people who lost their jobs because of modern technology. The implementation of AI was inevitable, but I wasn't expecting these tools to develop this fast and provide amazing results. Here are some of my major takeaways:
It provides so many features without taking up much of the real estate! I was pleasantly surprised by how much space the app takes compared to the other tools I have tested.
Elephas works with almost every app where you can type.
For places where it is not working, Elephas provides you with results in a dedicated page and an option to copy-paste it.
Considering the fact that a very small team has developed the app, the results are astonishing!
Reviewing this app makes me feel like I'm writing my eulogy. Yet, I must say that I'm happy with how things are going and looking forward to seeing more developments in this field.
Area of improvement
While the app experience has been great so far, some things can not be left unmentioned.
First of all, it's the installation process. While part of it was my mistake of not getting deep into the 'manual,' it would have been better if there was a video process of installing Elephas on your Mac.
iGeekometer
User interface
Features and facilities
Efficiency
Value for money
Despite having a simple UI, it still needs some refinements. I would appreciate it if Elephas could take some inspiration from the competitors; usually, a small toggle appears next to where we write to carry out grammar corrections.
But considering how enthusiastic the team is, I'm pretty sure all of these issues will be addressed in the upcoming updates, to which I'll look forward.
Elephas AI writing assistant for Mac: Should you consider?
Elephas AI writing assistant for Mac: Should you consider?
The answer will be an easy yes. With the number of pros to go along with the features the app offers, the cons are easily outweighed.
The answer will be an easy yes. With the number of pros to go along with the features the app offers, the cons are easily outweighed.
Readers like you help support iGeeksBlog. When you make a purchase using links on our site, we may earn an affiliate commission. Read Disclaimer.