I've been an avid gamer since I was 5 years old. Even now, there's a special place in my life for the older, retro games that sparked my love for gaming. While many older games and consoles are now unavailable, you can still play a few amazing classic games. Wondering which ones? Here's my list of the best retro games for iPhone.
1. Sonic the Hedgehog 2 Classic – Editor's Choice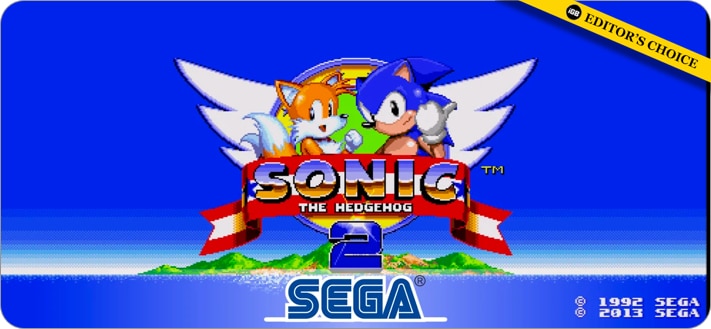 Sonic the Hedgehog has been an iconic character in SEGA's gaming universe. I've personally found that the early classic iPhone games on the blue speedster retain the essence of what made Sonic such an important character.
Speaking of older Sonic games, Sonic the Hedgehog 2 Classic is one of the best-selling SEGA games. You have to stop Dr. Eggman from finding the Chaos Emeralds and creating a Death Egg, the ultimate weapon.
As Sonic, you have to go through multiple levels of platforming fun as you defeat several bosses. There are twelve zones to play through as you collect the Chaos Emeralds.
You can also play the game online with the Time Attack mode. Further, the game's visuals and sounds will remind you of the days when you played the older Mario games on Nintendo consoles.
Some players have reported several glitches after the latest update, however. Hopefully, the developers will iron out the issues in the next update.
Price: Free (In-app purchases start at $1.99)
2. Williams Pinball – For pinball lovers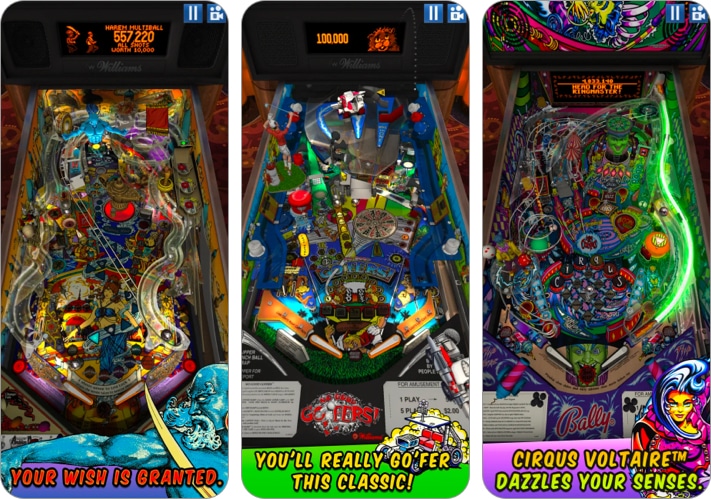 The older Pinball games on desktops were our saviors when we didn't have ready access to the internet. If you still love your Pinball games, Williams Pinball is worth a shot.
Williams Pinball machines have been famous for decades, and this game features both the original and remastered versions of the pinball machines.
You can play through the classic pinball designs such as Junk Yard and Black Rose. Apart from this, there's also a comprehensive online gameplay element.
Moreover, you can play against other players worldwide for real cash and prizes. There are daily events to participate in if you're up for a challenge.
I didn't like that you have to grind excessively to unlock most pinball machines.
Price: Free (In-app purchases start at $0.99)
3. Tetris – Best puzzle game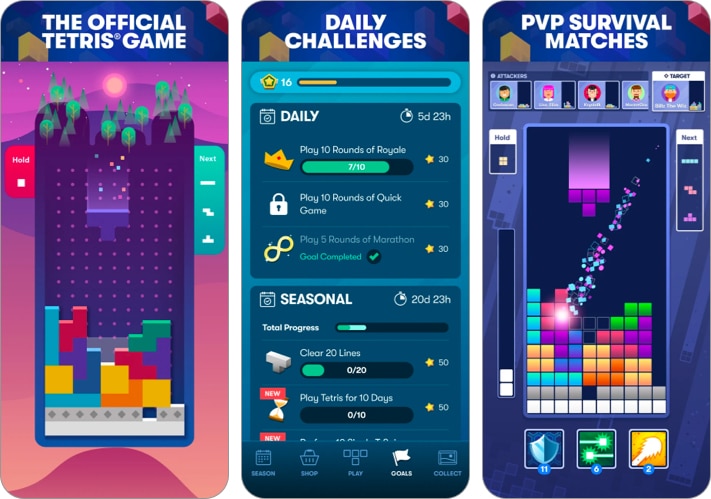 There's little doubt that Tetris is the godparent of most puzzle games that we can find today. The game has different versions on the App Store but is still one of the most popular puzzle games you can play.
The Tetris game developed by N3TWORK Inc. is one of my favorite versions. It has minimalist graphics and custom themes that you can use to personalize your gameplay.
The biggest advantage of this version is its 100-player mode, where you can battle with 99 other players to be the last person standing. Needless to say, this mode requires you to be at your best in reactions and wit.
There's also the Traditional mode for a classic, endless Tetris game. If you've got only a few minutes, you can play the Quick mode instead.
For online players, there's a time-limited leaderboard offering handsome rewards for your hard work. Overall, this version of Tetris has a little something for everybody.
Price: Free (In-app purchases start at $0.99)
4. PAC-MAN – Best arcade game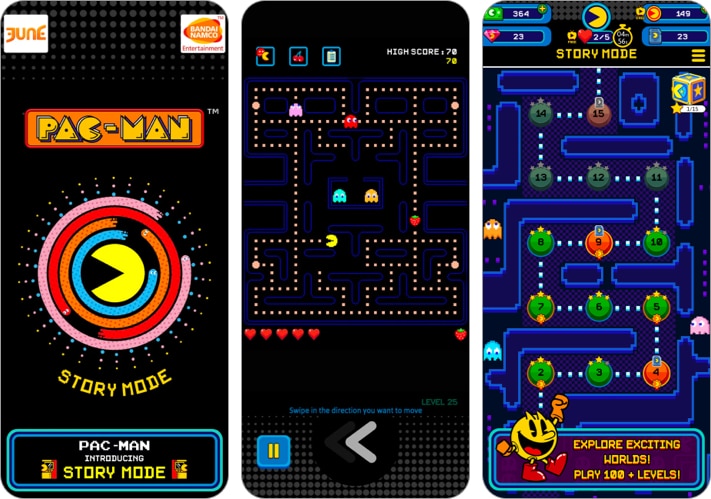 PAC-MAN is an iconic game that has shaped gaming for generations to come. Thankfully, it's still a popular arcade game that deserves your attention.
If you wanted to play PAC-MAN and never got the opportunity, or you want to revisit the game, this is your chance. BANDAI NAMCO's superhit game is now on the App Store, and it features a story mode.
Experience a journey through hundreds of new and original mazes that will challenge and leave you at your wit's end. There's also plenty of new skins to unlock through the Adventure mode.
The gameplay remains the same. As PAC-MAN, you will have to avoid the Ghost Gang and eat all the pac-dots. If you're into online gameplay, there are weekly challenges you can complete for rewards.
PAC-MAN is great to play if you have a controller. However, the new update has removed MFi controller support. I hope they listen to their legions of fans and include it again.
Price: Free (In-app purchases start at $0.99)
5. Super Mario Run – Best for Mario fans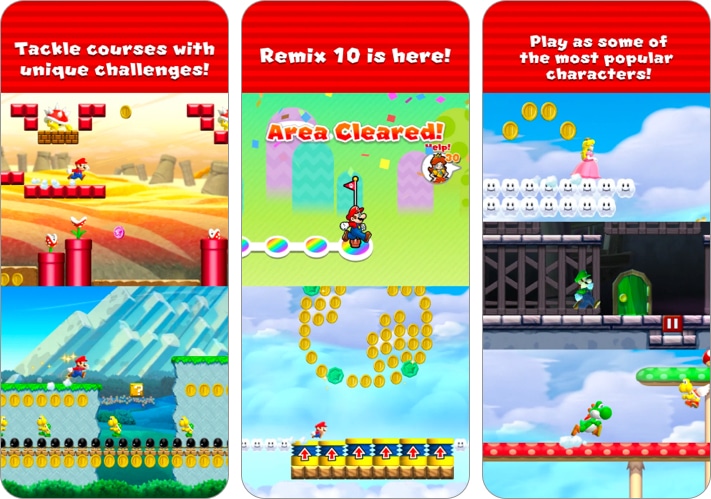 The characters of Mario, Luigi, Princess Peach, and Bowser have been etched onto gaming history. While there are many variants of Mario games, Super Mario Run is one of the best in the mobile gaming genre.
There's a lot of content provided by the game. Firstly, there are 24 levels for you to progress through. Secondly, once you've saved Princess Peach from Bowser's clutches, you can play the World Star levels, featuring 9 unique courses.
The gameplay is so simple that you can play it with one hand. In each course, you can either compete for the highest score amongst your friends or collect three different types of coins.
You can also play four different modes, each with its flavor. From building your kingdom in the Kingdom Builder mode to showing off Mario's stunts in Toad Rally, there's plenty to explore.
I didn't like the Remix 10 mode as much, though, especially since it's got a few camera issues that need to be sorted.
Price: Free (In-app purchases start at $9.99)
6. 1942 Classic Arcade – Best arcade action game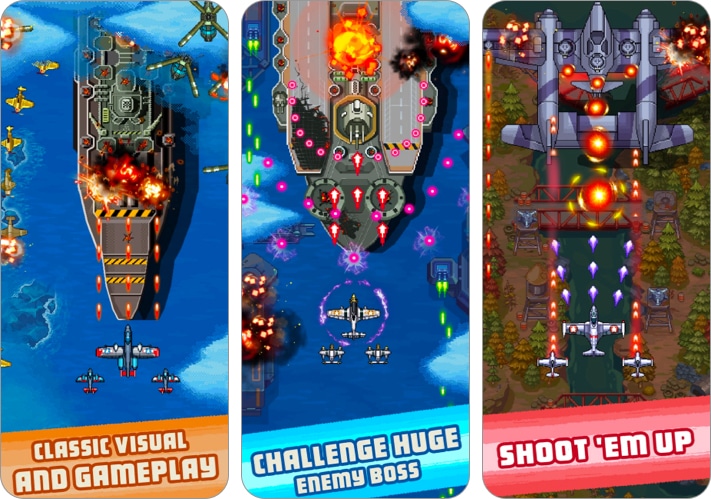 Do you like retro games? Are you fond of fighter pilot games as well? If you answered yes to both, you'd love 1942 Classic Arcade.
You're given the role of a brave fighter pilot in World War II and have to head towards Tokyo to destroy the Japanese army. On the way, you'll face dangerous enemies and difficult obstacles.
The game's visuals remind me of the late 1990s – it reproduces a perfect retro gaming vibe. Moreover, there are 20 different levels to play through. Each level has a huge boss that you will have to defeat.
If you want your games to challenge you, 1942 Classic Arcade will not disappoint with the aptly named Crazy mode. You can choose from 5 aircraft, with the option of customization.
However, you might face a few glitches when playing the game. The developers need to patch out a few more updates for smoother gameplay.
Price: Free (In-app purchases start at $0.99)
7. Retro Highway – Best arcade racing game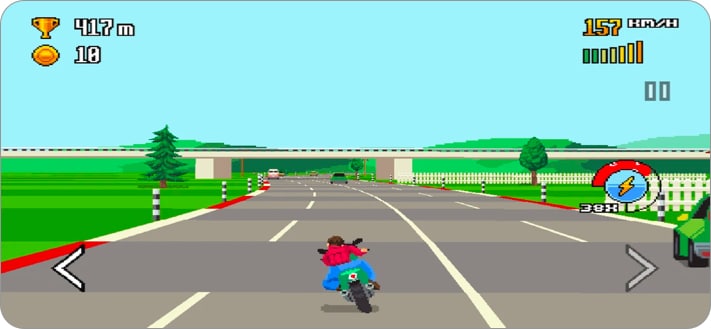 Arcade racers may not be as fancy as today's racing games, but they can be challenging and entertaining. Retro Highway delivers on these aspects.
This game is a simple yet elegant bike racer that features over 10 unique bikes that can be upgraded to fit the way you play. Whether you go for better handling or breakneck speeds, there's a bike for you.
You can also compete with other players online for high scores in any of the six different environments that the game provides.
To add a cherry to the cake, you can walk down memory lane with pixel art visual styles and a chiptune soundtrack.
The game also provides frequent challenges and tasks. While these are fun at the beginning, they can get repetitive.
Price: Free (In-app purchases start at $1.99)
8. Streets of Rage Classic – Best arcade fighting game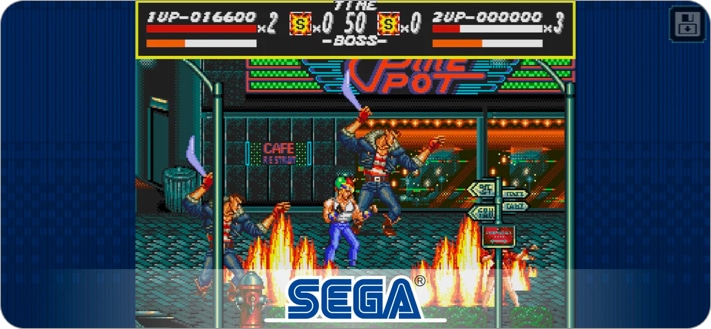 Beat 'em up games are one of my personal favorites. In terms of fighting games, one of the most important brawlers that you can play is Streets of Rage Classic.
In the game, you can control either Adam, Axel, or Blaze. These are three cops searching for the mysterious Mr. X. You're tasked with bringing Mr. X and his goons to justice while you beat up his thugs in gritty urban environments.
Each character has its personality, strengths, and weaknesses. Find the one that suits you, and go through eight rounds of brawler action. You can also play the game with your friends through local multiplayer support. This is a must-play for fans of classic games.
What I didn't like were its audio issues. There's a slight but noticeable audio syncing issue in the game.
Price: Free (In-app purchases start at $1.99)
9. Crazy Taxi Classic – Best arcade open-world game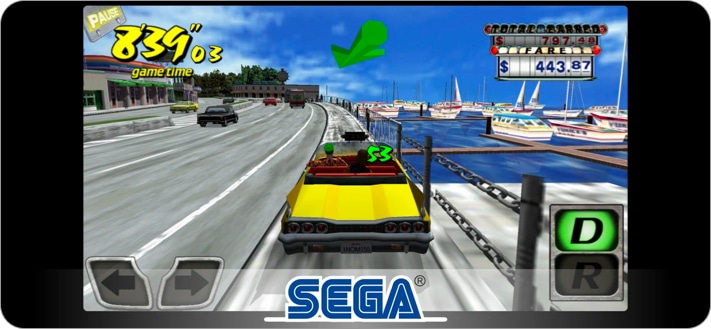 Crazy Taxi Classic is an open-world driving game that was groundbreaking when it was released in 1999. The game's objective is rather simple. You will have to earn the highest amount of money by driving citizens to their destinations.
The twist is that you will also have to drive so that they are scared as much as possible. Whether you drive on the wrong side of the road or jump the car from one building to another, you will have to reach destinations as fast as possible.
The gameplay and objectives make for some hilarious and enjoyable rides. Moreover, soundtracks by vintage bands such as Bad Religion will ensure you're bobbing your head to the music as you scare the wits out of your passenger.
There are some annoying bugs, though, such as players not being able to collect the rewards for their in-game achievements.
Price: Free (In-app purchases start at $1.99)
10. Pocket Tanks – Best strategy action game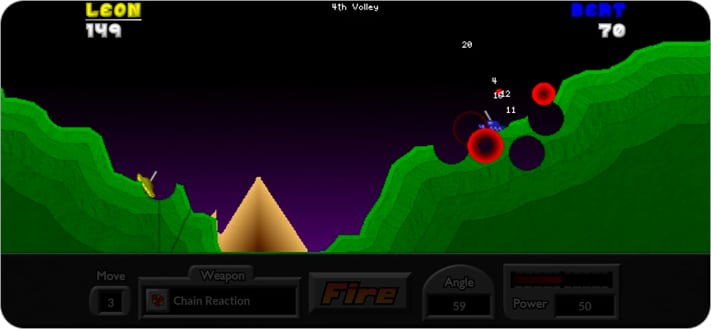 For lovers of games that have a simple premise but excellent execution, Pocket Tanks is a boon. You have to defeat your opponent by throwing a barrage of volleys from one tank to another. You will have to estimate the angle and power of your shot based on how far the tank is located.
Each hit on the enemy tank gains you points. The game finishes when all the players run out of attacks, and the player with the highest score wins. You can strategize by choosing your favorite weapons based on the list before a match starts.
The game can be played online with your friends. There's also cross-platform support, so you can connect with players without worrying about their devices.
Believe me when I say this – Pocket Tanks is extremely addictive and enjoyable.
The only issue with the game is that the AI becomes difficult to play with after you reach a certain level. Their hits are highly accurate, making the match more frustrating than fun.
Price: Free (In-app purchases start at $0.99)
Bonus: Snake '97: retro phone classic – Most vintage mobile game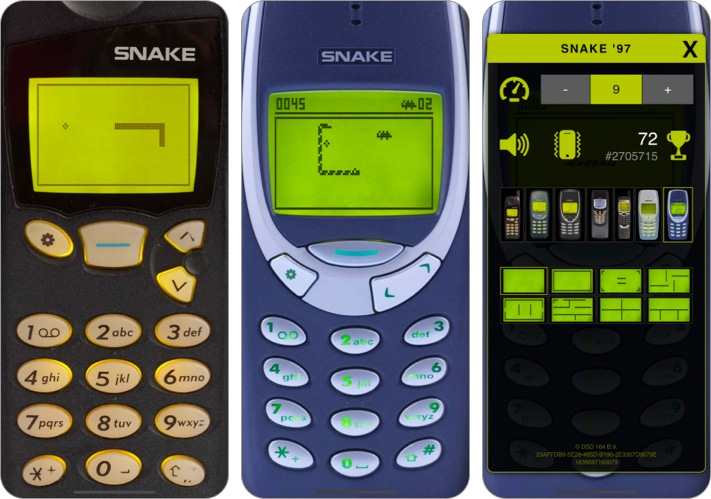 I'm sure we all remember Snake as one of the first games we played on our mobile phones. Snake '97 is a direct remake of the vintage mobile game.
The aesthetics of the game will remind you of the older phones with their dot matrix display. Besides, the monotone sounds complete the ambiance.
The objective is to achieve the highest score possible with the snake eating as much food as it can. As you redirect the snake, you should ensure that the snake doesn't hit its body or walls.
The developers have also added 3 more difficulty levels for those who love challenges. There are a few minor glitches. While they aren't dealbreakers, they can be annoying when you're about to reach higher levels.
Price: Free
Summing up
These classic games were a huge part of our childhood. With the return of these games to the newer devices, you can now relive those old memories with your close friends.
For now, I've limited this list of old iPhone games to ten entries (including a bonus entry). Would you like to see more of these games? Let me know your opinions in the comments.
Read more:
Anirban is a literature post-grad who delves in philosophy and postmodern novels when not writing on tech and gaming. His love for research is only trumped by his love for chai and heavy metal.