More and more people have started taking refuge in video games. While many love to relieve their frustrations and stress through shooting games or action games, it may not be what interests others. If you want your video games to impose a sense of calmness and relaxation, this article is for you!
I have listed the best relaxing games for iPhone and iPad. Hopefully, at least a few of these games will help you in times of stress and anxiety. Let's look at them.
1. My Oasis: Anxiety Relief Game – Editor's choice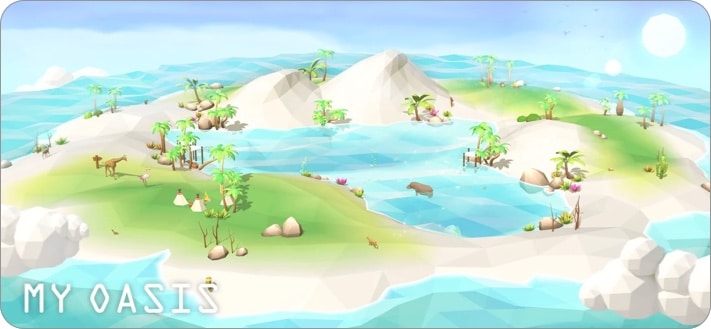 If you can't find the time to meditate and find yourself immersed in your phone instead, My Oasis can be an effective substitute for relaxation exercises.
The game takes the concept of an island that contains an oasis and is replete with flora and fauna. As you interact with the game through its numerous tasks and minigames, the Oasis expands, and your island continues to grow.
The controls are very simple. Instead of mashing buttons for combos, you're tapping at the appropriate places, at the opportune moments. The game sounds and accompanying music are also designed to bring you into a state of relaxation.
Additionally, its graphics are pleasing to the eyes. You won't find any flashy graphical features here. Instead, the color gradients are designed to induce sleep and calmness.
My only gripe with this game is that it becomes repetitive after a certain point.
Price: Free (In-app purchases start at $0.99)
2. Antistress: Relaxing games – Varieties of minigames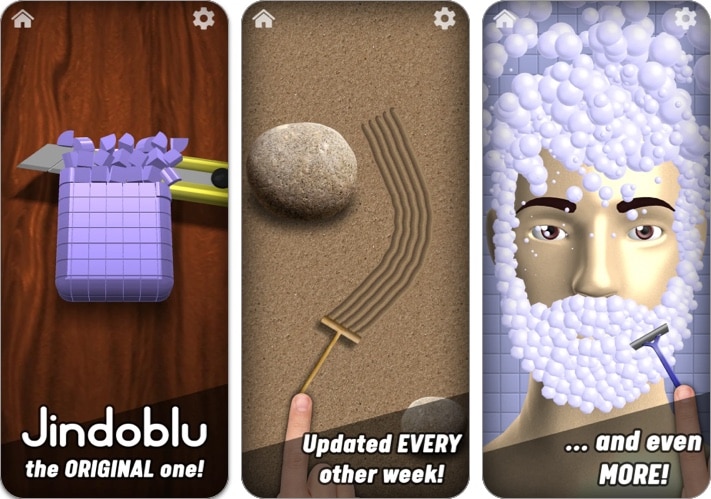 I'm sure you've come across multiple satisfying videos on social media platforms where simple objects are used to create a calming sensation. If you like these videos, you'll love this app as well.
The app uses physics-based objects that can be tapped or dragged to create satisfying patterns. These patterns will give you a calming sensation as you continue playing.
There are fifty toys, each with its level of interaction. The app is updated every week to add new functions and games. Each game will leave you highly satisfied, from squeezing toothpaste out of the tube to using an object to create beautiful patterns on the sand.
Moreover, the game's graphics are decent and accompanied by soothing sounds to create a stress-free atmosphere.
The game requires a bit more variety, however. It would be better if you could choose different games from a menu and choose more tools for each game.
Price: Free (In-app purchases start at $0.99)
3. Grand Mountain Adventure – Best for travel lovers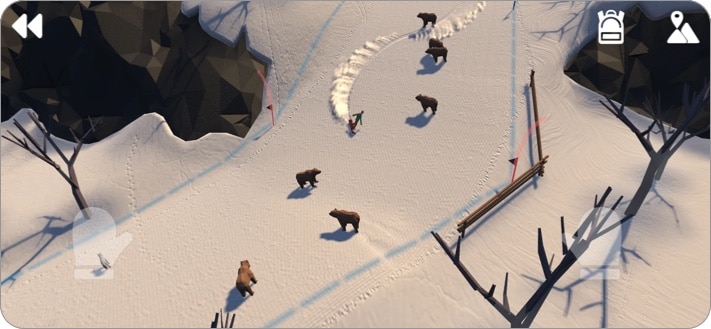 You'd be forgiven if you thought this was only a sports game. While it has sports-based features, this game is also calming.
If you're a traveler and haven't been able to step out of the house for long now, this game is a must-try. Go for daredevil stunts such as cliff drops, or explore different mountaintops and ski resorts from the comfort of your couch.
We know that traveling and activities such as these can relax adventure lovers and adrenaline junkies. In the game, you can explore over 7 unique environments.
These environments have their challenges. There are over 100 challenges to go through and master. You can also play online with your friends over Wi-Fi.
Additionally, if you want more control, you can connect the game to a supported gamepad. This will give you ultimate control when you're freeriding the mountains.
There's so much content to explore that the developers are claiming over 20 hours of gameplay to be available. However, a caveat of this game would be the challenges. Completing them and winning tickets often becomes a matter of sheer luck.
Price: Free (In-app purchases start at $3.99)
4. I Love Hue Too – For chromatic relaxation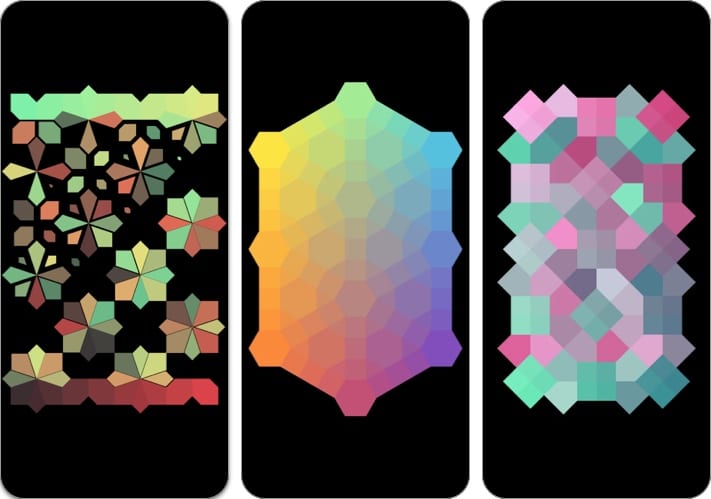 As quirky and clever as the app's name is, this game uses colors to create a sense of peace and calm.
This puzzle game requires you to think hard when you're rearranging colors to create order out of chaotic color arrangements or when you're trying to find the smallest differences between colors.
There are other types of tasks as well, such as rearranging colors to create a beautiful and satisfying shape. The game offers three tasks daily to keep your brain active.
Moreover, there are over thirty different challenges to push your limits while calming your mind. In terms of the puzzles themselves, you will not be bored as there are over 1200 of them.
The ambient synth soundtracks in the background help you concentrate and focus better on the puzzles at hand. You will have to go through many ads as a freemium game, though. I consider this as the only downside to this game.
Price: Free (In-app purchases start at $4.99)
5. Orixo – Best minimal design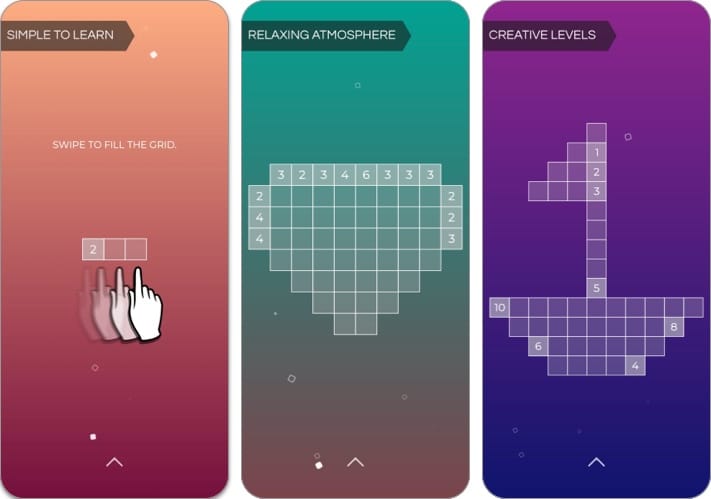 If you're a lover of minimalism, you will appreciate what Orixo brings to the table. Apart from the beautiful, minimalist design, you also get soothing ambient soundtracks as you try to complete over 300 different puzzles.
The game's objective is to fill the cells with the number of grids corresponding to the number inside the cell itself. It may sound convoluted, but once you start playing, you'll find it easy to understand.
However, this is one of those easy to learn but difficult to master games. The puzzles can be very challenging. Thankfully, none of the puzzles are frustration-inducing, and the game's aesthetics will help you concentrate on different challenges.
A con of the game would be its random difficulty spikes. The levels don't follow a progressive difficulty.
Price: Free (In-app purchases start at $0.99)
6. Pack Master – Cute organizing game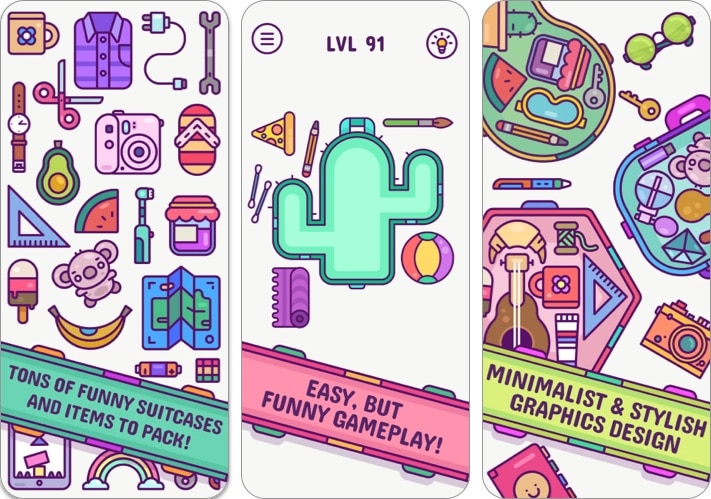 Are you one someone who finds calm in organization works? If yes, Pack Master could be the game for you.
The game has a simple premise. You will have to pack all the given items in the suitcase and find appropriate spaces for them.
This doesn't mean that you're only tasked with packing clothes. You'll also have to cram objects like shoes, plants, and even a bowling ball.
Some objects will be specific to a certain city that you're traveling to. There are exotic locations, with their unique objects to cramp into the suitcase. Each city you travel to and successfully pack for will grant you a stamp.
This game is also perfect for long journeys as it doesn't require an internet connection. However, if you're using the freemium version, you'll have to deal with ads.
Price: Free (In-app purchases start at $1.99)
7. KAMI 2 – Addictive puzzle game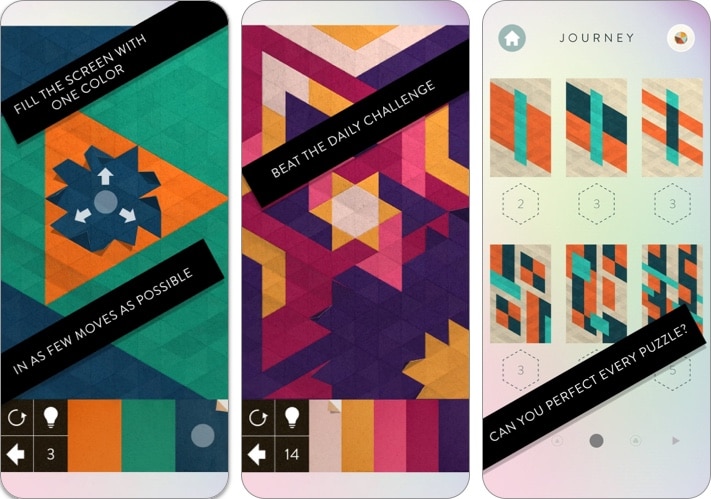 This is another addictive puzzle game that not only makes you think but also floods you with a sense of peace and serenity as you try to complete puzzles.
The game requires you to fill all the spaces on the screen with a single color in as few moves as possible. This sounds easy but isn't. There are over 100 puzzles, and some of them can get surprisingly difficult, thanks to random surprises and twists.
You'll also like this game for the almost unlimited content that it offers. When you play online, you can not only check your scorestreak with others, but you also have a go at puzzles generated by others.
Moreover, the game's aesthetics are pleasing to the eyes. So, you can play the game for hours without feeling nauseous or queasy.
If you play the game, you might face some performance issues, though. Several users have reported about this in the game's review section.
Price: Free (In-app purchases start at $0.99)
8. black (game) – Most underrated gem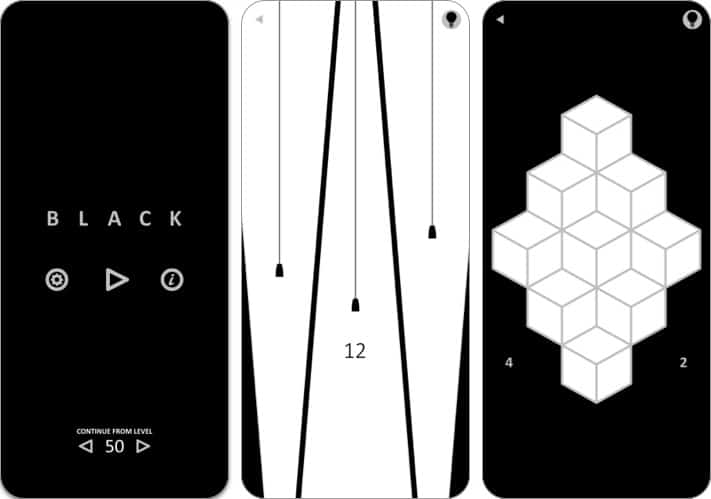 A minimalist puzzle game that is satisfying to play and challenges the way you think? Sign me up for black.
You will have to follow the individual logic in each of the 50 puzzles to turn the screen black. That's it. As simple as it may sound, it could take you many tries to complete some of the brilliant levels here.
Apart from the gameplay, the beautiful design of the game is what captured my attention easily. As a lover of minimalism, I approve of this game wholeheartedly, and so would you!
The game is highly underrated, and the only issue I've found so far are the ads that you have to go through each time you press the hint button.
Price: Free (In-app purchases start at $1.99)
9. Monument Valley 2 – Most popular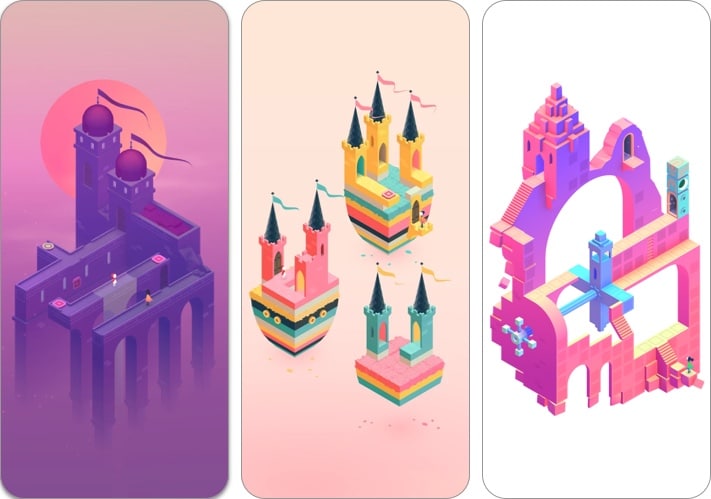 This is a more mainstream puzzle game. However, that doesn't mean that it doesn't provide you with a serene atmosphere and beautiful, ambient music. Monument Valley 2 might be quite old, but it's still a gem to play.
You are tasked with guiding a mother and her child through numerous levels of architectural illusions to learn the truth behind Sacred Geometry.
You can manipulate the level designs in the game to put Ro and her child through to the next round. This is made more challenging, thanks to the optical illusions in the architecture itself that will leave you with mind-benders.
This game has a very sophisticated level design complemented by the background score and the soothing color palette that has been utilized in each level.
Players of the first installment of the series have stated that the sequel isn't as challenging as the first game. While this may be subjective, if you're a seasoned player of puzzle games, you may not find the challenge here that you're looking for.
Price: $4.99
10. Tetris – Classic strategy game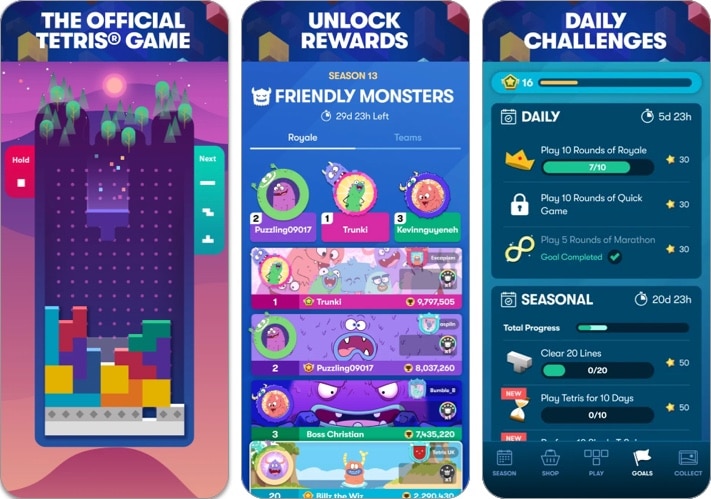 This Tetris game can provide you with both frustration and calm. Sounds confusing? Well, it depends on which game mode you decide to play.
This is one of the few strategy games that provides a competitive battle-royale mode, where your objective is to be the last person standing. This is a fun mode, but it can be frustrating, especially if you aren't a veteran Tetris player.
However, the Traditional and Quick Modes are what you should be looking at. The Traditional Mode is for endless satisfying rounds of Tetris. As you arrange the blocks at your speed, it can be a calming experience.
The Quick Mode is for those players who don't have much time but would like to experience a level of puzzle satisfaction. The games in this mode run only for a few minutes but provide the right challenge to stimulate your mind.
This game also has a pleasing aesthetic that won't feel like an attack on your senses, especially when you sit for hours on end with the Traditional Mode.
However, you will have to deal with ads unless you buy the premium version. So I'd recommend buying the premium version for uninterrupted gameplay.
Price: Free (In-app purchases start at $0.99)
Ready to relax?
Mobile games don't always have to be those that require you to invest hours into hyperactive gameplay, often creating frustration. Instead, you can play a few games that invite your mind to calm down and alleviate stress or anxiety. I've tried to include such games in this list of the best relaxing games for iPhone and iPad.
You're likely to find more games in the future that might even be used to treat stress disorders and anxiety attacks. Have you come across more games such as these? What are your thoughts on using video games for this purpose? Let me know in the comments!
You might also love these games:
Readers like you help support iGeeksBlog. When you make a purchase using links on our site, we may earn an affiliate commission. Read Disclaimer.