I think all of us were brought up learning that we mustn't play with our food. While playing with real food can be a huge wastage, there isn't anything wrong with playing with virtual food. Cooking games have seen a steady rise amongst people who either don't know how to cook or just have a culinary fascination.
Here, I've curated a list of the best cooking games for iPhone and iPad. Whether it's flipping burgers or managing an entire restaurant, you might find something that takes your fancy.
1. Cooking Dash – Editor's choice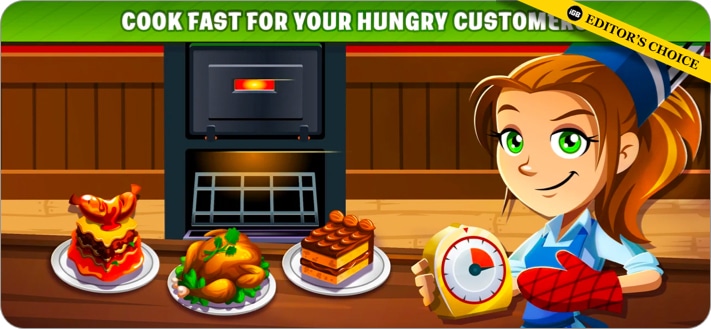 If you've ever dreamt of taking part in a cooking show on TV but haven't had the opportunity, Cooking Dash can offer you a virtual chance.
Step into the shoes of Flo as you prepare your best dishes in exotic restaurants. Each level has its quirks, shown in front of the in-game live audience.
You have to manage your time while preparing, cooking, serving, and collecting tips from customers. Some customers will ask for the most random or absurd food items or provide unique instructions. From celebrities to VIPs, you could be serving almost anyone.
There are over 100 themed levels to complete. You will gain points to upgrade your skills and kitchen appliances as you progress. There are a few online multiplayer modes for those players who would like to compete with their friends.
The grinding mechanics of this game can be difficult for many players, especially those who don't spend real money.
Price: Free (In-app purchases start at $0.99)
2. Cooking City – For hours of gameplay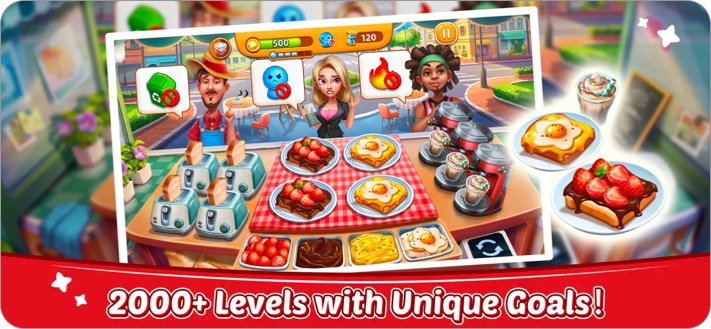 Fast-paced gameplay meets food cultures from worldwide. That's the best way to describe Cooking City.
The game requires you to build your food empire by serving customers and special guests in different cities. Work in multiple restaurants from around the world, and find the cuisines to make your mark in the industry.
There are different cuisines that you can cook here. From simple and classic burgers to Beijing Duck, learn the secrets behind the best dishes. There are hidden recipes to unlock as well.
There are over 2000 levels in this game. Moreover, you can also participate in the daily and weekly challenges for some interesting rewards. You can also upgrade your diner and kitchen appliances to attract more customers and increase work efficiency.
However, Cooking City suffers from some game-breaking glitches. Hopefully, the developers will roll out updates to fix them.
Price: Free (In-app purchases start at $0.99)
3. Cooking Mama: Let's cook! – Cute cooking game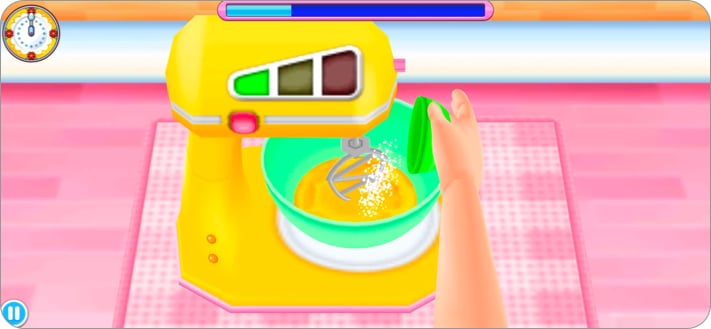 This is a vastly different cooking game. Not only is it cute, but it's also got a surprising variety of in-game mechanics.
Personally, I think this would make a great family game. Its cute aesthetics are supplemented with lots of minigames and recipes to try.
You can grow your food, go fishing, and even raise livestock. You can then exchange these goods for more upgrades and cooking recipes. Decorate your kitchen according to your likings so that you attract more customers.
The controls are easy to understand, and the game is forgiving. There are no do-overs in the game if you make a mistake. You can continue and finish your recipes for total success. Due to its encouraging nature, it's also a good game for kids.
This is a freemium game, however. So you'll have to endure plenty of ads during gameplay.
Price: Free (In-app purchases start at $0.99)
4. My Cafe – Best cooking simulation game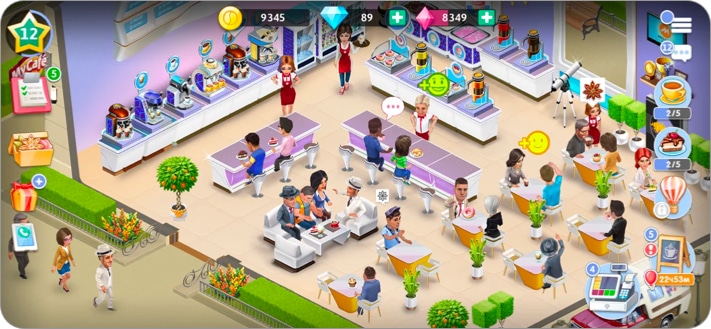 This is a cooking game that combines your love for coffee, food, and elements of simulation games. There's a lot of content to explore here.
You're tasked with running and building your cafe. You're given serious control, from deciding prices on the menu items to decorating your cafe based on your aesthetics.
Besides, you can even interact with customers. They will talk about their likes, dislikes, and moments from their life. Your responses can be given through multiple dialogue options.
When you play online, you can join hands with other friends and players to compete against your rival cafe owners. Partake in festivals that bring you special tasks and rewards.
The game could be even better with more story and machine options, though.
Price: Free (In-app purchases start at $0.99)
5. Cooking Games: Food Truck Chef – Authentic street food game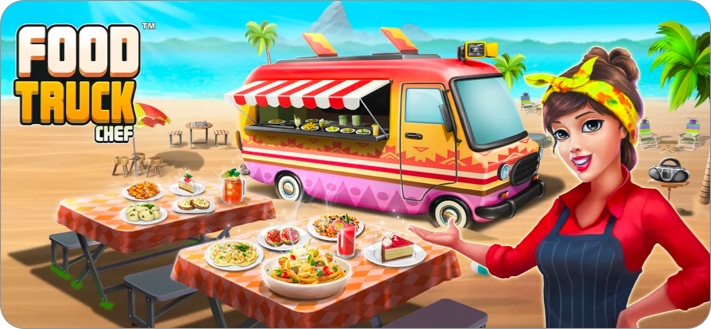 Since the early 2000s, food trucks have been the go-to places for street food. If you've ever wondered what it's like to run and cook in a food truck, you should play this game.
The game tasks you with running a food truck business as you go around the world and master the culinary arts from different cultures. Whether it's Mexican, Chinese, Japanese, or American cuisine, there's a lot to play around within this game.
It also comes with 680 levels and over 700 different dishes to cook. You can also have a competition at the food truck carnival and win exciting rewards. You can also upgrade your truck and visit exotic locations as you try to make a name for yourself.
Many players have reported that Gems (a game item) are difficult to acquire and can halt your in-game progress. Hence, be wary of this issue when playing.
Price: Free (In-app purchases start at $0.99)
6. Star Chef: Cooking Game – Best management game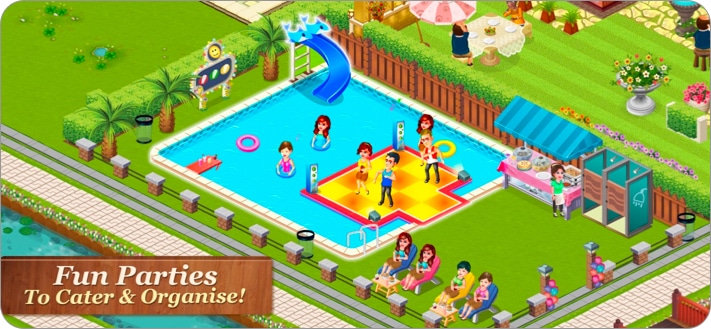 Star Chef tries to blend the ideas of a cooking game and a management game. Thankfully, it does this well.
While you will have to learn recipes from scratch and go all around the world to learn different cuisines, you will also have to build your restaurant empire from the ground up. From managing your staff and kitchen appliances to handling the whims of irate customers, this is a proper restaurant simulation game.
A fun fact – you can also use your vegetable garden to prepare fresh food for your customers. Some seasoned customers will recognize if you use stale ingredients, which could cost you future revenue.
You can also add your Facebook friends to your game's list and visit their restaurants for inspiration in designing your restaurant and the cuisines that are served.
The cons of this game would be microtransactions and numerous ads that break the immersion.
Price: Free (In-app purchases start at $0.99)
7. Cooking Madness: Kitchen Frenzy – Rags-to-riches story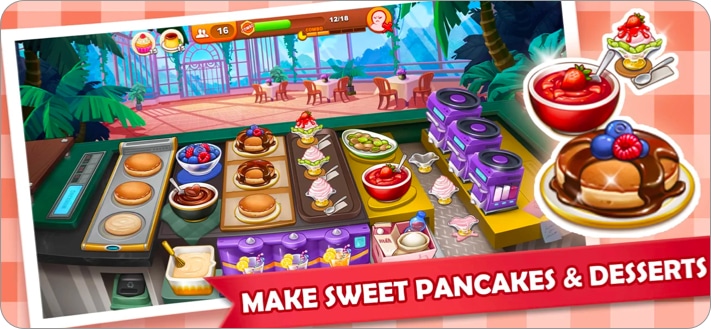 Cooking Madness is another management game that attempts to break the monotony of similar cooking games.
In this game, you can take up jobs at different restaurants. There's a special satisfaction in joining a restaurant that hasn't been doing well and taking them up to the top of the city rankings.
You can manage many restaurants like this in exotic locations globally. On your way, you learn different recipes, some common, while others are special and hidden.
However, I don't like that there are many microtransactions in this game.
Price: Free (In-app purchases start at $0.99)
8. Cooking Fever: Restaurant game – Content champion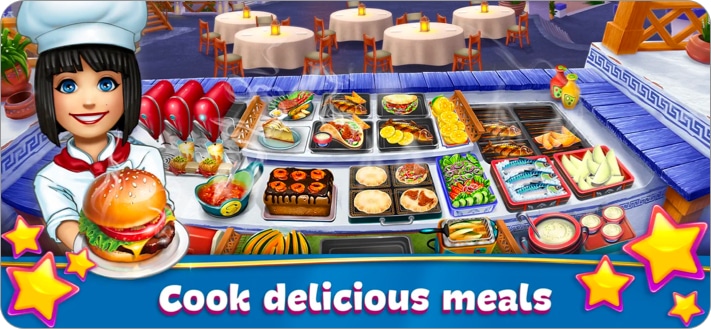 This cooking game has a mammoth level of content to go through. If you want a game to occupy you for months, give Cooking Fever a try.
The game has over 1000 levels to complete. There are unique tasks to perform at each level and dishes to cook. Use a variety of appliances, techniques, and ingredients to deliver the best food to your customers.
You can also upgrade your appliances and add new ones to the mix. As you progress through the game, upgrade your restaurant to attract more customers.
One of the caveats is that it isn't an offline game. You require an internet connection at all times to play it.
Price: Free (In-app purchases start at $0.99)
9. Crazy Diner: Kitchen Adventure – Best cooking strategy game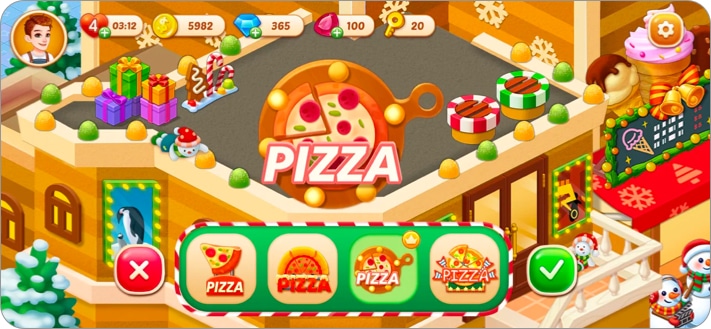 Here's your chance to run your diner in different locations worldwide.
Crazy Diner offers you the opportunity to put your time-management skills to the test. Diners usually operate at high speeds. Do you think you have what it takes to run a diner at full speed during rush hours?
You'll have to manage food recipes from different cuisines, with some of them requiring unconventional techniques to prepare. While cooking, don't forget that the longer you make your customers wait, the smaller the tip you receive.
If you're completely stumped, you can use one of the numerous boosts available in the game to help your situation. Create and design your character, and use them to become the top chef in the area.
When you play the game, you will come across random difficulty spikes. This could lead to microtransactions, so you'll have to be aware.
Price: Free (In-app purchases start at $1.99)
10. SpongeBob: Krusty Cook-Off – Best storyline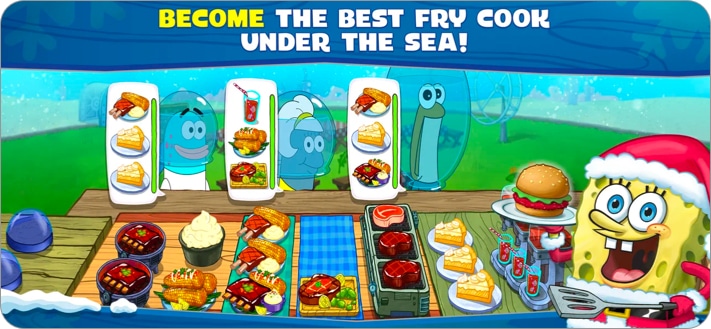 SpongeBob has been an integral part of our childhood, and to see him come to life in this hilarious cooking game is a treat!
The game is one of the few in this genre that provides you with a storyline. Mr. Krabs has realized that there's plenty of money to be made in the food industry. So, he opens up a breakfast stand near SpongeBob's house and enlists SpongeBob's help for it.
Now, you will have to ensure that you take this venture to the top of Bikini Bottom, as you serve familiar faces from the cartoon. You can also upgrade and decorate your restaurant as you progress.
You can upgrade them with unique powerups to help you on this hysterical cooking journey when you unlock characters. There are new challenges and rewards daily, so check them out too.
The game is fun but suffers from bugs. Hopefully, developers will iron these out in future updates.
Price: Free (In-app purchases start at $1.99)
That's it!
Cooking games can be a fun and casual way to pass the time. These games often help kids understand the concept of time management. I've tried to include variety in this list of the best cooking games for iPhone and iPad for you to try.
What do you think of cooking games? Would you like these games to be more realistic, or have they reached their peak? Let me know your thoughts in the comments below!
Read more:
Anirban is a literature post-grad who delves in philosophy and postmodern novels when not writing on tech and gaming. His love for research is only trumped by his love for chai and heavy metal.