Adventure games have always been fun to play. They bring in the right mix of quests, collectibles, stories, and game length. There are a lot of adventure games available now on the App Store, all claiming to bring something new. I've tried to make it a bit easier for you through this list of the best adventure games for iPhone. This way, you don't have to search the App Store for hours to find what you're looking for.
Let's have a look at the games below.
1. Harry Potter: Hogwarts Mystery – Editor's Choice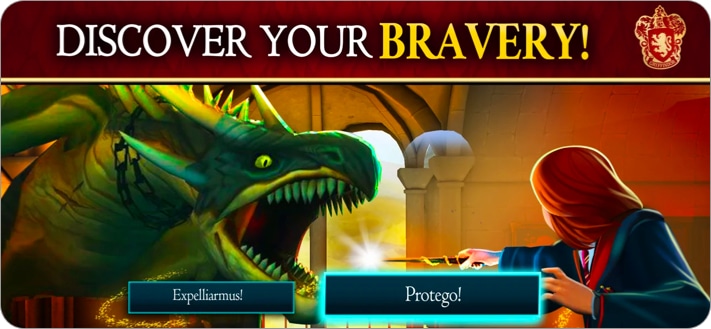 Fans of Harry Potter are going to love this game. If you've craved for the definitive Harry Potter game on your iPhone, this is it.
The game is tailored to your gameplay style. You get to choose which house you're going to join, which alliances to form, which classes to take, and much more. Interact with iconic characters such as Albus Dumbledore and Severus Snape, all while forging your path as a wizard or a witch at Hogwarts.
Believe me when I say that there are almost no limits to what can be done in this game. You can play Quidditch, brew different potions, learn new spells, and go around the unexplored corridors of Hogwarts for new quests and mysteries.
The game does suffer from an issue where your energy runs out rather quickly, just by completing a couple of events. However, this isn't a game-breaking bug.
Price: Free (In-app purchases start at $0.99)
2. Garena Free Fire – New Age – Best action adventure game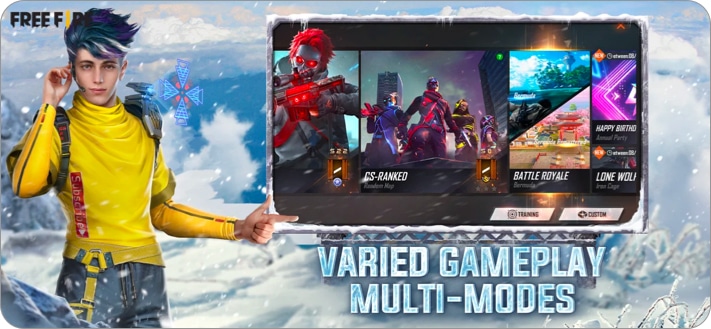 While PUBG Mobile introduced the system of the battle royale, multiple other games have taken inspiration and added their twists to the games. Garena Free Fire – New Age is another adventure game with similar battle royale mechanics.
There are 50 competitors, and only 1 can be the last person standing. You are dropped into a remote island and have to search for loot, ammo, and weapons to survive against the other players. Each match is intense and is wrapped up at the 10-minute mark.
The short period of the game makes it highly addictive. Moreover, each location has different hideouts and shooting spots so you can strategize accordingly. You can also team up with other players online to form a 4-member squad. The game might be similar to PUBG but it has its charm as well.
Players have complained about the customer service for the game though. So you should be wary before you make any in-game purchases.
Price: Free (In-app purchases start at $0.99)
3. Best Fiends – Puzzle Adventure – Best puzzle adventure game
There are a lot of puzzle games for iPhone, but very few puzzle games also add a touch of adventure to the mix. Best Fiends – Puzzle Adventure attempts to enter a very specific niche.
The game is massive, with over 4000 hours of game content. To ensure that you aren't bored, the game also includes a story. You will have to collect characters as you progress through the game, and form a team.
The team can be upgraded as you level up in the game. The better the level of your team, the better your chances are at defeating the Slugs. The Slugs aim to take over the world, and it is your responsibility to stop them.
There are lots of different puzzles to solve in the game. So, for those who are looking for an equal mix of adventure and puzzles, this is a good game to try.
However, a major issue with the game is that it has random difficulty spikes when you're playing certain levels.
Price: Free (In-app purchases start at $0.99)
4. Coin Master – Best adventure game for kids
This is an adventure game that has a bit of everything. From collecting cards to raiding other Viking villages, it's a good mix for an adventure game.
The objective of the game is to transform your Viking village into the most powerful village. You can spin the in-game wheel to know whether you've won loot, extra attack time, or shields.
We need to strategize and build your village, as having a village with lots of loot and a lack of proper shields will result in your village being looted. You can also go on the front foot and raid the other Viking villages.
The game instructs you to collect cards and complete sets, before moving onto different villages. Completing the set will also grant you bonuses. The game's aesthetic is casual and can be a good iPhone game for kids.
A caveat with the game is that you'll have to spend on packs to complete the daily activities, especially in the higher levels. The game simply does not provide you with enough material to complete daily objectives.
Price: Free (In-app purchases start at $0.99)
5. Hit Master 3D: Knife Assassin – Best offline adventure game
When I first heard the name of this game, I thought I'd be playing a game similar to the Hitman series. To my pleasant surprise, I was wrong. Hit Master 3D: Knife Assassin is one of the most entertaining adventure games you can play.
Similar to spy movies, your character gets caught and ambushed by the enemies. You've only got knives to defend yourself. The only way to beat the waves of enemies is to accurately throw knives at them.
There are different parts of the environment that you can use to your advantage, such as a flammable barrel, or a hanging object. You also have to save hostages along the way.
The game has a very casual and cartoonish aesthetics to it, and this offsets the game's somewhat serious name. Some players have said that the game is too easy though. So, if you're looking for a challenge, this game may not be the one for you.
Price: Free (In-app purchases start at $3.99)
6. Bermuda Adventures: Farm Games – Best simulation adventure game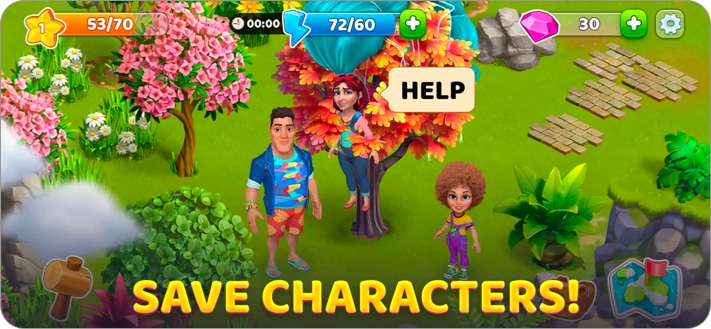 Bermuda Adventures: Farm Games is a survival adventure game for casual players. It can also fit into the genre of simulation games considering some of its game elements.
A family is stranded on a desert island after a plane crash, and must now survive the harsh conditions of the island. From finding lost relatives to growing crops for food, its simulation elements are noteworthy.
There are different characters to interact within the game, and all of them are unique with their personality traits. You also have to make decisions and choose various paths for multiple characters. Start as a farmer, grow your area, expand to different islands, and become a city manager.
After you've leveled up substantially, the game's tasks may get repetitive. This is one of the issues that this game needs to fix.
Price: Free (In-app purchases start at $2.99)
7. Giant Rush – A casual adventure game
This is a simple game. You won't find any fancy gameplay mechanics or beautiful graphics in this game. Despite this, Giant Rush is an enjoyable game.
The gameplay is simple. You have to run through obstacles, collect as many soldiers as you can to defeat the enemy's army, and fight the Giant at the end.
Keep in mind that if the number of soldiers that you have in your army is less than the number of soldiers in the enemy army, you will fail and have to restart from the very beginning.
While the game's simplicity is one of its selling points, it can also get repetitive.
Price: Free (In-app purchases start at $2.99)
8. Playdead's INSIDE – Best indie adventure game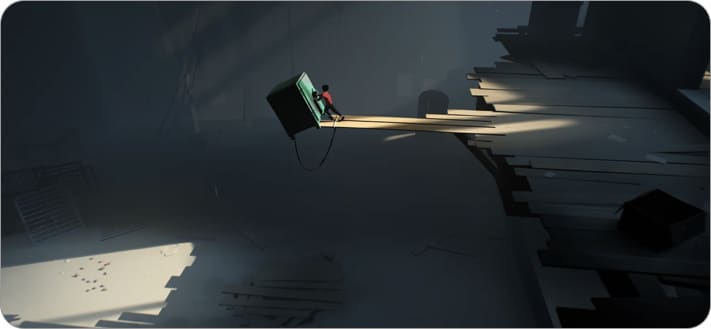 I've played INSIDE on my personal computer, and I've been floored by the game. It's simply one of the best adventure games that I've ever played. Now, this amazing game is available on mobile devices as well.
The game's design is brilliant. You control a boy who has lost his way and found himself at the center of a project that has the potential to be world-changing, but not for the better.
You will have to get to the heart of this project and stop it. But before that, you must solve numerous puzzles and avoid enemies. There's enough variety here to keep you hooked through the entire playthrough. You will have to pay for the full game, however.
The art design, visuals, and audio, everything comes together to form a spectacular game that can influence similar games in the future.
The game does not hold your hand for the puzzle sequences though, and this might get frustrating for a small percentage of players.
Price: Free (In-app purchases start at $6.99)
9. NARUTO X BORUTO NINJA TRIBES – Best anime adventure game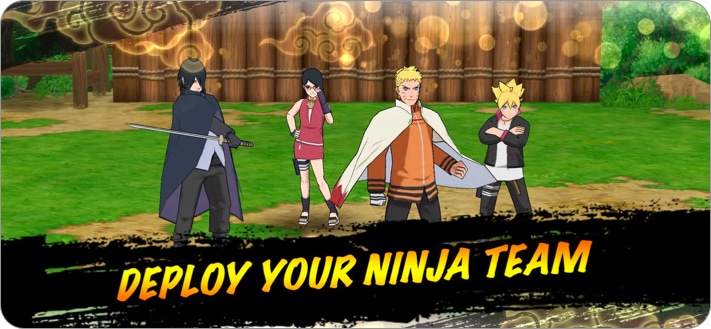 Naruto is one of my favorite animes, and it's gotten numerous game titles to its name. Now, with NARUTO X BORUTO NINJA TRIBES, you can play as the iconic character from different generations of the Naruto and Boruto series.
You can play the game in 3v3 mode, and the battles are fun due to a simple control scheme that is easy to understand. Moreover, you can upgrade your team members through rewards and other game modes.
The players will also have to strategize to defeat their opponents, as there's no single correct way to fight the enemy. Due to the possible combinations of characters for different teams, each team works and plays differently.
If you're a fan of the series, I'd say that this is a game that you must play. The game does have stability issues though, with frequently reported crashes.
Price: Free
Ready to go on an adventure?
Adventure games are always fun to play due to the sheer variety that they bring to the table. I've tried my best to cover the different adventure games, for people with specific tastes. Did you like this list of the best adventure games for iPhone? Share your thoughts in the comments section.
Read more:
Readers like you help support iGeeksBlog. When you make a purchase using links on our site, we may earn an affiliate commission. Read Disclaimer.