Are you considering buying an Apple Watch but feeling lost amid all the new options? Don't worry; we've got your back. In this guide, I will share my top Apple Watch choices so you can choose the right one for your needs. Without further ado, let's find which Apple Watch you should buy in 2023!
How to choose the right Apple Watch
Apple Watch is the best wearable to pair with an iPhone. In the 2023 Wonderlust event, Apple added two upgraded models in the latest series: the Apple Watch Series 9 and Apple Watch Ultra 2. Both are packed with advanced technologies and futuristic features.
So, you may think the newest Apple Watches are the best to buy. However, this isn't always true. Apple creates different smart watches catering to specific people. Here are a few things that require your attention:
Your fitness routine, budget, watch build material, and wrist size – all of these contribute to deciding which Apple Watch is ideal for you.
Further, check what features you can't compromise on. All newer Apple Watches have the most current features, such as double-tap gestures, Precision Finding, sophisticated sensors, updated software, and additional sports tools.
Another factor to consider when purchasing a new Apple Watch is its pricing. Apple usually charges more for its new models and stops selling the old models. However, you can still get them at several e-commerce stores, sometimes for a significant discount. These watches offer similar appearances and features.
So, let's see which is best for you and if the cheaper old models are suitable.
1. Apple Watch Ultra 2 – Best for sports and adventure lovers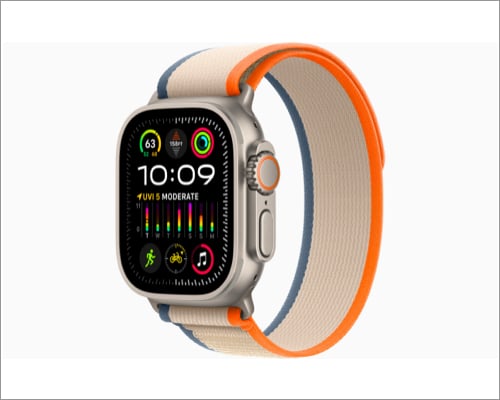 Display: 49mm LTPO OLED flat
Build: Titanium frame
Processor: S9 SiP
Storage: 64GB
Battery: Normal use – 36 hours | Low Power Mode – 72 hours
IP rating: IP6X; Water-resistant to 100m and swim-proof to 40m
Apple Watch Ultra 2 is your ideal buddy in your outdoor adventures and ultimate fitness regimes. Though an upgraded model, Apple has kept the physical specs similar to the Apple Watch Ultra, including the buttons and sensors. You will get the same MIL-STD 810H1 impact resistance and IP6X and EN13319 rating for rugged usage.
Only this time, the watch build material and pairing wristbands are entirely carbon neutral. Besides, the display offers 3000 nits peak brightness to see everything clearly in direct sunlight. Also, the advanced light sensors dim the brightness to 1 nit in the dark and turn on Night Mode automatically. So, you don't need to struggle in movie theaters or at bedtime.
Apple Watch Ultra 2 is quicker, more user-friendly, and more powerful thanks to the next-gen S9 SiP. It houses a new dual-core CPU and four-core Neural Engine. So, you can enjoy cutting-edge new capabilities, including on-device Siri, Precision Finding for iPhone, and the double tap gesture. Also, it optimizes the battery to extend the usage up to 72 hours in Low Power Mode.
Therefore, Watch Ultra 2 is best to buy if you are a sports enthusiast or athlete, such as a swimmer, cyclist, runner, etc., or love outdoor activities like trekking, campaigning, etc. However, compared to Ultra 2, the Apple Watch Ultra is also pretty capable with the watchOS 10 support and can save you some bucks.
Pros
Sustains rough environments like -20° C to 55° C temperature and -500m to 9000m altitudes
Brightest display and flashlight
Extended battery life
Advanced sports metrics
2. Apple Watch Series 9 – Ideal for everyday use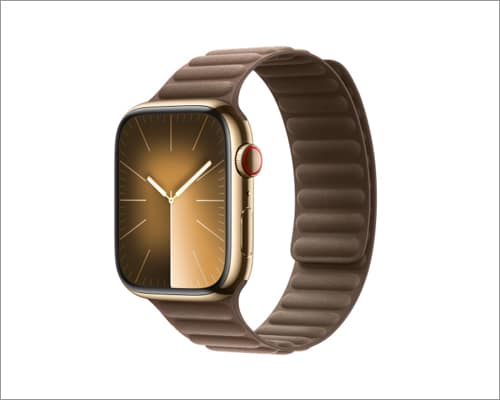 Display: 45mm or 41mm OLED curved
Build: Stainless steel or aluminum frame
Processor: S9 chip
Storage: 64GB
Battery: Normal use: 18 hours and Low-power mode: 36 hours
IP rating: IP6X; Water-resistant to 50m
If you want to buy an Apple Watch for personal or professional usage and don't need extra rugged features like an Action button, Siren, or outdoor activities, the Watch Series 9 is ideal. It has the latest S9 SiP, offering the same advanced features as the Apple Watch Ultra 2.
The Siri dictation is up to 25% more accurate and processes more quickly. Moreover, Apple has incorporated a second-generation Ultra-Wideband processor. So, you can control your HomePod from your watch and find your iPhone. Besides, the display has 2000 nits peak brightness, two times more than its predecessor.
Additionally, you may select a carbon-neutral watch case and band set. In my opinion, Apple Watch Series 9 is the best one to date to buy in 2023. It has cutting-edge features, health metrics, and fitness tools and is affordable.
However, if you have a Series 8, the upgrade is not recommended.
Pros
2x brighter display
Advanced S9 SiP features
Essential health metrics and safety functions
Carbon-neutral and color-matched casing and bands
Cons
Minor upgrades to Series 8
3. Apple Watch SE – For beginners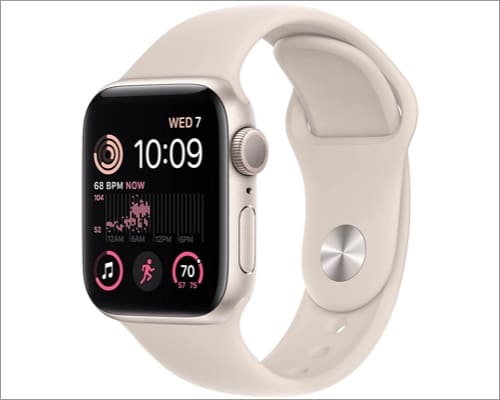 Display: 44mm or 40mm OLED
Build: Aluminum frame
Processor: S8 chip
Storage: 32GB
Battery: Up to 18 hours of normal use
IP rating: Water-resistant to 50m
The Watch SE is Apple's entry-level model. It's recommended for people who want to experience the Apple Watch but are tight on budget. Apple Watch SE lacks unique features like a blood oxygen meter, ECG, temperature sensors, and the ultrawideband chip for AirTags. Also, the display is smaller and not IP6X certified like the other two Apple Watches.
However, it is swim-proof and water-resistant up to 50 meters. So you can track your swimming activities. Also, it incorporates the most recent S8 chip and all common watchOS 10 features like Mindfulness, Low Power mode, sleep tracking, Crash Detection, heart rate monitor, and updated Workout, Maps, and Activity apps.
Therefore, it's the best Apple Watch to buy if you don't need the Always on display and particular health or outdoor-specific features. Its 40-mm case size with a carbon-neutral nylon back makes it lighter. Also, the 1000 nits bright display is crisp. Surprisingly, the battery also lasts around two days. So, SE will suit you perfectly if you only want a basic Apple smartwatch.
Pros
Light and beginner-friendly
Affordable
All health metrics and safety functions
Supports watchOS 10
Cons
No Always-on display and ECG
Not IP6 certified
4. Apple Watch Series 8 – Value for money
Display: 41mm or 45mm OLED
Build: Stainless steel frame
Processor: S8 chip
Storage: 32GB
Battery: Normal use: 18 hours and Low-power mode: 36 hours
IP rating: IP6X; Water-resistant to 50m
If you want to know which Apple Watch a woman should buy, Apple Watch Series 8 is ideal. It offers menstruation cycle tracking and lets you monitor your fertility window. Besides, there are life-saving features like Crash Detection and health monitoring features such as ECG, nightly wrist temperature tracking, Heart Rate Zone tracking, Cardio Recovery, etc.
So, it's best for older people to stay safe and healthy. Besides, it supports most of the latest watchOS 10 features. Only the powerful S9 chip-related features are absent. Therefore, you will get this all-arounder with all essential functionalities cheaper from e-commerce stores as Apple has discontinued selling it.
Pros
Full of fitness and health-focused features
Advanced temperature sensors
Menstruation and ovulation cycle tracking
Discounted price
Cons
Not carbon-neutral
Lacks advanced S9 chip features
Are older versions of the Apple Watch still worth buying?
Apple Watch Series 1, Series 2, or Series 3 is now only available on resale websites. So, these second-hand models are not worth the money.
Furthermore, you cannot purchase them for your family since Family Setup only works on Series 4 and above. Also, these watches have cellular capabilities, but neither is waterproof nor compatible with watchOS 10.
What is the best Apple Watch to buy in 2023?
All Apple Watches will have almost similar basic features and quality standards. However, depending on your needs, you may choose to get the powerful Apple Watch Ultra 2 or the affordable Apple Watch Series 9.
It's okay if you want an Apple Watch but cannot afford the Apple Watch 9. However, the Apple Watch SE 2 is excellent since not everyone requires blood oxygen and ECG monitoring.
If you're searching for something premium, consider the Apple Watch Hermès edition. It offers the same functionality as the Series 9 in addition to exclusive bands and watch faces.
While Apple may not sell every model, some stores still sell Apple Watch Series 8. If you want to experience Series 9 at a lesser price, go for it. The Series 8 still has essential functionality and software support, making it valuable. Also, you may look for the Apple Watch Ultra to experience the Action button and rugged performance at discounted prices.
FAQ
Which Apple Watch impressed you?
I started with an Apple Watch SE and later bought the Apple Watch Series 8 for my mom. Also, recently, I upgraded my Series 7 watch to the latest Series 9 to experience powerful S9 features. Let me know which was/will be your first Apple Watch in the comments. Moreover, if you are looking for cases, bands, and other accessories for your Apple Watch, go through our expert guides.
Explore more…
Readers like you help support iGeeksBlog. When you make a purchase using links on our site, we may earn an affiliate commission. Read Disclaimer.