"God could not be everywhere, and therefore he made mothers"- Rudyard Kipling. This famous proverb beautifully defines the importance of a mother. While you must make your mom feel pampered daily, the responsibility increases slightly on Mother's Day, especially if she loves tech gifts.
Celebrated on the second Sunday of May every year, Mother's Day honors our ever-so-gorgeous mothers. Since the day is just around the corner, we have decided to help you with a curated list of best Mother's Day tech gift ideas to surprise your mom. Each gift item listed here serves a particular purpose. You can see the details and then choose your favorite. Let's start!
1. Apple iPhone 14 Yellow – A pop of sunshine for mom
Say hello to Apple's sunshine! The tech giant recently created a buzz amongst Apple lovers by unveiling its alluring 'Yellow' iPhone 14. Add a pop to your mother's life with this impressive smartphone with a robust dual-camera setup, powerful battery, smooth user interface, and advanced safety features like Emergency SOS via satellite and Crash Detection.
The 6.1-inch super retina XDR display and Action mode support will become your mum's instant favorite for playing movies or shows. Moreover, they don't have to worry about the battery running out because the iPhone 14 offers up to 26 hours of video playback support. So, you can relieve your mother from the burden of constant charging.
With superior-quality cameras, you can expect to see your mother posting her perfect selfies and videos on Instagram and WhatsApp more frequently than ever. In addition, an easy-to-use interface and 5G network support will ensure that your mother can use her smartphone for all her expeditions independently.
2. iPhone 14 clear case with MagSafe – 2-in-1 iPhone case
Receiving purposeful gifts is always a delight. This Apple-designed clear case can be perfect if you want a valuable Mother's Day gift. Lightweight, thin, and firm grip are some of the main features of the phone cover. Did I mention that the cover also comes with MagSafe support? Further, the intelligently aligned magnets make wireless charging quicker and easier.
Created with a blend of clear polycarbonate and flexible materials, this Apple iPhone 14 cover lets you flaunt your smartphone while giving full safety. The surface has a scratch-resistant coating on the outer and inner sides of the cover. Usually, when you buy a clear case, it turns yellow within a few days of use.
However, such will not be true with Apple's clear case with MagSafe. The raw material and the coatings used in crafting this case are optimized to save the product from turning yellow. Additionally, the cover comes in shades like pink, yellow, blue, and purple, so your mother can mix and match the way she wants. If you are still here, do check out our guide on the best MagSafe battery packs for iPhones.
3. HomePod Mini – Perfect support system
Let's admit that our mothers are magicians. The way they strike a perfect balance between work and family is out worldly. While they prefer to manage everything single-handedly, a touch of technology can ease their burden quickly. To help her with that, try gifting an Apple HomePod Mini – a smart technology speaker that will lessen her workload in a jiffy.
Powered by Siri's highly responsive voice assistant, this gadget will adhere to your mother's commands more quickly than you ever will. With a simple 'Hey Siri,' the device comes to life and responds to your commands. Ask questions, play songs, set reminders, send messages, plan an itinerary, control smart home devices, seek suggestions for dinner, read news, or share secrets- the HomePod will do all this and more for your dear mother.
Apple HomePod Mini comes in a cute circular shape and compact size. The build is strong, so even if your furry friend knocks it down, no damage will happen to your speaker. Also, you can pair your HomePod Mini with these cool accessories that will add some extra stars to your gift. I am confident your mother will love interacting with her new virtual assistant more than her gossip gang.
Check out on: Apple
4. Apple Watch SE (2nd gen) – The smartest accessory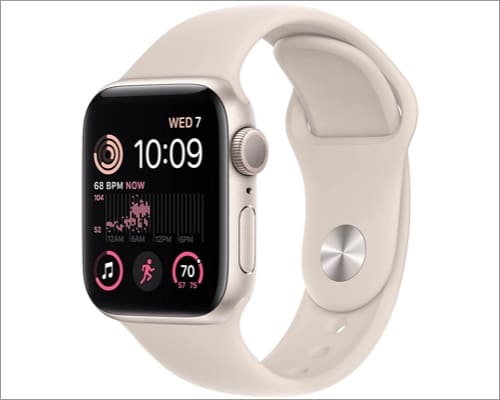 Are you still looking for some perfect gift ideas for Mother's Day? If yes, do take Apple Watch SE (2nd gen) into consideration. Donning a stylish-aesthetic design, the Apple Watch SE is a must-buy if you want a quality product at a reasonable price. Apart from doing the 'watch' things, this smart device lets you make and receive calls, text, check notifications, read emails, and view images. In addition, the seamless interface ensures that your surfing is smooth despite the small display.
Our mothers often neglect their health amid the everyday chaos. If your mother does the same, Apple Watch SE (2nd gen) is the ultimate solution. The smartwatch houses multiple health monitoring tools like a heart rate sensor, a gyroscope, an accelerometer, etc. Additionally, you can switch between different workout modes, such as Outdoor Running, for a more exclusive experience. A sleep tracker is also an essential feature of this watch.
Long battery and intuitive user interface will help your mother manage multiple tasks right from the gadget on their wrists. Not to forget the cool watch bands and watch faces that she can pick to add a personalized touch to her gift. As the Apple Watch is a pricey investment, you must pair your gift with a strong case to ensure that your mother doesn't have to stress about her watch's safety while using it. Easy-peasy! 
5. AirPods Pro (2nd gen) – For music, movies, and more
If you overlook AirPods Pro as a Mother's Day gift, you are missing something big. The AirPods are an ideal present for your mother if she enjoys music, is a movie freak, or spends too much time chit-chatting with her friends. The gadget will give her the best voice experience ever.
Supported by an upgraded H2 chipset, the powerful AirPods deliver up to 2X more noise cancellation and a 3-D sound experience. So, your mum can relish her favorite songs while at home, office, or commuting. The adaptive EQ fine-tunes music to your ears in real-time, so with high notes, soft melodies, or deep bass, everything comes out in perfect clarity.
Moreover, connecting AirPods Pro to your iPhone, iPad, or Mac is easy and instant. The connection is stable and steady, no matter how chaotic your outside is. However, if your iPod Pro gets disconnected frequently, fix it in simple steps using these solutions.
Extended charging support is another attribute that makes Apple AirPods (2nd gen) a suitable Mother's Day gift. The device offers up to 6 hours of listening time on a single charge and works up to 30 hours with the MagSafe Charging case. So, your mother can use the AirPods to her heart's content without plugging them into the charger every few hours.
6. iPad Mini (6th Gen) – Quality and style
Small in size and big on performance- Yes, that is how I would like to define Apple iPad Mini. With an 8.3-inch Liquid Retina screen, the gadget is a stunning choice to surprise your mother with this Mother's Day. Watch her enjoy her all-time favorite movies with a smile on the big display of iPad Mini. In addition, the A15 Bionic chipset is optimized to give a seamless working experience irrespective of how extensively you use it.
The tablet houses a 12-megapixel ultra-wide selfie camera with a 122-degree field of view. At the back, iPad Mini dons a 12-megapixel camera sensor paired with a True Tone flash. In addition, the rear setup supports 4K video recording and Smart HDR. Your mother won't be able to stop herself from capturing every special moment with her newly gifted iPad Mini.
Moreover, the company spoils buyers for choice regarding iPad Mini. The color palette of the product is vibrant and chic. From cute pink to deep grey, iPad Mini comes in all colors.
7. Apple AirTag – Ideal tracker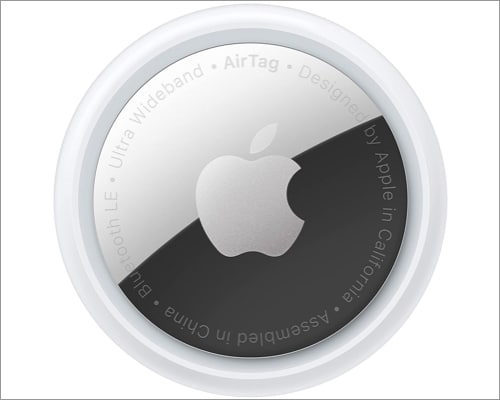 Designed using the best quality materials, the Apple AirTag an ideal accessory to protect Apple products. So, in case you are looking for some cheap Mother's Day gift options, the AirTag is your answer.
The robust stainless-steel ring clubbed with the softness of French leather makes for a great gift item for your mother. In addition, the durable build of the AirTag ensures it can track objects effortlessly. The AirTag is also a good choice for elders at your house. It will be a good choice as a gift for Grandma on Mother's Day.
If your mother often finds it difficult to locate her things, the Apple AirTag is the best purchase for her. With AirTag attached to her stuff, she will never get tensed about losing her essentials, even while traveling.
8. Kindle Paperwhite Bundle – A reader's treasure
For someone who loves reading, there is no better gift than a book. However, with technological advancement, reading gadgets like Kindle Paperwhite have become people's favorite. So this Mother's Day, gift your mother a Kindle Paperwhite and make her fall in love with books again. Luckily, on Amazon's 'Kindle Paperwhite Bundle' deal, you get a Kindle Paperwhite (16GB), a power adapter, and a leather cover. A value deal, indeed!
Kindle Paperwhite immerses you in the pool of books from different genres, languages, and writers. The sleek, lightweight design and 300 ppi, glare-free display give a book-like reading feel, even in broad daylight. In addition, the device lets you adjust the lighting and screen shade based on your comfort. Water-resistant reading is an essential feature of Kindle Paperwhite.
With Kindle Unlimited, your mother will get unrestricted access to more than 2 million book titles, thousands of audiobooks, etc. Moreover, Kindle Paperwhite supports hands-free reading. Pair with an Audible subscription and listen to stories via Bluetooth headphones or speakers. It is one of the most coveted ebook reading apps for iPhone, with a fan following counting millions across the world.
9. Apple TV 4K – Everything entertainment
The Apple TV 4K (3rd gen) is like a treasure trove of offerings for anyone who loves watching TV. This amazing entertainment box is one of the best Mother's Day tech gifts for its sheer excellence. With 4K Dolby Vision, Dolby Atmos, and HDR10+ support, Apple has tried its best to revamp your TV-watching experience.
Access top-notch content from Apple TV+, Apple Music, Apple Arcade, Apple Fitness+, and Photos using the device. Top-notch content from Prime Video, Netflix, Disney+, and live channels like Hulu, YouTube TV, and Sling TV is readily available using Apple TV 4K. The diverse content pool will likely keep your mother hooked to the TV screen.
Controlling this entertainment box is a cakewalk. All thanks to the very responsive Siri remote. The remote is lightweight, handy, and compact. You can use the touch-enabled click pad or voice your commands verbally- the Apple TV 4K instantly caters to your whims.
10. Apple Gift Card – Ticket to surprises
Sometimes we spend so much time thinking about a perfect gift that we often end up messing up everything at last. If such is the case with you, an Apple Gift Card is your go-to option for Mother's Day. The Gift Card will be a gateway for your mother to shop for her favorite stuff from the App Store, Apple TV, Apple Music, iTunes, the Apple Store app, apple.com, and the Apple Store.
The company sends the Apple Gift Card through email or mail. Opening the email gives you a link with a unique code. Then, you only need to load the code to your Apple Account. Simple, right? With this Gift Card, your mother can pick her favorite iPhone, iPad, AirPods, or any other gadget or service she likes. Moreover, it will help you skip the constant anxiousness of gift selection. An intelligent choice, indeed!
11. Theragun Mini 2.0 – Electric Massage at Home
A soothing massage after a day-long hustle will likely bring a big smile to your mother's face. However, going to a masseur every second day is not feasible. So, why not get the comfort of a massage parlor in your home? Switch to Theragun Mini 2.0- an electric massage gun that gives you the ultimate feel of a real-like massage. It is lightweight, compact, and super convenient to carry around.
The deep tissue massager comes with 3 additional attachments and three different speed adjustments. The massager will bring instant relief to your mother, be it an ankle sprain, arm knot, or painful shoulder pain. The firm grip of the device allows the user to apply manual pressure at all the required pain points efficiently. Further, the small size will ensure your mother can use it anywhere, even while traveling.
Theragun Mini 2.0 is an absolute beauty when it comes to innovation. The massager has advanced sound insulation which ensures that your mother doesn't have to feel troubled by the cranky noise of a machine. So, get ready for extra hugs from your mother after receiving Theragun Mini 2.0 massage gun.
12. Oura Ring – The ring with health trackers
How about gifting a beautiful ring to your mother on Mother's Day? I am not talking about the usual gold and diamond rings but a special one. Oura Ring is an elegant wearable that marvels at innovation and technology. This beautiful ring can monitor your sleep, day-to-day activities, heart rate, stress levels, predict periods, and more. The research-grade sensors help the ring record and display results more accurately and precisely.
The highlight of the Oura Ring is its super comfortable design. An ultra-lightweight build, water resistance, and high durability make Oura Ring a timeless present for your mother. She can pair the ring as an accessory during an official brunch, a date, or a club night with friends. In addition, the delicate design of the ring will likely add charm to her looks.
In addition, this modern gadget boasts a long battery life that works for a maximum of 7 days in a stretch. With just 20-80 minutes of plugging, the ring gets fully charged to take all the challenges alongside you in routine life. Further, the ring is fully compatible with Apple Health, Google Fit, Strava, and more. Apart from this, these amazing health apps on your mother's iPhone can also ensure that your mother is always in good health.
13. Apple MagSafe Battery Pack – Charging on-the-go
You must have seen your mother struggling to keep her phone charged during tiring business trips. While those work trips are inevitable, the problem of the battery running out is amendable. So on this Mother's Day, gift your mother an Apple MagSafe Battery Pack so she can charge her gadgets on the go instantly.
Using this MagSafe Battery Pack is super convenient. The magnets placed on the pack keep it attached to the iPhone firmly. Moreover, it charges your smartphone automatically without turning it On or Off. Easy to use and super convenient to carry from one place to another. Your mother will thank you a tonne for this efficient gift.
The pack also supports up to 15W wireless charging for other devices. All you need to do for this is plug a Lightning cable into the MagSafe Battery Pack. Multitasking at its best!
14. Anker 735 Adapter – Best multipurpose charger
Keeping their smartphones charged often becomes a hassle for our mothers and grandmothers. So, why not gift them a powerful charger that charges their phones quickly this Mother's Day? Anker 735 adapter is a market-leading product that charges iPhones, iPads, and USB-C port devices.
One of the best features of this adapter is its compact size which is nearly 53% smaller than the traditional chargers. As a result, your mother can freely carry it in her bag for an instant power boost. In addition, the innovative design, packed with an advanced circuit board and GaN II technology, makes this charger a popular pick in the market.
Feel free to plug up to 3 devices simultaneously using the two USB-C ports and one USB-A port placed in this charger. This lets you charge your iPhone, AirPods, and Apple Watch simultaneously without compromising the speed or charging time.
Wrapping up
The blessings our mothers wrap us with help us keep going in this world. She deserves all the happiness in the world. So, why not gift her something special on Mother's Day and watch her smile with glitters in her eyes? This list features the best tech mom gifts for Mother's Day. Each gift is my thoughtful attempt to help you pick a present to ease your mother's work and help her sneak some 'Me-Time.'
Do let me know about the warm hugs you got from your mother after receiving one of the best gifts for Mother's Day listed here.
Read more:
Readers like you help support iGeeksBlog. When you make a purchase using links on our site, we may earn an affiliate commission. Read Disclaimer.