Apple's HomeKit devices bring convenience, and HomePods are no different. The little yet powerful HomePod mini brings Siri controls, theater-like sound, and more to your house. Therefore, you need the best HomePod and HomePod mini accessories like covers, stands, and other HomeKit gadgets to get the most out of it.
In this post, I will share my personal favorite accessories for Apple HomePod and HomePod mini. Go through each section and choose the right one according to your requirements.
Best cases and covers
Though HomePod seems less expensive, it is still a significant investment. So, you must safeguard it against dust, drops, and scratches. Besides, after setting up HomePod, you may also want to give it a funky look. And all of these can be accomplished with a HomePod mini case and dust cover. Let's jump in!
1. Hounyoln hard case for Apple HomePod mini – Travel-friendly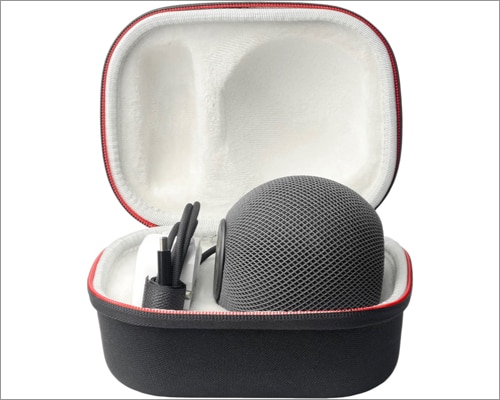 I always carry my HomePod mini on vacations, and this hard travel case keeps it secure against the danger of bumps, scratches, or unintentional falls. The high-quality EVA build material is long-lasting, water-resistant, shockproof, and dustproof. You can store the speaker and charger in the case and close it using the smooth yet durable 360-degree zipper.
You may carry the case in any luggage as it takes less space and is ultralightweight. Along with that, the attached hand strap makes it more convenient to use. The brand has used soft velvet to make the interiors. That's why this HomePod mini case feels premium and provides delicate care while keeping everything steady.
Pros
High-quality EVA and velvet build
Durable
Check out on: Amazon
2. Bestand HomePod travel case – Carry on the go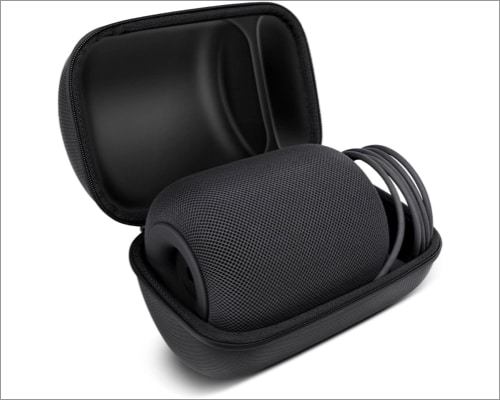 Like the HomePod mini case, there are various protective cases for HomePod. I highly recommend this Bestand case among the other travel cases due to its durability and weight distribution. This shockproof and semi-waterproof case fits your HomePod perfectly and provides good protection. Besides, it has a built-in carrying strap that makes traveling with it convenient.
Despite being semi-shockproof, it protects your smart speaker from drops, scratches, and dents. It can withstand spills and keeps splashes away from your speaker. You can easily open and close the case using the double 360-degree zipper. The best part is it has a leather-wrapped handle that makes it more portable.
Pros
Reliable poly zipper
Non-skid hand strap
Check out on: Amazon
3. SaharaCase HomePod mini sleeve cover – Cute looking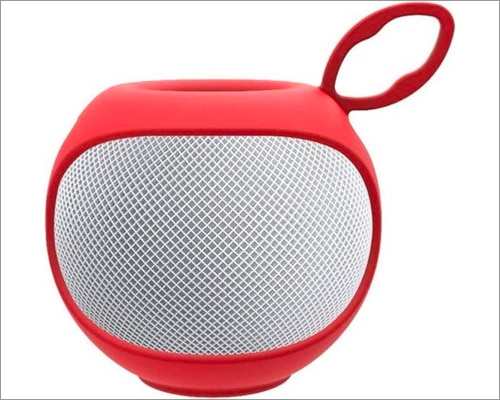 I believe the HomePod mini dust cover is the most essential among other HomePod mini accessories. The SaharaCase silicone sleeve cover for the Apple HomePod mini provides additional protection and comfort. It protects your speaker from unwanted dust, dents, and scratches – thereby extending its longevity.
The smooth silicone build material provides a sturdy non-slip grip and a nice feel to your hand. The sleeve has precise cuts to guarantee that the sound is not impaired, and you can charge it without any hassle. I loved this cover as it's not bulky, and the small carrying loop at the top makes the speaker easily accessible.
Pros
Premium silicon material
Anti-slip grip
Cons
The carry loop needs improvement
Check out on: Best Buy | SaharaCase
4. FitTurn HomePod cover – Eco-friendly
How about a protective HomePod dust cover that glows up? Full party mood! FitTurn HomePod cover has a full-body mesh hollow design and a high-quality silicone coating. Besides its attractive looks, the cover ensures your HomePod is damage-proof from sudden drops, scratches, and dust.
The special structure assists its volume and sound recognition capabilities. Therefore, your music sounds fantastic, and all your Siri commands are detected. Along with that, the precise cutouts for the plug hole on the rear side allow for charging without removing the case.
Color choices include the unique Noctilucent Blue, which glows up in the dark and highlights your HomePod. I had put it on my corner desk nightstand, and it looks beautiful after the lights are off. But I wish it provided more durable protection.
Pros
Hollow-out design that enhances high-fidelity sound
Funky glam look
Check out on: Amazon
Top stands for HomePod and HomePod mini
5. Spigen silicone fit for HomePod mini stand – Premium pick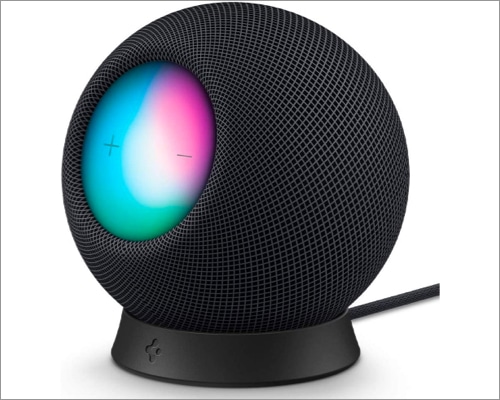 The best HomePod mini stand comes from the house of Spigen. The Spigen Silicone Fit Stand provides a wide base for placing on a tabletop for increased stability and secure hold. You can place it anywhere because the silicone body with a smooth and matte finish looks premium.
To make the HomePod mini more accessible, you may tilt it. The shock-absorbing design reduces speaker vibrations, so you can groove to your favorite music with no chance of dropping. A precise rear cutout makes it easy to access the cable and keeps the wire neat and tidy.
Pros
Shock-absorbing design
Matte finish
Cons
Slides on smooth surfaces
6. i-Blason Cosmo Series HomePod mini table stand – With Apple Watch charging holder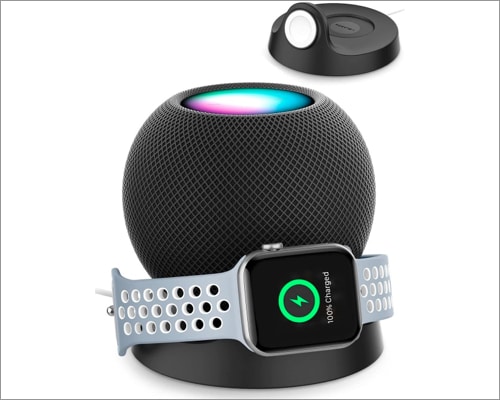 The i-Blason Cosmo Series table stand is compatible with both the Apple Watch and the HomePod mini. It's made of high-quality materials and has an easy-to-use compact design. The front of the lightweight stand has a cutout for an Apple Watch charger and accommodates it perfectly.
It feels good to touch because of the smooth edges. The silicon-based cushioning prevents skidding on flat surfaces. So, your HomePod mini will not get scratches and damage from drops. Besides, it offers unique HomePod mini cable management at the bottom, making your desk clear and uncluttered.
Pros
Use as a charging dock
Anti-slip and anti-scratch
Check out on: Amazon | i-Blason
7. AWINNER stand – Simplistic design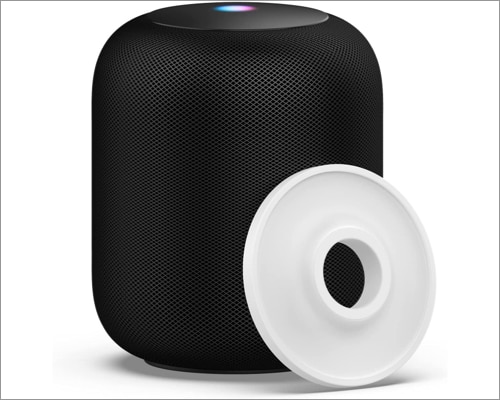 AWINNER offers a bespoke stand that exactly fits your HomePod and can be used anywhere. The high-quality silicone anti-slip pads absorb speaker vibrations. Therefore, it will not distort the music. Besides, the flexible and durable stand fits the HomePod tightly, avoids scratches, and provides enough protection.
It can stand firmly on the table's surface, thanks to the flat rubber base. Also, the stand doesn't leave any spots on your hardwood furniture. The best part is you can get a free replacement or full refund for any quality issues. Also, I experienced fantastic after-sale assistance that was available around the clock.
Pros
Anti-slip silicon pads
Shockproof
Free replacement
Check out on: Amazon
Wall mounts to keep your HomePod secure
The wall mounts are easy to install and keep your HomePod securely. You can also rotate it to get an audio soundstage within your room. So, mount your smart speaker upon the power outlet for better cable management and save space on your desk with the best wall mounts for Apple HomePod and HomePod mini.
8. Delidigi HomePod mini wall mount – Built-in cable management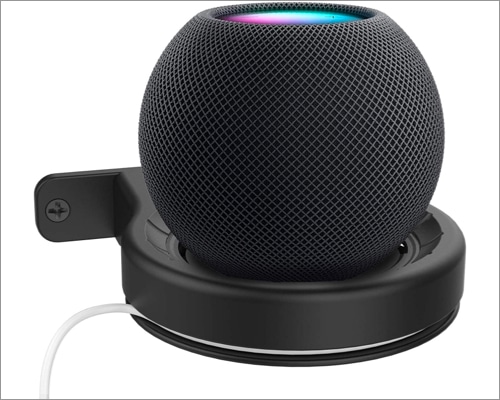 This Delidigi bracket holder shelf stand securely mounts your HomePod mini to walls and other flat surfaces. It provides screws and anchors in the box so you can easily complete the quick installation. I loved its built-in cable management that keeps your charging cord securely concealed beneath.
To deliver the best sound output, the HomePod mini needs a more sturdy base. But in this case, the sound quality is somewhat diminished. Also, if you set it up near the ceiling, it may reflect sound back at itself. So, consider these drawbacks before buying.
Pros
Stable mount
30-day money-back guarantee
Cons
Not durable
Impairs sound
Check out on: Amazon
9. TotalMount for HomePod mini – Hole-free mount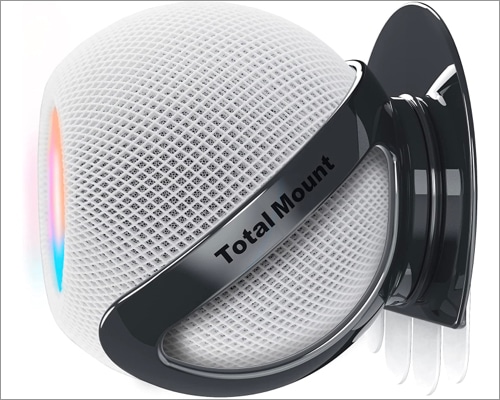 TotalMount wall mount allows you to set your HomePod mini almost anywhere in your house without making holes in the walls. The non-slip rubber pad provides a snug fit so that the device is safe, secure, and ideally positioned. This ensures that the sound is not distorted.
I loved its Premium ABS with a piano finish and a user-friendly, zero-equipment installation process. It uses four removal adhesive taps to hold onto the wall so you can detach it easily in no time, although there are optional screws.
Pros
Easy to install
No equipment needed
Cons
Dismounts if the surface is not cleaned
Low sound production
Check out on: Amazon
10. EXIMUS Speaker Wall Mount – For HomePod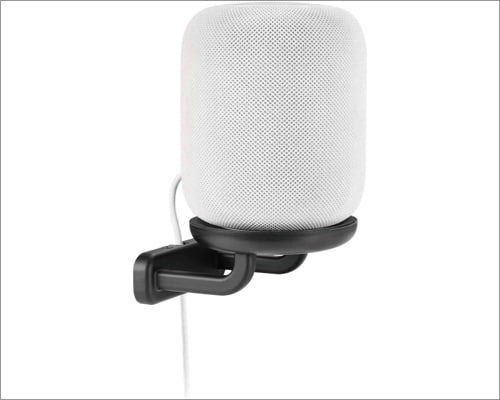 You can set up your Apple HomePod speaker on any wall with the EXIMUS Apple HomePod Wall Mount. It will be the ideal addition to your room, saving additional space. Your Apple HomePod speaker will remain elegantly on your wall and match the decor thanks to the sleek, minimal, and contemporary design.
The silicon pad prevents accidental drops or scratches while keeping your speaker firmly in place. It fully exposes your speaker to better sound production. You can install it in the proper position using the direction indicator. Also, the wall mount offers cable management to keep your room uncluttered.
Pros
Minimal design
Direction indicator
Cons
Low-quality screws and anchors
Check out on: Amazon
Other HomePod and HomePod mini accessories
11. Eve Energy Smart Plug & Power Meter – Control HomePod remotely
Being an essential HomeKit device, you can connect it with other HomeKit devices like Eve Energy smart plug and power meter. Using it with HomePod, HomePod mini, or Apple TV, you can ask Siri to manage your lights and other smart appliances. Also, create schedules to automatically turn the appliances on and off and access them remotely.
Eve Energy provides exceptional usability and cutting-edge security by using Apple HomeKit and UL certification. Thanks to cutting-edge Bluetooth and Thread connectivity, it is fast and simple to set up, operates without a bridge, and boasts energy-efficient operation.
Pros
Encrypted privacy
Use HomePod as a home hub
Check out on: Apple
12. Nanoleaf Essentials A19 Bulb – Customized lightning
Nanoleaf Essentials offers smart lighting with smooth color performance and a unique multi-faceted bulb shape. So, you can convert your boring room to a party house in a snap, thanks to its high brightness and infinite color palette. You may use the Nanoleaf app, HomePod, or Apple TV to control and customize it.
The enhanced connection range and reliability with low latency ensure good lightning. Also, the app provides schedules or automatic turn-on/off. I loved the adaptive lighting function that automatically adjusts the color temperature. You can choose between crispy white or vivid, lively hues.
Pros
No hub required
Adaptive lighting feature
Cons
Some features require internet access
Check out on: Apple
So, that's all for today, folks!
You can maximize the productivity of your HomePod or HomePod mini using the accessories. I personally use the HomePod mini case and stand to keep it secure. Which one will you buy? Let me know in the comments below.
You may love to explore…
Readers like you help support iGeeksBlog. When you make a purchase using links on our site, we may earn an affiliate commission. Read more.
Ava is an enthusiastic consumer tech writer coming from a technical background. She loves to explore and research new Apple products & accessories and help readers easily decode the tech. Along with studying, her weekend plan includes binge-watching anime.