If you have a smart home setup and use your HomePod along with the Home app and Siri to manage it, you'll love the climate feature. You can find out the temperature and humidity in rooms with a HomePod and even set up automation based on the readings.
Ready to get started? Here's how to use the HomePod temperature and humidity sensors.
Requirements to activate climate sensor on HomePod
In order to use the climate feature, be sure you have the following:
HomePod mini or HomePod (2nd generation): Currently, these are the only compatible HomePod devices with temperature and humidity sensors.
iOS 16.3 or later: The HomePod or HomePod mini needs to be running on 16.3 or later. To check the software on your HomePod or learn how to update it, take a look at our article on finding your HomePod software version.
How to check the temperature and humidity of a room using HomePod
Apple's Home app is the central spot for managing your smart home devices. From setup to automation, you can take care of everything you need in your Home, including viewing the temperature and humidity.
View climate readings on iPhone, iPad, and Mac
With the Home app open on your iPhone, select Climate at the top. On iPad or Mac, the Climate option is at the top of the Home tab as well as below Categories in the left-hand sidebar.
If you have multiple HomePods or additional compatible sensors set up in your home, you'll see the temperature and humidity ranges for them all combined.
To see a particular room, select either Temperature or Humidity.


You'll then see the reading for each space. Select a reading for a particular room to view additional details or set up automation.


View climate readings on Apple Watch
Open the Home app on your Apple Watch.
Tap the Climate icon at the top.
You'll then see the temperature and humidity levels for each room. These are simply listed on one screen.

Ask Siri for the temperature and humidity of a room
If you take advantage of your personal digital assistant Siri, why not use this to check the temperature or humidity in your home?
You can say things like:
"Hey Siri, what's the temperature in the kitchen?"
"Hey Siri, is it cold in Sandy's office?"
"Hey Siri, what's the humidity in the dining room?"
Prefer to type to Siri on your Mac? You can ask these types of questions there as well.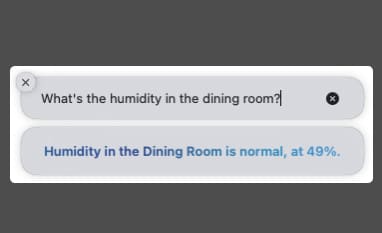 How to set up temperature and humidity automations on HomePod
Automations allow you to perform actions on your smart home accessories without lifting a finger.
For instance, you can automatically turn on your lights at sunset or turn them off at bedtime. So, why not set up automation based on the temperature or humidity?
If the temperature in your office rises above 80 degrees, you can automatically turn up your air conditioning. Of course, the types of actions you can take depend on the connected HomeKit devices.
Here's how to create an automation based on temperature or humidity in Home on iPhone.
Open the Home app → select the Automation tab.
Tap the plus sign and select Add Automation.
If you have none set up already, tap Create New Automation.
Below Events, choose A Sensor Detects Something.
Choose the temperature sensor or humidity sensor for the room you want → tap Next at the top.


Pick Rises Above or Drops Below. Then use the wheel to select the degrees or percent. Optionally set the Time and People options at the bottom if applicable. Tap Next.
Choose the room and device you want to activate and tap Next.
Complete the action you want the device to perform, optionally test the automation, and tap Done.


Then when the temperature or humidity goes up or down, your smart device should take over to make you more comfortable.
Keep it cool or heat things up!
The temperature and humidity sensors in the HomePod, along with the climate feature in iOS 16.3, are terrific enhancements for smart home users.
What are your thoughts? Are you going to keep up with the climate in your home or set up an automation for those hot or cold days? Let us know!
Read more:
Readers like you help support iGeeksBlog. When you make a purchase using links on our site, we may earn an affiliate commission. Read more.
With her BS in Information Technology, Sandy worked for many years in the IT industry as a Project Manager, Department Manager, and PMO Lead. She wanted to help others learn how technology can enrich business and personal lives and has shared her suggestions and how-tos across thousands of articles.