The iPad remains a favorite because of its portability, function, and versatility. In the WWDC 2023 last June 5, 2023, Apple introduced the new iPadOS 17, showcasing numerous enhancements and novel features available to iPad users in the latest software version for their tablet range.
Here's a rundown of all the new features of iPadOS 17 that you can expect this fall. But first, take a look at all the devices that support the software.
iPadOS 17 compatible devices
iPad Pro (2nd generation and later)
iPad Air (3rd generation and later)
iPad (6th generation and later)
iPad mini (5th generation and later)
Now, let's look at all the new features coming to the latest iteration of the iPad software.
1. Interactive Widgets on iPadOS 17
If you own an iPhone, this update won't be new for you. Regardless, this feature will significantly boost customization and productivity on the iPad. Apple finally lets its users experience interactive widgets, allowing you to interact with them straight from the iPad's home and lock screen.
2. Personalized Lock Screen
iPhone users have since enjoyed customizable lock screens, arguably one of the highlights of iOS 16. Meanwhile, the iPadOS 16 came in with nothing.
Fortunately, iPad users can now customize their Lock Screens with iPadOS 17. They can now select a photo from their library or choose from a wide array of wallpapers. Aside from this, you can also customize the color, line weight, and style of the lock screen's font.
You can also make use of the iPad's bigger screen to enjoy a Live Photo that transitions slow-motion effect once you wake your iPad.
The Lock Screen also lets you add widgets to the lefthand side of your Lock Screen. Similar to widgets in your Home Screen, widgets that reside in the Lock Screen are fully interactive.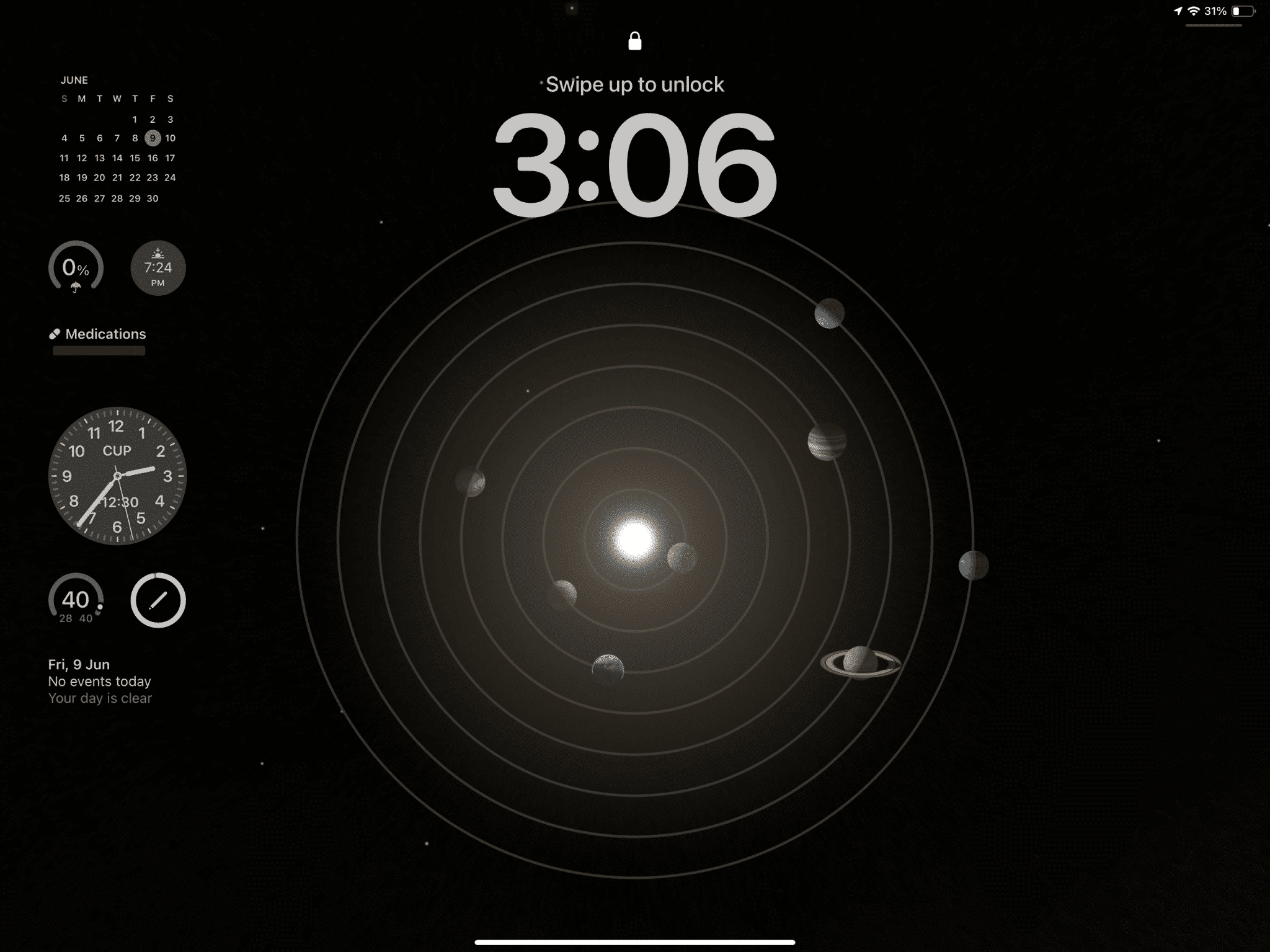 What I find really helpful is Live Activities. Again, this isn't new for iPhone users with devices running iOS 16. Live Activities is an interactive push notification that gives users real-time updates straight from the Lock Screen. So you don't need to unlock your iPad to see the location of the incoming food delivery or the current game score in the match you're watching.
3. Health app on iPadOS 17
Aside from the widgets, Lock Screen, and Live Activities, another iOS feature the iPad finally adopts is the Health app. Because of the larger screen, iPad users can see their health data in rich detail.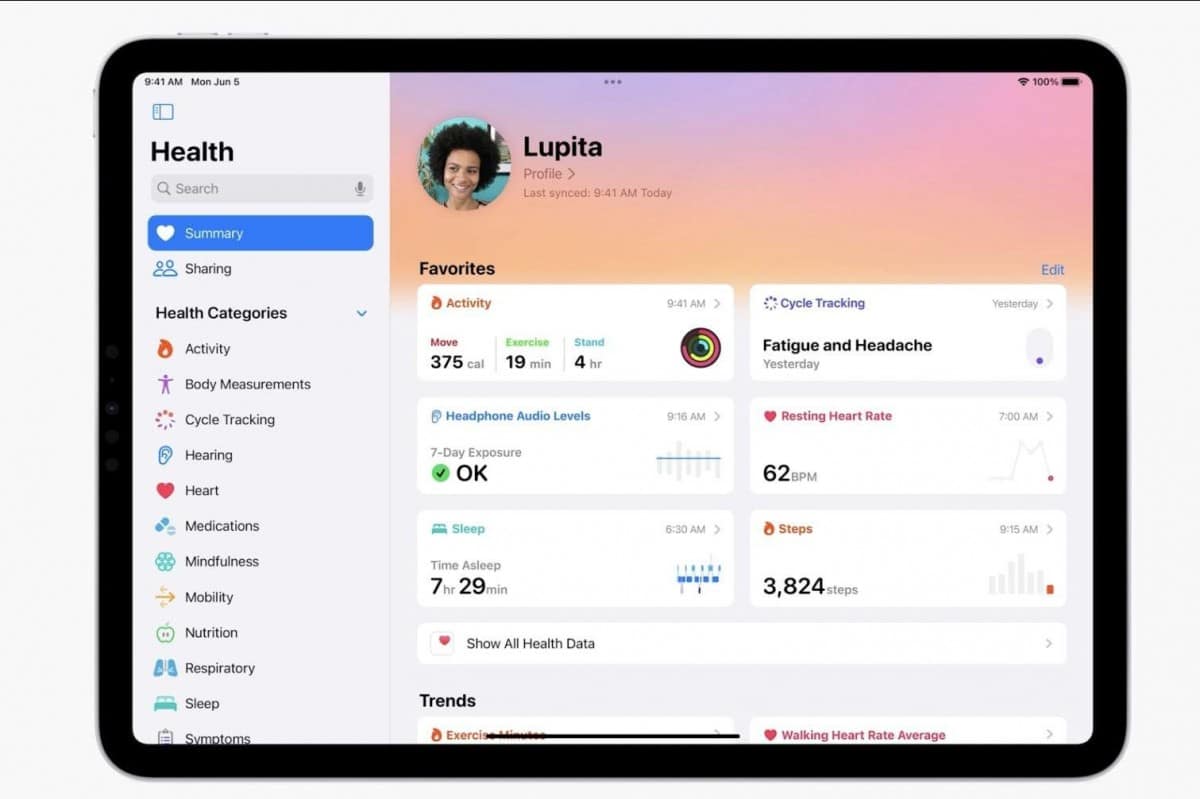 While the Health app on the iPad is optimized for the tablet, it showcases the same features as the Health app on the iPhone.
4. New PDF features on iPadOS 17
PDFs are one of the most used file formats because of their versatility, ease of sharing, and reliability in terms of security and formatting. It's also widely used within Apple's ecosystem. For example, you can easily save webpages as PDFs on iPad and merge PDFs directly on your device.
In iPadOS 17, Apple further improved how you interact with your PDF files. Thanks to machine learning, your iPad can now recognize blank fields in documents and intelligently lets you fill them in with text or add your signature — no need for third-party apps to fill your docs!
In Notes, you can preview your PDF files in full-width, letting you easily flip through the pages and annotate. You can also save multiple PDFs in the same note, which can help keep related files organized.
Collaboration is made even easier with Live Collaboration, which lets you see all the changes in real-time. This isn't limited to just annotations. You can also add stickers and images to your note and annotate on top of it.
Other improvements you can expect from iPadOS 17
Aside from the improvements noted above, you can also expect to see the same updates from iOS 17, including the ability to create Live Stickers and audio message transcription in Messages, leave video messages on FaceTime, and a safe and separate Safari browsing for personal and professional life.
Here are other feature upgrades you can expect from iPadOS 17:
Upgrades in the flexibility of the Stage Manager
Follow Along feature for Freeform, which lets you follow a collaborator in real-time
Enhanced recognition of Visual Lookup
A smarter Keyboard
Improvements in sharing content via AirPlay
New grocery list experience in Reminders
Wrapping up…
While most of the improvements brought by iPadOS 17 are just iterations of features on the iOS 16, they still bring improved functionality and experience to the beloved tablet. But Apple also added a range of new features that'll surely delight iPad users. Which features do you love the most? Share them below!
Read more:
Readers like you help support iGeeksBlog. When you make a purchase using links on our site, we may earn an affiliate commission. Read more.
Rachel loves anything Apple —from iPhones, to Apple Watches, to MacBooks. She is also a medical writer and a ghostwriter for various publications.