When on limited bandwidth, we want to save every ounce of cellular data on our iPhone. But with so many data-hungry features hidden inside the settings, taking control of the unnecessary data consumption on the iOS device is a bit tricky.
However, there is no need to bother about the unexpected mobile data consumption as we've jotted down some really handy tips and tricks that can empower the limited bandwidth to survive every challenge coming its way and last till the deadline. Of course, there are some trade-offs but they aren't a big deal.
So, let's find out the ways and means to limit data usage on iOS devices!
12 Tips to Control Data Usage on iPhone Running iOS 12
Tip #1. Turn off Automatic App Updates
As soon as new app updates arrive, I like to jump the ship to try out the latest features and also make the app run smoothly. However, I avoid updating the apps automatically, especially when my iPhone is on limited bandwidth. It does help me conserve some data on my device.
To do so, open Settings app → iTunes & App Store → Under Automatic Downloads, turn off the switch next to Updates.
Tip #2. Take Control of Background App Refresh
Even when you close an app, it continues to refresh in the background. As a result, when you launch the app, it runs smoothly without any lagging. However, it does eat into not just plenty of data but also a lot of battery.
If you are not concerned about the battery life of your iPhone, I would suggest you allow apps to refresh only using Wi-Fi. It's a smart way to keep the app refreshed and also save data.
To get it done, open Settings app on your device → tap on General → Background App Refresh → Now, tap on Background App Refresh. Next, you can choose to completely turn off this feature. But if you want to continue to use it without draining your cellular data, select Wi-Fi.
Tip #3. Smartly Use Location Services
The continuous use of "Location Services" can drain the battery of your iPhone and also gobble up tons of cellular data. Again, the better way to deal with this is to use it smartly. I mean allow apps to access your location only while using them. Besides, allow only a few essential apps to access your location.
To do so, head over to Settings app on your iOS → Privacy → Location Services → Now, you have the option to completely turn off Location Services. However, if you wish to use it without allowing apps to eat into plenty of data, tap on each app and ensure that While Using the App is selected.
Tip #4. Allow Only Selected Apps to Send You Notifications
If all of your apps have the freedom to send you notifications, your device might hardly have any time to rest. The better way to deal with random alerts is to let only a few important apps to send alerts. It can be good both for the battery and the data of your iPhone.
To get it done, Settings app on your device → Now, tap on Notifications → Then, tap on each app from which you no longer want to receive notifications. Finally, turn off the switch next to Allow Notifications.
Tip #5. Allow Only Chosen Apps to Have Access to Your Data
Why not allow only the selected few apps to have access to your data. It's a smart way to take control of data usage.
Open Settings app → Cellular/Mobile Data → Now, turn off the switch next to each app you don't want to have access to your data.
Tip #6. Turn Off Wi-Fi Assist
Wi-Fi Assist is enormously helpful as it ensures you continue to watch videos or listen to music without any interruption. What it basically does is automatically switches to mobile data when Wi-Fi connectivity is poor. But then again, if you don't want it to happen without your permission, turn it off.
Launch Settings app on your iOS device → Cellular/Mobile Data → Now, you need to scroll down and then turn off the switch next to Wi-Fi assist.
Tip #7. Stop Transferring Your Documents and Data to iCloud Drive Using Data
No longer transfer the documents and data to iCloud Drive using cellular data. If it's enabled, it might be one of the main reasons why your data pack runs out so fast.
Open Settings app on your iOS device → Cellular/Mobile Data → Scroll down and then turn off iCloud Drive.
Tip #8. Do Not Use Cellular Data for Video Playback
Video playback can gobble up tons of cellular data. So, it's wise not to do it using your data.
Fire up Settings app on your device → scroll down and tap on TV app → iTunes Videos → ensure that the switch next to Use Cellular Data for Video Playback is turned off.
Sticky note: Just in case, you wish to stream video using mobile data, you can choose to stream a bit lower quality video. Tap on Cellular under Playback Quality section and choose Good. Besides, there is also an option to select High Definition or Standard within Purchases and Rentals section.
Tip #9. Stop Auto-Play Videos
Auto-play videos in App Store allow you to take a glimpse at what the apps have to offer. Though it's helpful, I would recommend you to put a stop on them. Besides, prevent auto-play videos in all other apps like Facebook and Twitter.
Tip #10. Configure Each App to Use Less Data
Many apps come with a built-in data saver feature, which can be immensely helpful in reducing cellular data consumption. Wherever possible, make sure to use this feature.
Lower Data Usage For WhatsApp Call
Launch WhatsApp on your iPhone → tap on Settings tab at the bottom right → Data and Storage Usage → Now, turns on the switch for Low Data Usage.
Stream Low-Quality Spotify Music When on Cellular Data
Open Spotify app → make sure the Home tab is selected, tap on the Settings icon → tap on Data Saver and turn on the switch.  
For more info,
check out this guide.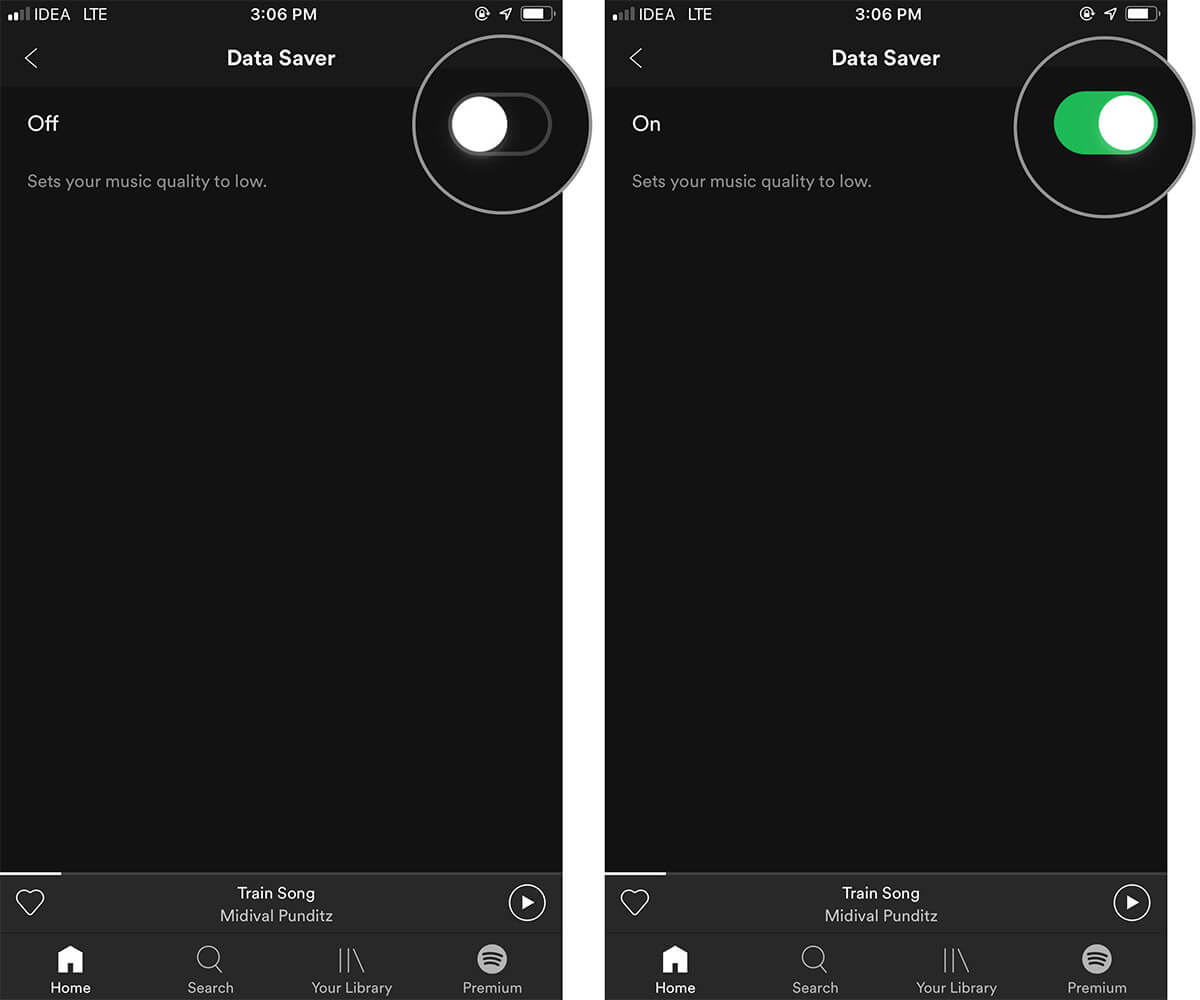 Take Advantage of Data Saver in Twitter
Open Twitter on your device and tap on your profile. Now, tap on Settings and privacy → Data usage. Now, turn on Data Saver. Going forward, videos won't autoplay and the app will load lower-quality images. Besides, ensure that High-quality images are set for only Wi-Fi.
Configure Instagram to Use Less Data
Instagram has also come up with a handy data saver feature. I've given it a try and it does help in limiting the mobile data usage. But there is one thing to keep in mind that the photos and videos will take a bit longer to load. To find out how it works, head to this upfront guide. 
Save Mobile Data for Netflix
Netflix comes with a well-thought-out data saving feature. If you like to watch a lot of Netflix TV shows and movies, you must make the best use of it. To get it done, check out this quick guide.
Tip #11. Use Offline Maps For Navigation
Before heading for a destination, I like to download the offline maps. It not only helps me save tons of data but also allows me to navigate without any interruption. So, never fail to take advantage of the offline maps.
Tip #12. Keep A Track of The Data Consumption of Each App
You can check out how much data an app has consumed since the last reset. It would offer up a better idea about the data consumption and also let you know the most data-hungry apps.
Head over to Settings → Cellular → now scroll down to apps. You should see how much data each app has consumed right below its icon. Next, tap on Reset Statistics to start tracking the data usage from zero.
Later, if you find an app consuming more data than normal, try updating it (App Store → Updates). If that doesn't help, delete and reinstall that app.
Believe me, cellular data tracking apps can prove to be a game-changer in helping you keep an eye on the data consumption on your device. It will enable you to easily figure out which apps are playing the villainous role. And once you've nabbed the culprits, taking control of them should be a tad easier.
We've made an extensive roundup of the top cellular data tracking apps for iOS. Head over to this roundup to get a useful one for your iPhone right now.
That's pretty much it!
Wrapping Up…
I guess your limited bandwidth will longer run out of steam well before the deadline. I'm sure these tricks would come in handy in fixing the problem.
Once you know the areas that need to be addressed carefully, cutting down the mobile data usage no longer remains a challenge.
You might want to read these articles as well:
Download our iOS app and stay connected with us via Facebook, Twitter, and Telegram to read more such articles.