Most of us use PDFs every day, and macOS makes it easy to combine PDFs. This means you can quickly merge two or more PDF files into one. Moreover, you can also combine specific pages from one PDF into another. This can be done via the Preview app, the Finder, or third-party apps like PDF Expert. Let's have a look at all these methods and see how to combine PDFs on Mac.
How to merge two or more PDFs on Mac using Preview
Apple's default Preview app is pretty powerful. It makes it easy to combine all or part of two or more PDF files into a single PDF.
Note: Preview saves your changes automatically. If you want to keep your original PDFs intact, choose File → Duplicate to make a copy of your PDFs before combining them.
Follow the steps below to combine one PDF file with another:
Open the first PDF file you want to combine in Preview.
Click View and select Thumbnails from the top menu.


This will display the page thumbnails in the sidebar.
Click the page thumbnail.
Select Edit → Insert → Page from File.


Choose the PDF that you want to add and click Open.
This will add the second PDF to the first one. Drag the thumbnails to rearrange the pages.
Go to File → Export as PDF to save your merged file.
How to combine part of a PDF with another PDF on Mac
Launch Preview.
Open the PDF files you want to combine in separate windows.
If files open as tabs in the same Preview window, click the Window menu and select Move Tab to New Window.


In each PDF window, click View → Thumbnails.
This will display the page thumbnails in the sidebar.
Now, drag thumbnails from one file to the other PDF.
You can use Command–Click to select multiple thumbnails.
Go to File → Export as PDF to save your merged file.
Best way to merge PDF files on Mac using Finder
If you have several PDFs which you want to merge into one, you can do it in the FInder itself. Make sure the PDFs are all in the same folder. Then, follow the steps below:
Click the files you want to merge.
Right-click

or Command-click the selected files.

Go to Quick Actions → select Create PDF.
The Finder will create a new PDF file in the same folder.
You can use Page Thumbnails to reorganize the pages.
Note: You can only combine images or PDF files into one. It doesn't work with .doc or .xls extensions.
How to merge PDFs on Mac using third-party apps and websites
Although Preview and Finder are adequate, sometimes you may need advanced editing functionalities. And while there are plenty of PDF editors to help you out, the following three perfectly suit my bill.
1. pdfCandy
An online, easy-to-use, and most importantly, free PDF editor tool that lets you merge PDFs with ease. Moreover, you can even merge images (JPG, PNG, BMP, GIF, TIFF, etc.), documents, locked PDFs, and more to create a single PDF.
Plus, it is pretty simple to use, go to PDFCandy and click Merge PDF → click Add Files(s)→ select the files or drag and drop them to the webpage → rearrange them (if needed) → click Merge files → select Download files, or upload to Google Drive, DropBox, or edit.
The platform also hosts an array of other editing features, like signing, rearranging pages, resizing or cropping, extracting text or images, adding a header, footer, or page numbers, etc.
2. pdfFiller
Designed to handle almost all PDF-related tasks, merging two or more PDFs is like a child's play in pdfFiller. Plus, the all-in-one PDF editor will let you rearrange the pages, delete some, add page numbers, and more.
All you have to do is log in and open the pdfFiller web dashboard → go to Documents → select the files to merge → click the three-dotted icon (drop-down menu) → select Merge → name the file → click Merge, and it's done.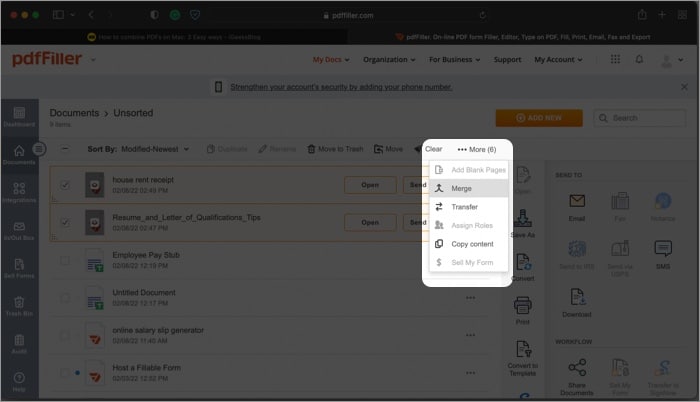 3. PDF Expert
As the name suggests, this one is an expert at PDF editing, so much so it claims the title of being the fastest. To know more about the app and its many features, check out our detailed review. For now, let's concentrate on merging PDFs and the few different options it offers.
I. Combine two PDFS
Open the PDF file in PDF Expert.
Click the Page Thumbnails icon.
Click Append File in the top toolbar.


Select the PDF you want to merge.
II. Merge more than two PDFs
First, make sure all the PDFs you want to combine are in the same folder. Then follow these steps:
In PDF Expert, click File

→

Merge Files.
Select all the PDFs to combine and click Merge.
To save your merged PDF file, go to File → Save As.
III. Combine individual pages from one PDF with another PDF
PDF Expert also lets you combine only specific pages from one file with another. Here's how:
Open a PDF file in PDF Expert.
At the top left, click the View settings icon and then select Vertical under Split View.


On the right pane, click Select File and open the other PDF file. It will appear beside the first file.
Click the Page Thumbnails icon at the top.
Now, just drag pages from one PDF onto another as you like.
This is how you can combine PDFs on Mac! I found using Finder the best option. Which tool do you use to merge files? Let me know in the comments below.
You might also like:
A self-professed Geek who loves to explore all things Apple. I thoroughly enjoy discovering new hacks, troubleshooting issues, and finding and reviewing the best products and apps currently available. My expertise also includes curating opinionated and honest editorials. If not this, you might find me surfing the web or listening to audiobooks.