Is your iPhone having unexpected shutdowns, or are you troubled with your iPhone's inability to retain a charge that can last you a day? If your device has been with you for a couple of years, a worn-out battery may be the culprit, and you might be due for an iPhone battery replacement.
To be sure, I'll show you how to check your iPhone's battery capacity and performance to see whether replacing your battery is the solution.
How does your iPhone battery work?
All rechargeable batteries have limited lifespans and will eventually experience decline as they age, rendering iPhones less effective over time. A battery's lifespan is linked to its chemical age, depending on factors like charge cycles and how you use and care for it.
Apple estimates that it would take 500 cycles before iPhone batteries start to degrade. It is only expected to retain 80% of its original capacity.
iPhone does not explicitly show users their iPhone's cycle count. Fortunately, we have a hack allowing you to easily see your iPhone's current cycle count.
How to check your iPhone's battery health
Aside from checking your iPhone's battery cycle count, you can quickly check your iPhone's battery health. Just go to Settings → Battery → Battery Health.
Note: This is only available for iPhone 6 and newer, running iOS 11.3 and later.
If your iPhone has reached or is about to reach 500 charge cycles, you'll find a notice here saying, "Your battery has significantly degraded," if your iPhone's battery needs replacing.
You might also see the message "Unable to verify this iPhone has a genuine Apple battery" if you had your battery replaced by a third-party vendor. In this section, you'll also find relevant information about your iPhone's battery health, including Maximum Capacity, Peak Performance Capability, and Optimized Battery Charging.
Alternatively, you can open Apple's Support app → tap Repairs & Physical Damage → Battery Service. You'll be offered a quick check of your battery performance. Now, tap Check Now.
What the battery usage information means?
When you go to Settings → Battery, you'll also find different graphs. These data give you information about your battery usage and activity for the last 24 hours and reflect information up to the last 10 days.
Some of the information you will see here include:
Last Charged to XX%
Battery Level graph in Last 24 Hours
Battery Usage graph in Last 10 Days
Activity graph
Screen On and Screen Off
Battery usage by App
Activity by App
Note: Sometimes, you might see insights into usage patterns and conditions that cause your device to consume energy. There may also be suggestions to help lower your energy consumption.
This will give you insights into what may be the cause of the quick battery drain. You can also read our comprehensive list of tips, tweaks, and solutions to help improve your iPhone's battery life.
When to get an iPhone battery replacement, and how much does it cost?
Having your iPhone's battery's Maximum Capacity drop to 80% doesn't mean that it needs replacing immediately. It still depends largely on your use. Most iPhones with 70-80% battery health can still last you a day if you don't use them for online streaming or playing games.
Aside from your phone telling you that it might be best to have your battery replaced, it might be time to replace your iPhone's battery if:
you have to recharge your phone every few hours
your iPhone only works while plugged in
if your phone suddenly shuts down even if its battery is at 10% or higher
Depending on the method of iPhone battery replacement you prefer and what model you have, replacing an iPhone battery can cost you from $0 to $50.
How to replace the battery in iPhone
Once you've decided, the next step to replacing your iPhone battery is to choose how you'll do it. Here are your options:
1. Through Apple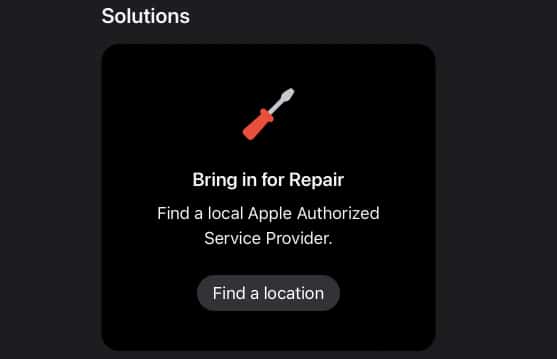 The ideal way to replace your iPhone's battery is to have Apple do it themselves. Before you even shell out a hefty amount for a replacement battery, it's best to check if your iPhone is still covered under warranty. To do this, check your service and support coverage by entering your serial number.
You can begin by going to Apple Support and finding a local Apple service provider near you. Once scheduled, you can drop by the service provider. Depending on the case, they might suggest sending it to Apple Repair Center—the downside is that it may take some time before your device gets returned to you.
2. DIY
If you've got the courage and the know-how to do it yourself, you can buy a DIY kit, including the battery and all the tools you need. iFixit sells these kits and also provides you with comprehensive video repair guides.
Since you're considering DIYing, why not try Apple's Self Service Repair Program instead? Apple now gives its users access to tools, manuals, and genuine parts, similar to those accessible to certified technicians at Genius Bars.
3. Through third-party vendors
If you neither have the confidence, skill, and time to do it nor have the budget and waiting time to consider going to a certified Apple service provider, a local repair shop is another option.
However, it's essential to check reviews and feedback from previous transactions since the skill and quality of work vary significantly from provider to provider.
Should you just get a new iPhone altogether?
In most cases, getting your iPhone repaired is a better—and cheaper—option than getting a new iPhone.
However, if your device has been with you for more than five years and several issues are beginning to surface, a battery replacement can give a little boost to your iPhone's performance, but it will further deteriorate. In this case, it might be better to get an upgrade instead.
FAQs
Q. Is 70 percent battery health good for iPhone?
It all depends on usage. While Apple indicates the amount of charge an iPhone can hold will begin to drop at 80% battery health, a 70% battery health may still give you a full charge throughout the day without heavy usage, including video streaming and playing video games.
Q. How long do iPhone batteries last?
iPhone batteries are designed to retain up to 80% of their capacity compared to when they were new at 500 complete battery cycles or full charges. Reaching 500 full charges varies upon individual usage patterns but usually takes two years.
Q. Why is my iPhone battery draining so fast all of a sudden?
Issues can be software-related, including glitches in a software update, brightness settings, use of power-intensive apps, location services, and more. It may also be hardware-related, like a degraded battery.
Wrapping up…
iPhones are versatile devices. This is why it's frustrating when they drain too fast and can no longer hold a charge. Replacing your iPhone's battery may just solve your iPhone battery drain worries.
Would you opt to go to Apple, your local repair shop, or are you game to DIY if you're considering replacing yours? Share them below!
Read more:
Readers like you help support iGeeksBlog. When you make a purchase using links on our site, we may earn an affiliate commission. Read Disclaimer.