Cellular connection kind of takes Apple Watch a step closer to being an independent wearable device that can carry out several things like playing music and sending/receiving messages. That's why when cellular service stop working on Apple Watch, the sole purpose of having the smartwatch seems to take a backseat. With these 11 tips at the disposal, you can troubleshoot the ill-functioning cellular connection on your Apple Watch right away!
Why is Cellular Not Working on Apple Watch Series 5, or 4? Tips to Fix the Issue
Solution #1. Get Cellular Service for Apple Watch
As not all carrier providers offer cellular service for Apple Watch, be sure you have an eligible cellular service plan. Also, make sure both the iPhone and Apple Watch use the same carrier. Besides, you need to be within your carrier's network to use the cellular connection on the smartwatch. Head over to this page to check out which carriers in your country or region provide cellular service for Apple Watch.
Do note that pre-paid accounts and some older accounts may note be currently supported. It's also worth noting that cellular roaming isn't supported outside the carrier network coverage area.
Solution #2. Some Apps Might Not Update Without a Connection to Your iPhone
Are you trying to update some of your Apple Watch apps only to figure out that they aren't being updated at all? Well, if you are staring at this scenario, let me tell you that some apps may not update without a connection to your iPhone. So, be sure you have ticked off this requirement.
Solution #3. Ensure That Your iPhone is Powered On
Not getting push notifications from third-party apps on your Apple Watch with cellular? Check out if the paired iPhone is powered on. The reason why I'm saying this is that the iOS device must be powered on and connected to Wi-Fi or cellular to enable the smartwatch to receive notifications.
Solution #4. Update watchOS
I have the gut feeling that a software bug could be at the heart of the problem. In this case, the software update is always the right way to go.
With watchOS 6 (compatible with Apple Watch Series 1 and later and iPhone 6s or later running iOS 13 or later), you can update software right from the Apple Watch.
Update watchOS Directly from Apple Watch
Ensure that your Apple Watch is connected to Wi-Fi. Open the Settings app on your watch → General → Software Update. Now, tap on Install if a software update is available and then go through the instructions to install the latest watchOS update.
Update watchOS Using iPhone
First and foremost, make sure your iPhone is running the latest version of iOS. Also, ensure that your Apple Watch has at least 50% battery life. Then, connect your iPhone to Wi-Fi and then keep the iOS device close to the Apple Watch.
Launch the Watch app → My Watch → General → Software Update. Next, download and install the update as usual.
Solution #5. Check for Updates to Your Carrier Settings
Aside from keeping the Apple Watch updated, be sure to keep the iPhone carrier updated as well. Yeah, you heard it right! Carrier providers frequently roll out carrier settings updates to fix problems and also enhance performance.
When a carrier setting update is available, you will receive a notification along with the quick option to install the update.
Besides, you can manually check for the update and be able to install the update by heading into Settings → General → About. If an update is available, there will be an option to update the carrier settings. Don't forget to download the carrier settings when you insert a new SIM card into your iPhone.
Solution #6. Check Apple Watch Cellular Data Usage on iPhone
One of the first things you should do when cellular is not working on the watchOS device is to check the cellular data usage. It's just to ensure you have enough bandwidth left in the tank.
Open the Watch app on your iPhone → My Watch tab.

Now, tap on Cellular and then scroll down to the Cellular Data Usage You should see overall data usage.
If your data pack has run out, recharge the plan. But if you have enough bandwidth left, move on to the other tips.
Solution #7. Remove and Re-add Cellular Plan
Assuming you are in the Cellular section in the Watch app. (Open Apple Watch app on your iPhone → My Watch tab → Cellular.)
Now, tap on the information button next to your cellular plan and hit Remove [carrier] Plan. You will need to tap on Remove again to confirm the action.
Now, tap on Add a New Plan and then go through the instructions to add it.
Solution #8. Transfer Your Cellular Plan to New Apple Watch
When you are moving from an old Apple Watch to a new one, you can transfer not just all of your data but also the cellular plan. As for the process, it's pretty seamless so that your usage doesn't come to a halt.
Simply pair your new watch with your iPhone. And while setting up the smartwatch, tap "Set up Cellular" to add a cellular plan.
Some carriers let users transfer an existing plan to a new Apple Watch directly from the Watch app. For more information, you can contact your carrier.
Solution #9. Turn OFF and ON Airplane Mode on Apple Watch
Oh, this little trick often comes to mind whenever cellular connection seems to hit a bumpy ride on an iPhone (or for that matter on any smartphone). And it's fair to say that it often gets rid of the glitchy connection. Therefore, it would be apt to give Airplane Mode the first chance.
First off, swipe up from the bottom of the watch face to bring up the Control Center. Next, tap on the Airplane Mode icon to enable it. The button will now turn orange. Wait for some time and then turn off the button.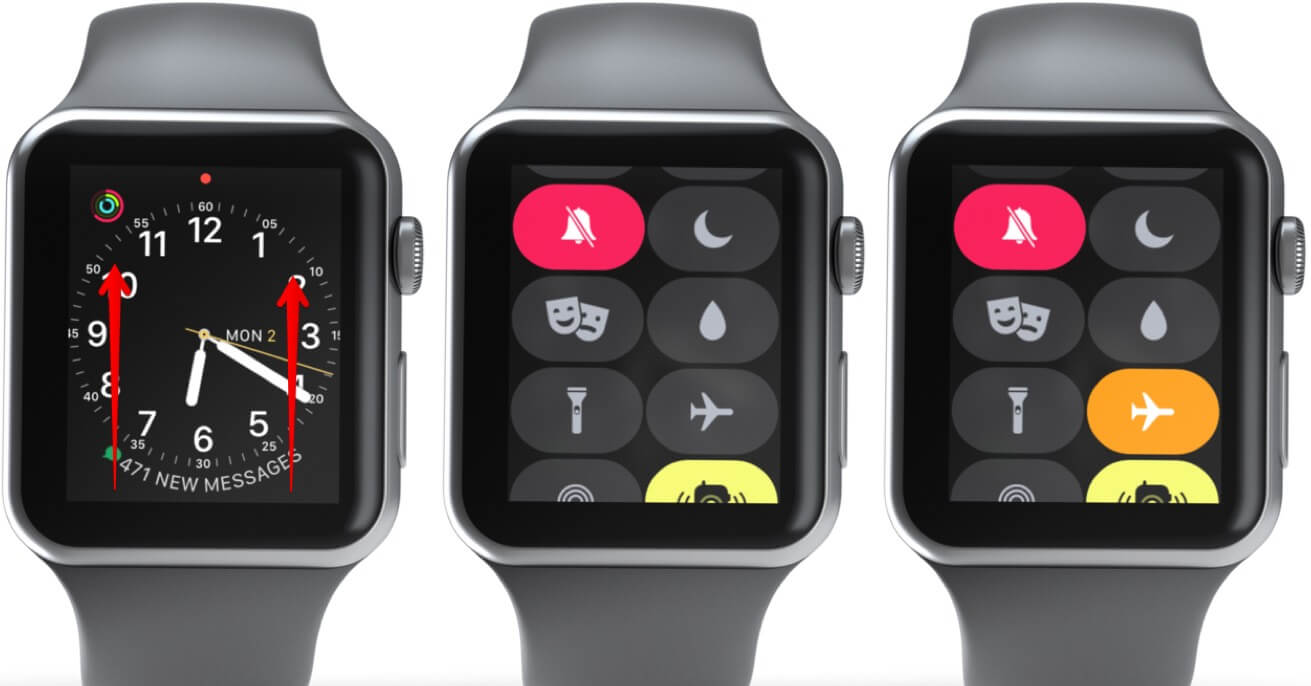 Sticky Note:
The Cellular button turns green when the Apple Watch has a cellular connection. As you have already guessed it, the green dots indicate the signal strength
Keep in mind, the cellular button turns white when the Apple Watch is connected to the paired iPhone via Wi-Fi or Bluetooth
Solution #10. Reboot Apple Watch
If the Airplane Mode trick hasn't solved the problem and your Apple Watch is still not connecting to cellular, giving the cellular connection and the smartwatch a reboot would be the right way to go. More often than not, it fixes the cellular connection issues on Apple Watch. So, don't fail to give it a go.
Swipe up from the watch face to open the Control Center and then tap on the cellular button to turn it off.
Now, force-restart your Apple Watch. To do so, press and hold both the side button and Digital Crown at once for at least 10 seconds. When the Apple logo appears, release the buttons. Next, turn on the cellular from the control center.
Important:
If cellular hasn't returned to normal on the Apple Watch, turn off cellular on the iPhone and restart it. Simply swipe up from the bottom of the screen or swipe down from the top right corner to bring up the control center. Then, tap on the cellular button to turn it off
On iPhone X or 11, press and hold either the volume button and side button. Then, drag the power off slider to turn off the iPhone. Now, wait for 30 seconds, then after, press and hold the side button to turn on the device
On iPhone 8/8 Plus or earlier, press and hold the sleep/wake button and then drag the power off slider to turn off the iPhone. Now, wait for 30 seconds to let the device shut down. After that, press and hold the sleep/wake button to turn on the device
Once your iPhone has restarted, turn on the cellular. If cellular is still struggling, head over to this troubleshooting guide to fix it
Solution #11. Reset Network Settings on iPhone
Wondering why does your Apple Watch disconnect from cellular data frequently? Well, the poor cellular connection could be the main culprit behind this chaos. Talking about the solution to fix this issue, resetting the network settings to factory default has always proved quite reliable. So, I'm going to bank on this one to bring the cellular back on track.
Launch the Settings app on your iPhone → General.
Now, tap on Reset. Now, hit Reset Network Settings and confirm that you want to wipe out all the existing network settings
Hopefully, the Problem is Behind You…
There you go! With so many solutions at the disposal – from the basic to advanced, sorting out the cellular issues on Apple Watch is never a big deal. I hope you have got the better of it. As it's a common problem, save these tricks (or bookmark this guide) so that you can resolve it straight away.
More Guides to Explore:
By the way, which trick has sorted out the cellular issues on your wearable device? Let us know that in the comment section.