WhatsApp is one of the most popular messaging platforms, and it lets you send multimedia messages and stay connected with your dear ones. If you're wondering why WhatsApp media is not downloading on iPhone, there are many reasons.
I have found the most common reasons and their fixes so that you can save time and get back to sharing your memories and messages with your favorite people.
1. Check your internet connection
I sometimes make my big brain move to limit the data usage on my iPhone; I turn off data and then turn it on only when needed.
The thing about such ideas is that sometimes you will forget that you have turned off the cellular data on your iPhone, which might be one reason for WhatsApp not downloading media. So let's turn it on:
Turn on cellular data on iPhone
Open the Settings app on your iPhone.
Tap Cellular Data → Toggle on Cellular Data.
For some regions, it is Mobile Data.


Other than that, you can also open Control Center → tap Mobile (Cellular) data icon.
Solve WhatsApp not downloading media over Wi-Fi
Apart from mobile data, if you use Wi-Fi to use WhatsApp, then make sure you have turned it on:
Open Settings.
Tap Wi-Fi → Toggle on Wi-Fi.


Join the network you want to.
Furthermore, there might be chances that WhatsApp media is not downloading because of Wi-Fi not working on your iPhone and iPad.
2. Force close WhatsApp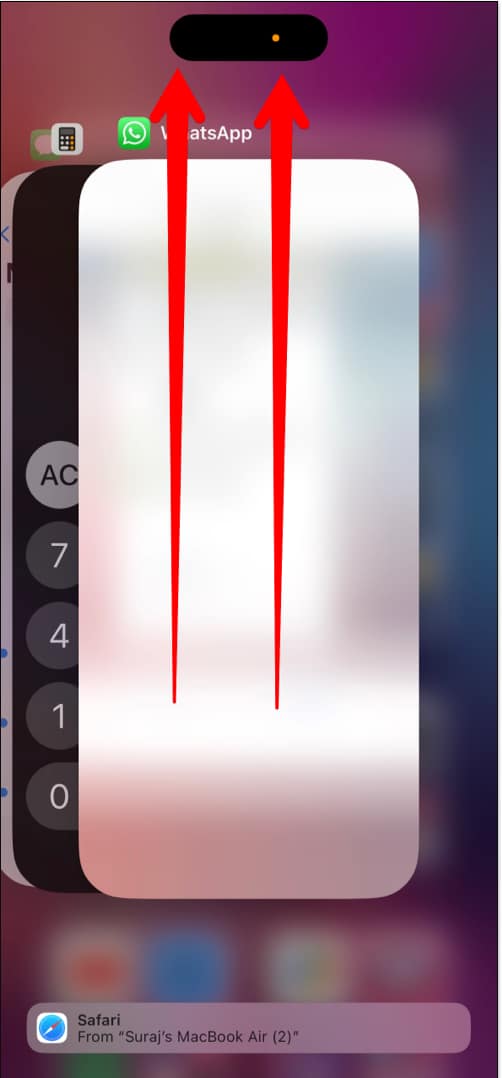 If you are unable to download WhatsApp media files even after trying the previous method, try to close the app from the background. Later, open the app and see if the issue is still there.
3. Check whether WhatsApp is down
If you still face WhatsApp not downloading images issues, the app may be experiencing a temporary outage. You can check social media or ask your friends to see if the messaging application is down. If the issue is not with WhatsApp, let's look at the next fix.
4. Restart your iPhone or iPad
You can also restart your iPhone or iPad to fix WhatsApp not downloading videos or other files. If your iPhone is stuck by not letting you do any activities on it, try to force restart.
5. Check your device storage
Despite having a strong internet connection and making sure the WhatsApp server is not down, you might still face WhatsApp video not downloading issues on your iPhone or iPad. That might be because your device storage is full. Please refer to our guide to understand how you can clear storage on your iPhone.
6. Enable storage permission on your device
While you have made enough space to download media files on your iPhone, have you enabled storage permission? Here's how to enable it:
Open Settings.
Tap Privacy & Security.
Select Photos.


Choose WhatsApp.
Now, choose All Photos.


This will make sure WhatsApp has access to all the photos on your device, thus ensuring that it can also store the media files without any issues.
7. Enable save to camera roll
Wondering what to do when WhatsApp images are not downloading? Try these steps:
Open WhatsApp on iPhone.
Tap Settings.
Select Chats.
Toggle on Save to Camera Roll.


When you enable this, it will automatically save photos and videos you receive to your iPhone's camera roll.
8. Check your device's date and time
Is your iPhone showing the wrong date or time? Then that might be the reason why you're unable to download WhatsApp media. You can follow our guide on how to fix the wrong date and time on your iPhone.
9. Uninstall and reinstall WhatsApp
To solve WhatsApp not downloading media, you can uninstall the app and then reinstall it.
Go to App Store → Search WhatsApp and download it again.
10. Reset your network settings
There might be some issues in the network, which is why your WhatsApp is not downloading media. To solve this, you can reset the network.
Open Settings → tap General.
Select Transfer or Reset iPhone.
Choose Reset → tap Reset Network Settings.


Enter your Passcode.
Tap Reset Network Settings to confirm your choice.
Save your memories from WhatsApp!
In conclusion, if you are experiencing issues with media not downloading in WhatsApp, you can fix it with all the solutions mentioned here. However, if you still have any doubts or queries, do let us know in the comments.
More interesting reads for you
Anoop loves to find solutions for all your doubts on Tech. When he's not on his quest, you can find him on Twitter talking about what's in his mind.