One of the best things about the internet is how it brings people closer together despite the physical distances. Social media apps play a significant role in this and offer a way to connect with others in novel and fun ways.
Moreover, they give a voice to everyone and allow you to build your network and communities. Pretty neat! Well, in this post, I've shared some of the best social media apps for iPhone and iPad that everyone should be using. Let's check them out.
1. Instagram – Editor's Choice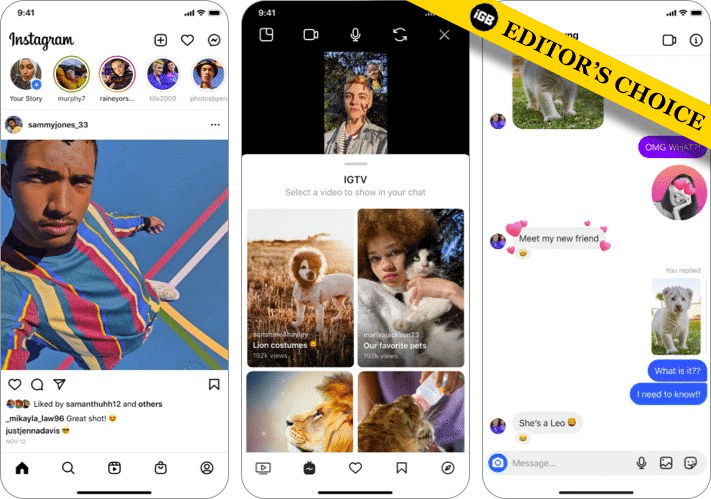 If I had to pick just one social media app to replace all others, it would most likely be Instagram. This is because it combines the best features of multiple apps in one easy-to-navigate and appealing interface.
Instagram has come a long way since its inception as a photo-sharing app. You can now share snippets of your life as "Stories," view and make entertaining short videos on Reels, enjoy longer videos on IGTV, and discover unique new content from around the world every day. Undoubtedly, making it the best social platform for photographers and marketers alike!
Moreover, it has an engaging, feature-rich direct messaging system that lets you form more personal connections with people. You can also go live or tune into other people's live videos to connect in real-time and attend workshops, events, etc.
Regardless of your interests, Instagram delivers on all counts from technology to travel to fashion, food, mental health, memes, comics, and everything else.
It's super intuitive from the moment you install it, and new features are consistently added to keep things interesting. It's no wonder then that Instagram is one of the most used social media apps globally, with over a billion active users.
What I love:
Attractive visual interface
Combines photos, videos, short videos, and text content in one
Messaging features integrated with Facebook Messenger
Active users as of Jan 2021: 1221 million
Compatibility: iPhone
2. Twitter – Best to stay in the know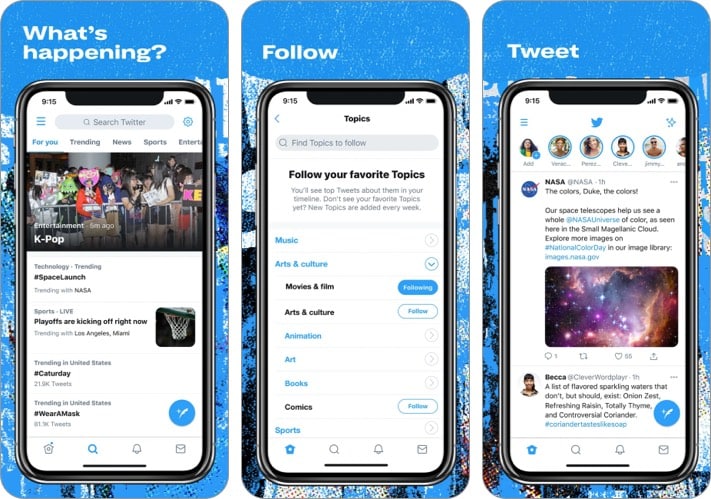 I've always had a love-hate relationship with Twitter, but that doesn't detract from how it's one of the best social media apps out there. The app's prominence lies in its 280-character post format, that's right! It thrives on 'Less is more.'
The platform often gets a bad rep as the most toxic social media app where people keep arguing over political opinions in echo chambers, but it is much more than that.
I treat it as a place to get the latest updates on topics I'm interested in and global news. You can search for hashtags and trending topics to keep up with your friends and followers.
Connect with users worldwide and like, share, and retweet thoughts, stories, and memes. Moreover, I love how you can customize your Twitter experience with specialized Twitter apps that block distractions like promoted posts and ads.
What's more? The platform is constantly trying new features to keep up with the competition! It recently launched Fleets – the latest Snapchat-inspired disappearing post or Stories feature. Way to go, Twitter!
What I love:
Keeps you up-to-date with the latest trends
A treasure trove of information

Easy to connect with almost anyone, friends, strangers, and celebrities alike
Active users as of Jan 2021: 353 million
Compatibility: iPhone and iPad
3. YouTube – Best platform for video content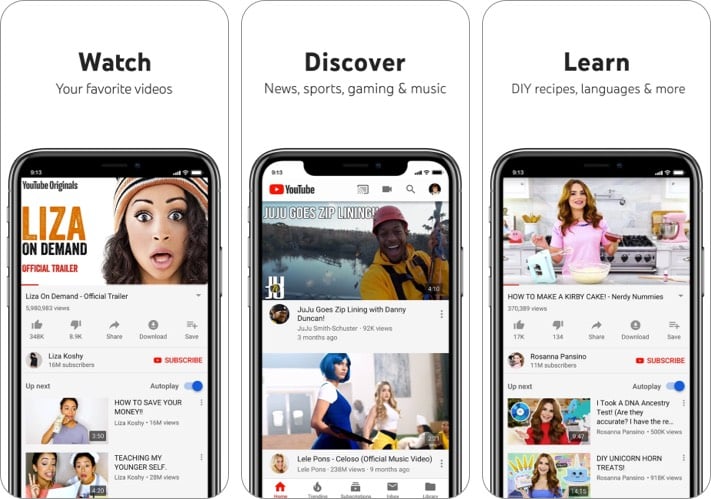 As broadband speeds have increased across the world over the past few years, so has the universal popularity of video content. At the helm of it all is YouTube. It gives anyone with an internet connection and a smartphone the chance to have their voice heard and become a star.
From musicians and dancers to makeup artists, chefs, tech geeks, gaming enthusiasts, astrologers, and beyond, YouTube has some of the best and most helpful content from creators across the world for FREE.
It's one of my most-used apps because I love watching videos on niches that interest me, such as travel, technology, blogging, science, life-hacks, and more. I also watch it to catch up on talk shows and comedy content from other countries that I might not otherwise have a chance to enjoy.
YouTube has over a billion hours of videos watched on it every day. Although this may be the focal point of this platform, I also often use it as a music streaming app.
YouTube is also the second-largest search engine after Google, so it's great for individuals and businesses to connect with an audience interested in their niche. Setting up your channel is simple, and you can create both short-form (YouTube Shorts) and long-form video content to build a community.
Moreover, if you're committed and consistent, YouTube is the social media app that's easiest to monetize and build into a steady stream of income. You can also tune in or broadcast live to connect with others in real-time.
What I love:
Democratizes the power of video content
Excellent search functionality
Superior recommendation algorithm to discover new creators
Active users as of Jan 2021: 2291 million
Compatibility: iPhone and iPad
As the name suggests, Pinterest is all about putting a pin in whatever you're interested in. It's an inspiration center for all kinds of projects, from wedding planning to meal prepping, mindful living, arts and crafts, travel, technology, and more.
I love the visual appeal of this app and how it can help jumpstart ideas for almost anything. It's my go-to place when I need some inspiration to get something done. You can create "boards" to organize the pins you want to save for future reference.
For instance, I like to keep a recipes board, a travel board, and of course, a tech board. You can even collaborate with friends for your next party, trip, or project.
If you're a creator or business owner, Pinterest is a great marketing tool because it functions like a search engine to help people find what they're looking for.
What I love:
Unique interface
An endless variety of ideas for almost anything

Great idea-organization or project-planning tool
Active users as of Jan 2021: 442 million
Compatibility: iPhone and iPad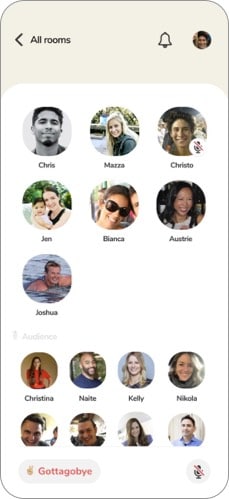 Clubhouse, one of the most trending apps in 2021 (probably), is the new kid on the block in the world of social media apps, but it's already making "waves" with its audio-only format (pun intended)! It stands out with its live voice chat rooms that bring an exciting way to connect with people, including celebrities like Oprah, Chris Rock, Drake, Elon Musk, and more.
This app is a great new place to tune into conversations that interest and inspire you. You can choose to join in and share your take or else simply listen and learn. The audio-only format means it's more convenient than video or text because you can even join passively while doing other activities such as driving or chores.
However, since it's a relatively new app that's blown up incredibly fast, you should be wary of the privacy concerns that come along with it. For instance, Clubhouse suffered a concerning data spillage in late February 2021.
What I love:
Novel audio-only networking concept
An eclectic mix of conversations to enjoy
Great user interface
Compatibility: iPhone
6. Facebook – Best for connecting with friends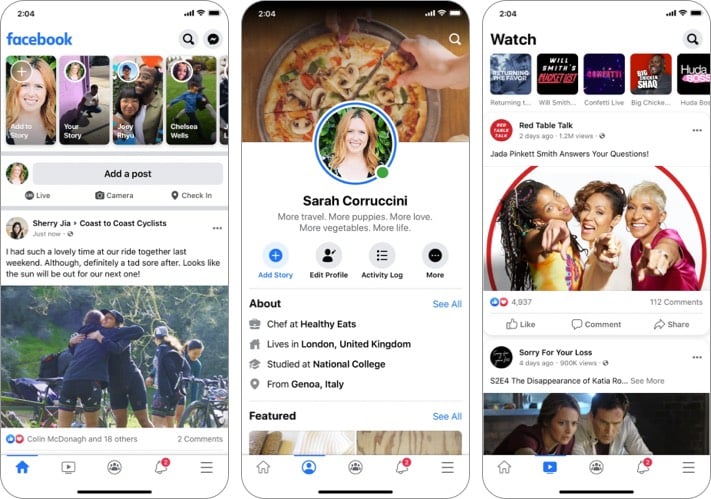 Facebook is perhaps the first thing that pops into your mind when you think of social media apps. It has played a significant role in popularizing social networking since its launch and is still one of the most used online platforms for people across the world.
However, for me and others, the appeal has somewhat declined over the year due to the myriad privacy concerns and data breaches. But Facebook also owns Instagram and WhatsApp, so if you enjoy those two apps, it doesn't make sense to avoid Facebook from a privacy standpoint.
After all, it does have its strengths. For instance, you can connect with individuals and businesses worldwide and share your thoughts and perspectives. No wonder it continues to lead the way with the highest monthly active users.
Apart from friends and family, you can also follow pages of your interest to get the latest updates, read blog posts, shop, find jobs, and more. My favorite feature is Facebook Groups that serve as a wealth of information for almost any topic under the sun, from books and movies to travel destinations, legal processes, and more.
Further, Facebook Messenger is an incredibly convenient way to chat, and voice/video call others. You can also tune into Facebook Live chats to attend workshops, events, etc.
All in all, there are a wealth of features and frequent new updates that make Facebook continue to hold its own as one of the best social media apps for your iPhone or iPad.
What I love:
Super easy way to connect with almost anyone anywhere
Variety of features and settings
You can use your account to sign in to third-party apps. and websites to save time
Compatibility: iPhone and iPad
7. LinkedIn – Best for business professionals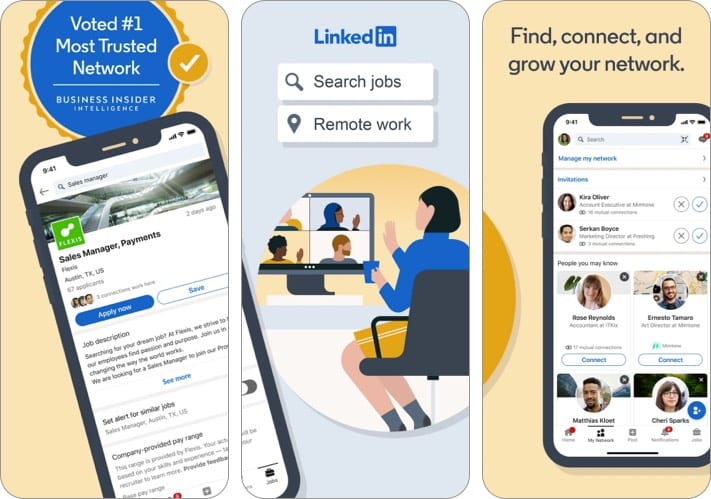 We usually think of social media as a fun place to casually connect with others, but LinkedIn flips that to offer a social network that can transform your career. It's the place to be for job seekers, professionals, and businesses alike.
You can find business contacts, build your professional network, search for jobs, connect with recruiters, and more.
The advanced job search filters make it a breeze to find exactly what you're looking for and land your dream job. You can also set job search alerts to get notified when new positions open up in companies you're interested in.
Moreover, I love how you can turn your profile into an instant resume and apply for jobs with the click of a button to save time and effort. You can also follow companies, influencers, and topics that interest you to stay informed and motivated in your field.
What I love:
Makes job-hunting easy
Aids the networking process
Access to free career resources such as articles and blogs
Compatibility: iPhone and iPad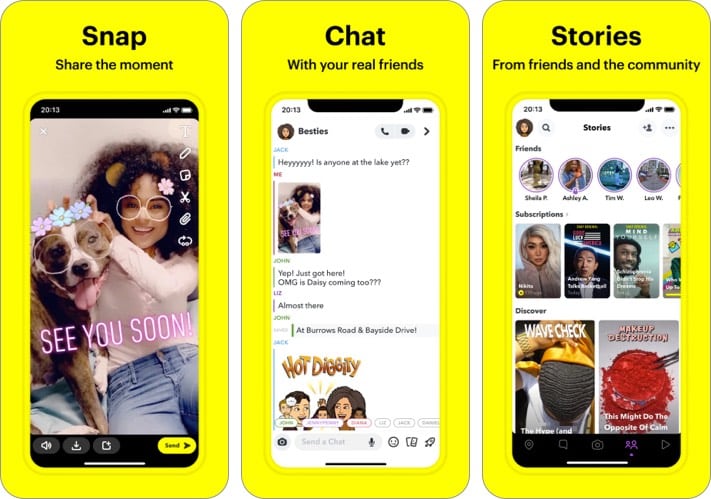 It's said that a picture is worth a thousand words, and Snapchat applies this to social media and messaging. It's all about connecting and communicating through fun visual content known as "snaps." I love using it to express myself with fun filters, lenses, Bitmojis, and other effects.
Moreover, there are new selfie lenses and filters to explore every day. It's hands down the best social media app for selfie lovers! You can even add your filters and video chat with up to 16 friends at once. Further, you can stay in touch with friends and groups with live messaging and stories.
One of my favorite features is Charms. which helps you discover new things you have in common with friends, your astrological compatibility, and more.
What I love:
Unbeatable innovative filters and effects
Incredibly personalized
Fun and light-hearted way to connect with others
Compatibility: iPhone
9. TikTok – Best for short-form video content
This one's a somewhat notorious social media app that's revolutionized the online world with the short-form video format. It's got something to catch everyone's attention, from groovy dances to entertaining gaffes, adorable pet moments, lifestyle hacks, and so much more.
It stands apart with the simple interface that makes it easy to watch what you like, engage with it, and skip anything you don't enjoy. The algorithm curates an endless stream of videos to fit your preferences and interests.
Moreover, you can join in by posting your short-form videos and connecting with followers from across the world. TikTok has unfortunately been banned in some parts of the world. But the fact that many other apps such as Instagram and YouTube have imitated its functionality shows what a raging hit it has become.
What I love:
Compatibility: iPhone and iPad
Super engaging interface (that's been replicated by other apps!)
Massive variety of content

Democratizes content creation
10. WhatsApp Messenger – Best for communication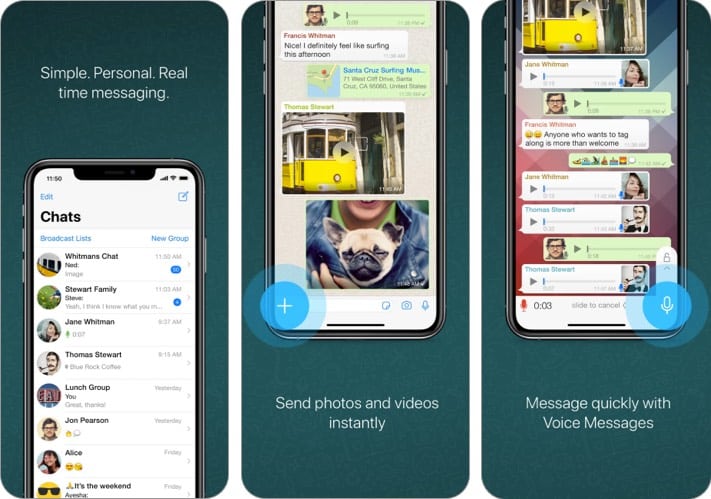 WhatsApp is best known as a messaging app, but it's got plenty of features that elevate it into one of the most popular social media apps out there. It uses your contacts to make it easy to send messages, photos, videos, documents, and voice notes to people you know anytime, anywhere, via the internet connection on your phone.
You can also enjoy audio and video calls for free. What I especially appreciate about WhatsApp is how easy it is to set up on your phone without creating a username or PIN. It also backups your chat data seamlessly to recover whenever you need to change phones or reinstall the app.
With WhatsApp for Business combined with WhatsApp Web, you can run seamless customer support and send and receive WhatsApp messages right from the browser on your computer when you can't use your mobile device. It's the most convenient, fast, and efficient messaging platform that almost everyone uses!
What I love:
Super easy to use

No usernames and passwords required

Good quality free voice and video calls
Compatibility: iPhone
11. Telegram – Best for file sharing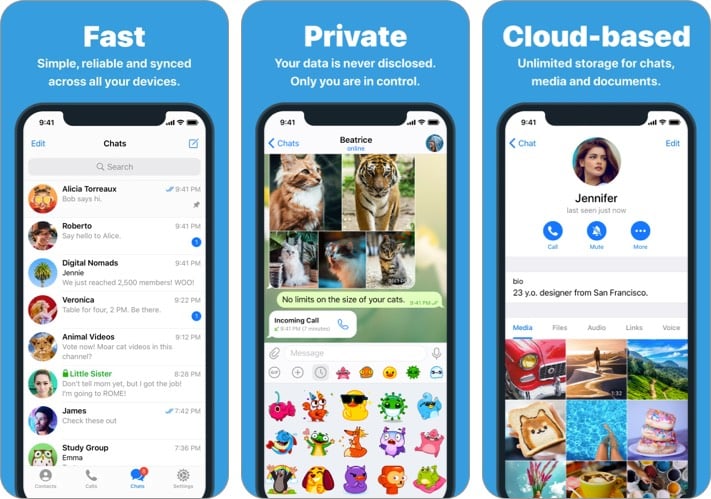 Here's a great alternative to WhatsApp that lets you send media and files without limits on their type and size. Your entire chat history is securely stored on the cloud without taking up space on your device.
Further, you can access your messages from any of your devices whenever you need to. The best part is how you can start typing on one device and finish it on another. That level of synchronization is undoubtedly impressive.
I love how it doubles up as an excellent platform to host online communities and coordinate teamwork. You can have group chats with up to 200,000 members and exchange large videos and other files of varying formats up to 2 GB each.
Lastly, it boasts powerful photo and video editing tools, animated stickers, and emoji for unlimited fun and personalization. You can even change the look of the app, thanks to fully customizable themes.
What I love:
Best for sending big files
Seamless cloud storage saves disk space

Lots of fun emojis and stickers
Compatibility: iPhone and iPad
12. Reddit – Best for niche communities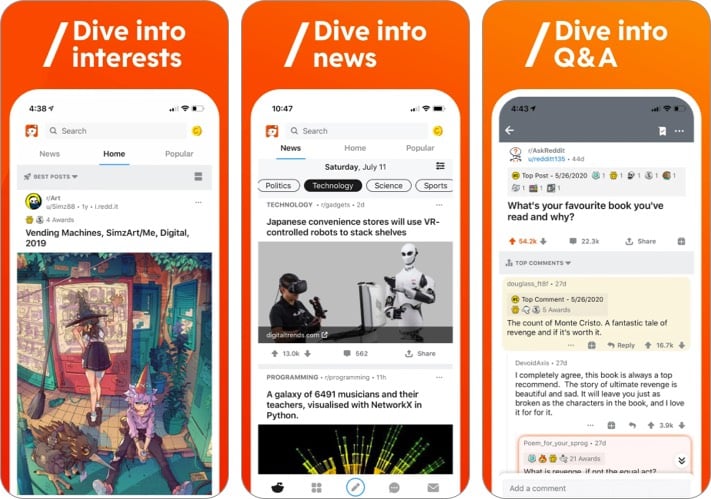 Just like Twitter, Reddit is a great place to get the latest updates and news about everything you're interested in. What sets it apart is how it's based around communities (i.e., subreddits) rather than people.
Join your favorite communities and enjoy a constant, personalized feed of content like news headlines, fun stories, sports talk, games, viral pics, top memes, and videos.
You can earn fake Internet points (called Karma) by sharing your passion for movies, music, games, books, sports, technology, etc., with millions of like-minded people.
Further, you can choose to remain anonymous on it, which adds a layer of fun and privacy. If you've ever wondered which is the safest social media app, Reddit could well be your answer.
I love the colorful and intuitive layout that's easy to browse and scroll through for hours. It creates the perfect distraction to fill those hours of boredom with some helpful content. It's rightfully been dubbed the "front page of the internet."
Lastly, you can make the most of your experience with specialized Reddit client apps that offer further customization.
Compatibility: iPhone and iPad
What I love:
Can choose to stay anonymous
Communities on almost any topic
Vibrant conversations
Which social media is for you?
Social media apps get a bad reputation for their addictive interfaces and privacy concerns. But when used right, they can be powerful portals for learning, inspiration, connection, and creative expression.
With so much variety available, it can be overwhelming to choose the best social media apps to use. I hope this list has helped you out, as each platform has its unique appeal.
What are your favorites? Let me know in the comments below!
You would like to read these posts as well:
Readers like you help support iGeeksBlog. When you make a purchase using links on our site, we may earn an affiliate commission. Read Disclaimer.