Here, we have listed some of the best social media iPhone apps for social media geeks, who are continuously hooked to their Facebook walls and Tweeter handles. Apart from traditional apps, we have listed lesser-known but equally useful apps for you. Explore each app and download your choice of apps on your iPhone and iPad.
1. WhatsApp
With the advent of WhatsApp, traditional SMS has lost its foothold. Unlimited messaging is the key attraction of WhatsApp, coupled with sharing photos, videos, and audio. The app also provides a facility to make calls if your smartphone is connected to Wi-fi or mobile data.
This app's critical feature is the WhatsApp Web, which allows users to use all phone app features on the computer browser. The app became so popular that Facebook acquired it. It is one of the most popular social media iPhone apps across the world.
Compatibility: iPhone, and iPad
Price: Free
Download
2. GroupMe
GroupMe is a home for all the groups you are a part of Family, Roommates, Friends, Coworkers, Teams, Events and more. Start adding people to their phone numbers or email IDs; even if they don't have an app on their iPhones, they can participate in chat over SMS.
You can manage notifications effectively; if you find some chats offensive, you can always mute those conversations or the entire app. GroupMe boasts some exclusive emojis to express your emotions; why use words when you have an amazing emojis list?
Compatibility: iPhone, and iPad
Price: Free
Download
3. Messenger
A Messenger from Facebook allows Facebook users to chat with one another. Apart from chat, the app lets users create groups and send photos.
App was first launched in 2011, and after three years, Facebook made it compulsory to download Messenger on smartphones for all Facebook users. However, this move of Facebook met with an intense backlash from users, who complained about performance issue and privacy concerns.
Compatibility: iPhone, iPad, and Apple Watch
Price: Free
Download
4. Timehop
It's nice to peek into the past. Timehop helps you live your yesteryears. The app brings your old photos and posts from your iPhone, Facebook, Instagram, Twitter, and Foursquare and replays your past. It is like walking down memory lane with Timehop. Celebrate some unforgettable moments in your life and stay connected with friends.
Compatibility: iPhone, and iPad
Price: Free
Download
5. WeChat
Just like Viber, WeChat is also highly underestimated. But the folks who have tried their hands on this messaging app know that it's one of the finest.
I like the most in this app to make a group chat with up to 500 people. If you want to create a huge network of people, you should keep this app in your mind.
I like its massive sticker gallery that features a variety of stuff to spice up your messaging. Plus, you can share your real-time location and share your fascinating pics on the personal photo stream.
Compatibility: iPhone, and iPad
Price: Free
Download
6. Viber
WhatsApp is deservedly the most popular messaging app in the world. However, I don't think "Viber" with over 900 million users is less impressive than the former. That's why we've included it in our roundup of the best WhatsApp alternatives for iPhone.
The app offers up all sorts of tools to let you communicate with fun. For instance, you can share photos, videos, and share your thoughts using a text message.
With the ever-growing sticker pack always on your radar, your conversation never loses spirit. You will be able to create a group with up to 250 friends and stay hooked with them.
Moreover, you can hide your chat and even delete the already sent message. Thanks to the end-to-end encryption, Viber keeps your chats secure.
Compatibility: iPhone, and iPad
Price: Free
Download
7. Wishbone
Wishbone is for the folks who never seem to get enough of fun-loving conversations. The app is a good-looking package for almost everything you would love to stay tuned. For instance, you can keep yourself updated with everything that's rocking the fashion world and also explore music as well as humor.
That's not all; you will also be able to catch up with things that are rollicking the lives of celebrities. Want to look at your very best at the birthday party of your friend? Conduct a vote to find out in which dress you would be able to rock the dance floor!
Compatibility: iPhone
Price: Free
Download
8. Clubhouse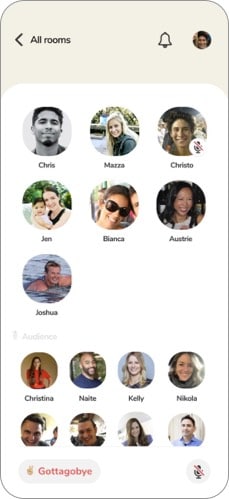 You cannot miss the latest social media app that's all the rage and exclusively available for iPhone users. It's so exclusive that you currently need an invite to join in the casual, drop-in audio conversations with friends and interesting people worldwide.
You can join audio rooms dedicated to discussions on all kinds of topics, from technology to entertainment, news, and niche interests. Go online anytime to chat with the people you follow or tune into what others are talking about – a novel and nifty way to connect in the 21st century.
Price: Free
Download
9. Snapchat
Snapchat doesn't need any introduction. The app was launched as Picaboo, which disappeared from the market; after a few months, the same app appeared Snapchat.
The short-lived messages were responsible for the instant hit among college students, who like to create photos with awkward selfies, blurry videos, and funny faces. The app has quickly impressed teens, particularly hard to please; even Facebook is fumbling in this category.
Compatibility: iPhone, and iPad
Price: Free
Download
10. Hootsuite
So, you find it a bit difficult to manage all of your social accounts? Go for Hootsuite to get on top of your multiple social accounts like Facebook, Twitter, Instagram, LinkedIn right from within this app.
Use this app to post messages to your favorite social app quickly. Take the utmost advantage of the AutoSchedule feature to effortlessly schedule messages for several days. Check out all of your accounts and deal with them from within the app. To use the app without any restriction, update the premium version (USD 29 per month).
Compatibility: iPhone, and iPad
Price: Free
Download
That's all, for now!
What's your favorite?
I know some of the apps mentioned above have caught your eyes. May I know their names and the features you have liked in them?
Don't miss: