Social media is no less than a raging battlefield. Or else why would billionaires like Elon Musk and Mark Zuckerberg be at each other's throats to become the undisputed leader? The latest blow has come from Meta in the form of Instagram Threads. Though integrated with Instagram, Threads is a standalone app that lets you share and connect with the world through conversations.
Since its launch, questions like "Is Threads the new Twitter?" and "Why is Threads better than Twitter?" have been going around. In this article, we will answer all these questions to see what's the difference between Threads and Twitter. We will compare the two platforms on essential parameters and try to come to a conclusion. Let's start!
1. Threads vs Twitter – User interface, sign up, and sync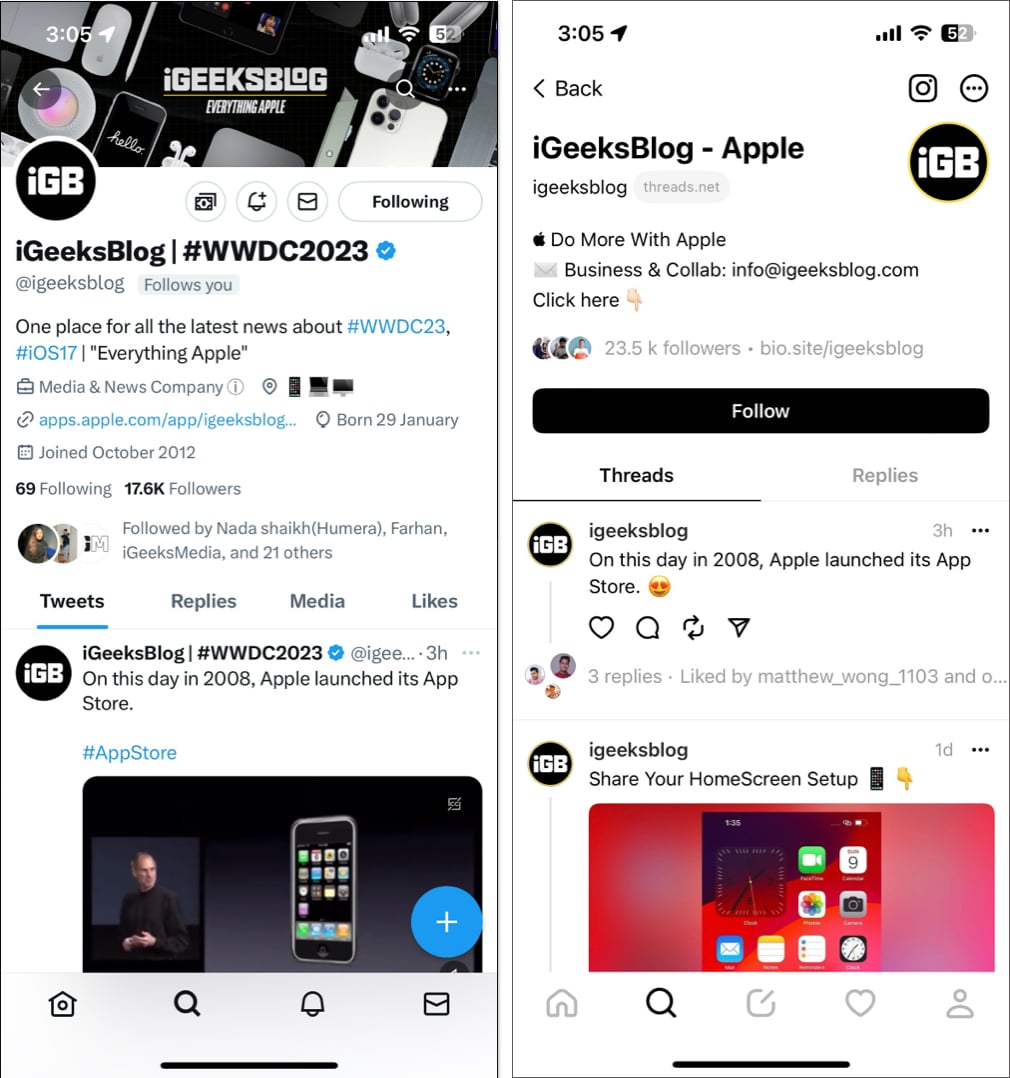 Regarding the user interface, you cannot expect anything but perfection from Meta. The brand continues to rule the social media niche with its user-friendliness. Luckily, with Threads, nothing has changed. The 'Meta's new Twitter alternate' houses an interface allowing you to share, interact, and socialize with the world. When I signed in on Threads, I got all the Instagram-like vibes but better.
One of the main reasons for the overnight popularity of Threads is its easy accessibility. The platform comes integrated with your Instagram account, making sign-up a breeze. Log in with your Instagram credentials or a new account – everything is at your discretion.
Twitter, on the other hand, has a bit of a tricky user interface. Getting your head around the ecosystem might take a few hours. I am telling you this based on my first-time experience with the Bird app. Moreover, unlike Threads, Twitter is not synced to any other social media platform. You must create your individual Twitter account post completing the sign-up process.
With Twitter being an independent app, you get full autonomy to use and delete it. Definitely, Threads allows you to use the app separately from Instagram; there is a big catch in deleting it. We will discuss it in the later part of this article.
Availability
As expected, Meta rolled out Threads as a mobile-friendly, app-only service. This helped Threads find a place in the app gallery of iOS and Android users. All you need to do is to visit the App Store or the Google Play Store and install the app in seconds. However, we can also expect a web version of Threads in the future.
Contrarily, Twitter entered the social media realm as a website on July 15, 2006. That's even before the first iPhone launch! However, Twitter quickly adapted to the app-based version for its users. Fortunately, this brought Twitter to the forefront because it allowed users to access their accounts anytime and anywhere.
2. Threads vs Twitter – Character limit
Surprisingly, the main idea behind Twitter and Threads is similar. Sharing short text posts, viewing others' posts, and engaging with the community.
Your threads or tweets can comprise everything, including memes, song lyrics, routine updates, random thoughts, or anything you might be willing to share with your followers. The list can go on and on.
If you are a Twitterati, you must know that you can post anything on the portal with a maximum of 280 characters. The limit becomes a hassle for posts involving plenty of information. However, if you have a Twitter Blue subscription, the limit goes up to a whopping 10,000 characters!
On the other hand, Threads has a limit of 500 characters, giving you enough room to express your thoughts or share your opinion.
Indeed, Meta's increased character limit is a good initiative; its impact on popularity will be small. This is because Twitter has been around for years, and now its non-Blue users have skilled themselves in creating messages within the set limit.
3. Multimedia posts
Threads and Twitter share some crucial differences in terms of multimedia content. Here, Threads again takes the lead by letting you share 10 items in a post, while Twitter has a limit of 4 items per tweet. Following the set limits, you can share videos, images, links, and GIFs on both social media platforms.
If you like creating carousels, then Threads will surely attract you. The app lets you post carousels and view them by moving to and fro sideways. Carousel is one of the most loved features on Instagram, something we all miss on Twitter even today.
4. Direct messaging (DMs)
The messaging facility on Twitter and Threads is entirely different from each other. On Twitter, you get a separate section labeled direct messages for holding one-on-one or group conversations with others. You can connect with your followers or strangers by adjusting the privacy settings. The app instantly lets you share texts, pictures, voice messages, and GIFs through DMs.
Unfortunately, Threads does not feature an in-app DM corner. You can, however, share a Thread with your friends, family, and strangers via the 'Share Via' option. Another way to reach out to Threads users is to sneak into their Instagram DMs.
5. Post engagement
When using Threads, you will realize that it shares a similar vibe to Twitter regarding engagement. You get a similar strew of icons placed below the posts on either of the platforms. The list includes the heart, comment, repost, quote, and share icons.
A single tap on a Tweet or Thread opens the associated comments list. You can reply to the original text or add a reply directly to another comment. It entirely depends on the way you want to participate in the conversation.
Further, a peek into the Activity section of the Threads app informs you about people who followed you and liked your posts, tags, mentions, and replies. Twitter informs you about your mentions under the Notifications tab. Moreover, if you like a post but don't have time to read it, you can Bookmark it to enjoy it at your convenience.
In addition, there is a Happening Now section where you can access the trending LIVE sessions happening in real time on the portal. Here, you can also view the upcoming LIVEs and add them to your calendar to ensure you watch them.
6. Threads vs Twitter – Content feed
Fortunately, the content feed on Twitter and Threads is quite different. Where Twitter gives you a more personalized feed to linger, the content feed on Threads is more straightforward. Both platforms let you choose whom to follow and who can follow you. This way, you get complete control over what is filling your feed.
On Twitter, you can switch between two content feeds named – For You and Following. The For You feed combines posts from pages you follow along with multiple suggested posts based on your interests. Contrarily, the Following feed shows only the posts from the accounts you follow.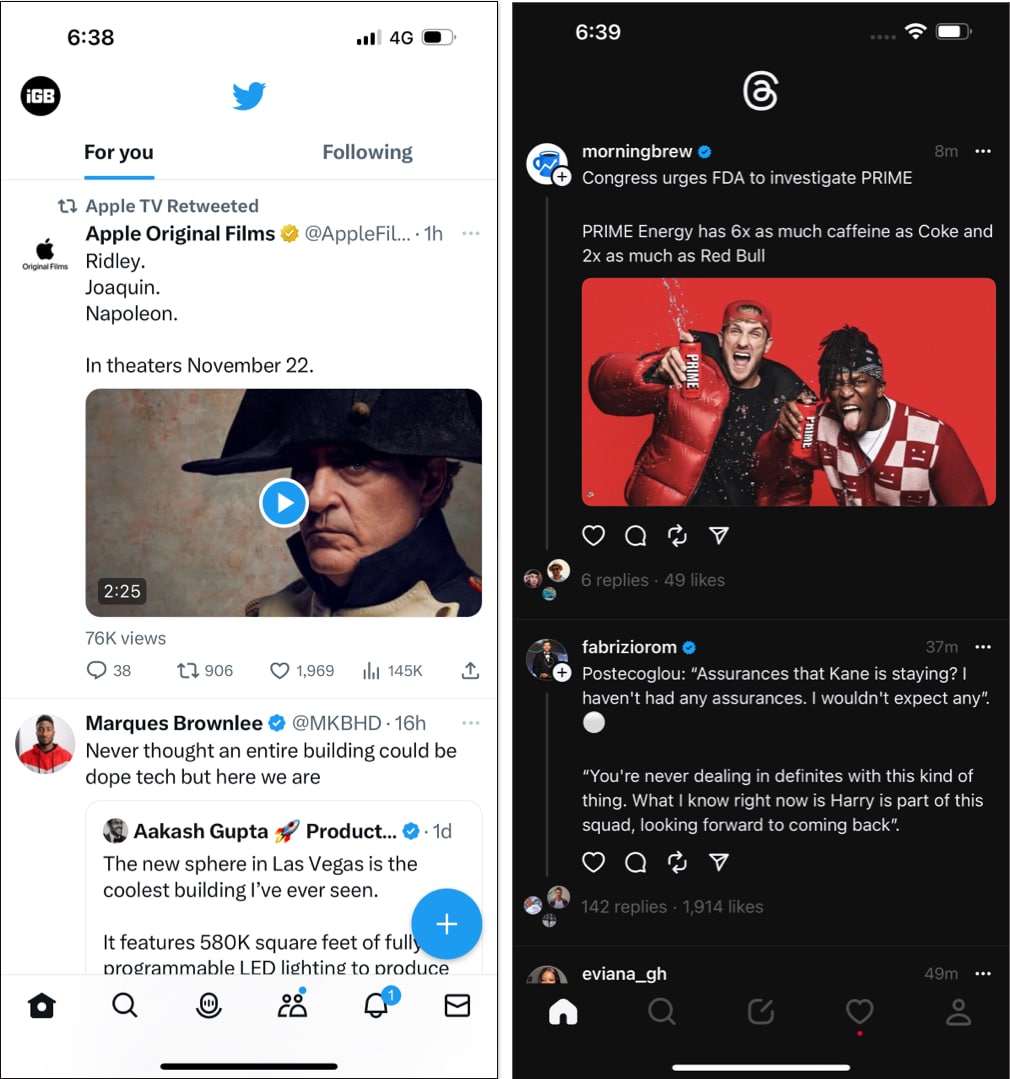 Threads, conversely, house a single feed comprising content from the accounts you follow paired with a few trending posts. However, if you don't like the suggestions, you can block or mute them. A similar facility exists on Twitter as well.
Searching for content is easier on Twitter. You can enter the account name, words, or phrases to display the list of related pages. On Threads, the search shows all accounts matching your query, excluding the trending topics. This makes Twitter a perfect place to find the latest news or information on what's burning the world down at the moment, right at your fingertips.
7. Verification
The blue tick placed next to some Twitter and Instagram accounts reveals that the page owner is a verified user. Earlier, Twitter followed a public application procedure for verification where the applicant must be authentic, active, and own a substantial follower base.
However, the verification process has changed entirely since Elon Musk took command of Twitter. Now, you can purchase a verification badge by subscribing to Twitter Blue. FYI, government accounts get a grey checkmark, while some notable organizations and news portals get a gold checkmark after verification.
On Threads, you get verified automatically if you are a verified user on Instagram. Another way to get the blue checkmark on Threads is to subscribe to Meta Verified.
8. Account deletion
Twitter and Threads allow you to deactivate or reactivate your accounts instantly. All you need to do is visit the app's Settings section and choose the Deactivate your account option. You can also find a Take a Break section in Threads, allowing you to set reminders to take breaks from the app. The feature is handy for people willing to take breaks between their scrolling.
Fortunately, Twitter and Threads stored your posts, messages, and other account activities for 30 days after deactivating your account. After this period, your data is permanently deleted. In addition, you lose your verification badge after account deactivation. So, ensure that you cancel the subscription beforehand.
Hop on to our guide to learn everything about the deactivation and deletion of Threads account.
9. Threads vs Twitter – Ads
Advertisements are a major source of income for social media platforms. Though, they are trouble for the users. While your Twitter feed frequently shows advertisements, Threads is free from them at the moment. Consider it as a launch gift from Meta and enjoy an ad-free scrolling experience.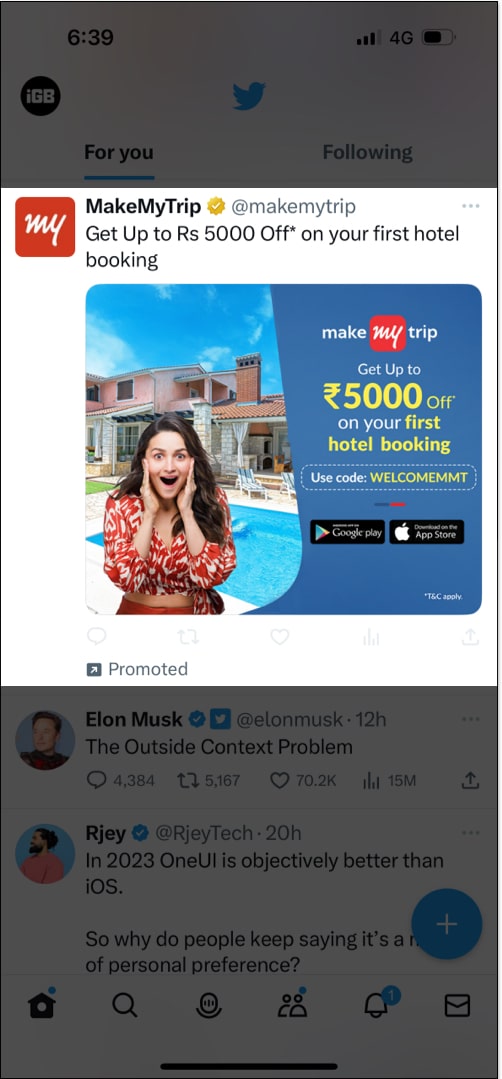 10. Threads vs Twitter – Pricing
Creating an account on Twitter and Threads does not require paying money. You can share posts, interact with the community, and do anything. For a verified checkmark on Twitter and Threads, you must pay the subscription charges of Twitter Blue and Meta Verified, respectively. The cost of these subscriptions varies from region to region.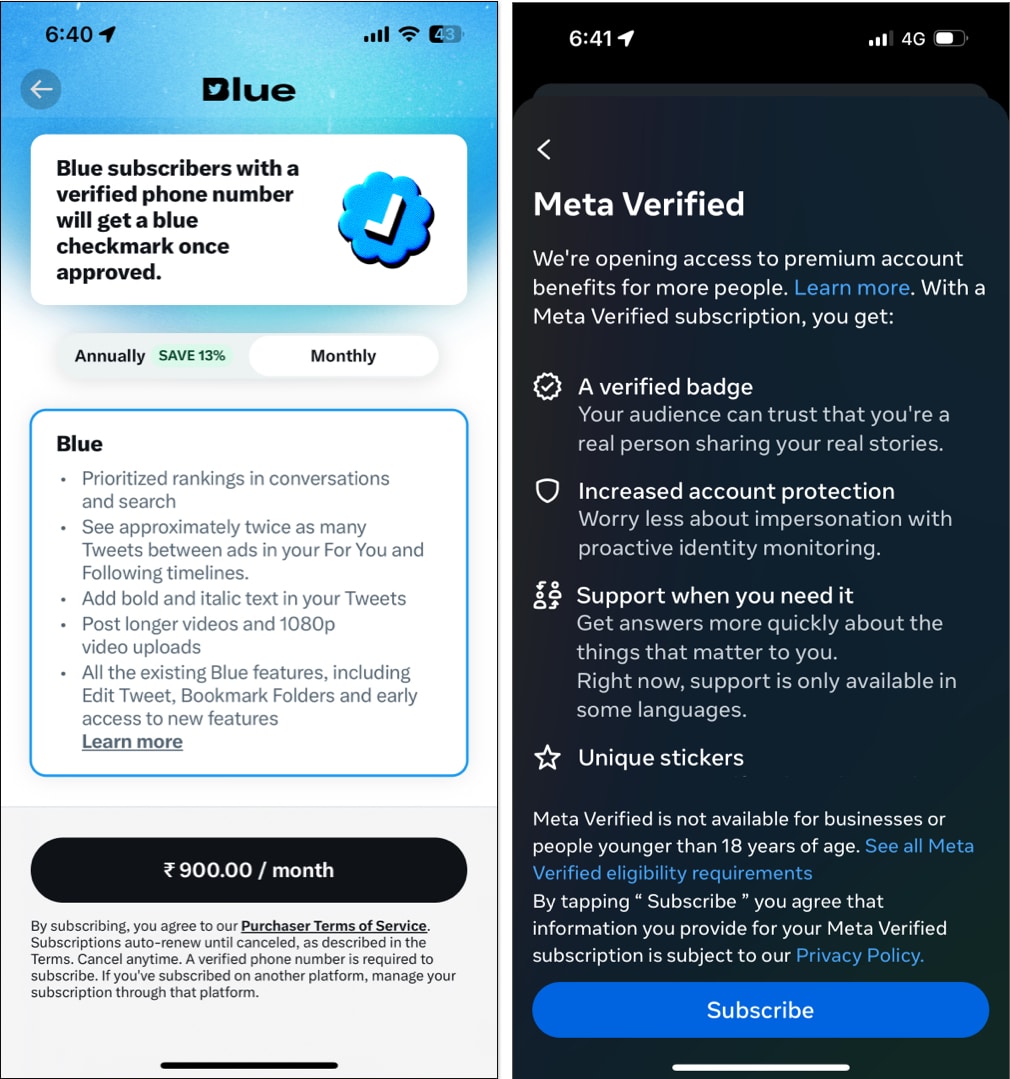 You must spend $8.99 monthly from your pocket to purchase Twitter Blue. On the other hand, an individual subscription to Meta Verified will cost you $14.99 per month. Apart from the prestigious blue tick status, a verified account has some exclusive benefits for the owners. 
Wrapping up!
Threads is another social media platform for you to enjoy. I guess its comparison with Twitter is more because of its name rather than the similarities in the ecosystem. As elaborated in this article, there are multiple factors where Threads stands completely different from Twitter.
Picking between the two to clear Twitter cache on iPhone and iPad platforms entirely depends on your preference. I hope this article will help you do that easily. Do share your experience with Threads in the comments section.
Read more:
Readers like you help support iGeeksBlog. When you make a purchase using links on our site, we may earn an affiliate commission. Read more.
Srishti is an avid writer who loves exploring new things and letting the world know about them through her words. With a curious mind, she will let you move through the nooks and corners of the Apple ecosystem. When not writing, you can find her gushing over BTS like a true BTS Army would.