Twitter has been rolling out many new features to make its platform more engaging and interactive. While Fleets lived a short life, the platform has already developed another lucrative feature, called Super Follows.
The feature has been in discussion since the beginning of 2021 and seems to make its way to the platform finally. So, what is it, and how does it work? Read along to find out everything about Super Follows.
Note: Super Follows is currently available only in iOS.
What is Super Follows on Twitter?
In the simplest words, Super Follows allows creators to monetize their content on Twitter by offering exclusive or bonus content to their subscribers.
Like the Apple Podcast's in-app subscription model, content creators can publish exclusive content for users who Super Follow them for a separate monthly fee. This allows subscribers to receive more exclusive content than regular followers while giving content creators on Twitter a chance to earn.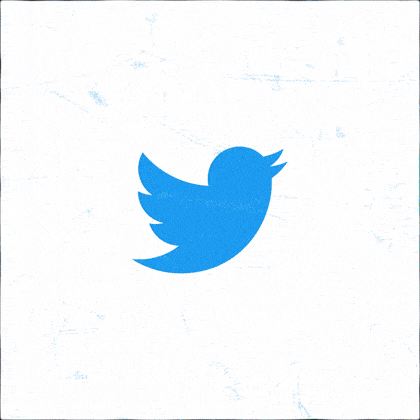 As of now, Super Follows will let creators share tweets with their subscribers. Twitter will soon include newsletters, Spaces, and other features. Additionally, users who super follow their creators will get a badge. This badge will be highlighted publicly next to their name whenever they reply to their super followed creators.
Currently, Super Follows is in the testing phase. It is limited to a selected group of creators in the U.S. who had applied for it and met the minimum eligibility criteria.
Who is eligible for Super Follows on Twitter?
To be eligible for Super Follows, one must fulfill the minimum eligibility criteria mentioned below.
Be 18-years or older.
Have been active on Twitter for 3 months or more.

Have published 25 tweets in the past 30 days.

Your content isn't affiliated with the state media account.
Have enabled two-factor authentication for your account.
Have a minimum of 10K followers.
These are the primary eligibility requirements. For a better understanding, you can check the Super Follows policy.
How does Super Follows work?
Creators who are eligible for Super Follow can apply for it by submitting an application. Here's how:
Navigate to the main menu by swiping right on the Twitter home screen.
Tap Monetization.
Tap Super Follows (if available).
If the application is approved, there will be a status change where the application was submitted. If the application is not selected, the applicant will be placed on a waitlist.
Once approved, people can then pay to Super Follow the creator. They'll receive direct interactions and bonus content from their creators. The badge given to the Super Followers will help them distinguish themselves from regular users and connect easily with their creators.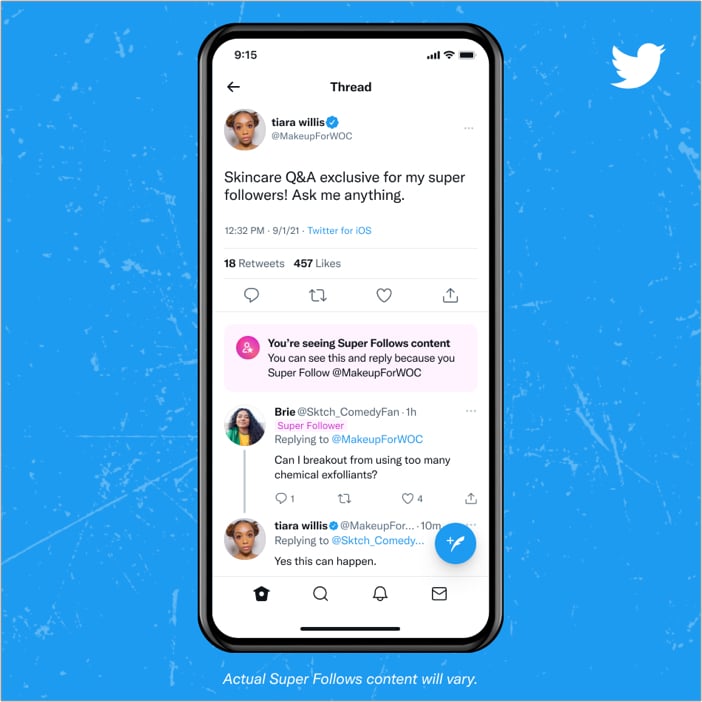 Who can see your content?
Bonus contents will only be visible to Super Followers. People who aren't super followers will only see regular content and tweets. They won't be able to see the Super Follows tweets.
Additionally, even if any Super Follower retweets the Super Follow tweets, it won't be visible to regular users. Instead, they'll be asked to Super Follow the particular creator to see the Super Follows tweet.
The Payout model
The creator eligible for Super Follows will be given access to set the value of their content by choosing anyone from the following three: $2.99, $4.99, and $9.99.
Once set, the creator will earn up to 97% of the revenue on its Super Follow subscriptions after in-app purchase fees. This will continue until the creator reaches $50,000 lifetime earnings. Following the $50,000 mark, the creator can earn up to 80% of the revenue after in-app purchases.
The creator will need to set up a Stripe account with Twitter's payout provider to take the money home. When receiving a payout in the U.S., a minimum threshold of $50 needs to be met. Additionally, the account balance is adjusted when chargebacks or refunds are successfully processed.
Tips for Super Follows creators to increase subscribers
Super Follows is all about exclusivity. The content you deliver to your super followers should be worth the subscription. For the record, here are some ideas you can try out.
Connect directly with your Super Followers via personal replies.
Increase the frequency of voice tweets.
Share uncut, raw footage made while creating that content (BTS).
Share Bloopers.
So, there you go! Here's everything you need to know about Super Follows on Twitter to monetize your tweets. In my opinion, it's an excellent initiative from Twitter to help people earn for their hard work while increasing engagement on the platform.
Moreover, it's the first paid twitter feature where creators will be getting paid directly from their followers. What do you think about this feature? Share your thoughts in the comments below.
If you're a Twitter enthusiast, you'll love reading:
Readers like you help support iGeeksBlog. When you make a purchase using links on our site, we may earn an affiliate commission. Read more.
I'm a die-hard Apple Fanboy who's keen and enthusiastic to learn and explore new things in the world of technology. Besides that, I'm currently an engineering student in the field of Electronics and telecommunications, thus love playing with electronic hardware. When not exploring the world of technology, I love learning about the universe/cosmos, time travel, different paradoxes, and so on.