Clubhouse took the social media world by storm since it gave the world something addictive with its audio format. This made leading networks like Facebook and LinkedIn replicate this audio format. But only Twitter has done a tremendous job launching Twitter Spaces and even received an overwhelming response.
As an audio junkie, I thought of doing the ultimate Twitter Spaces vs. Clubhouse test to see which one emerges as the ultimate audio social master. Keep reading to find out.
But before we get on to the extensive Twitter Spaces vs. Clubhouse comparison, let me walk you through the basics.
What is Twitter Spaces, and how to use it?
Twitter Spaces is a live audio-only chat feature introduced within the Twitter app. It lets you host live streams with multiple speakers and have an unlimited number of participants involved.
The excellent part about Twitter Spaces is that you don't need a separate app to access the audio room. Instead, when someone you follow creates a space or participates as a speaker, it will pop up next to Fleets, and you can join the room.
The person who creates the space, the host, can invite speakers and listeners to the room. If you come across a space and wish to join, you can choose to either be a participant or a speaker.
Note: If you wish to join as a speaker, the host will have to approve your request first.
For a detailed understanding, you can check our guide on Twitter Spaces.
What is Clubhouse and how to use it?
Clubhouse is an audio-exclusive social media app that enables people to voice chat in real-time. You can create your rooms and have people involved in them as speakers or listeners.
Clubhouse is an invite-only app. Though it was exclusive to iPhone users for a very long time, it has now broadened its target audience and opened its door to Android users as well.
Once you are invited and have a running account, you can join a club of your interest or enter rooms as listeners or speakers. Clubhouse comes with many options and has all the perks of any social media app and beyond.
To explain all the functionalities is beyond the scope of this blog, you may want to look at our detailed guide.
Twitter Spaces vs. Clubhouse: Features list
Considering the relative ages of the app and Clubhouse being an invite-only app, the features and growth rate for both are phenomenal. But with Clubhouse now having an Android version, the growth is expected to blow up. While most features are similar, they have their share of differences.
Let's break them down and understand every feature in detail.
Twitter Spaces vs. Clubhouse: Let's eliminate the similarities
1. Audio-only chat rooms
Both Clubhouse rooms and Twitter Spaces are audio-only chat rooms, allowing you to create your rooms, have speakers and participants join in, and hold conversations for as long as you want.
2. Raise your hand
If you are a participant or want to be a speaker in the room, you need to raise your hand, ask a question, or request a speaker yourself.
3. Moderated rooms
Both Clubhouse and Twitter rooms are moderated. Hence, you can be kicked out for any violations.
4. Real-time conversations
All the conversations in the room happen in real-time and are recorded by the respective apps as well. However, you cannot pause the conversations to listen to them later.
5. Similar layout
Both the apps have a similar layout, meaning speakers on the top of the screen and listeners at the bottom.
Twitter Spaces vs. Clubhouse: Difference in features
The primary difference between both the apps is that Spaces is an add-on feature to the app, whereas Clubhouse is a different app altogether.
1. No waiting list on Twitter Spaces
While Clubhouse still is in invite-only mode, Twitter Spaces has no waiting list. People with 600 followers or above have access to the feature.
2. Twitter Spaces allows captions
Labeled as transcriptions earlier. Twitter Spaces hosts live captions of conversations. You can choose to read them and turn the audio off completely.
3. More speakers on Clubhouse
There is no limit as such on the total number of speakers Clubhouse room can have. I have entered rooms with more than 30 speakers.
On the other hand, Twitter Spaces can host only 11 speakers at a time.
4. Clubhouse allows moderators
Clubhouse lets you co-host the room as moderators. This becomes a great opportunity for networking as you can always create more room with fellow creators and utilize their networks.
5. Schedule conversations on Clubhouse
With Clubhouse, you can schedule conversations to create hype for your upcoming room. On the other hand, Twitter Spaces does not have this option; hence, you will have to tweet about your space.
6. Saved recordings on Twitter Spaces
While both the platforms record conversations, Clubhouse automatically deletes after the room ends if no one reported a violation.
On the other hand, Twitter stores them for 30 days and deletes them if no violation was reported until then. However, neither of the platforms lets you record the conversations.
7. Texting liberty on Twitter Spaces
Clubhouse has no way to communicate to a user post the room ends. The only option is to follow their profile or ping them on Twitter or LinkedIn.
Twitter Spaces, being an add-on to Twitter, lets you connect with the person from the room itself. Thus, you don't need to switch apps to establish further communication links with the person.
8. Monetization on Twitter Spaces
Twitter has announced Ticketed Twitter Spaces, wherein creators will be able to monetize their audio rooms. You need to meet certain conditions to be eligible, and with a 20% cut, Twitter will let you earn money from the streams.
Clubhouse, on the other hand, is yet to monetize the platform.
Twitter Spaces vs. Clubhouse: User base
While there are no official numbers for Twitter Spaces users, Twitter projects to grow its audience to 315 million with this feature by 2023 (from 186 million in 2020). I believe it is achievable, given the platform is monetizing the Spaces feature. But let's wait and watch!
On the other hand, Clubhouse's growth has been terrific given it's a new platform with no existing user base like Twitter. The platform had 1,500 users in May, which grew to 10 million users today. The below chart illustrates the spike accurately.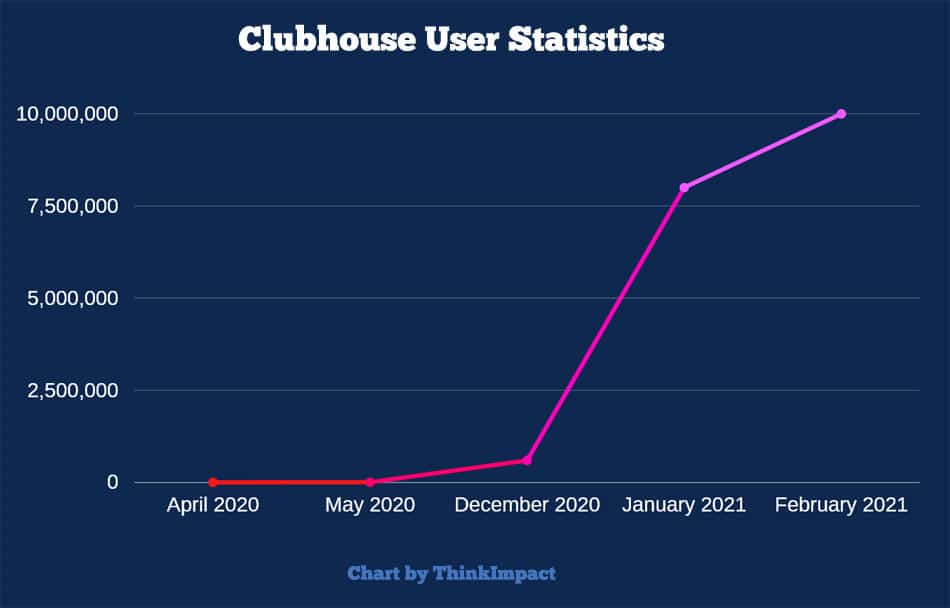 Twitter Spaces vs. Clubhouse: Investors
For now, a significant source of income for both platforms is data. Clubhouse, being an invite-only platform, has attracted some of the best industry professionals. Moreover, Clubhouse raised $110 million from Kortschak Andressen Horowitz and Tim Kendall, giving tough competition.
Twitter is backed up by plenty of investors like All Blue Capital, DFJ Growth, Slow Ventures, Alwaleed Bin Talal, and ESO Fund.
When it comes to audio spaces, it is a hot zone for investors right now. The platforms are new, loved by the audience, and waiting to be explored by more people. So investors will hunt for more players, look up for innovation, and invest.
Twitter Spaces vs. Clubhouse: Safety and data privacy
Clubhouse brought in a lot of discussions related to safety when the app was first launched last year. However, with the competitors in the market now, safety will be a judgment call for choosing a suitable alternative.
With that being said, both of them are taking adequate measures to ensure the safety of their users. While Clubhouse and Twitter both record audio recordings, only Twitter holds them for 30 days.
This makes it clear that both the users store the data differently. If you want a platform that does not store your recordings at all, you can use Clubhouse.
Twitter Spaces vs.Clubhouse: Which one should you use?
Over the past few years, social media were at a dead-end with no major innovations whatsoever. With Clubhouse in the market, the world got the missing creativity and newer opportunities to unravel.
The increasing popularity has forced other social media giants to get on the bandwagon and have audio rooms of their own.
The world is exploring right now. It will go above and beyond to work its way around different drop-in audio chats. Coming back to Twitter Spaces and Clubhouse, the similarities are uncanny; hence it is safe to test both the apps at this moment, understand your priorities and work a way around the best one for you.
I have been active on both Clubhouse and Twitter Spaces because I find them intriguing. Moreover, networking opportunities with both apps are entirely different.
What are your views on this? Let me know in the comments below.
Read more:
An entrepreneur by heart, I am obsessed with the world of Apple. I survive on Apple products and their updates. Over the last five years, I have been writing all kinds of content that are remotely connected to Apple and sharing across digital platforms. When not writing, you will find me on the court playing basketball or in my room playing the sitar.