While Bluetooth trackers have been around for quite some time now, Apple AirTags brought the industry to the spotlight like never before. But can AirTag become a real threat to the current market leaders like Tile's Mate and Chipolo's all-new and Find My-exclusive ONE Spot?
Let's compare all three to find out which is the best Bluetooth tracker to buy right now.
Apple AirTag vs. Tile Mate vs. Chipolo ONE Spot: A competitive analysis
Before we dig deep into the features, strength, and weakness of the three devices, let's quickly check out their general specifications:
Apple AirTags
Tile Mate
Chipolo ONE Spot
Price
$29
($99 for 4-pack)
$25
($70 for 4-pack)
$28
($90 for 4-pack)
Connectivity
Bluetooth, Ultra-Wideband, NFC
Bluetooth
Bluetooth
Built-in speaker
Yes
Yes
Yes
Precision Finding
Yes (only for iPhone 11 & 12 models)
No
No
Battery
User-replaceable
Up to 1-year
User-replaceable
Up to 1-year
User-replaceable
Up to 1-year
Battery warning
Yes
Yes
Yes
Weight
0.39 Ounce (11 g)
0.24 Ounce Ounce (7 g)
0.27 Ounce Ounce (7.7 g)
Range
Not specified
up to 200 ft
up to 200 ft
Voice-controlled
Siri
Siri, Google Assistant & Alexa
Siri
Compatibility
iOS
iOS & Android
iOS
Water-resistance
IP67 (1 meter up to 30 minutes)
Splashproof
IPX5 Splashproof
Product availability
Currently Available
Currently Available
Available for Pre-order
AirTag vs. Tile Mate vs. Chipolo ONE Spot: Market dominance
Bluetooth trackers employ BLE (Bluetooth Low Energy) to connect and transmit data like location to mobile devices wirelessly. In turn, the mobile uses the corresponding app to upload the location onto the cloud.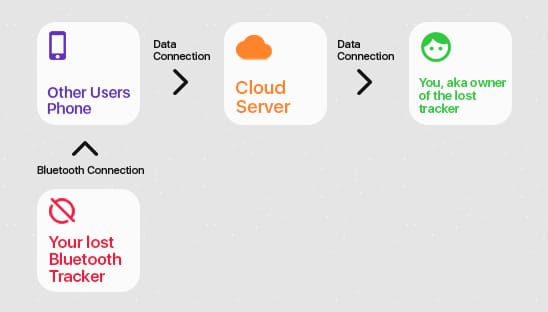 And when you ping or search the tracker, these location coordinates come in handy. Now, to complete a successful loop, a nearby mobile must have the corresponding app.
In simpler terms, more trackers sold = more mobiles with apps = more chances of finding the app.
The Tile app vs. Find My
Over the years, Tile has built a wide user base on iOS and Android devices, giving it a slight edge over its competitors.
However, when you compare it to the number of iPhone/iPad or Find My users, the scale tips heavily towards AirTags and ONE Spot.
And while Tile may continue leading the Android market, its throne in the iOS market seems to be shaking with the release of AirTag.
AirTag vs. Tile Mate vs. Chipolo ONE Spot: Design
The trio looks quite different from each other. Tile Mate stands apart with a plastic body and square form factor. In contrast, both AirTag and Chipolo ONE Spot sport a circular design.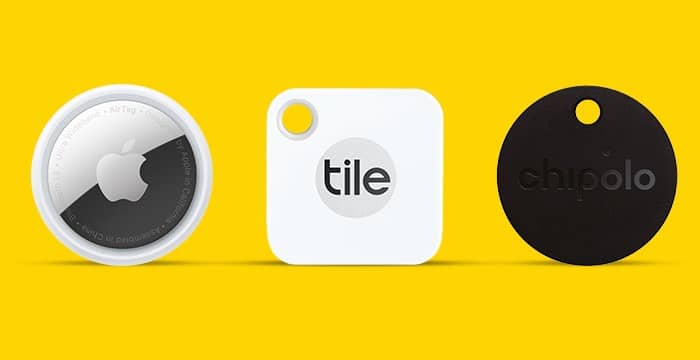 While Chipolo ONE Spot employs durable plastic, AirTag uses precision-etched polished stainless steel. Further, Apple has designed everything considering the environment. Thus, staying true to its 100% carbon neutral pact.
Apple takes the cake in this department with sleeker looks, better water resistance, and customization options. Oh yes! You can personalize AirTags with your initials or favorite emojis.
A feature missing in AirTags and boasted both by ONE Spot and Tile Mate is the handy built-in keyhole. This will push you to buy some third-party accessories like cases, building up the cost.
AirTag vs. Tile Mate vs. Chipolo ONE Spot: Compatibility
Here's where the tale takes an interesting twist. AirTag and ONE Spot are designed to work with the Find My app exclusively and are limited to Apple devices.
Whereas, Tile offers separate apps for both iOS and Android devices. And because of Apple's restricted access to a third-party app, it does not integrate with iOS as seamlessly.
So, you'll have to choose between seamless integration and multi-platform compatibility.
AirTag vs. Tile Mate vs. Chipolo ONE Spot: Connectivity
While we know that Tile Mate and ONE Spot offer a range of up to 200 ft, Apple has not yet disclosed the range of AirTag. So, we can't compare the trio on that scale.
However, AirTag sheepishly steps ahead of all its competitors by incorporating the following features:
Apple-designed U1 chip – Thanks to Ultra-wideband technology, you can avail of an exclusive feature, Precision Finding.


This allows you to track the AirTag with precision, see the distance and the direction you should head in. However, this feature is only compatible with:

iPhone 11, 11 Pro, and 11 Pro Max
iPhone 12, 12 mini, 12 Pro, and 12 Pro Max
NFC for Lost Mode – While you can report the loss of Tile Mate and Chipolo ONE Spot and get notified when a device in the network is connected to them, AirTag has an additional feature.

When any NFC-compatible smartphone taps your AirTag, you will be notified, and if enabled, your contact info will be shared. Thus, making it easier to find it.
Accelerometer sensor – A step ahead of the proximity sensor, which notifies if you leave your tracker behind. AirTag uses the sensor to calculate not only distance but also the speed for a more accurate result.

AirTag vs. Tile Mate vs. Chipolo ONE Spot: Features
The basic features like two-way finder, proximity alert, lost mode, voice command are standard in all three devices.
Tile Mate
Along with Siri, Tile also offers support to Google Assistant and Amazon Alexa.
However, to get all the benefits of Tile Mate, you'll need a subscription ($2.99/month). This will eventually be a costlier affair.
Chipolo ONE Spot
ONE Spot is the loudest amongst the three and can reach up to 120dB.
It supports Apple's anti-stalking feature via the Find My App,
Since it works exclusively with the Find My app, the 'out of range' alert feature is not supported.
Further, it does not have NFC or U1 wideband, so no proximity sensor.
Apple AirTags
Anti-stalking feature – To discourage unwanted tracking, an unrecognized, AirTag will alert you of its presence.

Also, to ignore false alarms in a public, busy place, the alert is only triggered when the tracker is separated from its owner.
Privacy – Ain't nobody as serious and strict about privacy as Apple, and the tech giant takes care of your privacy even with AirTag.

First and foremost, your location data and history are not stored on AirTag. The device that relays information about your AirTag will always stay anonymous.

Additionally, the location data is encrypted, and not even Apple knows the AirTag's location or the device's identity.
Our verdict: Which Bluetooth tracker is best for you?
Quite like AirPods, AirTag is so well integrated into Apple's ecosystem that it is the perfect match for any and every iPhone user. More so, if you own multiple Apple devices.
Plus, there isn't a massive price difference between the trio. And my mind and heart are heavily tilted towards AirTag.
What's your take? Share your views in the comment section below. Have more questions? Feel free to share them as well.
Want to know more about AirTags? Check out these posts:
Readers like you help support iGeeksBlog. When you make a purchase using links on our site, we may earn an affiliate commission. Read Disclaimer.