After years of speculation, AirTags finally saw the dawn this April. The $29 trackers are no more than a collar's button and can help find your essential devices, from your keys to your wallet. However, the internet is fretting over AirTag's possible misuse after some reviewers pointed out potential security loopholes.
Geoffrey Fowler, The Washington Post, was one of the first to point out the error after a thorough investigation of the tracker. According to him;
Clip a button-sized AirTag onto your keys, and it'll help you find where you accidentally dropped them in the park. But if someone else slips an AirTag into your bag or car without your knowledge, it could also be used to covertly track everywhere you go. Along with helping you find lost items, AirTags are a new means of inexpensive, effective stalking.
Apple has put forth certain measurements to prevent stalking (Tile, on the other hand, has none). The anti-stalking measures are not effective enough. Does this mean that Apple, keen on protecting users' security and privacy, has missed the goal this time? Let's first understand the company's anti-stalking measures as announced during the launch.
You can tune in to the episode to listen to my review or keep reading to find the loopholes.
How AirTags prevent stalking?
Kaiann Drance, Apple's Vice President, iPhone marketing, had a very diplomatic response when asked about the anti-stalking process. She said,
We don't have any more details to share about the process. But of course, we are open to hearing anything from those organizations.
This doesn't give a clear idea of whether the Cupertino-based giant conducted research sessions with domestic abuse experts or digital stalking.
But, they did put some effort into account, and it is safe to say they have considered the abuse of the tracker for stalking or attacks. It has enabled a stalking feature that gives you a heads-up when trying to use AirTags for socially unacceptable purposes.
So, if a creep tries to slip an AirTag into your backpack, or a hidden spot, your iPhone's Safety Alerts section will notify you about the device. This is revolutionary, and Apple is one of the only companies to have come up with an alert for non-consensual tracking. Moreover, the AirTag will chime after it has been disconnected from the source phone.
According to Apple's press release, iOS devices will detect an AirTag that does not belong to the owner and notify the user about the foreign AirTag traveling with him.
Who can use this AirTag's anti-stalking feature?
Apple quietly rolled out AirTag's safety feature in iOS 14.5 beta 3 on 2nd March, a month before AirTags came out.
It is now available on iPhone or iPod Touch, running iOS 14.5 or later, and iPad running on iPadOS 14.5 or later. Thus, to use this feature, you must have an updated device.
For Android users
Even if you don't have an iOS device, if the AirTag is separated from its owner (out of Bluetooth range), it tends to make a sound that will draw your attention to the gadget. Once you detect the AirTag, you can disable it using an NFC-compatible device or someone's iPhone. Just tap the AirTag, to get instructions on how to disable the unknown AirTag.
AirTag's common security features and their loopholes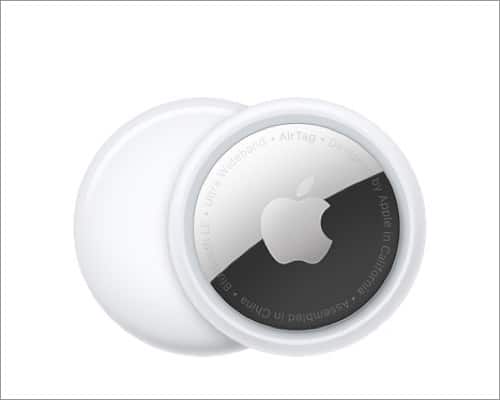 1. (In)Audible alarm:
Once the AirTag is separated from its owner, it takes three days for the tracker to make the audible noise.
And it will only ring for 15 seconds before going silent for a few hours. You must be wondering, at least the sound must be loud, right?
Well, it is barely 60 decibels, which takes quite an effort to be noticed. I tested the sound by hiding the device under my couch, and trust me; it took quite an effort to hear the noise.
This means if some wrapper or plastic covers the tracker, the victim may not be able to hear the noise at all.
This is a bummer. As three days leave plenty of time for the stalker to know everything about the victim, do the damage, and leave. Another loophole is that the three-day rule works only if the AirTag is separated from its owner.
If you live with the person, it will automatically reset itself as soon as it comes, even in its remote proximity to the owner.
Drance describes this as a luxury, for the tech giant didn't want to disturb the owners with the nagging. This is why they decided to go with a three-day window.
I don't expect the first rendition to be perfect, but the least Apple can do is reduce the time to say 24 hours or less may be. It will work just fine because the counter resets itself whenever the AirTag is reunited with the owner.
2. What about Android users?
When Apple is coming out with a tracker, it surely has more than one way to ensure your safety. If you are traveling with a foreign AirTag, you will be notified about the tracker on your iPhone. However, this only works for iPhone 6s or newer models. Android users are left hanging in the air.
Imagine the worst-case scenario here. If you do not own an iPhone, you will never be notified about the AirTag surrounding you unless you physically find the device. This cannot be rectified, and the only way to resolve this problem is by getting yourself a new iPhone. Another monopoly, Apple?
This is a major security flaw as the move seems quite biased to me. A considerate amount of the population is still using Android phones. Apple needs to reconsider and come up with a broader solution focused on protecting both iPhone and Android users. Considering the fact that Apple did join hands with Google for COVID-19 notifications, they surely can have bigger collaborations for safety purposes.
While the precision finding feature of AirTag is remarkably perfect, "AirTag found moving with you is yet to attain perfection.
The precision finding feature that is available for iPhone 11 and iPhone 12 owners cannot be used to locate an unknown AirTag. The only way you will be notified is if you receive a notification on your iPhone, which can then be disabled from the Find My App.
Another scar is that you can disable all the 'item safety alerts' using Find My without entering a PIN or a Password. This can prove to be quite risky for people living in abusive relationships. For all you know, your partner could have disabled the security alerts, and you will never come to know about you being tracked all day long.
Are you concerned about AirTag's safety feature?
I love my AirTags. They are on point and have helped me stay connected to my devices just fine. With the right accessories, I have not once lost my house or car keys.
But I am concerned about my privacy a little more and am surely expecting Apple to come up with the proper security updates in the future. Hopefully, in WWDC this year.
What are your thoughts on AirTag's anti-stalking feature? Share in the comments below.
Read more:
Readers like you help support iGeeksBlog. When you make a purchase using links on our site, we may earn an affiliate commission. Read Disclaimer.