In August 2019, Apple created a ripple in the credit card industry by introducing the titanium Apple Card. And now, in its 2021 Spring Event, the tech giant did it again by announcing Apple Card Family.
So, what's the deal with Apple Card Family? Is it a smart move on Apple's part? Read on to discover all this and more with me.
The idea behind Apple Card Family
Interestingly, Apple CEO started the presentation by mentioning the disparity and lack of clarity in credit scores awarded to two users with the same credit card.
And Apple Card Family is an attempt to resolve the issue. Plus, to reinvent how users can build credit together.
The basic concept is that two people can co-own an Apple Card and share/merge their credit lines. This way, they can improve the credit together and get equal benefits.
Designed to help families achieve a healthier financial goal, it simplifies purchase tracking and expenditure management. And all of that on an iPhone with a single monthly bill.
What does Apple Card Family offer?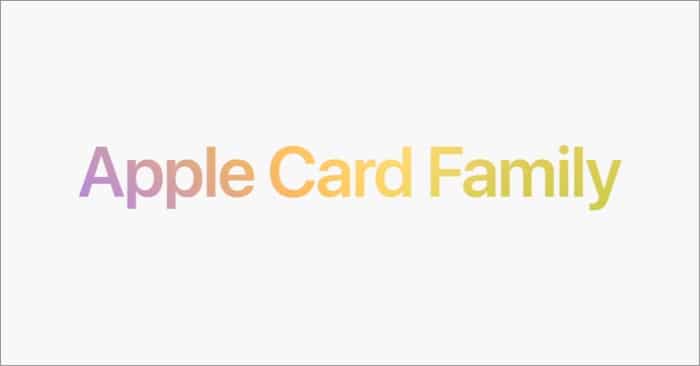 With its release, Apple Card attempted to transform the overall credit card experience. Apple managed to simplify everything from the application process to add more privacy and security.
Apple Card Family adds all the more perks to the equation, such as:
Add up to 5 people – Now, you can share your Apple Card account with users who are part of the same Family Sharing group by sharing the Apple Card via Wallet.
Share every aspect – Along with building credit history together, both owners also gain the flexibility of a combined limit and share responsibilities of making payments.
Co-owners transparency – You can also check details of each other's spending from a single monthly bill.
Parental controls – Add anyone who is 13 years or older as a participant to allow them independent spending. You get insights into their purchases and control their purchase limit.
Combined credit reporting – Whether positive or negative, all account activities will be reported to credit bureaus if the participants have opted for credit reporting.
Apple Card Family offers Daily Cash for all participants
With Apple Card Family, co-owners and participants will earn up to 3% Daily Cash for every Apple Card purchase. For more clarity, see the below breakdown.
When Apple Card is used with Apple Pay – unlimited 2% Daily Cash
When a purchase is made directly with Apple – unlimited 3% Daily Cash
As the name suggests, Daily Cash is added to users' Apple Cash card every day and can be used right away.
Managing Apple Card Family
You can manage your Apple Card Family using the wallet app on your iOS device. Thus, it is essential for the (co)owners to own an Apple device running the latest iOS supporting the card.
The smart family sharing plan will be available in the US from May. And existing Apple Card customers can merge their accounts, allowing them an even higher shared credit limit while keeping the lower APR.
The card is issued in association with Goldman Sachs, which has the right to make all eligibility and credit-related decisions.
Note: Anyone who is 18 years or older can be eligible as a co-owner and opt for credit reporting. As for users, who are 13 years or older can become participants.
Is Apple Card Family the next best thing?
While I am not a financial expert, the idea seems intriguing. I could surely see the obvious positives that Apple has pointed out.
But would they pan out as smoothly as Apple's presentation about them or will it meet some potential pitfalls? Well, only time can tell, and all we can do is wait and watch.
What do you think? Can Apple make Apple Card a success, or will it fall flat? Share your opinions and comments below.
Read next:
Readers like you help support iGeeksBlog. When you make a purchase using links on our site, we may earn an affiliate commission. Read Disclaimer.