Bluetooth trackers aren't a new technology, but when Apple does something, it is usually unusual. And AirTag is no different! It boasts a mix of regular and uncommon features, for instance, the anti-stalking feature.
But I am not here to praise it; I am here to share my fun little experiment and some out-of-the-box and weirdly innovative ways to use AirTags, other than using it as a mirror! 😉
Things to attach AirTags to: The common options
Before I jump on to some unique ways, let's first quickly cover the basics
Track inanimate stuff: Whether a bag, wallet, bike, skateboards, scooters, or more, AirTag can efficiently help you spot your stuff. All you need is the perfect accessory or some makeshift arrangement to attach the tag to your stuff.

Plus, it comes in handy in case of theft. More recently, Dan Guido, the Brooklyn cybersecurity CEO, used it to track his scooter.
Track your kids or elderly: From an overactive toddler at the mall or an enthusiastic dog at the park, AirTags can help you track your two-legged and four-legged family members.
Use it when traveling: Find your bag on the conveyor belt at super speed or ensure that the bell boy doesn't mix it up with other guests. And if you are the forgetful kind, leaving behind reminders is a life-saver 
10 Clever ways to use Apple AirTags in 2021
Now for the real deal. I must say I loved exploring and testing various theories with my AirTag. Honestly, I can't wait for Apple to add more features into the mix, so we can find some more creative ways to use Apple AirTag.
1. Attach to a medical box: Send medicine reminder
When you have parents or partners who often forget their medicines, this trick can work wonders for you. Place or stick the AirTag to their medical box and set the alarm on your phone. When it is time, ping the AirTag from wherever you are.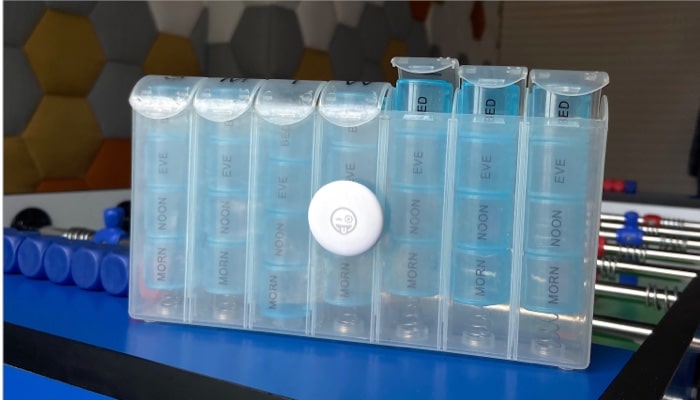 Yes, you can always call or message them, set reminders on their phone, etc. However, this is a neater way, as you are not only reminding them but also helping them find their medical box on time!! Comment below if you feel the pain of this situation.
2. Leave in your car: Find a parking spot with ease
While dropping a pin works like a charm, the task is to remember doing that before you leave the car. And our distracted brains might not be well-equipped for that. So, let AirTag do the tracking. Just keep the AirTag in your car permanently and easily track your vehicle forever and ever.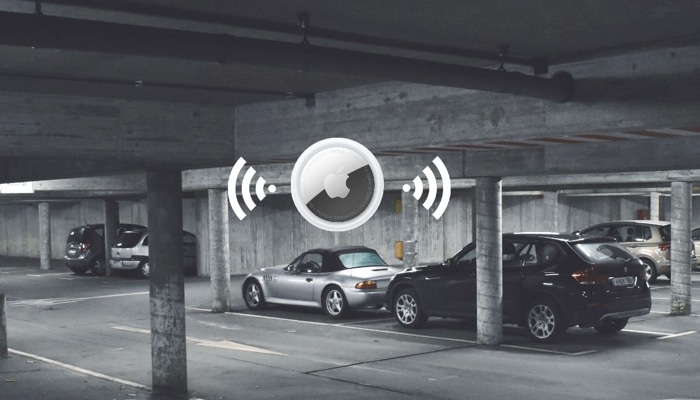 Psst! It will also help keep an eye out for where your partner, children, or parents are driving away with your car. You can even ping them to give them a scare (unfortunately, that trick will only sail once).
3. Hi-tech scavenger hunt – Where's the party tonight?
Organizing a party for geeky guests? iGeeks has the perfect party game suggestion. Hide your AirTags around the house (avoid secret/fetish drawers), and the guests could use their phones to ping the hidden tag. Whosoever finds it first wins.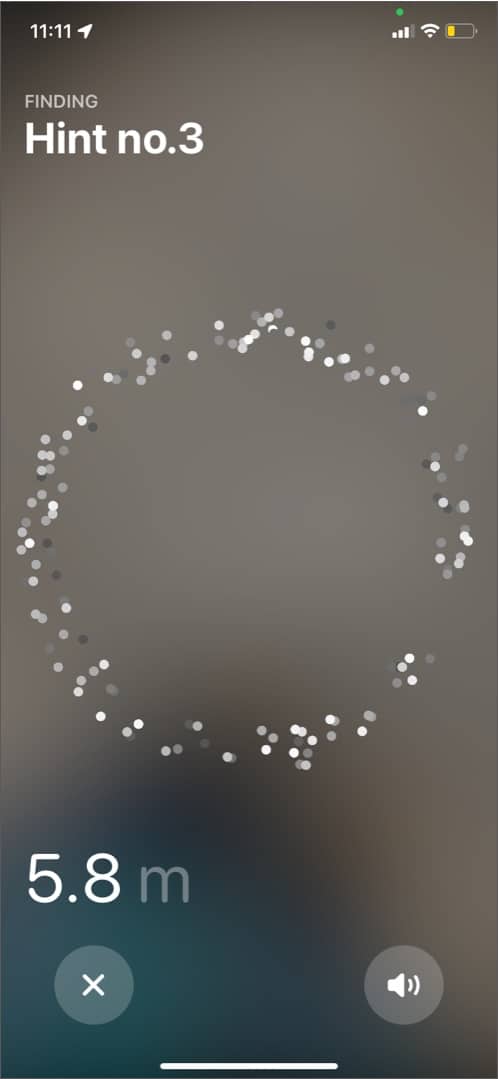 Now, that's just the base idea, and you can build upon it creatively. Let's say you own multiple AirTags, create a treasure hunt game and attach clues to each tag. You can also use it to keep your kids and their friends busy with a techy, more exciting version of hide-and-seek.
4. Scavenger hunt feat. marketeers: Surprise customers with AirTags
Hide limited-edition collectibles or special surprises with AirTags and mark those AirTags as lost. Either let the customer's phone ping when they come near the AirTagged item or let them rummage through the store to find it.
Agreed, it could be a bit messy, but you could be as famous as the Weasley twins if the mischief is managed.
5. A mixer party with AirTags thrown into the mix: Serendipity, anyone?
Instead of dress code, let's keep it the AirTag code. Guests need to bring their AirTag, throw it into a bowl and pick another AirTag from the bowl randomly. Next, ask them to scan the new tag and look for the owner.
Now, that's a unique way of meeting new people. I also loved Blair Neal's idea of having multiple bowls labeled with specific interests like traveling, Anime, movies, etc. This way, you'll have a conversation starter prepped before you meet the AirTag owner.
6. Pass secret messages: Who needs Harry Potter's fake Galleons?
When in the Lost Mode, you can type a message for anyone who receives your AirTag. Usually, that's to share your contact, address, or something. But unusually, you can put your AirTags in Lost Mode and exchange it with your friend.
Change the Lost Mode message at a whim and ask your friends to check the secret message. Their reply could also come secretly via Lost Mode message on the tag that you have. Would you try something like this?
7. Never lose an import courier: Send AirTags with it
Why risk losing an expensive or essential package when you have AirTag to protect it. Put your AirTag in Lost Mode and pack it with the stuff to be couriered.
Now, even if the tracking link provided by your courier agent doesn't work, you can track the package from the Find My app, quite like the MegaLag style. Check out the video below to know more.
8. Underwater scavenger hunt
Another interesting twist to the AirTag hunt could be an underwater event. AirTags carry an IP67 rating, i.e., they can survive underwater for about 30 minutes, up to a maximum depth of 1 meter. Now, wouldn't it be a fun game for swimming enthusiasts to hunt for some stuff underwater?
9. Pack AirTag on your drone's back: Butterfly fly away
While super fun, Drones are prone to crash and getting lost. But why risk it when you can fix it with an AirTag and find out the exact location of your drone anytime?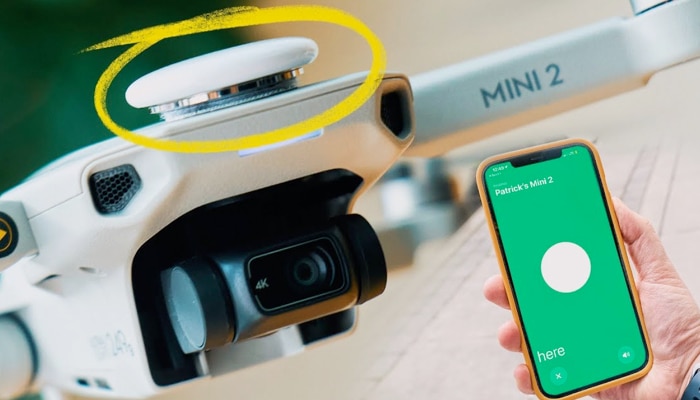 And even if the drone has flown beyond your device's boundary, the AirTag can use any other nearby iPhone to pingback its location to you. So rest assured that your drone is traceable at almost all times!
10. Make new pen pals: Help me; I am a lonely person's AirTag
If you have an AirTag to spare and want to do something out-of-the-box, here's a great idea. The unique benefit to it is that you can make new friends from across the globe. Now, the idea is to place your AirTag at a public place like a park, library, or something.
When someone finds the AirTag and scans it, your message can invite them to send you an email if they are engaging in knowing a stranger or leave the AirTag as is for someone else to find. Now, imagine telling this story to your children, sharing how you met their mother, all thanks to Apple's AirTag.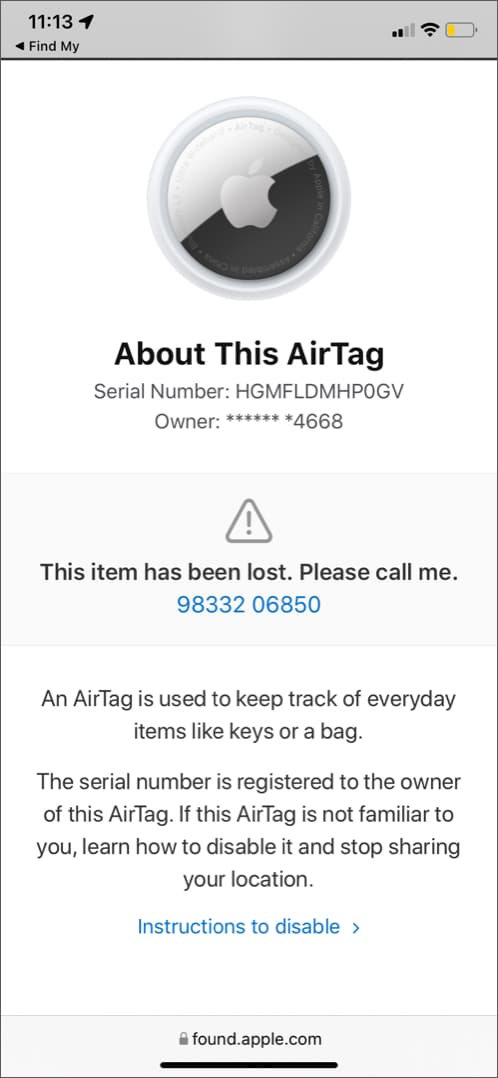 Which creative idea did you love the most? My personal favorites are the parking spot tracker and sharing secret messages. Do you have more creative ways of using AirTags? Share your ideas, views, and feedback with us in the comment section below.
For those who are looking to make the most of their AirTags, here are some must-read articles:
Readers like you help support iGeeksBlog. When you make a purchase using links on our site, we may earn an affiliate commission. Read Disclaimer.