While Apple's AirTag helps us protect our belongings, the least we could do is provide it a nice, cozy, cushioned home. And what if that home (read case) can manifold the AirTag's capability? Won't it be icing on the cake? Well, Raptic's Tactical Wallet and Link+Lock do precisely that and more!
Scroll down for an in-depth review and introduction to some fantastic AirTag multi-utility cases. I know that these accessories are not cases, but they encase the AirTag. So, case in point and pun intended.
Aptly named, the Raptic Tactical wallet boasts a very tactile exterior profile. It boasts an 8-in-1 stainless steel multitool top, soft genuine leather on the back, and smooth matte Polycarbonate edges.

It is pretty great in terms of capacity as well. Apart from safely housing the AirTag, the utilitarian wallet can also hold up to 4 cards or 2 cards plus folded bill.
Design that reflects the experience
The card slots are quite smooth. And you'll have to pull to remove the cards; thankfully, they don't fall out of their own accord. Another remarkable feature is its AirTag holder, which locks the Bluetooth tracker securely.
It won't fall off while you are taking out cash or cards from the wallet. In fact, you'll have to exert some pressure to remove the AirTag, a masterstroke of design element if you ask me.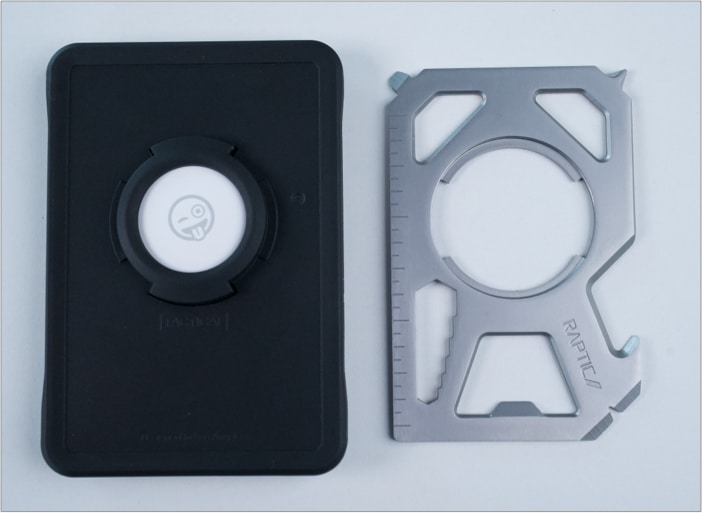 The detachable multitool
If you like to keep some simple tools handy, this one will make a great addition to your arsenal. It boasts a total of 8 tools:
Flathead screwdriver
Philips screwdriver
Box/letter opener
Pry bat
Bottle opener
Hex head wrench (5-10mm)
Inch ruler (1/4″ increments)
Remarkably, everything from the sharpness to placement is quite precise. So, it does what it promises.
What I loved (and didn't)?
Honestly, the mechanical precision astounded me. Whether you are fixing the AirTag or unlocking/locking the multitool, there is a smooth rhythm.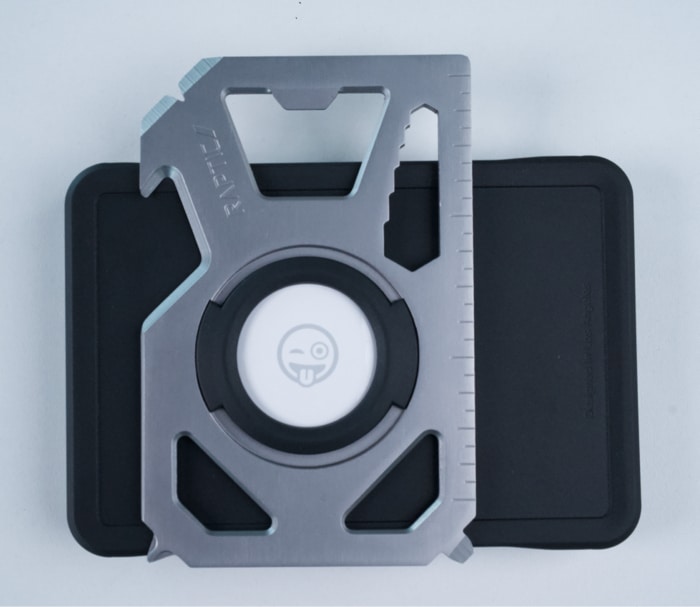 Yes, you may find detaching the tool a bit tricky initially, but it's smooth sailing once you get the hang of it. Mind it; some edges are sharp! So be careful with the tool, and don't let your kid or clumsy friends play with it.
The polycarbonate backing has raised lips to avoid direct impact on your hands or pockets while placing or taking out the wallet. However, I felt the Philips screwdriver on the top right corner can hurt if not handled carefully.
So, that's one flaw. And while I loved the wallet as a whole, the finishing of the leather is not up to the mark. It didn't feel as classy as some other leather wallets that came my way. Moreover, the wallet weighs 0.20 lbs, and if you add in the cards and AirTags, it becomes a hefty package.
iGeekometer
Design
Build quality
Utility
Value for money
Pros
Multi-functional wallet
Securely locks AirTags
Good capacity
Easy-to-use mechanism
Raptic Link + Lock: Strong, steady, and smart
A Godsent for travelers, commuters, hikers, and the lot. The Raptic Link + Lock offers a smart and secure solution to attach your AirTags to various objects, bags, bottles, bicycles, and more.
And what makes it unique from other AirTag accessories is that it integrates a combination lock. Interestingly, the lock works in two ways:
Locks the carabiner to any object – No one can remove it from your stuff unless they know the exact combination.
Locks Airtags in position – You can't remove the AirTag unless the carabiner is unlocked. So, the tracker is safe from falls or thefts.
Raptic employs solid cast iron zinc to construct the carabiner and durable polycarbonate for the shell. And the results aren't just classy looking, but solid and durable as well.
The mechanism is super cool
When you unlock the carabiner, you can push out the circular shell. Then you twist the shell cap to open it up, insert the AirTag, twist, and lock the shell and place it back into the carabiner. And that's it; your AirTag is set.
The process is super simple, and you'll find markings wherever required. So, whether you are a ten year or hundred, you'll be able to assemble it with ease.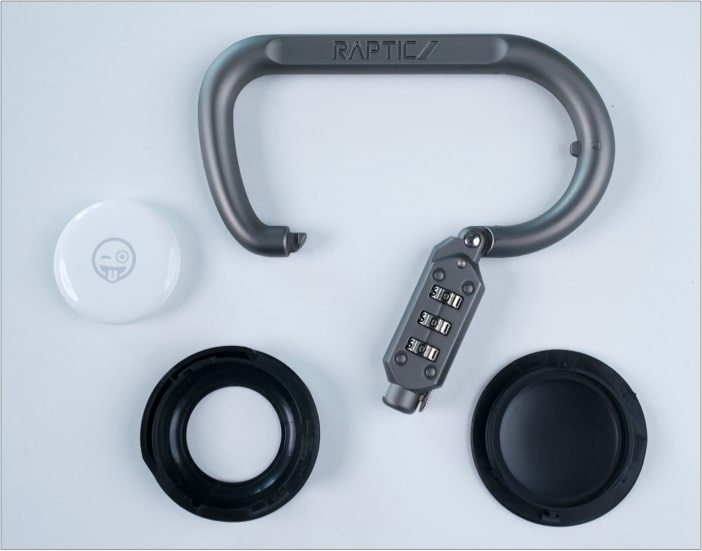 What I loved (and didn't)?
Again, I am a fan of the mechanism and the thought that would have gone into it. Although, I have some bones to pick. For one, you can only insert AirTag with the battery end showing.
While the Apple logo looks good, my special emoji or initials are hidden. Plus, the silver surface is a fingerprint magnet. Then, the carabiner's opening is a bit off. Instead of pushing in, you have to pull out the gate.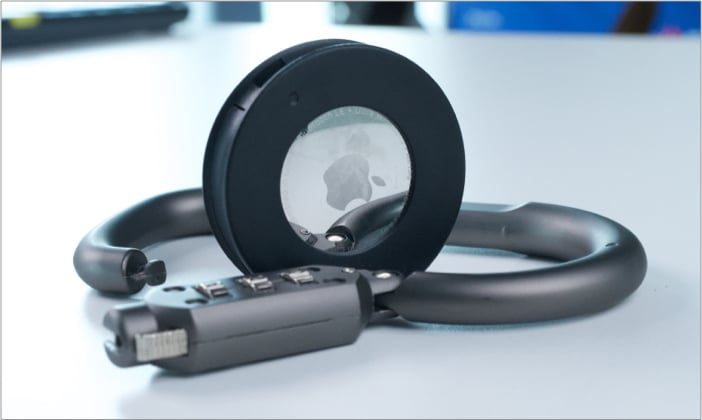 This is different from the norm and tricky as the release button is placed on the outer edge. Plus, the gate doesn't align smoothly when re-locking; you might have to move it slightly to set it into the lock.
Plus, it boasts a steep price point. $40 for a carabiner, even if it has a combination lock and efficiently carries AirTag, is a bit much.
iGeekometer
Design
Build quality
Utility
Value for money
Pros
Sturdy and strong build
Properly locks AirTag in place
Easy-to-use
Durable material
Cons
Can't showoff AirTag's top
Comparatively heavy
Expensive
Absolutely! Both the LINK + LOCK and Tactical Wallet are smart and effectively designed. The brand has taken care of the smallest details like the locking mechanism on the carabiner or the raised lips on the wallet.
There are some minute issues, but most of them are incidental. And once you get the hang of it, everything will be smooth sailing. So, if you are looking for some interesting ways to use your AirTag, Raptics' LINK + LOCK and Tactical Wallet can be a great option.
Read more:
Readers like you help support iGeeksBlog. When you make a purchase using links on our site, we may earn an affiliate commission. Read Disclaimer.