Spring unloaded with a lot of surprises for Apple fans. One of those was in-app subscriptions for Apple Podcasts, an international marketplace for listeners to explore content from some of their favorite creators. The service is set to go live with some original shows from Talib Kweli, Yasin Bey, and even Dave Chapelle. An exciting launch usual to Apple!
But how exactly has Apple planned Podcasts' paid subscription model? And what happens to the free content? There are a lot of things that remained unanswered during the event.
In this article, I have covered everything that you should know about Apple Podcasts Subscriptions. Let's dive in!
Apple Podcasts subscription: What is it?
After years of delay and not exploring the audio industry much, the Cupertino giant managed to launch the in-app paid subscription service offering "additional benefits" and a premium feel to its customers.
The service will give listeners early access to the episodes, ad-free listening, and bonus content. However, it will still feature free podcasts and continue providing a platform to all the content creators.
Did you know? Apple launched its podcasting services in 2005. (Yes, it was Steve Jobs' idea.)
The podcasting service is also curating channels (both free and paid), a group of shows with unique titles, descriptions, and artworks.
Not just that, and as I quote Tim Cook, the platform has received some of the most significant changes since its debut, and the entire Apple team is looking forward to adopting these changes.
Apple Podcasts subscription at a glance
Early access to paid subscribers.
Paid channels are combining different artists to deliver content with unique names, artworks, and episodes.
Smart Play button to help the listeners play the latest episode from each season/ podcast.
Updated Apple Podcasts Connect dashboard for podcasters.
Offline download for individual episodes.
What about the ads?
For a company too keen on data privacy and an ad-free experience, this turns out to be quite a confusing statement. Unlike other platforms, Apple does not insert advertisements between the episodes but leaves content creators to insert ads according to their convenience.
When you take up the paid subscription, you will not be listening to these ads anymore, making the experience more versatile.
When does the subscription start?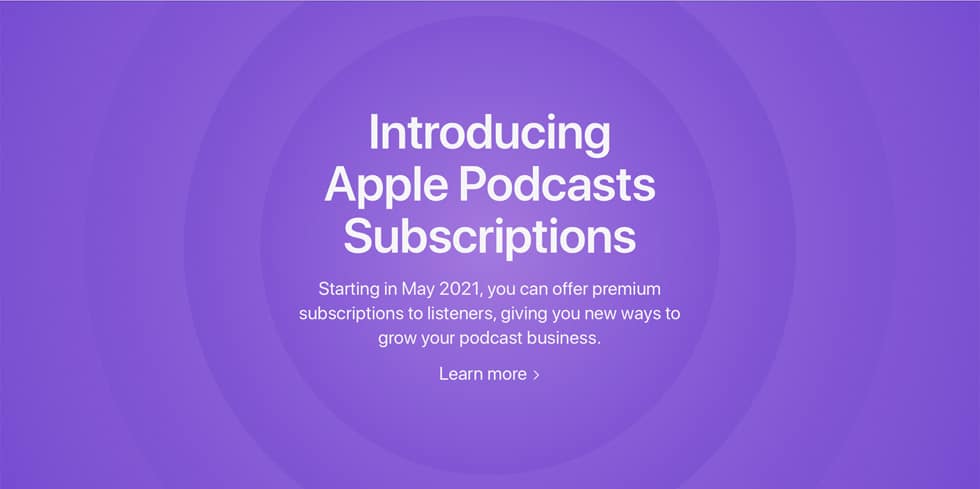 The subscription will start from May 2021 and will be available in 170 countries and regions.
What creators need to know about Apple Podcasts Subscriptions
As a creator, you have full authority over your podcast. Thus, you can decide your terms for the episode. This is also applicable to channels. However, there are certain changes with the launch of Apple Podcasts in-app subscriptions that you should know about:
Free or Paid?
Now, you have three ways to work around your podcast: free, freemium, and premium.

Subscription charges
To offer a subscription to your audience, content creators will have to pay $19.99 to Apple. Moreover, Apple will be taking 30% of your subscription revenue in the first year, reducing it to 15% in the second year.

The approximate pricing will start from $0.49/month. However, you can decide your structure.

Platform exclusivity
Charging money to your customers on Apple Podcasts Subscription doesn't mean exclusivity to the platform. This means you can have your podcast across any platform.

Analysis
You will have better metrics such as "top cities" and "most engaged listeners" to help you understand your audience better.
Is Apple going the Spotify way?
Significant changes in the platform designs or launching Apple Podcasting Services have come up months after the numbers predicted Spotify overtaking Apple Podcasts.
We saw some hints of the platform undergoing major changes with the iOS 14.5 beta, which showed a redesigned Podcasts app and the 'Listen Now' Tab.
Does this mean after years of ignorance, Apple finally understood the increasing competition and their versatility and decided to revamp the platform to save their listeners?
Well, only Apple can answer this. As long as the launch is concerned, it sure is good to make people wonder about the rift with Spotify.
Bold changes, Apple!
After 15 years of staying mundane, Apple has finally has announced some bold changes this year. I look forward to creators having the upper hand in deciding their revenue model while having the liberty not to keep it Apple Exclusive.
From a listener's perspective, who doesn't like ad-free early access to their favorite podcast?
What are your views about the same? Let me know in the comments below.
An entrepreneur by heart, I am obsessed with the world of Apple. I survive on Apple products and their updates. Over the last five years, I have been writing all kinds of content that are remotely connected to Apple and sharing across digital platforms. When not writing, you will find me on the court playing basketball or in my room playing the sitar.