Shortcuts on iPhone and iPad let you automate one or more tasks in a tap or Siri voice command. You can use shortcuts made by Apple or create your own with custom actions. At first, the multiple options might look frightening. But once you build your first shortcut and get to know the app, you will enjoy using it. So, let us get straight in and show you how to use the Shortcuts app on iPhone and iPad.
What does the Shortcuts app do on iPhone
As mentioned, it lets you perform several things quickly. For example, I have a shortcut on my iPhone Home screen called My iGB. When I tap it, The iGeeksBlog Show podcast automatically starts playing, and the igeeksblog.com homepage opens in Safari. Now, I can listen to the podcast and read the latest posts.
Did you see how a single tap did two things? This was a basic task. A shortcut can be complex and perform several tasks at once.
Let us start with the basics and gradually step up the ladder to understand how to add desired shortcuts and even create a custom one.
From where do I get the Shortcuts app?
On iPhone and iPad running iOS 12, you can download it from the App Store.
The Shortcuts app comes pre-installed on all iPhones and iPads with iOS 13, iOS 14, and iPadOS. Like several other Apple apps, you may delete the Shortcuts app if desired.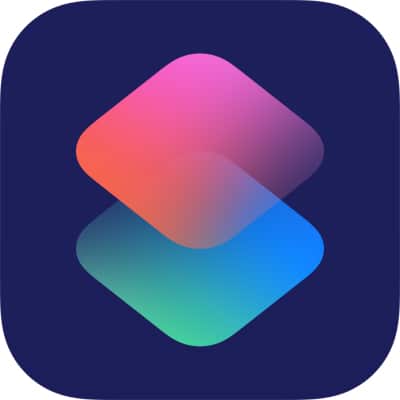 How to get shortcuts on iPhone and iPad
1. From the shortcuts gallery
The Gallery tab inside the Shortcuts app houses shortcuts by Apple or ones that are automatically suggested depending on how you use your phone and the installed apps.
Tap See All next to the desired categories (like Morning Routine). Next, select one and tap Add Shortcut.
2. Add a shortcut from a third-party app
If an app from the App Store supports Siri Shortcuts, look inside the app or in its settings and tap Add to Siri.
3. From the internet
You can download shortcuts from websites as well. But for this, you will have to enable the option to run untrusted shortcuts. Once you do that, you can download shortcuts from the web. Make sure you use reputed sites.
4. Via Sharing
You can also receive shortcuts from your friends and family via normal sharing.
After adding them, you will find them listed under the My Shortcuts tab.
How to run a shortcut on iPhone and iPad
There are several convenient ways to run a shortcut on iPhone or iPad. Let us look at them.
From the Shortcuts app: Open the Shortcuts app and tap the My Shortcuts tab. Now, tap a shortcut to run it.


From Home screen: After adding a shortcut to the iPhone Home screen, tap it to run it.


Using Siri: Summon Apple's voice assistant and tell it the name of the shortcut. It will immediately run it. You may also say something like 'Run [shortcut name] shortcut.'
From Shortcuts widget: With iOS 14, you can add widgets on your iPhone Home screen

. If you have added the shortcuts widget, tap one to run it.




Run a suggested shortcut: Your iPhone learns your usage and may recommend certain shortcuts from time to time. If you see a recommended shortcut on the Lock Screen or in search, tap it to run it.
Additionally, if you have added the Siri Suggestions shortcut, you may tap one of the desired recommendations.
Run a shortcut from another app: After adding the shortcut to the iOS Share Sheet, you can run a shortcut from other apps.
For example, if you have a shortcut to download Twitter videos, you may run it from Safari or the Twitter app. For this, tap the share icon and tap the shortcut from the Share Sheet.


Run shortcuts from Apple Watch: Your watch shows the shortcuts you have added to the paired iPhone. We have a separate guide that tells you how to use the Shortcuts app on the Apple Watch

.
Create a personal shortcut on iPhone and iPad
Until now, you saw how to get shortcuts and how to run them. Using the gallery and the web, you can find shortcuts for almost anything. But what if you want to create a personal shortcut according to your work?
For example, I wanted a shortcut that played The iGeeksBlog Show podcast and opened the iGeeksBlog.com in a single tap. Let me show you how I built this very basic shortcut.
After seeing these steps, you will get an idea and can design shortcuts for any other actions you like.
Open the Shortcuts app, and at the top right of the My Shortcuts tab, tap the plus icon.
You will see the New Shortcut screen.
Tap Add Action.


First, I want the shortcut to play our podcast. To do so, go to Media → scroll down, and tap Play Podcast. I could also just search for 'podcast' and see the various related options.


Now, I have added the action to play a podcast. But what podcast should the shortcut play? To define this, tap the light Podcast word and choose from the list of your subscribed podcasts.


I have defined one action (playing podcast). Now, I want it to open the website. To add this another action, tap the blue round plus icon.
Tap Web → scroll down, and tap Open URLs.


To define which website to open, tap URL and type the exact website address (https://www.igeeksblog.com).


Our shortcut is practically ready. To test everything before saving it, tap play (the blue triangle icon) at the bottom right.
When I tap it, the podcast starts playing, and the website opens. Everything seems perfect. Now let us customize and save it.
Tap Next at the top right.


Give the shortcut a name.
Tap the icon to change the color and add a glyph (symbol).


Tap Done twice.


You have successfully created the shortcut, and it is now visible under My Shortcuts. Let us see some more handy customization options.
3 Ways to customize the shortcuts
Open the Shortcuts app and tap My Shortcuts.
Tap the three dots icon at the top right of the individual shortcut.
Tap the three dots icon at the screen's top right.


Now, let us learn more about the options.
How do you add a shortcut to the iPhone Home screen?
After adding the shortcut to the Home screen, it becomes effortless to trigger them. All you need is a single tap. To do this, follow the previous steps to go to the created shortcut's settings → tap Add to Home Screen → Add.
Want to use a custom picture as the shortcut icon? It is easy.
How do I use a picture as a shortcut icon?
Tap Add to Home Screen.
Tap the shortcut icon at the bottom left and choose Take Photo, Choose Photo, or Choose File.
I am going with Choose Photo.


Select the image, zoom, and adjust it if needed. Next, tap Choose.
Finally, tap Add to have the shortcut on the Home screen with a custom picture.


This is iOS Share Sheet which you see when you tap the share icon in an app. A few options on this page differ according to the app you are in.
If you like, you can add a shortcut to show in the Share Sheet, which lets you use that shortcut when you are inside other apps. To use this, toggle on Show in Share Sheet.
Similarly, if you want the shortcut to be available on your Apple Watch, toggle on Show on Apple Watch.
You can also see all shortcuts on your Apple Watch by tapping < Shortcuts at the top left of the My Shortcuts tab. Next, tap Apple Watch.
You can share shortcuts with your friends, like you share images and other things. Here is how.
Open the Shortcuts app and ensure you are in the My Shortcuts tab.
Long-press one of the shortcuts and tap Share.
Choose the desired option, like AirDrop. You may also tap Copy iCloud Link and put it on your blog or send via any medium you like.


Another way to share Shortcuts is by tapping the three dots icon at the top-right of a shortcut. Next, tap the share icon from the bottom.
If you want to get shortcuts from the web or elsewhere, you have to enable untrusted shortcuts.
How to allow untrusted shortcuts
Go to Settings and tap Shortcuts.
Toggle on Allow Untrusted Shortcuts.


Note: If the option is gray and you cannot tap it, check our guide on how to allow untrusted shortcuts.
Delete a shortcut on iPhone and iPad
Go to the My Shortcuts tab of the Shortcuts app.
Tap Select at the top right.
Tap to select the undesirable shortcuts.
Finally, tap Delete.


How to sync shortcuts on all your Apple devices
Earlier, I used two iPhones, and it was convenient to have notes, music, reminders, contacts, and obviously, the shortcuts synced on both. If you own more than one iDevice, here is how to enable shortcuts sync. (It also saves the shortcuts to iCloud like other things.)
Launch Settings and tap Shortcuts.
Enable iCloud Sync.


Also, tap your name at the top of the Settings app.
Tap iCloud.
Scroll down and toggle on iCloud Drive and Shortcuts, if not already.


How to create an automation
You run a shortcut by tapping it or asking Siri. That is, you manually have to invoke it.
On the other hand, automation is a kind of shortcut that works automatically when an event happens. For example, you can set an automation shortcut to trigger when you reach your house, which will open the garage door and enable the smart lights.
Yes, that's possible! Let me tell you how I use it.
I have an iPhone 6s whose Lightning port is a bit finicky. It stops charging even at the slightest tug. I would often miss that it stops charging. So, I set up an automation that speaks 'discharging' every time the iPhone stops charging. And when it starts charging, the iPhone speaks 'charging.' It is fun (irritating after a few days). But nevertheless helpful.
Let me show you how to create this automation. You may similarly create other ones.
Open the Shortcuts app and tap Automation.
Tap Create Personal Automation. (If you do not see this, tap the plus icon).
Scroll down and tap Charger.
Select 'Is Disconnected' and tap Next.


Tap Add Action, search speak text, and tap it.


Now, tap Text and type what you want the iPhone to say. (I type Discharging).


Tap Next.
Toggle off Ask Before Running → Don't Ask, and tap Done.


Now, whenever the iPhone is unplugged from charging, it speaks 'discharging.'
If you want to make the automation for charging, select 'Is Connected' in step 4 and proceed.
This is how you can start using the Shortcuts app on your iPhone and iPad. It is a versatile app with tons of possibilities.
Do you remember the famous old Apple quote, 'There is an app for that.' The fact is, nowadays, you may find or create a shortcut for a lot of things. These include things that are not natively present in the respective iOS app.
For example, the Photos app does not allow you to reduce image file size. But you can have a shortcut that does this for you!
If you have a few hours, this extensive Apple Support guide talks more about the ins and outs of the Shortcuts app. Tap Table of Contents + to see all.
Check out next:
Readers like you help support iGeeksBlog. When you make a purchase using links on our site, we may earn an affiliate commission. Read Disclaimer.