When you purchase products from Apple, whether a new MacBook or an Apple Watch band, you likely want to keep an eye on your order. Has it been processed? Did it ship yet? We'll show you different ways to track your Apple product delivery.
1. Use the Apple Store app on iPhone
One of the easiest spots to check the status of an Apple order is in the Apple Store app on your iPhone or iPad. This gives you a quick way to track an Apple order on the go.
Open the Apple Store app on your iPhone or iPad.
You may see an order update right at the top of the For You tab.
If not, tap your profile icon in the top right corner.
Select Orders.


Choose the order you want to view if you have more than one.


You'll then see the Apple order status along with other details depending on that status. For instance, you may see the estimated arrival date with a link to track the shipment. You can also review your order summary, shipping address, billing, and payment details.
2. Visit Apple Order Listings site
If you don't have your mobile device nearby or happen to be browsing the web, you can view your shipment on the Apple order status website.
Visit the Apple Order Listings site.
Sign in with your Apple ID or enter your email address with the order number.
Remember to use the same email address you used when you placed your order.


You'll then see products you've ordered with a status on when they will arrive. Select an order to see additional information, including status details, delivery address, and a payment summary.


Click Track Shipment if available to view more information on its arrival from the delivery service.


3. Head to Apple Store official website
Visit the Apple Store and sign in with your Apple ID if prompted.
Click or hover your cursor over Store on the top left of the navigation to open the menu.
Select Order Status.


You'll then see your orders the same as on the Apple Order Listings website. Select one for complete details on its status.


4. Track orders in Apple Wallet on iPhone
With the iOS 16 update, Apple introduced a way to easily track orders you place using Apple Pay. You can view your orders right in the Wallet app.
Open the Wallet app on your iPhone.
Tap the Order icon (package) on the top right.
You'll see any orders you've placed with Apple Pay listed for you. Select one to view the status and details.


Note: This feature is available for participating merchants. So, if you make purchases from retailers using Apple Pay, you may see your order details here.
5. Track shipments in email
Like many merchants, Apple sends emails to notify changes in the status of your order. So, you always know what's happening with it.
You can use the links in the email to obtain further information about your order. For instance, in the confirmation email that you receive when you place your order, an order number is linked. Click that link to view the status online.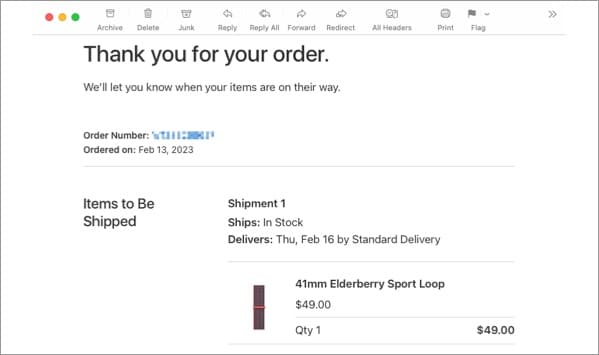 When your order ships, you should receive another email from Apple. Click the Track Shipment button or link to see your order in the Apple Store online. Then, select Track Shipment there to view the details with the shipping carrier.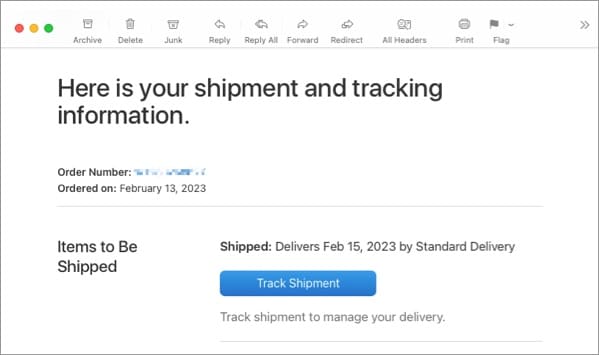 6. Receive text notifications
When you place an order with Apple, you might see an option to receive status updates via text message. This is another handy way to keep up with your order.
Open the Messages app on your iPhone, iPad, or Mac → select the text message from Apple.
You may also see an option to track the shipment using a link in the message.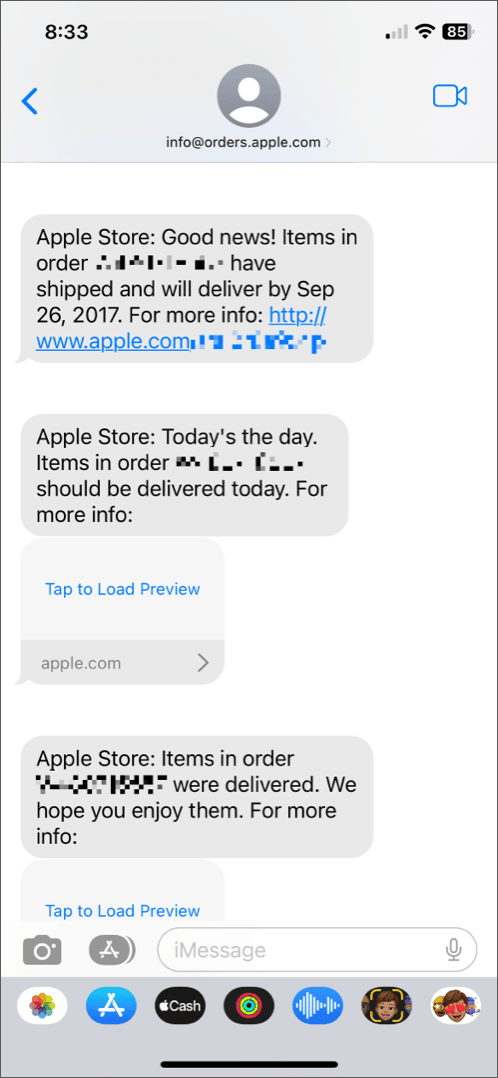 Apple order tracking made easy!
With these six convenient ways to check the status of an Apple order, you'll always know where yours is in the process. Remember, if you feel there's a problem with your order, you can contact Apple Support for assistance. Check out our how-to for the various ways to get help from Apple.
Read more:
Readers like you help support iGeeksBlog. When you make a purchase using links on our site, we may earn an affiliate commission. Read Disclaimer.