Contactless payments are becoming the norm. Apple has entered the field with its tap-to-pay system, enabling merchants to accept iPhone payments without additional hardware. But what exactly is it, and how can you use Tap to Pay on iPhone? Here's all you need to know.
What is Tap to Pay on iPhone?
Apple officially introduced and previewed Tap to Pay in February 2022, alongside the second iOS 15.4 developer beta. And now, with the iOS 16 public release later this year, it will only be available for merchants in the US.
It will allow any and all businesses to securely accept payments just by a tap on their iPhone. The customers could pay via (or tap with)
iPhone or Apple Watch – Apple Pay or other digital wallets.
Contactless credit or debit cards – American Express, Discover, Mastercard, Visa, and more.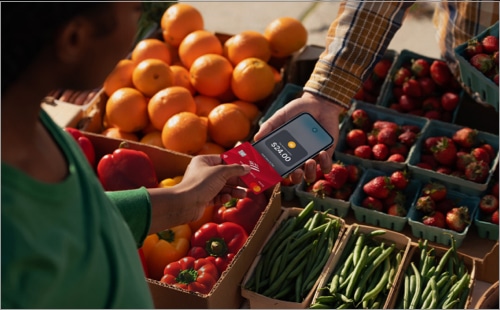 The best part is that vendors wouldn't need any additional hardware, third-party dongles like Square, or payment terminals to facilitate the payments.
How does Tap to Pay work?
On the ground level, Tap to Pay harnesses NFC technology's power. Apple has invited payment platforms and app developers to integrate the payment option onto their framework and iOS apps.
The idea is to allow a seamless payment system that is both secure and private. All transactions will be encrypted and processed using the Secure Element. Furthermore, as with Apple Pay, Apple will not know intimate details like what is being purchased or who is buying it.
Stripe is the first payment platform (including the Shopify Point of Sale app) to jump on the wagon, and more platforms will join later this year.
Businesses that will support Tap to Pay on iPhone
Since there are no additional hardware requirements, merchants can easily unlock the feature through a supporting iOS and iPhone. So, everyone from small business owners and solopreneurs to large retailers can be part of the grand scheme.
Tap to Pay on iPhone will also be available at Apple Store locations. Although, the feature will roll out initially in the US only, so that's one limitation for now.
Which iPhone models support Tap to Pay?
Although iPhone 6, 7, and 8 series, plus iPhone X and XR, support NFC, they won't work with the feature. The vendor will need a newer device, including:
iPhone 13 series
iPhone 12 series
iPhone 11 series
iPhone XS and XS Max
When will Tap to Pay be available?
As usual, Apple hasn't announced a tentative date. We assume that later this year will coincide with the iOS 16 release as the software developer kits (SDKs) have already been available to the developers with iOS 15.4 developer beta 2.
Stay tuned!
We are as excited as you are about the Tap to Pay on iPhone. But we'll know the deets, pros, and cons once the feature is released and adopted by merchants and users. So, bookmark the article or stay connected with us for more updates.
Wanna explore more realms of payment via iPhone? Check these articles out:
Readers like you help support iGeeksBlog. When you make a purchase using links on our site, we may earn an affiliate commission. Read more.
A self-professed Geek who loves to explore all things Apple. I thoroughly enjoy discovering new hacks, troubleshooting issues, and finding and reviewing the best products and apps currently available. My expertise also includes curating opinionated and honest editorials. If not this, you might find me surfing the web or listening to audiobooks.