WhatsApp is one of the most popular messaging apps globally among both iPhone and Android users. It often adds new features like disappearing messages, and more recently, View Once. View Once lets you send disappearing photos or videos in WhatsApp. These self-destruct after the recipient has viewed them once.
It can be considered a sort of privacy feature in line with what many other apps like Snapchat and Telegram offer. In this article, I'll explain how to use WhatsApp 'View Once' feature to send disappearing photos and videos on iPhone and Android.
What to know about "View Once" in WhatsApp:
First, you need to update WhatsApp's new version using the Apple App Store and Google Play Store.
These pictures and videos cannot be downloaded to the recipient's device.
The recipient cannot forward, save, star, or share photos or videos received under this feature.
If "View Once" photos and videos are not opened within 14 days of receiving them, they will expire from the chat. However, one can restore such media files from backup if the message was still unread at that time. If the image or the video has already been opened once, it cannot be restored.
A person can still screenshot the photo or video received with View Once.

How to send View Once messages in WhatsApp on iPhone and Android
Open a WhatsApp chat.
Tap the + icon in the text input bar at the screen's bottom.
On Android, you need to tap the paperclip icon.
Select the media you want to send.
On the preview screen, tap the "i" icon on the right.


If it's the first time you are using the "View Once" feature, you will see a pop-up explaining what it is. Tap OK.
You will see that the "1" icon gets a blue fill.
Tap the arrow icon to send the message.


Here's how a "View Once" message looks like when you receive it: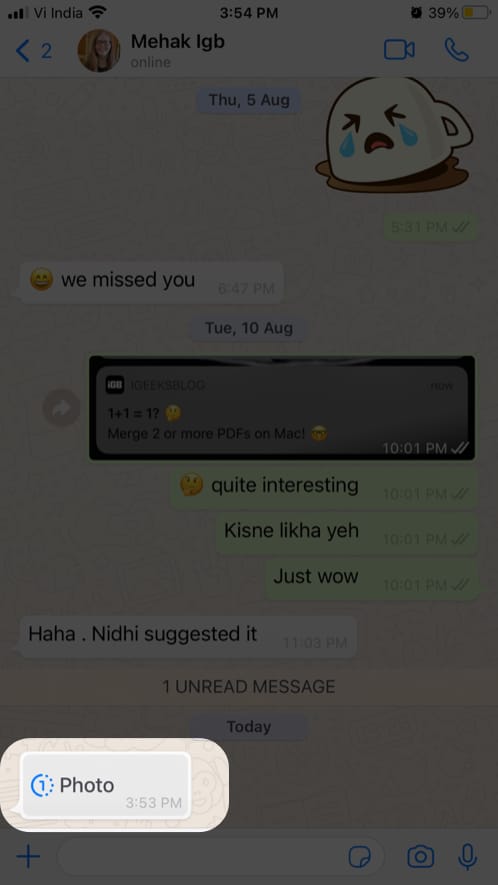 When you tap to open it, a dialog pops up to inform you about the View Once feature. This only happens the first time you use the View Once feature.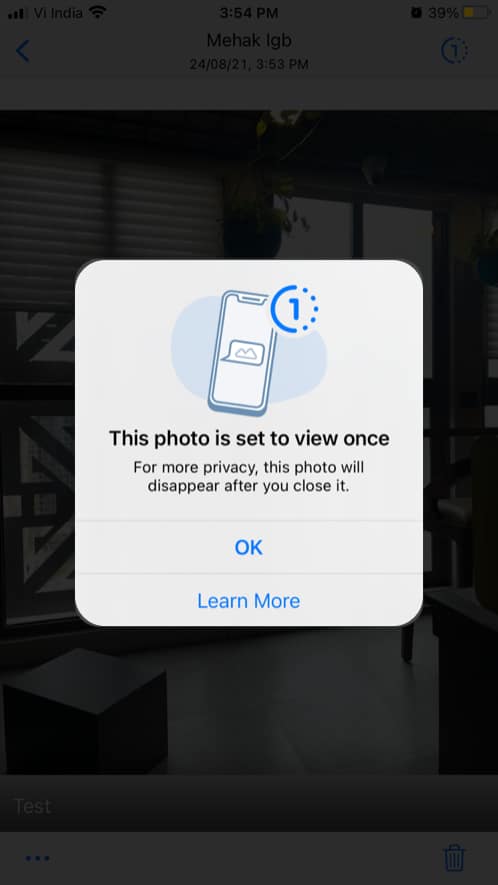 Tap OK to view the photo or video. Once you close it, you will not be able to open it again. If you want to save it, you can take a screenshot.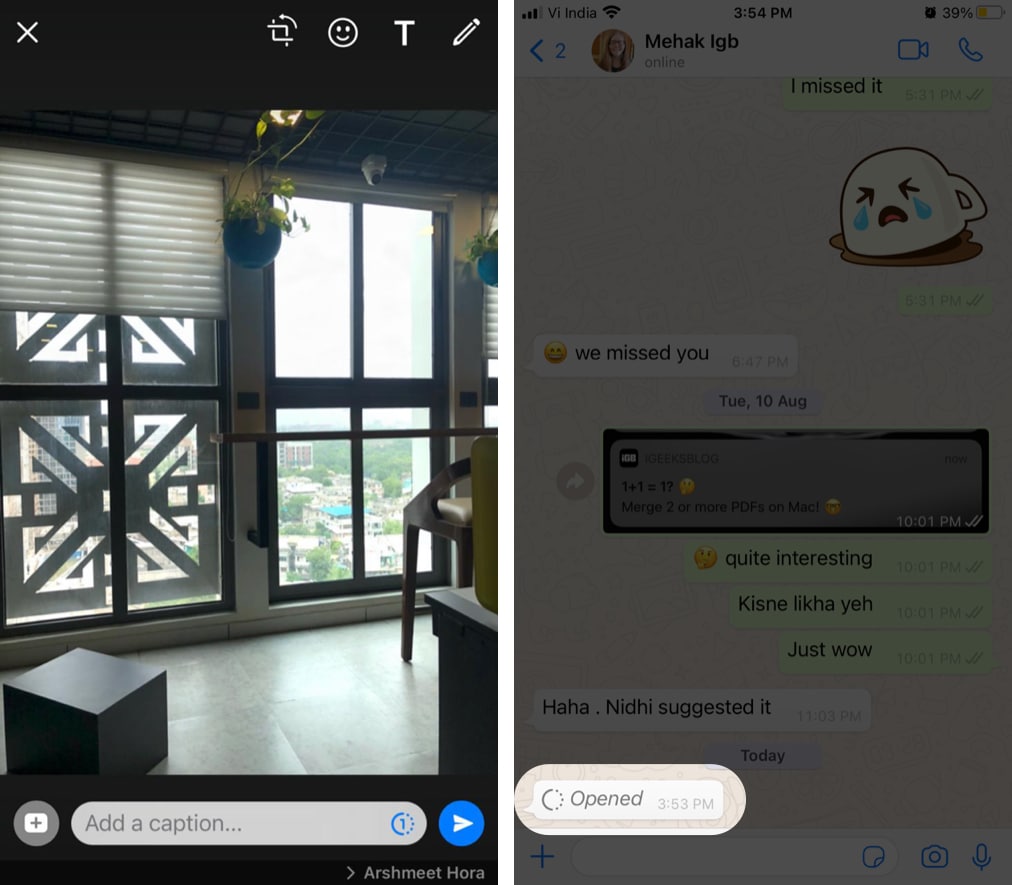 This is how you can send disappearing photos and videos in WhatsApp on iPhone and Android! Got more questions about self-destructing photos and videos in WhatsApp? Drop them in the comments below, and I'll get back to you.
You might also like to read:
Readers like you help support iGeeksBlog. When you make a purchase using links on our site, we may earn an affiliate commission. Read more.
Mehak has a master's degree in communication and over ten years of writing experience. Her passion for technology and Apple products led her to iGeeksBlog, where she specializes in writing product roundups and app recommendations for fellow Apple users. When not typing away on her MacBook Pro, she loves being lost in a book or out exploring the world.