How often have you felt your iPhone suddenly vibrating? I am sure that while reading this, you'd be reminded of a similar instance. Quite often, you might have felt a vibration and got your iPhone out to check for notifications, but you'd end up finding no actual alerts. These are often called ghost notifications.
Phantom vibration syndrome could be the reason why you feel a notification alert. This is a syndrome that can be caused by extensive cellphone usage. We'll elaborate on the syndrome in the later part of this article.
To fix these problems and stop these vibrations, here are some solutions.
Why does my iPhone vibrate for no reason?
As we mentioned above, there are several reasons why iPhone vibrates without any reason. Here are some of the fixes and reasons:
1. Check app notification settings
Open the Settings app.
Scroll down and tap Notifications.
You will see a list of apps that may have notifications on this screen. If there is a particular app that you believe may be causing this issue, tap and check its settings.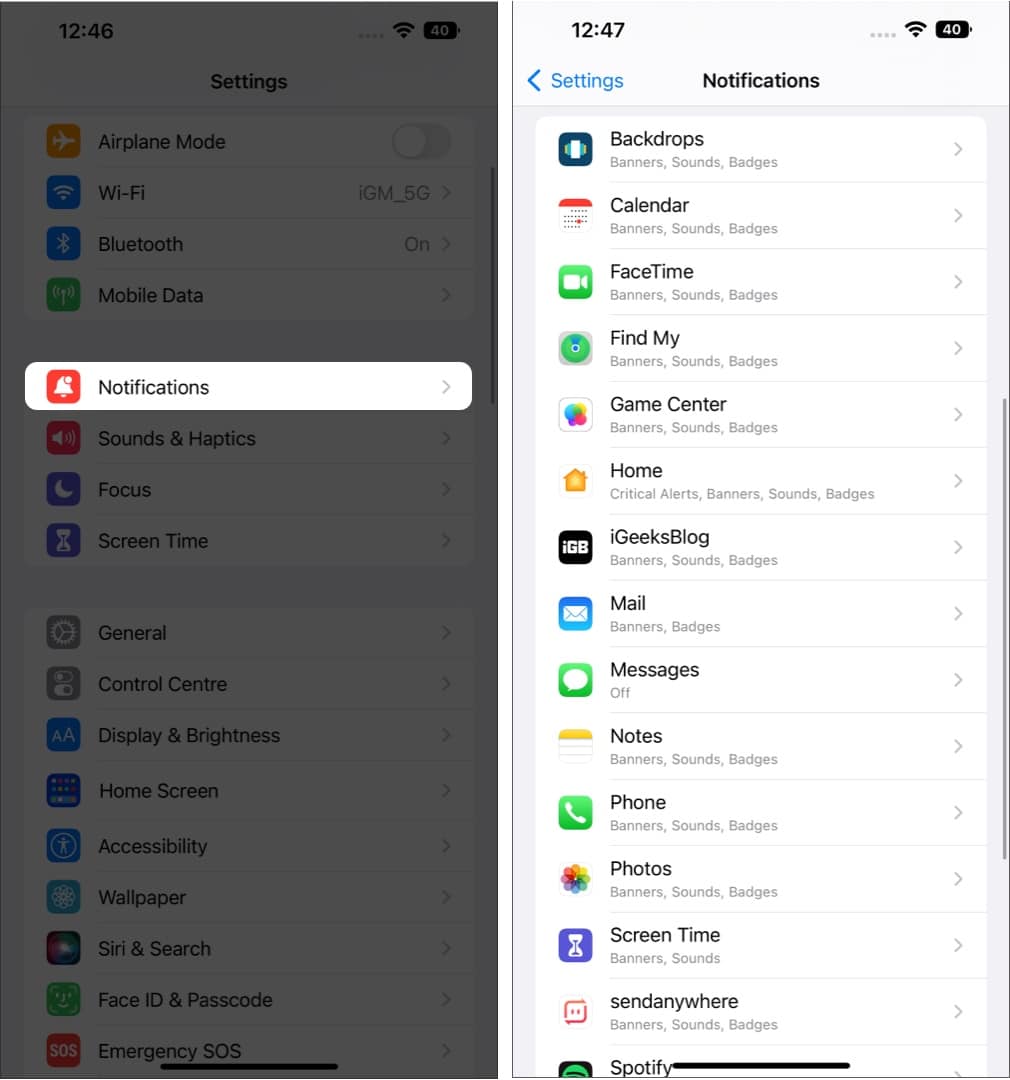 Note: In the notifications settings of an app, you can tap the Allow Notifications toggle to turn off notifications.
Common culprits for unnecessary vibrations are instant messaging apps and the Mail app, so be sure to check these.
When you check your app notification settings, also keep an eye on the type of alerts that you have enabled. If you disable some of these alerts, your phone may vibrate to notify you of alerts, but you might not see a notification on the screen because you might not have selected the option to see the notification as a banner or on the lock screen.
2. Check system settings for vibrations
There are many ways to customize the vibrations on your iPhone. We have a short guide on vibration settings that you might want to check out if you're wondering how to change the vibration on your iPhone.
3. Reboot your iPhone
You might have already done this, but if you are facing these random vibrations and want to find a simple way to somewhat fix it, you might want to try rebooting the iPhone. We have covered a detailed guide on how to reboot an iPhone or iPad.
Even after rebooting the iPhone, if the problem continues, then keep reading to find other fixes.
4. Update apps
Check to ensure all your apps are updated because a bug may cause random vibrations in an app. Take a look at our guide on how to update all your apps for a step-by-step walkthrough. If you remember installing a new app recently and this issue started after that, consider uninstalling it to see if that resolves the problem.
5. Update iOS
Keeping your system up to date might also help to prevent such bugs, and it's generally a good idea to update to the latest iOS version whenever possible. Please review our detailed guide on updating your iPhone to the latest iOS 17 for additional information.
6. Reset all settings on iPhone
Resetting or even erasing the iPhone is among our last few options. Follow our guide to factory resetting your iPhone to go ahead with this step. This should help get rid of some cached impurities or unwanted settings left in the background.
7. Contact Apple Support
Hopefully, one of our suggestions has helped you fix this annoying issue, but if not, you can opt for Apple Support. If they can create the device, they can also fix it. But make sure to back up your data beforehand not to lose out on important documents.
Phantom vibration syndrome
Man-made technology has manipulated human brains and sent them into a spiral of checking notifications on mobile devices. As a result of the habit, our brain sometimes feels that we received a notification while the phone was in our pocket. This syndrome is commonly known as Phantom vibration syndrome.
Here are some tips to rewire yourself and get rid of this syndrome. This is by no means a piece of medical advice. If you are facing this more often, you should get yourself medically checked with a certified advisor.
Set boundaries for the amount of interaction you make with your device. Set a schedule of how much you want to interact with your device.
Turn off vibrate mode if not required. Keep the phone in ringer mode.
Keep the phone away from you. If possible, try to power it off while you are sleeping or having some time to yourself.
Conclusion
Random iPhone vibration is a pretty common thing these days, and it can be easily fixed with some tweaks here and there. Just remember not to get addicted to your phone or let the phone overtake your conscious self to prevent these syndromes. Do let us know your thoughts on these fixes, and if these were of any help, I'd be happy to hear about it.
Read more:
Readers like you help support iGeeksBlog. When you make a purchase using links on our site, we may earn an affiliate commission. Read Disclaimer.