Aside from their devices, one of the things I love the most about Apple is their stellar customer support and service. Apple Support has got you covered regardless of the kind of Apple device you have and the help you need.
Making a Genius Bar reservation might be your best bet if you need hands-on hardware support. If you aren't sure how to make a Genius Bar reservation, I've listed different ways to do so below.
What can Apple's Genius Bar help you with?
The Genius Bar is a support service found within Apple Stores. It handles troubleshooting and repairs for Apple products and other services.
The issue could be related to an Apple device or an Apple service you're using – say, an Apple TV subscription. The people staffing Apple's Genius Bar outlets are trained at the Apple corporate headquarters. They're skilled to help with all your software and hardware concerns and assist you with your issues.
Note: Not all kinds of repairs can be handled in-store. Sometimes, the Genius Bar needs to send your device off, especially if a more extensive repair is necessary — like a screen repair. However, simple repairs like battery replacements and other minor replacements can be done in-store, and your device is returned to you on the same day.
Schedule a Genius Bar appointment using the Support app on iPhone or iPad
The easiest and quickest way to book an appointment at a nearby Genius Bar is embedded within your device – the Apple Support app. The app contains resources about your Apple device and lets you contact Apple Support directly through your device.
First, be sure that the app is installed on your device; if not, you can always download the Apple Support app from the App Store.
Launch Apple Support.
Under My Devices, tap the device you're having issues with.
Select your issue from the list of categories on the list. You can also tap Tell us what's happening to let Apple Support pinpoint the problem and offer you helpful solutions.


To get a Genius Bar appointment, tap Find Authorized Locations under Bring in for Repair.
You'll now be given a list of Apple Stores and Apple Authorized Service Providers. Under each store, you'll find that those with available slots will show Available [day, date].
Tap your selected store.
Select your preferred date and time. Tap the Info (i) button to learn more about the store's location and contact number.


How to make an Apple Genius Bar appointment on the Apple website
You can also access Apple Support's page and create an Apple Genius Bar appointment online.
Go to the Apple Genius Bar website.
Choose from Get software help or Get hardware help.


Click Sign in under View your products.
Once signed in, select your device that needs repairing.
Under What's going on, select a category for your problem or issue.


Under See your support options, click Continue.


If you see, Bring in for Repair under Solutions, select Find a location.


Under Choose a location, click the place, and type in your preferred area. Click Choose this location.
You'll be given a list of nearby Apple Stores and Apple Authorized Service Providers. Select the one you prefer. You cannot select locations that do not have available slots for reservation. Those with available slots show a green Available [day, time].


Click Continue. You can enter your contact number.
Select Reserve now.
Select an option from the drop-down menu for the store's local time. You can also visit the store's website and open its location in Maps.
How to reschedule or cancel your Apple Genius Bar reservation
If you have already fixed the issue or have a problem with your schedule, you can always reschedule or cancel your reservation.
Now, if you make a schedule through the app, you should be able to see your upcoming appointment on your Apple Support app. Just open the app and look for Upcoming Reservation. Select it to view its details. Select Reschedule or Cancel Reservation.
If you did it online, you can view your reservation and make changes by doing the following:
Go to your iCloud mail and look for Apple Support's mail with the subject Carry-in Appointment Confirmation. Copy your Case ID.
Head to Apple Support. Under Enter Case ID → click Enter Case ID.
Enter the Case ID and the last name associated with your Apple ID.


You'll see your Upcoming Service Provider Appointment.
Select Reschedule or Cancel.


What can you do other than a Genius Bar appointment?
Not all concerns require a visit to Apple's Genius Bar. Most can be addressed by Resources found on support.apple.com.
If you need assistance, you can chat or email an Apple specialist through the Apple Support website or the Apple Support app. To initiate a consultation with a specialist from the app:
Open the Apple Support app.
Select the device that has a problem → select the issue.
Choose from Chat or Call.
For Chat, just click Chat and wait for a representative to initiate the conversation.
For Call, you may select Call Now and wait for someone to call you. You can choose Call Later and set a time you prefer → Schedule Call.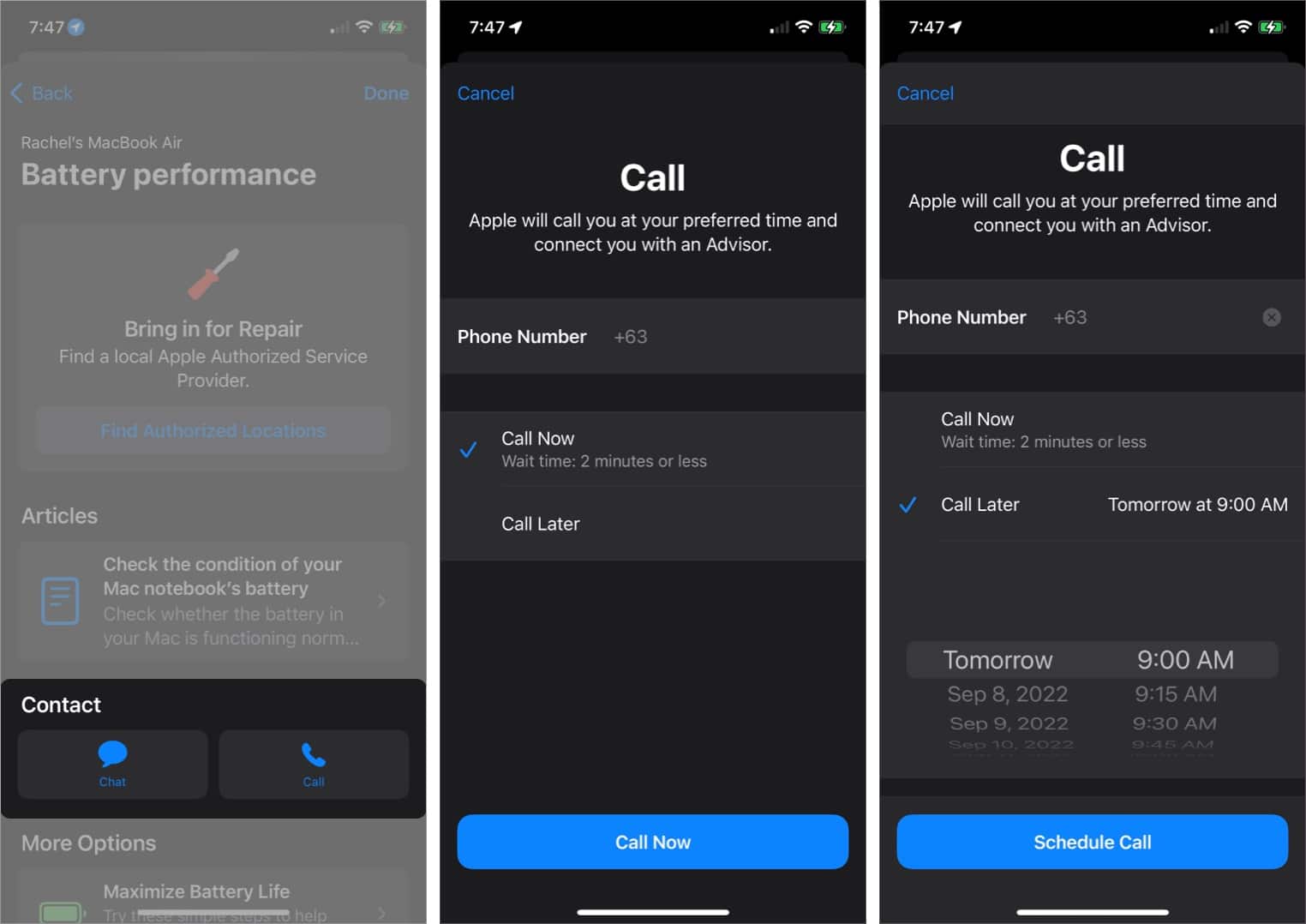 You may also reach out to Apple Support through Twitter. Just tweet your questions to @AppleSupport.
You may also attempt simple fixes, including force restarting your iPhone or iPad, or rebooting your Mac in diagnostic mode to discover the issue.
Wrapping up…
Apple products are sturdy tech products but are not exempt from issues. While most problems you may encounter are minor and can be fixed at home, some may require professional help. In such a case, you can schedule an appointment with a nearby Genius Bar.
Fixing an issue over chat or call, or fixing it with one-on-one support at a Genius Bar – which one do you prefer? Share your thoughts below!
Read more:
Rachel loves anything Apple —from iPhones, to Apple Watches, to MacBooks. She is also a medical writer and a ghostwriter for various publications.