The Facebook Marketplace can be a source of income and a spot for buying quality items at affordable prices if you can maneuver your way around smoothly. However, a few defects here and there can prevent you from accessing the feature. I understand your frustration, as I've been there. Here's how you can solve this problem and fix Facebook Marketplace not working on iPhone or iPad.
1. Check if you're eligible to use Facebook Marketplace
According to Facebook, the Marketplace isn't yet available in some regions. So you might not be able to access it if you fall into one of the regions with restricted access.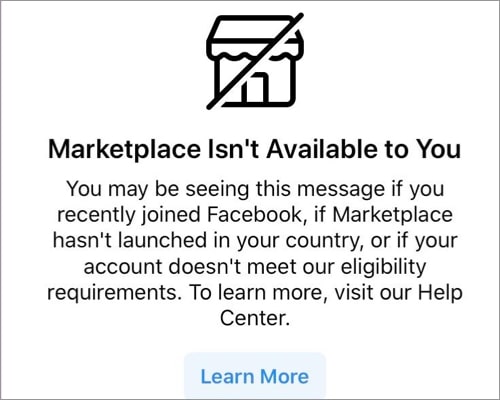 You might want to see if your region can access Facebook Marketplace from Meta's Business Help Center. Additionally, note that the Marketplace is only available to users above 18.
2. Update the Facebook app
The Marketplace component of your Facebook app might break during installation or due to other underlying in-app causes.
While there's no specific reason to justify why updating your Facebook app fixes the marketplace issue, it works in most instances. Besides, you might be using an outdated Facebook app that doesn't meet your iOS version specifications.
Thankfully, updating the Facebook app is similar to updating any app on your iPhone.
3. Uninstall and re-install Facebook
Sometimes, if updating your Facebook app doesn't work, uninstalling and re-installing might do the trick. Removing the Facebook app deletes related data on your iPhone's local storage.
Additionally, uninstalling the Facebook app is the best way to clear the Facebook cache on the iPhone. Although Facebook cache helps speed up an application, it might clog your phone's RAM or cause the app's components to fail if it's filled. The cache is a temporary memory that helps you recover a previous state of an app. However, it can cause the app to fail if it loads incorrectly.
Re-installing the app gives it a fresh start. To re-install the Facebook app:
Go to the App Store on your iPhone.
Search Facebook via the search icon.
 Select Facebook when you see it → tap install to re-install Facebook.


Once re-installed, launch the Facebook app and try re-accessing the Facebook Marketplace to see if it works.
4. Disable VPNs and proxies
VPNs and Proxy networks change your location. This might prevent the Facebook Marketplace from working, as Facebook restricts some regions from accessing its Marketplace.
Ensure you turn off all active VPNs on your iPhone or iPad and kill all proxy networks. Close and relaunch the Facebook app. Then open the Marketplace to see if it works.
5. Restart your iPhone
If previous tricks fail, restarting your iPhone refreshes all apps and jump-starts your device network connection. This can help restore the Facebook Marketplace altogether.
6. Sign out and sign in again
The Facebook app sometimes naively restricts your account from accessing the Marketplace. While this bug is beyond your control as a user, logging out and back into the Facebook app might correct it.
To log out of your Facebook app on the iPhone, tap your profile icon at the bottom-right of the app → tap Log out. You might also want to close the Facebook app at this point.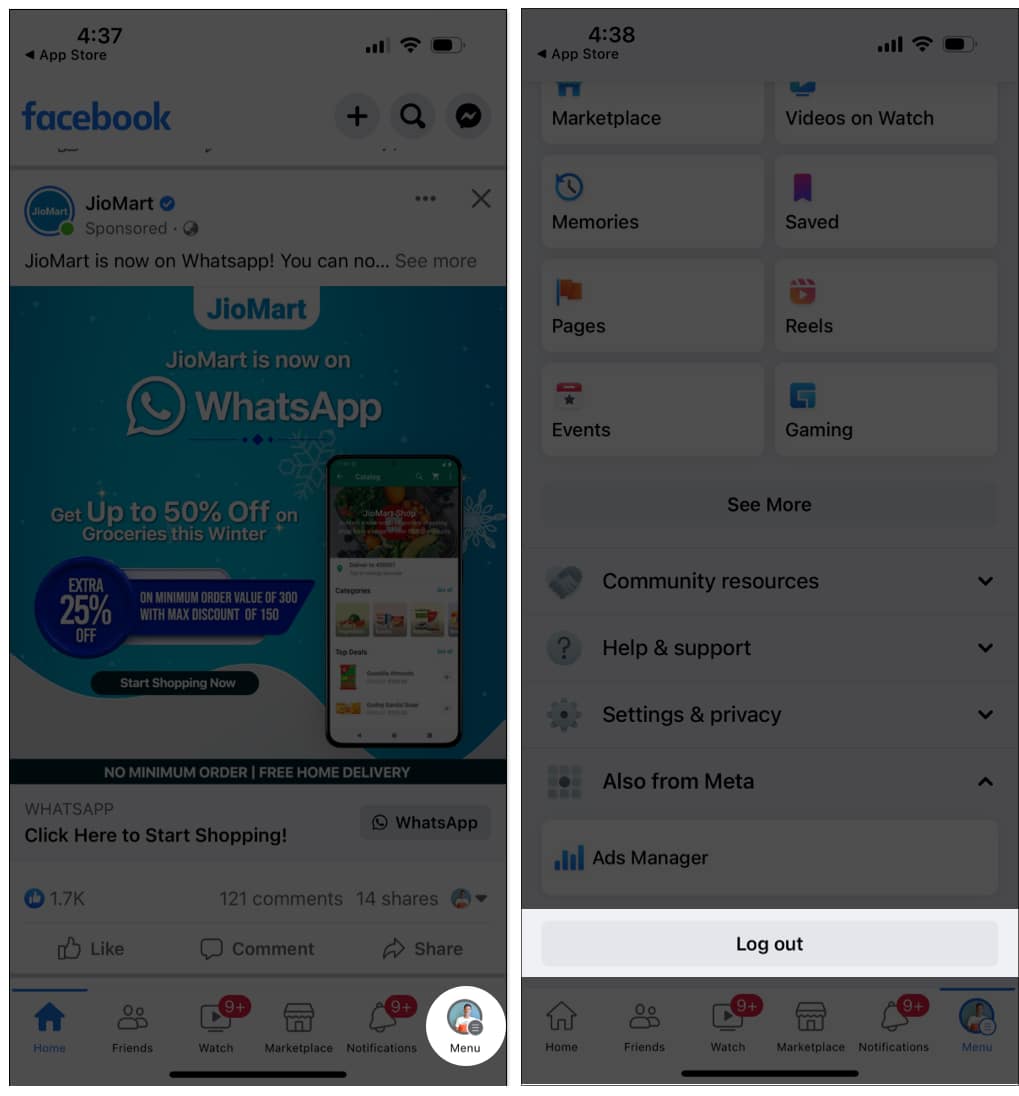 Tap the Facebook app from your apps library to relaunch it. Then log back in and try using Facebook Marketplace to see if it works.
7. Try accessing Facebook via a browser
If all else has failed, try accessing your Facebook account via your favorite web browser on your iPhone. Tap the menu bars at the top right. Then go to Marketplace to see if it works. If it does, then your account is clean. You might try uninstalling and re-installing Facebook a couple more times for it to work.
8. Ensure Facebook has not revoked your Marketplace access
Facebook warns that it holds the right to remove your access to the Marketplace if you use it against its commerce policies or community standards. Check Facebook's Commerce Policy to see if you've violated any of its policies.
If you can't find the Marketplace icon in your Facebook app, try accessing it via the Facebook Marketplace link. If it says Facebook has revoked your access, you can try removing the restriction if you feel you've been cheated:
Tap the menu icon at the bottom-right of the Facebook app.
Go to Marketplace. Then tap Request review to request access to the Marketplace. Facebook might consider your appeal if it's valid.
Always remember to check your Facebook Support Inbox for updates about your request.
To access your Support Inbox via the iOS app, click the menu icon at the bottom right. Scroll down and tap Support Inbox.
9. Contact Facebook support
Contacting Facebook support helps speed up the troubleshooting, and you might gain smooth access to the Marketplace before long. Facebook Support can tell whether your inability to access the Marketplace is due to your region, revoked access, or account-related bugs. And they can help you fix the issue from their end.
To contact Facebook Support:
Tap the menu icon at the bottom right.
Scroll down and tap Help & Support → select Report a problem.


Next, select Continue to report.
Tap Include in Report to include a complete log of the problem.
Select Marketplace.
Type your report message in the empty field.
Optional: Tap Take Screenshot. Migrate to the Marketplace menu. Then tap Take screenshot to submit it with the report.
Finally, tap Send at the top-right to submit your report.


Signing out!
That's it! One of the suggested solutions works if you can't access the Facebook Marketplace. However, one cap doesn't fit all. If you've tried a solution that doesn't work, move to another. Or you might want to try a couple of fixes simultaneously.
Let me know what works for you in the comments section below.
Read more:
Readers like you help support iGeeksBlog. When you make a purchase using links on our site, we may earn an affiliate commission. Read Disclaimer.