There is no doubt that smartphones have become an integral part of our life. And since the pandemic, we have all begun to give more importance to personal hygiene. Then why should we ignore the devices to which we are always attached? A study proves that most smartphones have more germs than a toilet!
Worried? Well, before you get your anxiety high on the after-effects caused by these germs, let's get rid of them with the right UV sanitizer for your iPhone.
1. Samsung Qi wireless charger and UV sanitizer – Editor's choice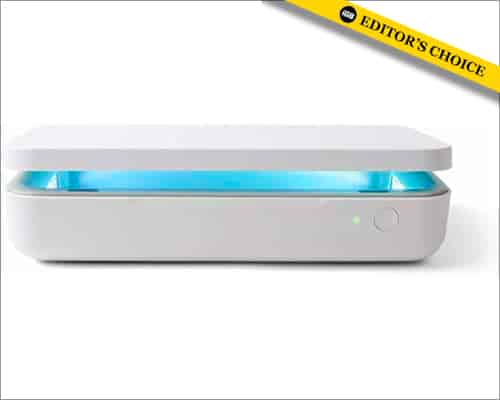 While Samsung is one of the biggest competitors to Apple, that doesn't mean we shouldn't be looking at what they offer. This Samsung UV sanitizer comes in a compact and aesthetic design. One unique feature I liked about this is its ability to stop sanitizing whenever you open the lid, thus, ensuring safety around kids and pets.
According to Samsung, it will take 10 minutes to sanitize with a 99% sanitation effect. And if you are skeptical, note that it's from a reputed brand and has been tested by world-leading inspection and testing companies.
The best part is that it can sanitize and charge at the same time on a budget. It can accommodate smartphones as big as S22 Ultra, so you can easily use any big iPhone.
However, the main con is that you can't see how much your device is charged when you place it inside. Along with that, you have to flip your device after 10 mins to sanitize everywhere.
Pros
Can wireless charge and sanitize simultaneously
Compact and good looking
Affordable
Cons
Lacks an option to see how much your phone is charged
Check out on: Amazon | Samsung
2. PhoneSoap 3 UV – Featured in Shark Tank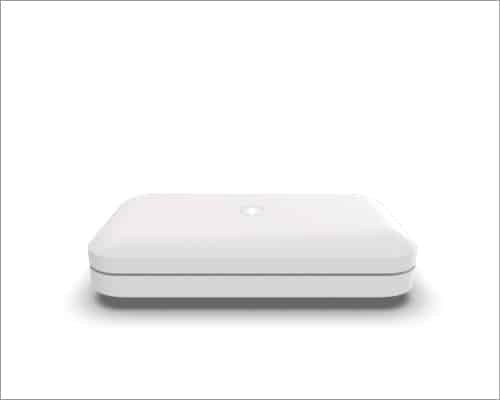 If you are an avid viewer of Shark Tank, you may remember PhoneSoap. Phonesoap 3 is the latest iteration of this product. Like other iPhone UV sanitizers on the list, PhoneSoap 3 also promises to kill 99.99% of the germs on your iPhone.
PhoneSoap 3 has a patented design, comprising two medical-grade UV-C lights. One is placed at the base and the other on the lid. It means you don't have to flip the device to sanitize fully after a particular interval.
Among the many things I liked about PhoneSoap 3, the best is its interior equipped with a reflective paint coating. As you can guess, this ensures full sanitization of the phone or any other item placed inside.
It also comes with acoustic outlets that can amplify sounds from your device, meaning you won't miss any alarms or notification alerts while the device is being sanitized. PhoneSoap 3 is available in multiple colors, including black, orchid, and silver.
The PhoneSoap 3 comes with two USB ports – Type-A and Type-C. While many UV sanitizers on the list offer wireless charging support, PhoneSoap 3 only comes with a wired option.
Another thing to note is that once the UV light dies out, you won't be able to replace it. You have to either throw it away to buy a new one or avail a small discount while purchasing a new PhoneSoap in exchange for the old one.
Pros
Sanitizes from all sides
Has reflective paint coating for maximum coverage
Can fit large phones
Acoustic outlets to amplify sounds
Cons
No wireless charging support
Can't replace the UV lights
Check out on: Amazon | Phonesoap | BestBuy
3. Homedics UV – Easy to carry UV Sanitizer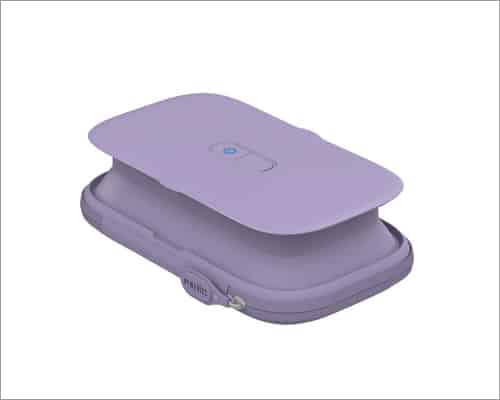 For me, the HoMedics UV top can be raised according to your convenience so that you can fit any smartphone of your choice. The sanitizer comes in a zip-up case equipped with 2 UV-C germicidal LEDs, capable of eradicating germs in under a minute. After use, you can easily collapse it into a flat and take it in your purse, backpack, suitcase, or gym bag.
It's free of mercury and other chemicals with an advanced safety lock to prevent UV exposure, making it even safe around children and pets. According to HoMedics, it can kill 99.9% of bacteria and viruses at the DNA level, and with the built-in power, it can clean your iPhone up to 70 times in one full charge.
Besides your iPhone, you can also charge your accessories that can get inside the spacious HoMedics UV clean phone sanitizer. The only con is the need to flip your iPhone after 30 seconds of sanitizing to cover the entire device. But for the price under $10, this seems like a good option.
Pros
Affordable UV sanitizer
Easy to carry
Sanitizes device under 1 minute
Spacious inside
Cons
Need to Flip the device after 30 seconds
Check out on: Amazon | HoMedics | Walmart
4. Einova Mundus Pro – Fast charge and sanitize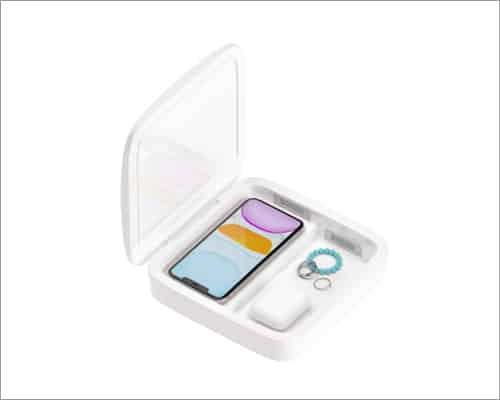 Einova Mundus Pro is a great choice if you want a combination of UV sanitizer and a wireless charger. It comes with a spacious interior where you can sanitize multiple devices or accessories at the same time. Additionally, you can wirelessly charge multiple devices on its top lid along with accessories.
The pro variant comes with two Qi-certified 10W wireless charging spots and one 18W USB-A Quick Charge port. In contrast, the regular model only comes with a Qi-certified fast wireless charging spot, compatible with Apple MagSafe.
The main con is that its build quality isn't on par with the price. For a more concrete decision, you can check our detailed review of Einova Mundus Pro.
Pros
Charge 3 devices simultaneously
Acts as an accessory holder
18W USB-A Quick Charging port
Cons
Build quality not up to the mark
5. Homedics sanitizer bag – UV Sanitizer with a carrying bag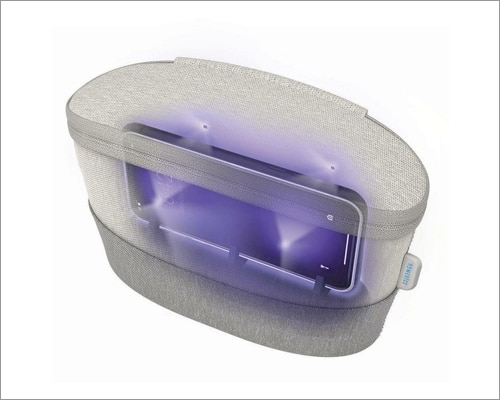 Unlike the other UV sanitizers mentioned so far, this is a sanitizer bag, if you didn't guess from the name. It can sanitize your device without the need to flip it after a particular interval.
With its 4 UV-C Germicidal LEDs, it can kill 99.9% of germs and bacteria in one minute. HoMedics promises a total use of 18 times per charge for the sanitizer bag.
It also has an advanced safety lock to prevent UV exposure and is free of mercury and chemicals. Thus you can peacefully use it around kids or pets. But it doesn't hint at whether it's being sanitized or not, with any special lighting or anything while it's active.
Pros
Can sanitize from all sides
Safety lock to prevent UV exposure
Can sanitize in one minute
Cons
No indication if it's sanitizing or not
Check out on: Amazon | HoMedics | Walmart
6. Tronicmaster UV Light Sanitizer – Destroy germs in DNA levels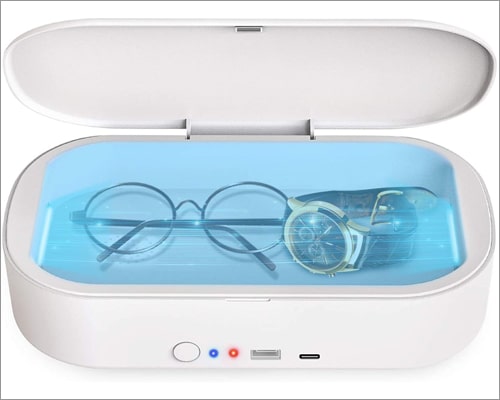 This iPhone sanitizer features UV light with a wavelength of 240 ~ 280nm, capable of destroying germs up to DNA or RNA levels. The Tronicmaster UV light sanitizer can be carried anywhere easily. Like every other option I have mentioned, this can disinfect other small objects like keys, earbuds, etc.
And as for big things, it can sanitize smartphones up to 7.76 inches. Well, that's close to tablet territory! And no, you can't sanitize your iPad mini since it's 8.3 inches. Tronicmaster promises to sanitize your iPhone or any device in 3 minutes. While placing your devices, don't look directly since the UV light can hurt your eyes.
As you can guess, it's not a safe device to use around pets and children. But then again, for the price of $15, which also comes down to $10 on Amazon during offers, it's still a good option to consider.
Pros
Destroys germs to DNA levels
Can accommodate big smartphones
Affordable
Cons
Not suitable to use around kids and pets
Check out on: Amazon
7. PhoneSoap Pro – Automatic mode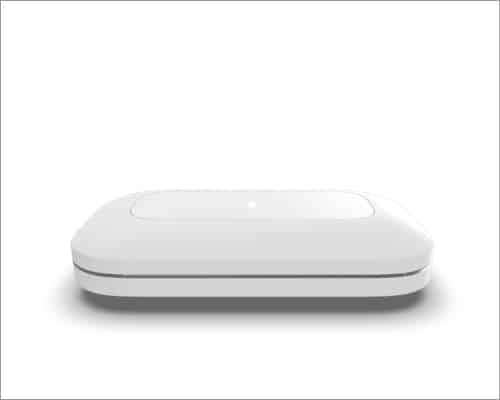 The biggest upgrade over the regular PhoneSoap 3 to the Pro version is the faster-sanitizing speed. But many UV sanitizers on the list do the same at a much less price. So what does the PhoneSoap Pro offer to justify the 'Pro' moniker?
For me, it's the automatic and manual modes. In the automatic mode, PhoneSoap Pro will begin to sanitize instantly when you place your device. For those who always prefer manual mode, you can click a button to turn on sanitizing after placing the device.
It is also a good choice for those skeptical if UV sanitizers work or not since PhoneSoap has proved their device works multiple times, even on live tv.
Pros
Faster charging over PhoneSoap 3
Automatic and Manual mode
Has proven to sanitize the device
Check out on: Amazon | PhoneSoap
8. Watolt UV Light Sanitizer – Compact size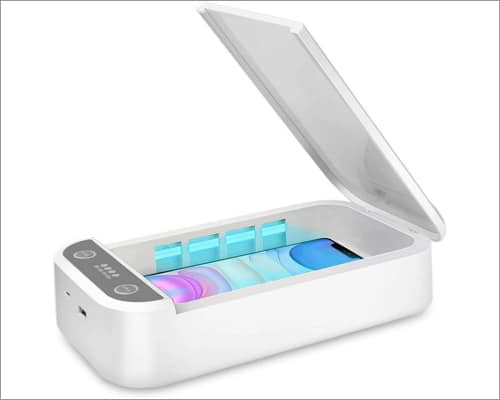 Even though it doesn't have anything to stand out from the others on the list, Watolt UV light sanitizer does all the sanitizing your iPhone requires. It can be charged through a USB port and can charge conveniently. It's so well-rounded that finding a con was a hard task. It can even sanitize all the sides of your device simultaneously.
Also, since it's compact, you can carry it anywhere. Other than that, the brand also provides one year warranty.
Pros
Can sanitize from all sides
Comes with a USB port for charging
Compact size
Cons
Unable to charge while sanitizing device
Check out on: Amazon
FAQs
Q. Are UV sanitizers safe for iPhones?
As of now, Apple hasn't officially revealed anything regarding UV sanitizers damaging iPhones. But in an Apple support thread, a user reported Apple Support suggested not to use UV sanitizers on iPhones as it may cause damage.
Q. Does UV sanitation work on phones?
Yes. UV sanitizers work on phones as well as their accessories.
Q. Does Apple make a phone sanitizer?
Despite the world going through a pandemic, Apple still didn't introduce UV sanitizers for iPhones or their accessories.
Q. Can I use hand sanitizer to clean my phone?
No. It is not recommended to use hand sanitizers on your phone as they can damage your phone.
That's it!
According to studies, it has been proven that smartphones carry more germs than our toilets, and I think that's the last thing any health-conscious person wants to hear. Even for normal people, I would suggest cleaning their devices occasionally. Do you clean your iPhone? Let me know in the comments.
Here are some reads if you are looking for iPhone accessories:
Readers like you help support iGeeksBlog. When you make a purchase using links on our site, we may earn an affiliate commission. Read Disclaimer.