Wireless chargers have been around for a while now. But, not many of them are as gorgeous as the EINOVA Marble or serve more than one purpose like the EINOVA Mundus Pro. While the former has a quite straightforward name, the latter might have you confused about what it offers other than wireless charging.
Read along to learn more about these products and if they are what you're looking for!
EINOVA Charging Stone (Marble): A beauty and a beast
EINOVA Charging Stone is a wireless charger that houses a marble top and comes in seven finishes: White Marble, Black Marble, Lava, Travertine, Sandstone, Wood Marble, and Cream Marble. You can choose from a wide variety of finishes.
I have got my hands on the EINOVA Marble, and everyone at the iGeeks workplace wants to take it home (I'm definitely not exaggerating!). Now, that speaks volumes about how good the product looks. Forgive me if I can't justify its beauty with my words. Let's decrypt the product bit by bit!
The cool unboxing experience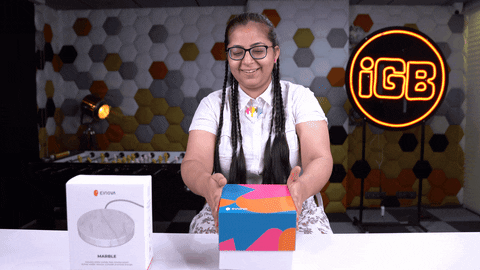 When you buy a new product, unboxing it gives a lot of satisfaction as you've been anticipating using it for a long time. The same applies here. As soon as I opened the EINOVA Charging Stone box, I was greeted by another colorful box, which, by the way, Arshmeet (our senior writer) is in love with (Well, other than her husband!).
Once you open the box, you have the Charging Stone in a Marble finish, which has an attached USB-A charging cable (which looks great in silver). Note that this cable is non-detachable.
Further, you also get an 18W power brick in black color. However, a black power brick doesn't go that well with the overall aesthetic of the charging Stone. While it is not the ideal choice, it's fine as the power brick will be hidden most time.
Build quality
The Charging Stone is literally built like a stone. After all, it is a piece of marble. If you place the charger on your desk and route the cables well, it will look aesthetic and amazing.
For the base of the Charging Stone to be anti-skid, it has a velvet finish that helps avoid it from sliding around the table and looks and feels quite good. The attached cable is braided, making it more durable.
Utility
EINOVA Charging Stone has one purpose, i.e., wireless charging, and it does it well. It can wirelessly charge your devices up to 10W as it is Qi-certified. This means you can charge your iPhone, AirPods, and other devices that support wireless charging.
However, there are no signs/marks on the surface of the Charging Stone indicating the placement of the device. Hence, you will need to align your devices (which might take a few trials) and wait for the charging to start on your device.
Also, this charger is not MagSafe-compatible so you won't get the added benefits of MagSafe. However, it is faster than MagSafe (More on that below).
How is EINOVA Charging Stone faster than MagSafe?
The product page of the EINOVA Charging Stone claims that it can charge your device faster than MagSafe, which for me, was difficult to digest. Because MagSafe supports 15W wireless charging speeds and the Charging Stone supports only 10W wireless charging speeds.
I couldn't believe this and contacted EINOVA for clarification. To which they responded:
"…this statement is true. The stone material acts as a natural heat sink, modestly improving the charging performance versus other chargers. EINOVA tested the iPhone 12 against a Charging Stone and a MagSafe charger. The MagSafe achieved 100% in 2h 44 min. The Charging Stone achieved 100% in 2h 36 min."
Again, not something I could believe and so, I tested this myself. I drained the battery of the iPhone 13 to 0%. To maintain consistency, I set the AC temperature to 26° celsius and set the iPhone 13 to charge using both: EINOVA charging stone and the MagSafe wireless charger on two different days.
The EINOVA charging stone charged the iPhone 13 to 0-100% in under 2 hours 49 minutes, while the MagSafe wireless charger takes around 2 hours 58 minutes.
Hence, after testing I can confirm that the EINOVA Charging Stone actually charges faster than the MagSafe charger!
iGeekometer
Design
Utility
Built quality
Value for money
EINOVA Charging Stone comes in multiple Stone finishes, and its design doesn't lack any finishing touches. However, the only con is that it is not MagSafe-compatible but charges the iPhone faster than the MagSafe charger.
Other than that, the Charging Stone ticks all the boxes for one of the most subtle and well-designed wireless chargers you can get.
For those unaware, iPhone 8 and above supports wireless charging. If you use any other device, check if your device supports wireless charging here.
Pros
Extremely well designed
Braided cables
Anti-skid base
Qi-certified
Supports 10W charging speeds
Cons
Non-detachable cable
Power brick not matching
Not MagSafe compatible*
*Although the charger isn't MagSafe compatible, it supports Qi charging and seamlessly charges iPhone 12 and 13 series.
Price: $69.99

EINOVA Mundus Pro: Keep germs at bay
EINOVA Mundus Pro is the only device that can simultaneously charge three devices while sanitizing and disinfecting devices through UV-C. All you need to do is place your device alongside AirPods, keys, sunglasses, or anything that you feel needs sanitization for eight minutes in the charging box.
The device also has all the certifications needed for their claims, so you can be assured that EINOVA is not duping you. It can also act as an accessory holder. Indeed, a multipurpose device, isn't it?
What's in the box?
Again, EINOVA products have a premium unboxing experience. As soon as I opened the box, I was greeted by another colorful box. Yeah, the same kind that Arshmeet is in love with.
Under the lid, we get the Mundus Pro, some paperwork, and a power adaptor (which is large), along with a detachable power cable. For reference, the size of the power adaptor is almost the size of a MacBook charger. Since there's a pair of cables, setting this device up and routing the cables might become a hassle.
How sturdy is the Mundus Pro?
Mundus Pro has a polycarbonate build. In my experience, lifting the lid is not a one-hand task as there's no carving on the lid to assist. Furthermore, it becomes a little back-heavy once the lid is lifted, and the hinge squeaks at times.
The Mundus Pro has a circular touch-sensitive button sporting a white light at the front. It has a power input port and a USB-A power output port at the back. The UV-C lights are also clearly visible on the inside. We also have two platforms that can house either two phones or other accessories on the inside.
Sanitization for your iPhone and more
While the Mundus Pro is a multipurpose device, let's consider its sanitization aspect. EINOVA claims that the Mundus Pro can kill 99.999% of germs, all thanks to the four layers of microbe-killing protection. The four layers are a unique dual-wavelength UV-C wavelength mix, supercharged with microbe-oxidizing ozone and the photocatalytic powers of titanium dioxide. And this technology is exclusive to EINOVA.
Firstly, the Mundus Pro sanitizes phones and accessories through a UV-C light and the aforementioned process. So, there's no way for me to manually verify the claims as there's no difference visible to the naked eye.
However, their article provides more insight into this if you want to learn how it works.
Wireless charging
While the Mundus Pro sanitizes devices and accessories and also acts as an accessory holder, it is a wireless charger at its roots. It can charge two devices simultaneously, and there are two EINOVA brand logos on the top, indicating the wireless charger placement.
The device is Qi-certified and can charge both devices at 10W each. So, you can charge your iPhone, AirPods wirelessly, and the Apple watch through the wired charging port available at the back of the Mundus Pro.
This USB-A port supports charging speeds of up to 18W. Using this port, you can charge your iPhone at higher speeds if you wish to use wired charging. However, the device is not MagSafe compatible.
iGeekometer
Design
Utility
Built quality
Value for money
The price of the Mundus Pro is a little steep, but the utility it provides is unmatched. Wirelessly charging two devices simultaneously, one device can use wired charging, and the inner compartment can be used not only for sanitizing products but also as an accessory holder.
Pros
10W wireless charging
Three devices can be charged simultaneously
Sanitizes devices
Acts as an accessory holder
Cons
Built quality can be improved
Not MagSafe compatible*
*Although the charger isn't MagSafe compatible, it supports Qi charging and seamlessly charges iPhone 12 and 13 series.
Price: $129.99

Charging Stone or the Mundus Pro: Which one will be your true bro?
EINOVA Charging Stone is a great wireless charger. Everything from the built quality to the product's design is up to the mark. The only con is that it isn't MagSafe compatible.
On the other hand, Mundus Pro follows an approach that is rather different from other products. It not only serves as a wireless charger but also as a sanitization and storage tool. However, it is on the pricier side and doesn't support MagSafe.
If you aren't tight on budget, I suggest going for Mundus Pro for its functionality. However, nothing can beat Charging Stone if you are all for aesthetics.
Buy now: EINOVA Marble | EINOVA Mundus Pro
Readers like you help support iGeeksBlog. When you make a purchase using links on our site, we may earn an affiliate commission. Read Disclaimer.