Until recently, Apple's most powerful standalone desktop computer was the Mac Studio. Its M1 Max provided the highest processing power, becoming the ultimate option for video editors, gamers, and developers. But there was no desktop with a new M2 chip. So, Apple got us a new Mac mini with an M2 Pro.
It offers all "Pro" features at a lower price. But can the Mac mini beat Mac Studio? Let's do a Mac mini 2023 vs. Mac Studio comparison and find out.
Difference between Mac mini 2023 and Mac Studio
The Mac mini and Mac Studio both have a similar appearance, Apple silicon chipsets, and two USB-A connectors. But there are many differences, including performance, memory capacity, support for external displays, price, etc.
Take a quick look at the comparison table to get an overview:
Mac Studio
Mac mini 2023
Dimensions (inches)
3.7 x 7.7 x 7.7
1.4 x 7.7 x 7.7
Weight (pounds)
5.9
2.6
Processor
M1 Max or M1 Ultra chip
‌M2‌ or ‌M2‌ Pro chip
CPU
Up to 20-core CPU
Up to 12-core CPU
GPU
Up to 64-core GPU
Up to 19-core GPU
Memory
Up to 800GB/s memory bandwidth with 128GB unified memory
Up to 200GB/s memory bandwidth with 32GB unified memory
Display support
Support for up to four Pro Display XDRs and one 4K display
Support for up to two displays (‌M2‌) or three displays (‌M2‌ Pro)
Ports
Four Thunderbolt 4
Two USB-C
Two USB-A
HDMI 2.0
Ethernet
SDXC card slot
Four Thunderbolt 4
Two USB-A
HDMI 2.1
Ethernet
Connectivity
Wi-Fi 6
Bluetooth 5.0
10Gb Ethernet
Wi-Fi 6E
Bluetooth 5.3
Gigabit Ethernet
Mac mini 2023 vs. Mac Studio: A detailed comparison
Now that you know the fundamental differences between both devices, let's dive deep and understand whether the M2 Pro Mac mini is better than M1 Max Mac Studio. After our analysis, you may decide which one aligns with your use cases and requirements.
Design and appearance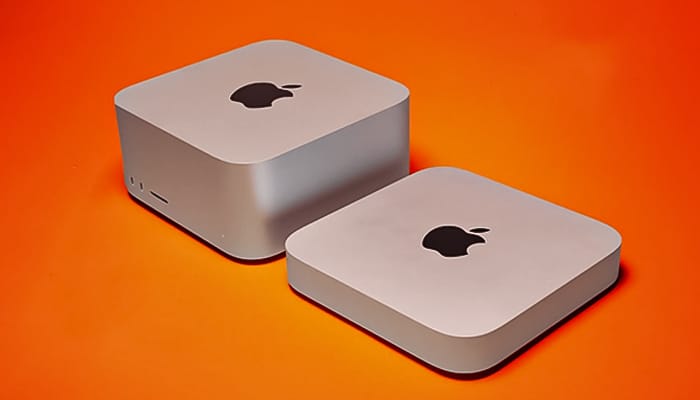 The Mac mini and Mac Studio have the same metallic silver body with an Apple logo. The dimensions are almost the same; the only difference is that the Mac Studio is 3x taller to accommodate a dual-fan system. Besides, the holes at the rear push out hot air for a more effective cooling system. Additionally, Mac Studio weighs twice more as the mini. So, in terms of portability, the Mac mini 2023 wins.
Processor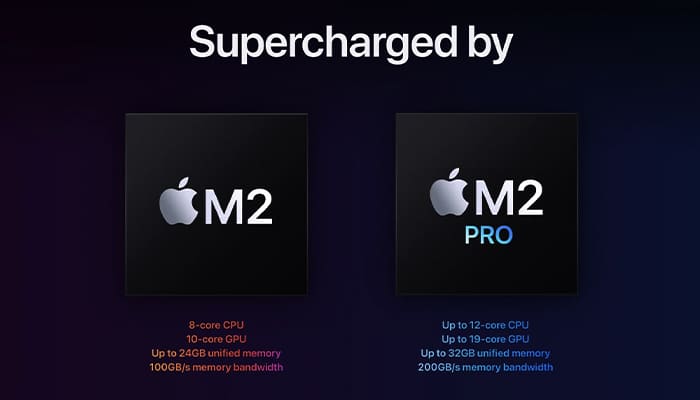 The main clash between Mac Studio vs. Mac mini is in terms of performance. So, first, let's check the benchmarks to understand their single and multi-core performance output.
| | | |
| --- | --- | --- |
| | Mac Studio (M1 Max) | Mac mini (M2 Pro) |
| Single-core score | 1727 | 1952 |
| Multi-core score | 12643 | 15013 |
Source: Geekbench
It's clear that the new Mac mini performs better in general tasks than Mac Studio. Here I have compared the 12-core M2 Pro Mac mini (16GB RAM) to the base model of Mac Studio. If you take M1 Ultra Mac Studio, you will get a 23,350 multi-core score. Therefore, heavy users may go for an M1 Ultra Mac Studio, and typical users will be satisfied with the M2 Pro Mac mini's smooth performance.
As we have seen in Apple M1 vs. M2 chip comparison, the M1 Max features two video decode engines, four videos encode engines, and four ProRes encode and decode engines. So, the Media Engine got 2x enhancement.
However, M2 Pro can not outperform M1 Ultra in terms of Media Engine. So, Mac Studio is the best choice for video editing.
CPU performance
The M2 Pro with a 12-core CPU got a 20% boost over the M1 Pro and M1 Max. Also, the new chip has four extra performance cores for improved efficiency. So, the 10-core CPU M1 Max clearly lags behind. Besides, the M1 Max Mac Studio has 57 billion transistors that can perform up to 11 trillion operations per second.
If you ask me, the Mac Studio has an edge, regardless of test results, because it can be configured to get maximal performance.
GPU performance
Many readers asked me to compare Mac mini vs. Mac Studio for gaming and photography. The M2 Pro has an advanced 19-core GPU that is 2.5x more powerful than the M1 chips. On the other hand, M1 Max has a 24-core GPU (upgraded up to 32-core) that is more suitable for graphic-intensive activities like gaming and picture rendering.
Moreover, the Geekbench 5 Metal GPU benchmarks show the M2 Pro got a 52,700 score and M1 Max got a 64,700 score. Therefore, the Mac Studio still provides 3.4x higher graphics performance. You may play up to 9 streams of 8K ProRes video and 5x faster 8K render speed.
Memory
If storage capacity is your concern, you can configure the M1 Max Mac Studio for up to 64GB of unified memory with 400GB/s of memory bandwidth. However, the M2 Pro Mac mini is limited to 32GB of unified memory with 200GB/s of memory bandwidth.
It should be adequate for most users. Also, you can get up to 8TB SSD with both devices.
Moreover, the M1 Ultra Mac Studio can have up to 128GB of unified memory. Therefore, intensive developers can take advantage of Mac Studio's extreme RAM capacities and high memory bandwidth.
External display support and connectivity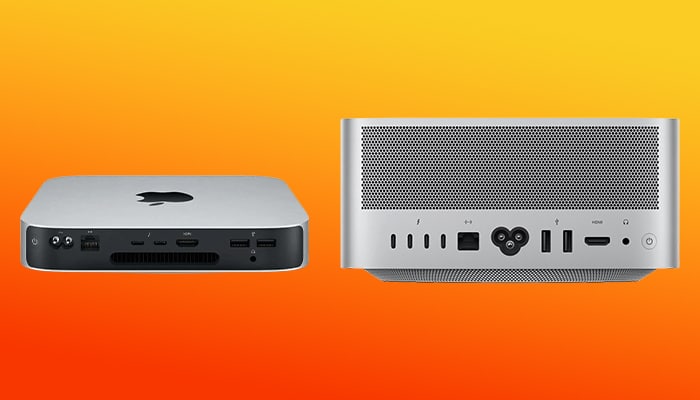 The Mac Studio has two USB-C ports, two USB-A ports, four Thunderbolt/USB 4 (up to six) ports, one HDMI 2.0 port, a 10GB Ethernet jack, one SDXC card slot, and one 3.5mm headphone jack. The 10GB Ethernet connection and SDXC card port allows for better internet speed and quick picture and video transfers.
On the other hand, the Mac mini has four Thunderbolt 4 ports, one HDMI 2.1 port, two USB-A, Ethernet, and a 3.5mm headphone jack. The Ethernet connection only supports Gigabit LAN. You can connect two Pro Display XDRs and one 4K monitor, whereas Mac Studio can power two more Pro Display XDRs.
Thanks to the HDMI 2.1 upgrade, you can now work with 4K at 240Hz and 8K at 60Hz external monitors. Also, the Wi-Fi 6E (802.11ax) and Bluetooth 5.3 enhanced wireless connectivity.
In terms of ports and connectivity, there is a minor difference between the Mac mini and the Mac Studio. So, choose the Mac Studio if transfer speed and versatility is your primary concern.
Mac mini vs. Mac studio: Which one should you choose?
Before making a buying decision, consider the pricing.
Both Mac mini and Mac Studio have multiple configurations and different price tiers.
Mac Studio: $1,999 for M1 Max with 10-Core CPU, 24-Core GPU, 32GB unified memory, and 512GB SSD storage
Mac mini: $1,299 for M2 Pro with 10-Core CPU, 16-Core GPU, 16GB Unified Memory, and 512GB SSD Storage
The Mac Mini is ideal if you need high levels of performance and 8K external display compatibility at a reasonable cost. It offers maximum single-core CPU output. But you must consider M1 Ultra Mac Studio for the highest multi-core CPU performance if the price tag is not a concern.
Besides, M1 Max Mac Studio can be an option for its maximum GPU performance, more RAM, high memory bandwidth, support for five monitors, and built-in SDXC card slot.
However, not everyone needs the $3,999 M1 Ultra or the full capabilities of a Mac Studio with M1 Max. If it's an urgent requirement, I'd suggest going with the M2 Pro Mac mini and saving $700 or waiting for the M2 chip-equipped Mac Studio.
Which powerful machine would you choose? Let me know in the comments.
Explore more…
Readers like you help support iGeeksBlog. When you make a purchase using links on our site, we may earn an affiliate commission. Read more.
Ava is an enthusiastic consumer tech writer coming from a technical background. She loves to explore and research new Apple products & accessories and help readers easily decode the tech. Along with studying, her weekend plan includes binge-watching anime.