Apple's latest chipset, the M2, has been making waves in the technology industry since its release. The M2 is a system-on-a-chip (SoC) designed for Macs, and it is the successor of the M1. Now, the Cupertino-based giant has taken Apple silicon to the next level with the release of two additional variants, the M2 Pro and the M2 Max, for the new 2023 MacBook Pros.
The M2 Pro and the M2 Max are both more powerful versions of the standard M2 chipset. The M2 Pro offers a step up in performance and capabilities, while the M2 Max is the highest-end variant in the M2 series. Interesting, right? So, let's dig further and do a comprehensive comparison of Apple's M2 vs M2 Pro vs M2 Max chips.
Apple M2 Pro and M2 Max chips – New era of Apple Silicon
The new M2 Pro and M2 Max both extend the ground-breaking performance and features of the 14-inch and 16-inch MacBook Pro. Moreover, M2 Pro offers expert efficiency to the Mac Mini for the very first time.
So, the new MacBook Pros will have longer battery life, better CPU and GPU acceleration, more RAM, Wi-Fi 6E support, and HDMI connectivity for 8K monitors. Here's what Apple had to say:
"Only Apple is building SoCs like M2 Pro and M2 Max. They deliver incredible pro performance along with industry-leading power efficiency. With an even more powerful CPU and GPU, support for a larger unified memory system, and an advanced media engine, M2 Pro and M2 Max represent astonishing advancements in Apple silicon."

Johny Srouji, Apple's senior vice president of Hardware Technologies
Now, let's delve into this important question: Is buying Macs with these new chipsets worth it, and which Mac should you choose for bagging the best performance? Let's find out!
M2 vs M2 Pro vs M2 Max – Key differences
Before diving into a detailed analysis, let's compare the specs first. The significant changes between Apple's M2 vs M2 Pro vs M2 Max processors are outlined in the table below.
Specs
M2
M2 Pro
M2 Max
Transistors
20 billion
40 billion
67 billion
Memory controller
100GB/s unified memory bandwidth
200GB/s of unified memory bandwidth
400GB/s of unified memory bandwidth
RAM
24GB unified memory
LPDDR5
Up to 32GB unified memory
LPDDR5
Up to 96GB unified memory
LPDDR5
GPU cores
10 cores
19 cores
38 cores
CPU cores
7/8
10/12
12
CPU configuration
Hybrid configuration:

4 high-performance cores

4 energy-efficient cores

Hybrid configuration:

8 high-performance cores

4 energy-efficient cores
Hybrid configuration:

8 high-performance cores

4 energy-efficient cores
Source: Apple
1. Enhanced performance
M2 chip already leverages the power of Apple silicon with 20 billion transistors. Now, the latest M2 Pro and M2 Max offer a step up as the most potent and power-efficient processors. So, they are empowering Macs with industry-leading performance per watt. Also, the improved custom technologies like Apple's potent media engine and a 40% faster 16-core Neural Engine are a highlight.
Both M2 Pro and M2 Max have been built using a second-generation 5-nanometer manufacturing technology. The M2 Pro has 40 billion transistors, which is twice the M2 and about 20% more than the M1 Pro. Additionally, M2 Max extends its performance with 67 billion transistors. It is three times more than M2 and 10 billion more than M2 Pro, resulting in more efficient completion of complex task processing.
Apple has also worked on M2 Pro's media engine. For more efficiency and power conservation, it has hardware-accelerated H.264, HEVC, and ProRes video encoding and decoding. So, the MacBook Pro now can play up to 10 streams of 4K and 8K ProRes video, do 2x smoother color grading, and render 20% faster animations in Motion.
Also, the M2 Max has two video encoding engines and two ProRes engines. Therefore, it doubles the video encoding speed of the M2 Pro.
2. CPU cores
As stated before, Apple has incorporated extensive transistors for handling intensive workflows. And to accomplish this, the M2 Pro and M2 Max have 10/12-core and 12-core next-generation CPUs, respectively. The multithreaded CPU is divided into eight high-performance cores and four high-efficiency cores.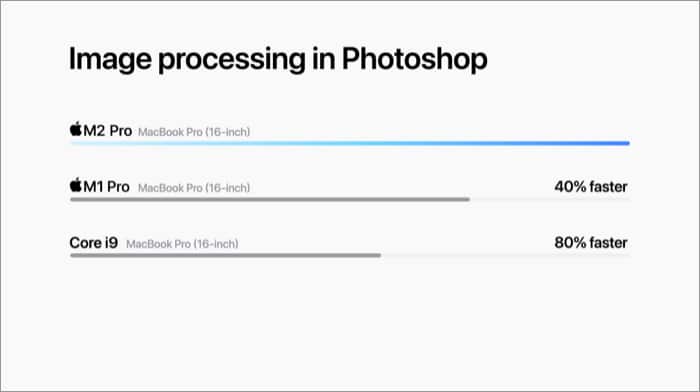 So, you will experience an efficient performance that is up to 20% quicker than the 10-core CPU in the M1 Pro. Whereas the M2 chip has an 8-core CPU with a 4+4 structure. Also, an increased shared cache capacity of 16MB contributes to its peak performance.
3. GPU cores comparison
The highlighting difference between M2 Pro and M2 Max is the new configuration of GPU with a larger L2 cache. The M2 Pro has 19 cores of GPU, which is 3x M1 Pro. So, the graphic rates are increased by 30% for better image processing and the ability to play console-quality games. According to Apple, with M2 Pro, Adobe Photoshop runs heavy workloads 40% faster than M1 Pro.
Additionally, the Xcode will be able to compile 25% faster than the M1 Pro. On the other hand, M2 Max offers a significantly more powerful GPU with up to 38 cores. So, users will get exceptional performance and perform intense visual effects processing, train machine learning models, and much more.
4. Unified memory bandwidth
Apple has focused to double the unified memory bandwidth of the M2. The M2 Pro has got 32GB of low-latency unified memory with a bandwidth of 200GB/s. Besides, the M2 Max offers 400GB/s unified memory bandwidth with a large 96GB RAM.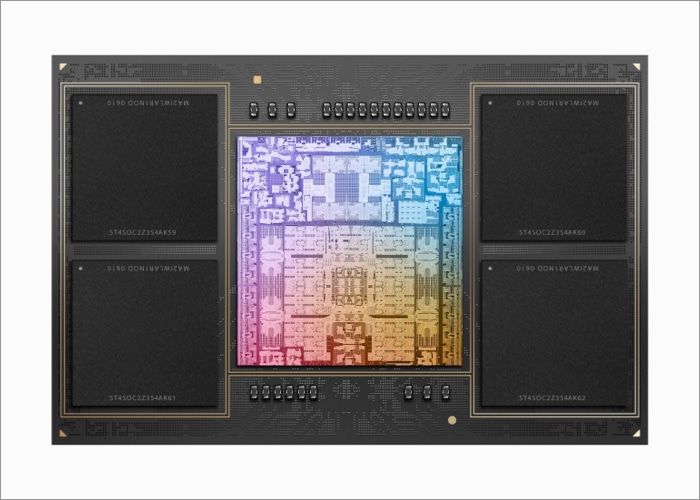 As per specs, it is 2x the M2 Pro and four times quicker than the M2. So, now Macs can handle large files and smoothly run heavy software, especially graphics-intensive tasks like 3D rendering or 4K video editing. Besides, you will get 8TB maximum configurable storage.
Other new features
Enhanced battery life: The new Apple Silicon technology in M2 Pro and M2 Max will leverage the macOS Ventura. So, you will experience exceptional high energy efficiency and the greatest battery life ever in a Mac. According to Apple, MacBook Pros can now deliver up to 22 hours of battery life.
Wi-Fi 6E: The latest Wi-Fi 6E enables connecting to wireless internet using a 6GHz band. And Apple has incorporated its support in M2 Pro and M2 Max. So, users can enjoy faster internet surfing.
Support for 8K external monitor: Now you can attach 8K displays up to 60Hz and 4K monitors up to 240Hz with your 2023 MacBook Pros.
MagSafe cable in color: Apple has put more focus on customization by adding a color-matched USB-C to MagSafe braided cable.
Price of MacBook Pro 2023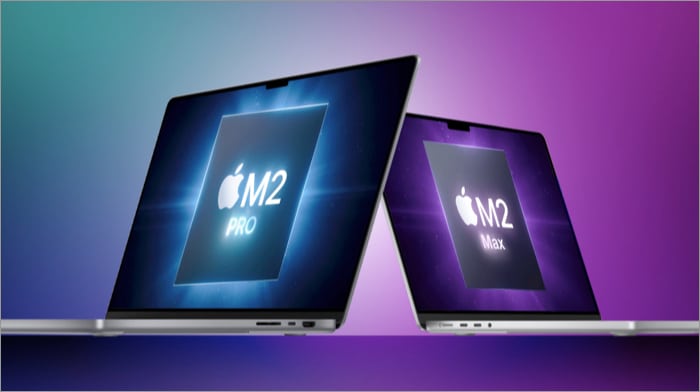 You can experience the power of the new M2 Pro and M2 Max chips on the latest 14″ and 16″ MBP.
The new 14-inch MacBook Pro with M2 Pro was launched at $1,999 (US) and the 16-inch MacBook Pro with M2 Pro starts at $2,499 (US).
You may check: Download the new MacBook Pro 2023 wallpapers
Final verdict
So, is the MBP M2 Pro better than M1 Pro? Obviously, no doubt! For more on that front, you can refer to our detailed guide.
For heavy-duty professionals, the new lineup for the M2 series, especially the M2 Max, will expand the possibilities for higher efficiency with less power consumption. I am excited to use the new Macs. Are you? Let me know in the comments below!
Explore more about Apple chips…
Readers like you help support iGeeksBlog. When you make a purchase using links on our site, we may earn an affiliate commission. Read Disclaimer.