As a professional content creator, I understand how a high-quality monitor can make a difference in the quality of work and help achieve desired results. But choosing the right one for the Mac Studio can be daunting, given the many available options.
Therefore, I have compiled a list of the best monitors for Mac Studio to help you choose the perfect monitor tailored to your needs.
1. Apple Pro Display XDR – Editor's Choice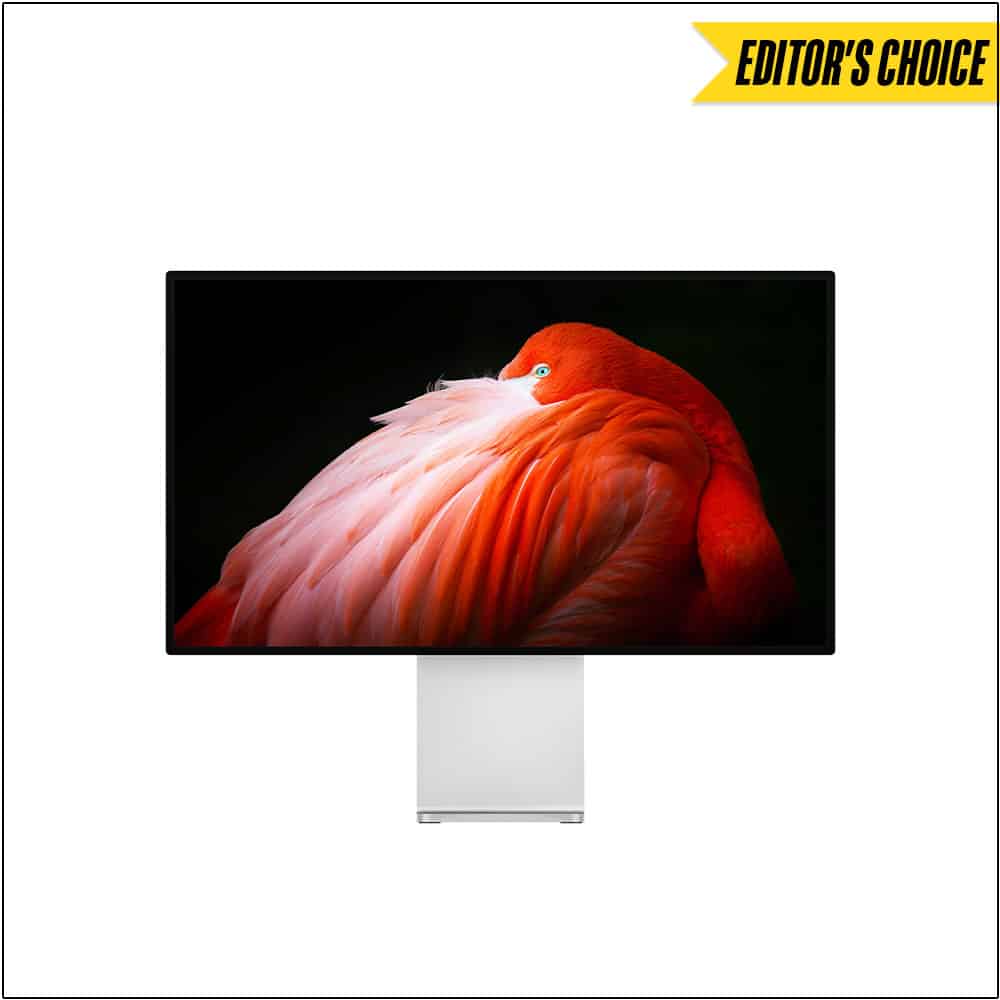 Screen size: 32-inch
Resolution: 6144 x 3160 pixels
Refresh rate: 60 Hz
Connectivity: One Thunderbolt 3 port and three USB-C ports
Apple Pro Display XDR is the ultimate monitor to use with Mac Studio to fulfill all professional needs of photo and video editors. I love its Retina 32″ 6K display with a maximum brightness of 1600 nits and a contrast ratio of 1,000,000:1. It has a 10-bit color depth P3 color gamut and cutting-edge calibration for accurate presentation of colors.
Besides, its ground-breaking backlighting technology and very low reflectivity raise the bar for brightness, contrast, and color. I am more fascinated by the XDR (Extreme Dynamic Range) technology, which is far more advanced than HDR. Additionally, there is an advanced matte option with nano-texture glass that diffuses light to cut down on glare.
In terms of connectivity, it's great. You will get 1 Thunderbolt 3 port and 3 USB-C ports. There are many more features of Apple Pro Display XDR, and explaining them will take longer. You may review its tech specs page to understand if it's worth your investment. But buying the Pro stand and external mount indeed hurt my pocket!
Pros
32-inch 6K resolution
60Hz refresh rate
2D backlighting system
Superwide viewing angle
Cons
Very expensive
The pro stand and VESA mount adapter are sold separately
2. Apple Studio Display – Affordable Pro version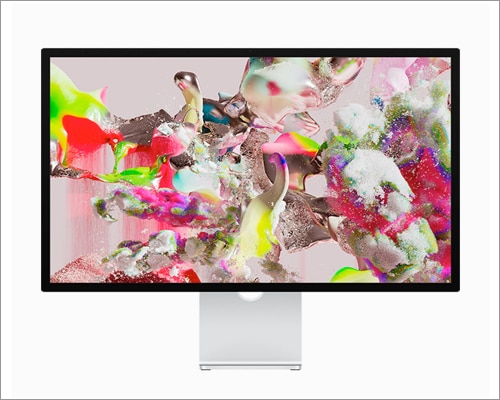 Screen size: 27-inch
Resolution: 5120 x 2880 Pixels
Refresh rate: 60 Hz
Connectivity: One Thunderbolt 3 port, three USB-C ports
The ideal complement to the powerful Mac Studio is Apple Studio Display. It boasts a bezel-less sleek design. Additionally, it produces stunning color and amazing depth. The True Tone feature intelligently adjusts the color temperature of your display to your surroundings for a more natural viewing experience.
I love its best-in-class, anti-reflective coating that reduces glare and boosts clarity for enhanced comfort while working. You may also opt for the nano-texture option for an extra matte finish. It distributes light to further reduce glare, providing excellent visual quality even in poor lighting conditions. Also, the display itself is quite powerful, with an A13 Bionic processor.
Besides, you can heavily rely on its 12MP Ultra Wide camera. Its Center Stage feature and 122-degree field of vision help me during meetings, FaceTime calls, or video recording. Moreover, the studio-quality three-mic array catches your voice clearly without noise. While binge-watching, you may enjoy cinematic sound, thanks to six speakers with Spatial Audio and Dolby Atmos.
Additionally, the display is well-connected through three USB-C ports and one Thunderbolt port. Therefore, you can charge your Mac with 96W power delivery. You will get a built-in stand with a 30-degree tilt for the ideal viewing angle. Besides, the external VESA mount adaptor allows both landscape and portrait orientation for customized configurations.
Pros
Adaptive Sync
Tilt adjustment
Built-in mic and six-speaker sound system
12MP ultra-wide camera
Cons
The included cables are quite short
3. Samsung 32″ M80B Smart Monitor – Your IoT hub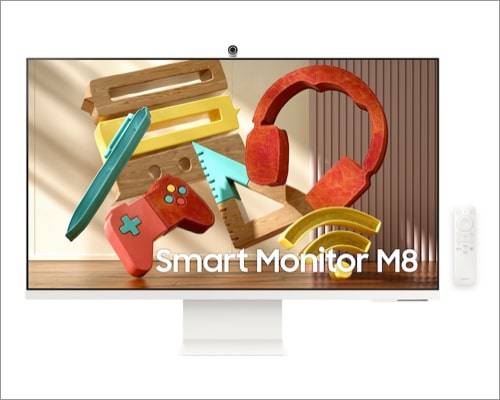 Screen size: 32-inch
Resolution: 3,840 x 2,160 pixels
Refresh rate: 60 Hz
Connectivity: One USB-C port and one Micro HDMI port
If you want more than a simple display, Samsung offers a smart monitor. It produces precision colors thanks to UHD resolution and HDR 10+ support. Also, sRGB 99% provides better brighter and darker scenes. Similar to the True Tone of the iPhone, Samsung included an Adaptive Picture sensor that observes ambient light and automatically adjusts brightness.
You would love to stream videos on it as it won't squint or strain my eyes. If you are fond of gaming, you will enjoy its ultra-wide game view with a screen aspect ratio of 21:9. Also, the M8 speakers offer richer, more realistic sounds for a more immersive overall experience thanks to its built-in 2.2Ch speakers.
The enhanced Adaptive Sound+ provides precise and customized audio. It adapts in real-time depending on the kind of content and noise levels in your surroundings. Moreover, the built-in SlimFit camera's tilt capability enables you to set the ideal angle. And don't think about privacy as you can cover the camera and completely detach it.
The best part is the monitor serves as a Smart Hub to link your IoT home items thanks to SmartThings compatibility. Also, you may give voice instructions to your monitor using Alexa or Bixby. The Far Field Voice function catches your voice even from a distance. Further, you can connect your iPhone to the Monitor using AirPlay to watch content on a larger screen.
But I could control the in-built speakers and camera from macOS and needed to use the included remote controller each time. Also, I think Samsung should provide more ports for better connectivity.
Pros
4K UHD with HDR10+
Special gaming settings
Included Remote controller
Cons
The camera and speakers can't be controlled with Mac
No VESA mount compatibility

4. Dell UltraSharp U2723QE LCD monitor – Great productivity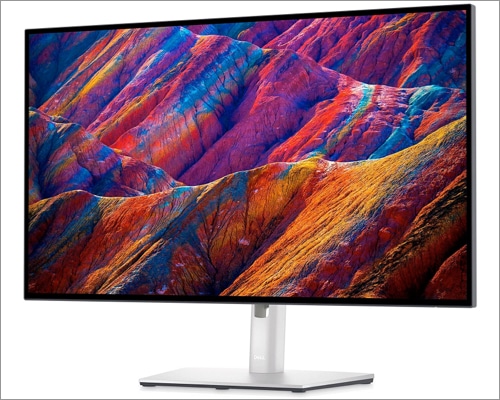 Screen size: 27-inch
Resolution: 3840 x 2160 pixels
Refresh rate: 75 Hz
Connectivity: HDMI, DP1.4, RJ45 (Ethernet), and USB-C
Dell UltraSharp widescreen 16:9 display is ideal for business purposes. It offers 4K UHD resolution with over 8 million pixels. You will enjoy vibrant colors and sharp content thanks to the 400 Nit brightness, IPS Black technology, 98% DCI-P3, and DisplayHDR. Besides, the 3H hard screen coating makes the display anti-glare.
Thanks to the ComfortView Plusi feature, you can work on this monitor for longer sessions. This built-in blue light filter is always enabled to reduce dangerous blue light emissions without sacrificing color. Also, it's best for streaming live cricket and playing games as it has a quick 5 ms GTG reaction time. You can adjust the height of the display as well as tilt, swivel, and pivot.
The VESA mount compatibility lets you install the monitor on a wall or with a stand. I suggest this for multitaskers as you can daisy chain it with another 4K monitor at full resolution via USB-C thanks to the Display Stream Compression feature. Also, the Picture-by-Picture and Picture-in-Picture allow you to see content from two PC sources simultaneously.
Pros
Premium platinum silver finish
Good for multitasking
Stylish cable management system
Cons
Quality control is bad
KVM switching issues
5. LG 34BK95U-W UltraFine 34″ monitor – Beautiful 5K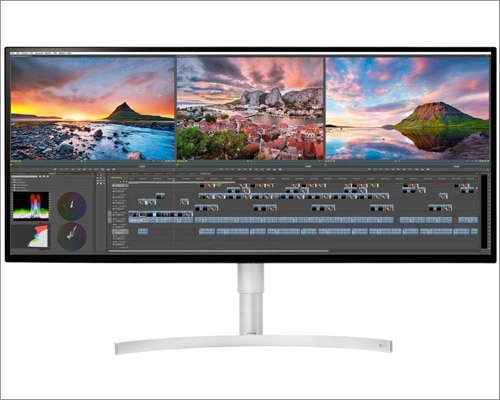 Screen size: 34-inch
Resolution: 5120X2160 pixels
Refresh rate: 75 Hz
Connectivity: One Thunderbolt 3 / USB Type-C port, one DisplayPort port, two USB Type-A, one USB Type-B, and two HDMI
LG UltraFine display is the best 5k monitor for Mac Studio. I just love its ultra-wide Nano IPS display with 21:9 area. It has a wider contrast ratio and more accurate color reproduction with premium quality. Also, the 98% of the DCI-P3 color space supports 1.07 billion colors, which is 35% greater than the sRGB 100%.
Also, the HDR intensifies bright and dark areas for a more realistic appearance and offers an exceptional peak brightness of 600 nits. You may watch videos from any position with the 178° horizontal and vertical viewing angles with a -5 to 15° vertical tilt range and a 4.3″ height adjustment.
Besides, it can output music via the twin inbuilt 5W stereo speakers or the 3.5mm headphone socket. You may simultaneously charge a laptop up to 85W, transfer data at 40Gb/s speed, and connect two 4K displays or one 5K/60 fps display via the Thunderbolt port.
Pros
4-side virtually borderless design
Nano IPS display
Impeccable colors
Cons
Slightly expensive
Connectivity with macOS is not good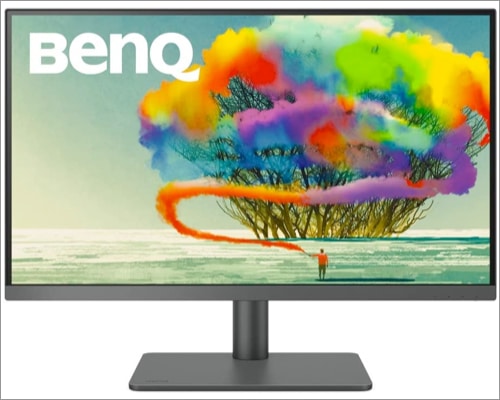 Screen size: 27-inch
Resolution: 3840 x 2160 pixels
Refresh rate: 60 Hz
Connectivity: HDMI, USB hub, and DP ports
BenQ offers ready-to-go monitors to use with Mac Studio. The 27-inch 4K UHD IPS display is calibrated for color accuracy. Besides, you will enjoy outstanding color coverage thanks to 99% sRGB rec. 709 color gamut and an average Delta E of 3. Also, BenQ has a patented AQCOLOR technology with Uniformity, which reproduces true colors on displays.
The monitor has HDMI, a USB hub, and DP ports to connect multiple peripherals. Moreover, the KVM switch, HotKey Puck, and DualView make navigation easy and boost your productivity. Its ergonomic design allows it to customize its position for utmost comfort. Also, you will get a built-in sound system to enjoy content with high-quality audio.
The display comes with multiple modes. The CAD mode provides a high contrast setting for lines and shapes, whereas the Animation mode improves the clarity of dark parts in 3D animation without overexposing bright areas​. I also liked the Dark Room mode, which adjusts picture brightness and contrast for low light conditions.​
Everything was good until I noticed some users complain about dead pixel on the screen. It was a bit problematic. Also, the edges of the display were darker instead of how much I increased the brightness. Another big concern was whenever I enabled the MTS settings for daisy chaining, the KVM was disabled automatically.
Pros
Multiple modes for efficiency
Authentic color and consistent luminescence
Eye Care technology
Cons
Setup is difficult
Flickering issues after using regularly
7. ASUS ProArt Display PA279CV – Truly for editing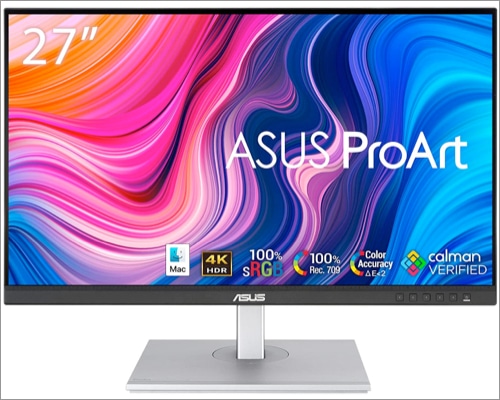 Screen size: 27-inch
Resolution: 3840 x 2160 pixels
Refresh rate: 60 Hz
Connectivity: One USB-C, DisplayPort, HDMI, and a USB 3.1 hub
ASUS ProArt Display is made for graphic designers. It has a wide-angle IPS panel with 4K HDR, 100% sRGB, and 100% rec. 709 broad color gamut, Delta E 2 color accuracy, and Calman Factory calibration. I love its high color fidelity that reproduces hues so fine. Also, the DCI-P3 support makes video editing smoother.
HDR10 enables dark blacks to be darker and dazzling whites to be brighter. You may also modify the saturation and hue characteristics thanks to the 6-axis color control feature. In addition, using the ASUS ProArt Palette, you can set various display parameters, such as color temperature, gamma, and color hue.
You can use the ASUS-only presets for ProArt Multiple settings for rapid color-gamut modification. Also, with ASUS QuickFit Virtual Scale, you can work faster and more efficiently. You can connect multiple devices thanks to the array of ports, including DisplayPort over USB-C with 65W Power Delivery, HDMI, and a USB 3.1 hub.
The best part is it has a cable management clip at the rear to make your desk decluttered. Also, the front buttons allow for easy access to customized settings. Last but not least, the flicker-free technology and ASUS Ultra-Low Blue Light filter helped me to watch the display without any fatigue or strain.
Pros
178° wide viewing angle
100% sRGB and rec. 709
3 months free Above Creative Cloud subscription
Cons
Auto brightness issues
USB-C doesn't work properly
8. HP V28 4K monitor – For gamers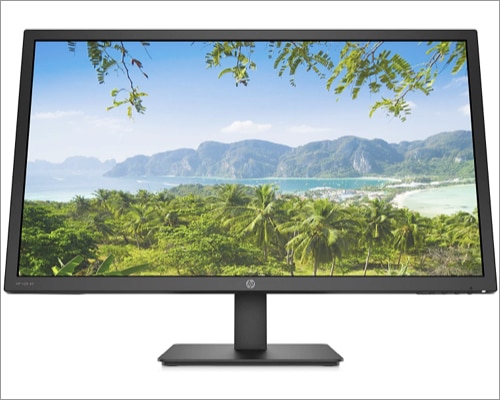 Screen size: 28-inch
Resolution: 3840 x 2160 pixels
Refresh rate: 60 Hz
Connectivity: One DisplayPort and two HDMI 2.0
HP V28 is a perfect companion for your gaming sessions. It has Ultra HD 4K display 10,000,000:1 dynamic contrast ratio for sharper, more excellent picture quality. I love to play intense games on this as it has low pixel latency and quick 1-millisecond response times, removing the motion blur.
The AMD FreeSync technology lets you enjoy the smooth, artifact-free performance. Also, the Low Blue Light mode warm-ups colors and make colors more natural. So, your eyes will not be strained. The best part is the monitor has a headphone jack, dual HDMI, and a DisplayPort to connect peripherals for easy accessibility.
Pros
AMD Freesync technology
Anti-glare coating
1ms response time
Included headphone jack
Cons
Viewing from different angles distorts the picture
9. PHILIPS Brilliance 279P1 – Bezzel-less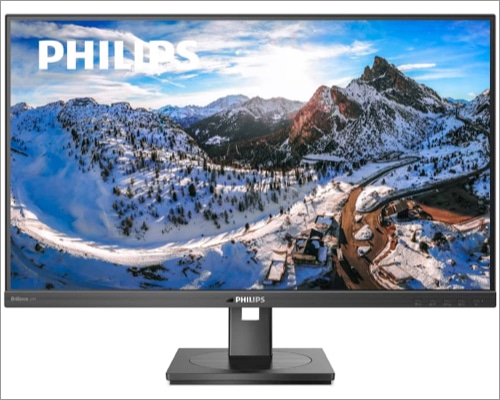 Screen size: 27-inch
Resolution: 3840 x 2160 pixels
Refresh rate: 60 Hz
Connectivity: One DisplayPort, two HDMI, one USB dock
PHILIPS indeed offers the brilliant monitor which zero bezels. It has UltraClear 4K UHD resolution and an IPS 10-bit panel for broad 178° viewing angles and vibrant colors. So, your images and visuals come to life, whether you need precise CAD images or 3D graphics software. Also, the monitor is power efficient as the PowerSensor detects the user presence.
If you are not in front of it, the monitor automatically dims, reducing energy costs by 80%. Besides, the light sensor changes the picture brightness based on the lighting conditions in the room. I like its SmartErgo base that offers wire management and comfortable position and user-friendly height, swivel, tilt, and rotation angle adjustments.
Also, the USB-C charging dock can charge your devices with 65W power delivery and connect to multiple peripherals. You can enjoy your content with immersive sound thanks to two integrated 3W stereo speakers. Moreover, the TUV Rheinland Eye Comfort standard for low blue light reduces eye fatigue, eliminating flickers and distracting reflections.
Pros
122% sRGB
Smart ergonomic base
Light and power sensor
4-year advance replacement
Cons
USB-C connection is not stable
Philips customer care is not supportive
10. Z-Edge U27P4K – Budget-friendly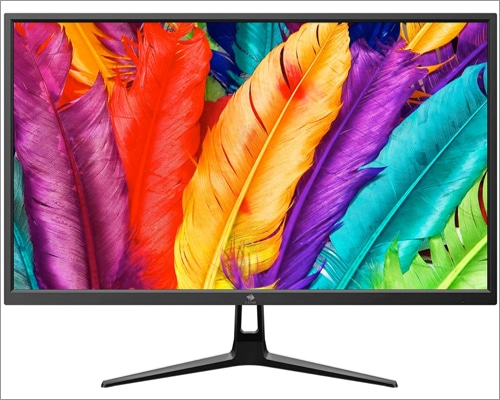 Screen size: 27-inch
Resolution: 3840×2160 pixels
Refresh rate: 60 Hz
Connectivity: Two HDMI, one DisplayPort, one USB, headphone jack
Z-Edge gaming monitor has 27-inch beautiful UHD resolution and HDR10 technology. So, you will get striking and realistic images with clarity and deep blacks, and dazzling whites. Its Intelligent IPS Panel expands the viewing range, offering a 178°panoramic viewing angle. Also, it guarantees the visuals are precise and vibrant from all viewing angles.
Besides, you can stream 4K videos via HDMI. The FreeSync technology eliminates the input latency, screen tearing, and other gaming-related issues. And don't worry; your eyes will be safe due to flicker-free and low-blue light features. The sleek and minimalist design with a three-sided edge-to-edge screen and ultra-slim stand caught my eyes.
Pros
Panoramic viewing angle
Good connectivity
VESA compatible
Cons
HDMI gives poor performance
The sound quality is not good
How to choose the best Mac Studio monitors
Now I have shared my top choices for Mac Studio, let's look at some crucial specifications you should consider before making a decision.
Resolution
First consider the resolution of the monitor. You must go for the 4K resolution for the best results on Mac Studio. If your pocket allows you may get a 5K and 6K display. The images are sharper and detailed if the resolution is greater. Besides, check for the refresh rate to enjoy content with more fluidity.
Display
It depends on your requirements. I like the standard 27 and 32-inch display to keep things balanced. A larger screen will increase productivity for professionals working with graphics and video. Also, the curved displays are great for wide viewing angles. Note certain areas of the curved displays may glare unintentionally from various angles.
Color accuracy
Color and contrast are important factors that affect the quality of the images produced. So, check the sRGB percent, color gamut, calibration, and other specifications.
Ports
As I need multiple screens for content creation, I always consider the connectivity. USB Type-C connection is required for speedy data transfer and power delivery to operate with Apple products. If you get Thunderbolt ports, its a plus one. If you purchase a monitor with only HDMI or DisplayPort ports, you will need an adaptor to connect it to the Mac.
Ergonomics
Ergonomics plays a crucial role, as working for an extended period will affect your posture. So, to get the optimal angle, ensure the monitor has a sturdy stand with tilt, height, orientation, and swivel adjustment. Also, I consider the VESA mount support so I can install it on the wall quickly.
Price
Obviously, you will have a budget in mind before buying. So, consider which one is providing the best value for money. If money is not an issue, be sure to choose the monitor with the greatest characteristics overall in the long run.
Other components
Many professional monitors offer built-in speakers and cameras and charges highly for that. However, not every included accessory works perfectly, and you may need to buy them additionally. So, check for the specs carefully.
5K or 4K: who gets your vote?
Having the best display for Mac Studio is crucial for any creative professional looking to produce high-quality work. With so many options available in the market, it can be overwhelming to choose the right one that suits your needs. So, I hope that this guide has helped you narrow down your options.
Explore more…
Readers like you help support iGeeksBlog. When you make a purchase using links on our site, we may earn an affiliate commission. Read Disclaimer.