Apple released Pro Display XDR; it was instantly tagged as a 'Pro-user' device because of its price. And now that the budgeted Studio Display is here, it is making me and many users wonder which of the two would be better? So, for me, you, and other confused souls, here's an in-depth comparison of Apple Studio Display and Pro Display XDR.
Note: Apple Studio Display will start shipping from 18th March; the current comparison is based on specs. A detailed hands-on review will soon follow as we get the new display delivered.
Apple Studio Display and Pro Display XDR Spec comparison
Studio Display
Pro Display XDR
Price
Standard glass
$1599
$4999
Nano-texture glass
$1899
$5999
Display
Size
27″
32″
Resolution
5K Retina
5120 by 2880
6K Retina XDR
6016 by 3384
Brightness
600 nits
up to 1,600 nits
Colors
up to 1 million
10-bit depth for 1.073 billion
True Tone
✅
✅
Refresh rate
48Hz – 60Hz
48Hz – 60Hz
Other features
Chip
Apple A13 Bionic chip
❌
Camera
✅
❌
Speakers
6
❌
Mic
3
❌
Ports
USB-C
3 (up to 10 Gbps)
3 (USB 2)
Thunderbolt 3
1
1
Design and display: Which's better looking?
Apple Studio Display and Pro Display XDR look quite similar, with a silver body and black bezels. However, they sport different back panel designs. Pro Display XDR has a Mac Pro cheese-grater-like design, while Studio Display is pretty plain.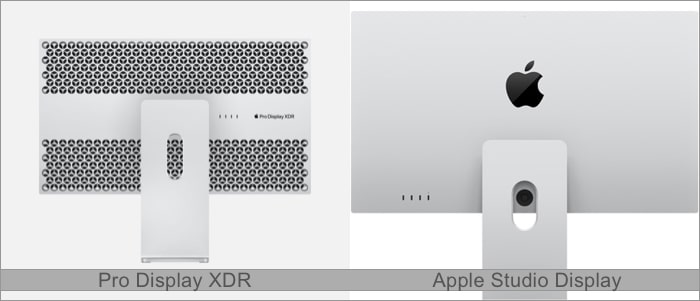 And while both displays offer a Nano-texture glass option, true-tone, wide color gamut, the Pro Display XDR takes the cake in terms of the screen; it's bigger (32″ vs. 27″), brighter (1600 nits vs. 600 nits). The 6K display also offers an Extreme Dynamic range, i.e., superwide angle with high-fidelity color and contrast.
Plus, it supports Dolby Vision and HDR10. Although we'll only know how good, bad, or better the image/video display is once we get our hands on Studio Display and compare things. So, while Pro Display wins on paper, the real-life results are still pending,
Additional features: Ports, camera & more
While Pro Display XDR is designed to be a high-end display, the Studio Display is designed for more. The Studio Display also houses a camera, speakers, and mics, along with a good display. And to enhance their capabilities, the Studio Display also incorporates an A13 Bionic Chip.
Ports
The duo boasts four ports, one Thunderbolt 3 and three USB-C ports. However, the Studio Display has the latest USB-C gen 3.1 supporting up to 10Gbps, and Pro Display has gen 2, which will be a bit slower.
Camera
The Studio Display is integrated with a 12MP ultra-wide camera (122‑degree field of view), similar to iPad Air 5. And just like all the latest iPads, this camera will also support Center Stage (thanks A13) and allow a better video calling experience.
Speakers and mics
Further enhancing the video calling or recording experience in the Studio Display is an array of highest‑fidelity speakers, four force-canceling woofers, and two high-performance tweeters. And while most displays boast shitty speakers, Studio Display promises minimum distortion, accurate mids, crisp highs, and Apple's Spatial Audio (thanks A13).
Moreover, it has three studio-quality mics that come with directional beamforming, so your voice will be loud and clear whether you are attending a video call or recording something.
Price
At $4999, Pro Display XDR is definitely expensive; in addition, you don't even get a basic stand with it. Yup! That's extra money over extra money.
Pro Display XDR stand options
| | |
| --- | --- |
| Pro Stand | $999 |
| VESA Mount adapter | $199 |
Studio Display XDR
| | |
| --- | --- |
| Tilt-adjustable stand | Included (either this or ⬇️) |
| Vesa-mount adapter | Included (either this or ⬆️) |
| Tilt- and height-adjustable stand | $400 |
The bottom line
A display is a display, and you'll use it to display things, right? However, the purpose, use case, or shall I say end-user for Pro Display XDR and Studio Display are somewhat different.
Pro Display XDR isn't for casual users; it is targeted at users who need the utmost picture quality, like photographers, videographers, etc. And even though they have to spend some extra $$ for it, their work or preference justifies that price. On the other hand, Studio Display isn't a sub-par monitor.
The picture quality is quite fine, and you also get many more features. It's designed for anyone and everyone, whether graphic designer, musicians, developers, or whosoever needs an extra monitor for their Mac.
Apple Studio Display
Combination of camera, mics, and speakers
Value for money
Includes basic stand
Fast USB-C ports
Only 600 nits brightness
Just 27″
Pro Display XDR
32″ 6K Retina Display
Superwide viewing angle
1,600 nits peak brightness
Supports Dolby Vision and HDR10
Pretty expensive
You have to buy stand separately
As a writer, my vote goes to Studio Display. However, yours can differ. Do let me know which one you prefer in the comment section below.
Are you on a buying spree and need help making a decision? Check out these articles:
Readers like you help support iGeeksBlog. When you make a purchase using links on our site, we may earn an affiliate commission. Read Disclaimer.