Apple is a giant in the US's gadget & tech market, as almost two-thirds of Americans own one of its products. Most use them to create, share, and store everything from precious memories to confidential business data. iCloud is free and integrates seamlessly with all Apple products; no wonder most users never consider other forms of cloud storage.
Should they? Would a different cloud storage provider be a better fit for your needs? In this blog post, we will take a closer look at iCloud's security and discuss whether you should consider other options.
What is iCloud used for?
iCloud is Apple's comprehensive cloud storage and synchronization service. It's been around since 2011 and is constantly evolving. Each user gets a free iCloud account they can sign into via their Apple ID. The starter version offers 5GB of storage and a lighter feature set than paid iCloud+ subscription tiers.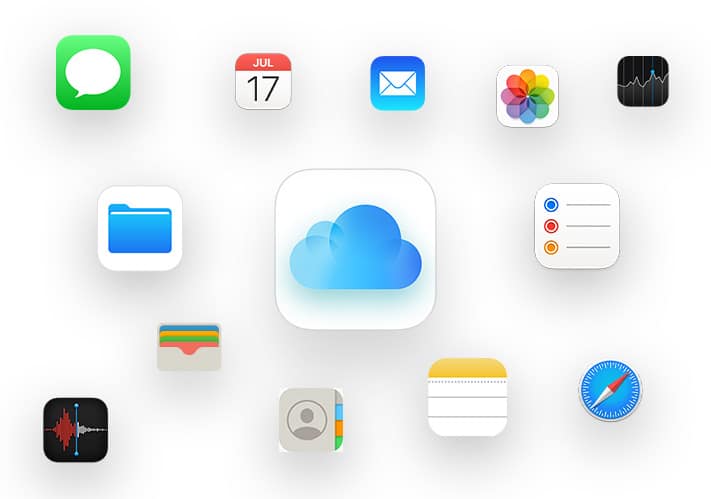 The service's basic functionality includes iCloud Photos and Drive. You can use them to sync your albums and files across all Apple devices. You may even access them in Windows if you download the iCloud app. iCloud+ tiers start at $1/month. The lowest tier includes 50GB of space, enabling advanced features like proxy and email forwarding.
Should you be searching for an alternative?
iCloud is okay for casual users, especially if you use it primarily to sync rather than back up your files. Its pricing is reasonable, and iCloud+'s additional features can be useful. Even so, other cloud storage providers do crucial things better.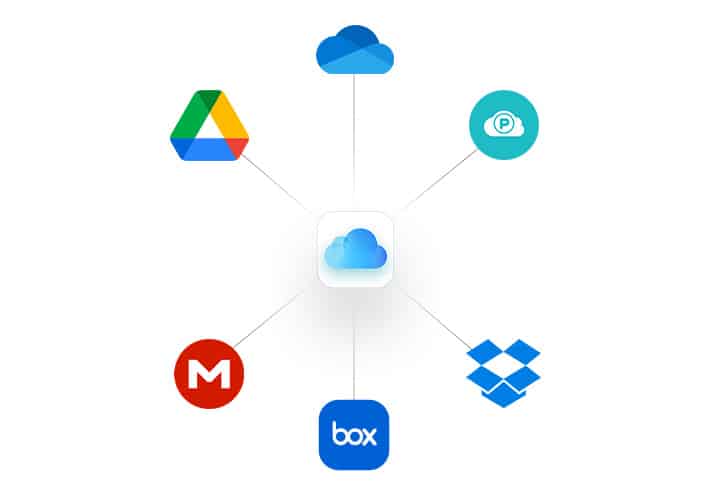 You'll want one with a proven uptime and reliability record if you plan to keep essential personal or work files in the cloud. Many alternatives extend end-to-end encryption to file types iCloud doesn't cover, but more on that later.
If you're using cloud storage for business, you'll want an alternative with a more comprehensive protection policy. Specifically, alternative providers deliver 256-bit AES encryption and zero-knowledge proof for any data you store, not just passwords and select file types. That means their encryption is harder to bypass, and even they don't know what you are storing. Providers who use these technologies offer safer cloud storage option.
You need an Apple ID to use iCloud. Its creation process collects several pieces of personally identifiable information (PII) about you, like your full legal name and address. Most alternative providers don't track your PII and function fully, even if you only provide a valid email address.
Compatibility is another stumbling block. It makes sense that iCloud works best on Apple products and through the Safari browser. With some tinkering, you can get it to work on Linux and Android, but the experience isn't as seamless. Fine for Apple fans, but not so much if you also rely on other platforms.
What security measures does iCloud use?
Apple touts itself as one of the most security and privacy-conscious companies. While not immune to cyberattacks, Apple can quickly contain the damage and adapt.
Two-factor authentication (2FA) is a good example. The company implemented it in 2017 after a cybersecurity incident that exposed thousands of accounts. 2FA prevents logging into accounts from the web or an unknown device. You have to provide a six-digit code displayed on one of your other previously trusted devices to proceed.
Contrary to other cloud providers, files you store on iCloud get 128-bit AES encryption. While this makes security not as high as others, still, no one can read stored content unless they have a valid encryption key. The encryption applies whether the data is at rest or moving, so sharing files doesn't pose a security risk. Apple calls this its Standard Data Protection option.
While a robust defense against bad actors, such encryption still lets Apple scan your files. They may do this for targeted advertising or AI training purposes.
Info collected by Apple Home & Health, Keychain & Wi-Fi passwords, Maps, and a handful of other data types get end-to-end encryption by default. This encryption type secures your data from everyone – even Apple. Only trusted devices get the decryption key, meaning everything stays encrypted if you lose it.
The Advanced Data Protection setting debuted globally in January 2023. It expands end-to-end encryption to most iCloud features. Photos, Notes, as well as iCloud Drive and Backup are the most noteworthy additions.
Verdict – Is iCloud safe?
That depends on your definition of "safe." If you're concerned with iCloud's cybersecurity measures, then yes. Apple has built an isolated, multi-layer system that's hard to get into without authorization. However, there are caveats.
The first is privacy. Apple staff may scan any data you don't secure through end-to-end encryption. That doesn't mean they will, but it makes one wonder. More severe privacy violations could occur if Apple ever considers bringing back the CSAM tool.
Speaking of encryption, end-to-end still doesn't apply to iMail, Contacts, Calendars, and file metadata. Apple claims this is to maintain compatibility with services outside its ecosystem.
Our final concern is anecdotal but can deeply impact affected parties. Multiple dissatisfied users have complained about the service's lack of reliability for years.
They all have a similar story. A large chunk of their iCloud files disappears overnight. Folders usually remain intact, but all or random files within are gone. Using standard recovery methods doesn't help. Neither does contacting customer support.
Conclusion!
iCloud does a lot of things right, but it's not the ideal solution for everyone. Marketing and wide availability make it sound appealing, but you should also consider other providers, especially if you're concerned about data encryption and confidentiality.
Read more:
Readers like you help support iGeeksBlog. When you make a purchase using links on our site, we may earn an affiliate commission. Read Disclaimer.