There are many reasons which make the iPhone one of the best smartphones. Besides the great hardware, software integration, and the Apple ecosystem, haptic feedback also plays an important role in giving you that premium experience.
While iPhones will give you a great user experience, it's still not free from software and hardware issues. And one such issue, haptic feedback not working on iPhone, is why you are here. Without further ado, let's look at the solutions.
1. Ensure that Haptic Feedback is enabled
Launch Settings on your iPhone.
Tap Sound & Haptics.
Toggle on System Haptics.
To make sure you have haptics enabled in Ring mode and Silent mode, toggle on the following options:

Play Haptics in Ring Mode
Play Haptics in Silent Mode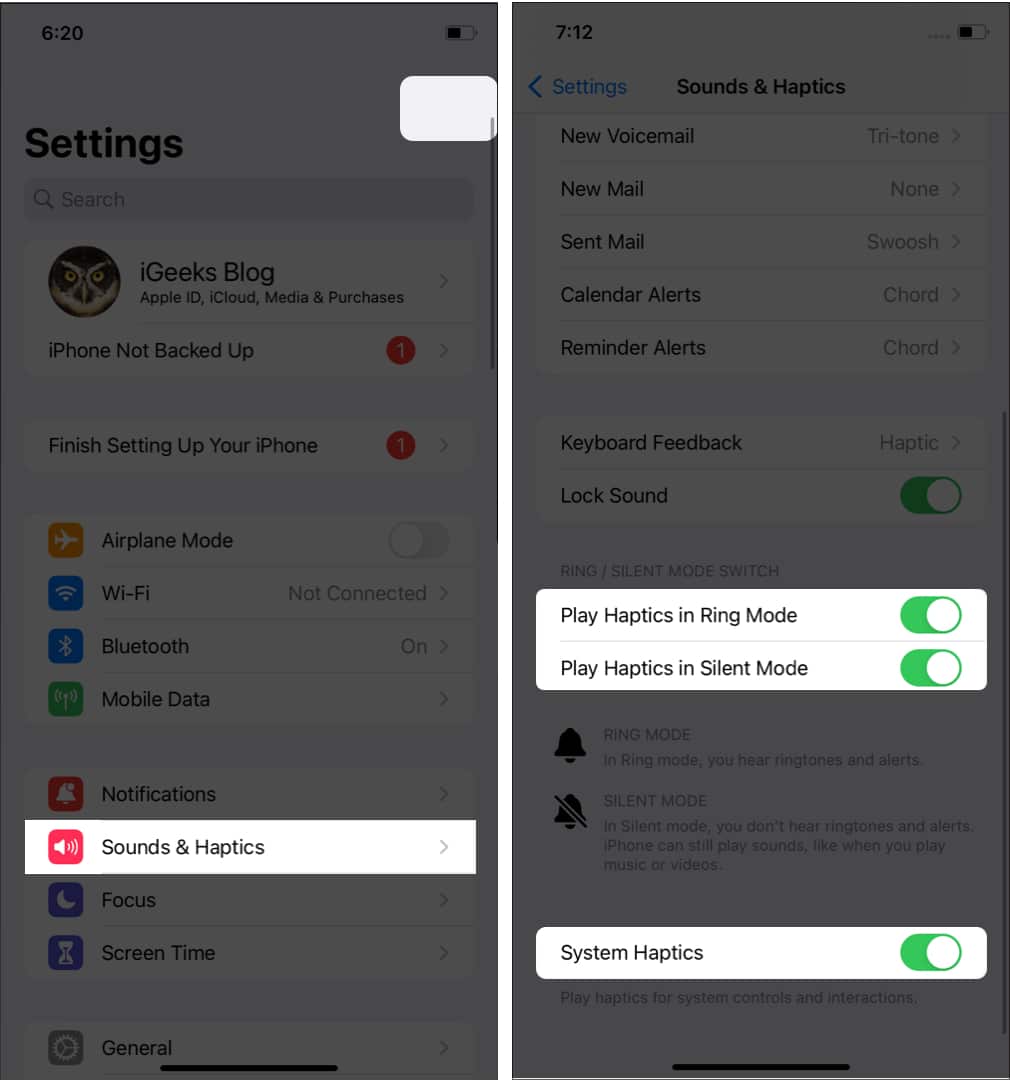 2. Check if vibration is enabled for touch response
While you have enabled the Haptics from Settings, you might still feel the haptic feedback is not working on your iPhone. This could be because you have not turned on the following option:
Open Settings → tap Accessibility.
Select Touch under Physical and Motor.
Toggle on Vibration.


3. Choose a different vibration pattern
Despite enabling haptics and vibration, if your iPhone doesn't vibrate while receiving calls, you need to check if you or someone has selected the vibration pattern as none.
Open Settings → tap Sound & Haptics.
Select Ringtone and then Vibration.


Here, select any option of your choice except None.
Currently, I'm going forward with Synchronised (Default).


4. Switch to default Apple Keyboard
If haptic feedback is not working on your iPhone while using a third-party keyboard, then you should change your keyboard to the default one. You can also ensure that you have enabled haptic feedback for the iPhone keyboard and see if you are still facing the issue.
5. Reset all settings
Open Settings → tap General.
Select Transfer or reset iPhone.
Here, tap Reset.
Now select Reset All Settings.
Enter the Passcode to confirm.
Tap Reset All Settings to confirm again.


You will be required to confirm again by tapping Reset All Settings.
Your iPhone will enter a screen with the Apple logo and a progress bar. Wait for the process to finish; post that, your iPhone will restart.
6. Update iOS
Apple has rolled out the latest iOS 16 but with many bugs and features. Thanks to these issues, you might face issues such as haptic feedback not working on your iPhone. But when it notices an issue, Apple will be quick enough to push the fixes.
Apple has already started to address the bugs and has started to release updates to fix these bugs. So make sure to update your iPhone to the latest iOS version. And if you are on any beta version of iOS, it is better to upgrade to a stable iOS version.
Apart from all these issues, make sure to update all of your apps to the latest version available because app developers are also working to optimize their apps to the latest iOS version.
7. Restart iPhone
Don't we wish for a restart for all the problems we face? While it will remain as a wish, a restart can fix many of these issues if you face issues with your iPhone or any gadgets. We have prepared a detailed guide on how you can restart your iPhone. Follow the steps and see if the issue is still there.
8. Reset your iPhone
Since none of the above-mentioned features worked for you, resetting is the last method to fix haptic feedback on your iPhone. You can follow our detailed guide on how to reset your iPhone and see if the issues have been fixed.
That's it!
Despite following all of these steps, if haptic feedback is still not working on your iPhone, you need to seek help from Apple Support. With their guidance, you can figure out the issue and find a proper fix.
Haptic feedback contributes a lot to the premium experience we get with iPhones. And if it suddenly stops working, it will get you worked up. With the guide, I have provided enough fixes so that the Haptic feedback works smoothly on your iPhone. If you still have any doubts or queries, let me know in the comments.
Here are some more interesting reads for you:
Readers like you help support iGeeksBlog. When you make a purchase using links on our site, we may earn an affiliate commission. Read Disclaimer.