Apple took FaceTime a notch higher in iOS 17 by adding a reaction feature to use 3D effects. However, many users reported that they could not use hand gestures to trigger FaceTime reaction effects on their iPhones. Worry not! Below are troubleshooting tips to help you fix FaceTime gesture reactions not working issue on iPhone in iOS 17.
1. Ensure iOS 17 is installed
Since FaceTime hand gestures is a new feature, you must update your iPhone's software to iOS 17 to trigger and use them. You can only view FaceTime reactions on your iPhone on an older iOS version. To upgrade your software to iOS 17, go to Settings → General → Software Update. 
2. Check model compatibility
If you're done updating to iOS 17, check if your iPhone device is compatible with FaceTime hand gestures. Capturing real-time gestures takes a lot of processing power, so older iPhone models can't process real-time gestures and translate them into augmented-reality effects.
On older models that support iOS 17, including the iPhone SE (2020), iPhone XR, iPhone XS, and iPhone 11, FaceTime hand gestures won't work. If you own any of these models, you can use Facetime reactions by going to the Control Center to trigger them manually (more on this in a bit).
3. Check the FaceTime Server Status
Before doing further troubleshooting, check if the issue is with FaceTime itself. While rare, there might be an issue with FaceTime's servers. Go to Apple's System Status page and see if FaceTime is available (in green). If there's an issue, there's no other solution but to wait until Apple fixes the server's problem.
4. Enable FaceTime reactions for video calls
Once you've downloaded iOS 17, FaceTime reactions should be enabled by default. However, you may have accidentally turned it off in the Control Center. Thus, FaceTime gestures are not working. Turn it on again by doing the following:
Access the Control Center.
Select Video Effects → Tap Reactions.


5. Use the front camera
By default, FaceTime uses your front, aka "selfie" camera, when doing video calls. If you've switched to the rear camera, you won't be able to use FaceTime reactions. While the rear camera offers better video quality and resolution, the front camera can only detect gestures and trigger FaceTime reactions.
So, tap the camera flip at the bottom-right of the screen to switch from the rear camera to the front camera.
6. Use the correct hand gestures
Apple designated specific hand gestures to trigger FaceTime reactions on your iPhone. It's possible that the gestures you're making don't quite match the required gestures to trigger the reaction. Below is the list of 8 hand gestures you can do that'll trigger a FaceTime reaction: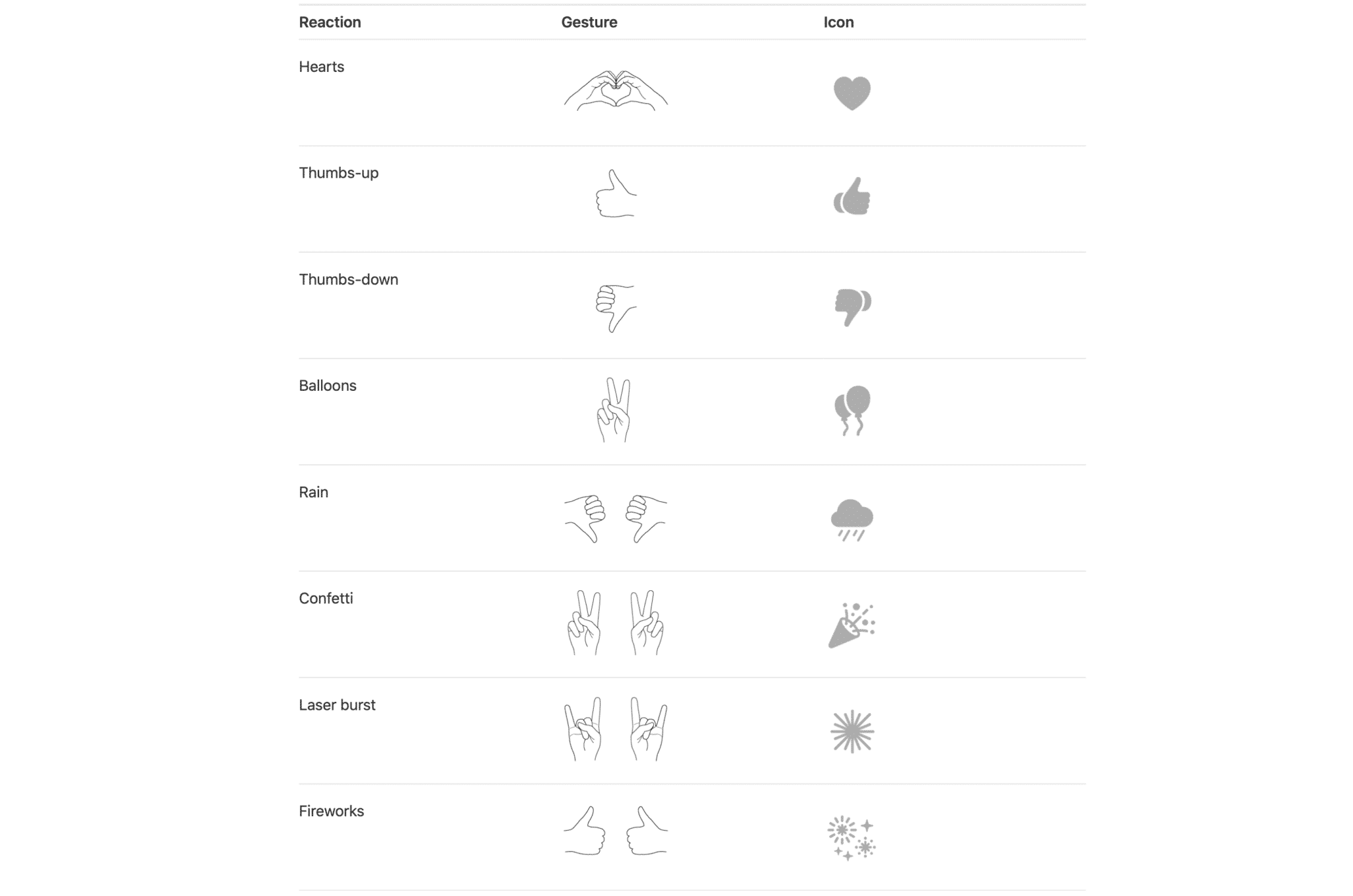 One hand thumbs up 👍🏽 : Shows a like sticker
One hand thumbs down 👎🏽 : Dislike sticker
Both hands thumbs up: Displays fireworks behind you
Both hands thumbs down: Rain animation
Heart sign 🫶🏽 : Triggers red heart stickers
Peace sign with one hand✌🏽: Shows flying balloons from the bottom of the screen
Peace sign with two hands: Starts confetti
Rock sign with two hands 🤘🏽 : Enjoy your laser show
7. Ensure proper framing
Aside from making the appropriate hand gesture, make sure that the gesture is within the camera's view and away from your face. Be patient and hold the gesture until the reaction appears. Both your hands and face should be properly visible in the frame.
Also, the FaceTime gestures may not work if your iPhone camera is blurry. So, try cleaning your iPhone's screen where the front camera is to help your device recognize the gestures better.
8. Try using manual reactions
If triggering FaceTime reactions through gestures doesn't work, you can do it manually instead.
Tap and hold on to your camera's preview window, showing your face.
Select the icon of the reaction you want to show.


9. Disable and re-enable FaceTime
Before you take more drastic measures, force quitting the app may help flush out any glitches causing FaceTime gestures not to work in iOS 17. After this, restart your iPhone and try using FaceTime again.
If this doesn't work, try refreshing FaceTime to clear the bugs, cache issues, and other things running in the background conflicting with the feature.
Go to Settings → FaceTime.
Toggle FaceTime off.


Do a quick restart and enable FaceTime again.
Try using gestures on a FaceTime call.
10. Uninstall and reinstall FaceTime
If the tip above doesn't fix the issue, check if the app is due for an update. If so, update the app before using FaceTime reactions again. You may also uninstall FaceTime to clear old app data and freshly install the app.
Turn off your iPhone, wait a few minutes, and turn it back on.
Go to the App Store and reinstall Facetime.
Then head to Settings → FaceTime to set it back up correctly.
11. Reset All Settings
Resetting your settings should ideally be your final resort in resolving FaceTime reactions not working issues on your iPhone. This approach effectively addresses problems from misconfigured settings that can't be addressed using the above methods.
Factory resetting all settings restores your settings to default without wiping out data and other media from your iPhone.
FAQs
On which iPhone devices do FaceTime hand gestures work?
FaceTime hand gestures are only available on iPhone 12 or later models.
Does iPad and Mac support FaceTime hand gestures in iOS 17? 
Yes, iPad Pro 12.9-inch (5th gen and later), iPad Pro 11-inch (3rd gen and later), iPad (10th gen), iPad Air (4th gen and later), iPad mini (6th gen) and Macs with Apple Silicon running macOS Sonoma supports FaceTime gestures.
Wrapping up…
It's pretty usual for you to experience difficulties when using new features. I hope these simple fixes resolve the FaceTime gestures not working issue. If none of the above solutions prove effective, contact Apple support to diagnose the problem, as it could be a hardware-related issue.
Were any tips mentioned above successful in getting the FaceTime gestures to work on your device? We'd love to hear about your experiences below!
Read more:
Readers like you help support iGeeksBlog. When you make a purchase using links on our site, we may earn an affiliate commission. Read Disclaimer.